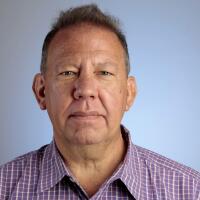 Richard A. Serrano
Richard A. Serrano was a federal law enforcement and terrorism reporter in the Los Angeles Times' Washington, D.C., bureau. He left The Times in 2015. Serrano previously covered the Rodney King beating and riots, the Oklahoma City and Sept. 11 terror attacks, school shootings in Colorado, Virginia and Connecticut, military courts martial and the porous U.S. border with Mexico. He has written three books, the latest "Last of the Blue and Gray" about the final survivors of the Civil War.
He died quietly on the bunk in his New Jersey jail cell, nameless and faceless, another man lost in the federal sweep of more than 900 people detained since the Sept. 11 terrorist assaults.

A key component of a Bush administration initiative to make air travel safer will address the largely untested security status of hundreds of thousands of employees at the nation's airports and airline companies.

Authorities searching nationwide for terrorists behind the deadly airliner attacks on the Pentagon and the World Trade Center have identified teams that totaled as many as 50 infiltrators who supported or carried out the strikes, a source familiar with the investigation said Wednesday.

That terrorists could slip through security checkpoints in three U.S. airports on the same morning, hijack commercial jetliners and fly them with deadly precision into the Pentagon and World Trade Center raised for investigators, and the nation as a whole, a vexing question: How?

With police on heightened alert in Times Square and elsewhere around the nation, the FBI announced the arrest of a 25-year-old man in upstate New York for allegedly providing material support to Islamic State and planning to "kill innocent civilians on New Year's Eve in the name of the terrorist organization."

He was an entertainment legend, a trailblazing stand-up comedian and actor who won multiple Emmys and America's hearts.

On the eve of the statute of limitations running out on the claims of the first woman to accuse Bill Cosby of drugging and sexually assaulting her, prosecutors in Pennsylvania charged the 78-year-old comedic icon with the alleged 2004 assault.

The FBI is constructing a detailed timeline of the still-hazy years between when Syed Rizwan Farook and Tashfeen Malik became self-radicalized on the Internet and when they launched the deadly attack in San Bernardino.

Syed Rizwan Farook told U.S. immigration officials in early 2014 that he had met his future wife on an "online website" and they decided to meet in Saudi Arabia after "several weeks of emailing," according to records released Tuesday that provide new details about the San Bernardino killers.