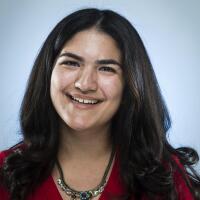 Saba Hamedy
Saba Hamedy is a former staff writer for the Los Angeles Times. Previously, she wrote about TV, the box office and digital entertainment. She also covered the Iranian community, national news and the business of Hollywood. Hamedy grew up in Santa Monica and graduated from Boston University with degrees in journalism and political science.

Latest From This Author
The handlers of Pennsylvania's most famous groundhog, Punxsutawney Phil, said the furry rodent has "predicted" six more weeks of winter after seeing his shadow at dawn Thursday.

Almost a year ago, hackers seized the computer systems of Sony Pictures Entertainment, the Culver City movie studio behind the long-running "Spider-Man" series.

Growing up, James Vanderbilt was a news junkie.

When Shana Knizhnik was in law school in summer 2013, she decided to create a blog dedicated to one of their inspirations: Ruth Bader Ginsburg.

In director-writer James Vanderbilt's copy of "Truth and Duty: The Press, the President and the Privilege of Power," author Mary Mapes had written him a message: "You have my life in your hands."

Next Wednesday, YouTube will begin selling $9.99-a-month subscriptions that will allow U.S. customers to watch almost everything without ads, to download videos for viewing offline and to keep content playing on a smartphone or tablet even when using a different app.

YouTube, the pioneer of free online videos, is jumping into the subscription streaming market with YouTube Red.

ABC said Tuesday it is giving freshman comedy "Dr. Ken" a full season order.

Universal Pictures' "Steve Jobs" likely will give the studio another No. 1 opening at the box office when it expands into wide release this weekend.