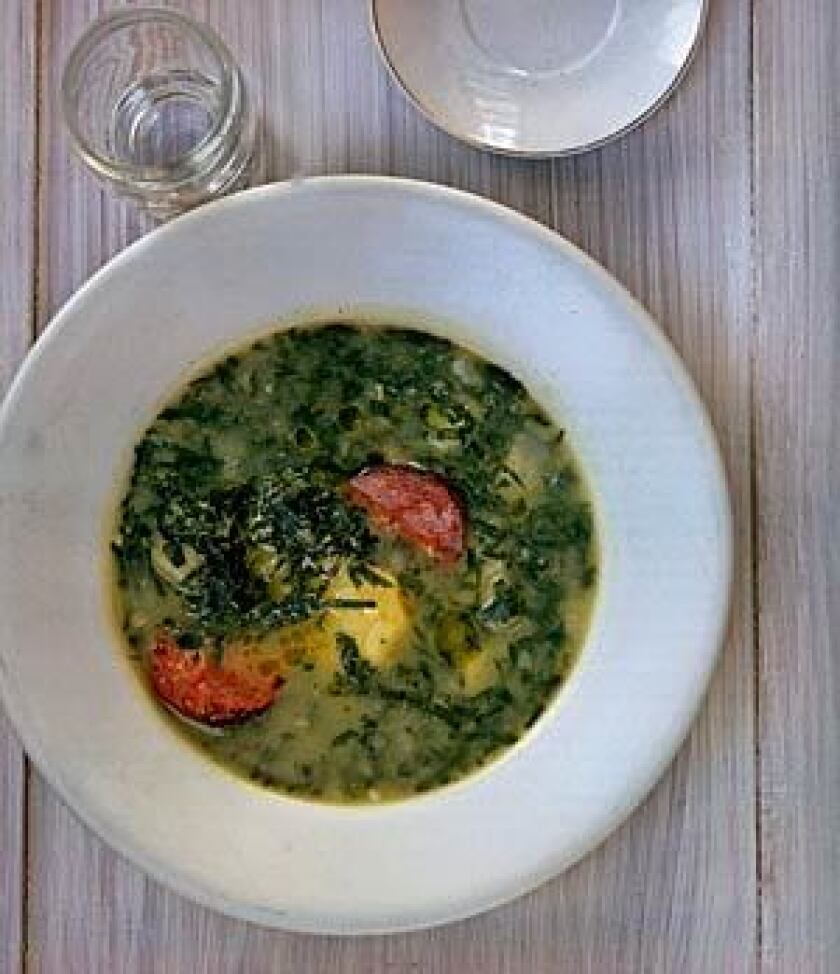 Total time: 1 hour
Servings: 6
Note: Adapted from "Piri Piri Starfish." You can use Spanish chorizo (available at Bristol Farms and Whole Foods stores, Surfas in Culver City and La Española Meats in Harbor City) or Portuguese linguisa (available at Bristol Farms stores).
2 tablespoons olive oil
2 chopped red onions
2 chopped garlic cloves
2 (about 1 pound, 9 ounces) russet potatoes, cut into 1 1/2 -inch pieces
2 bay leaves
Salt
Half a head (about 7 ounces) dark cabbage such as cavolo nero, kale or savoy, thinly sliced
2 ounces chorizo
Piri piri oil or sauce (see recipes) for drizzling
1. In a 3-quart, heavy-bottom pot, heat the oil over medium-high heat and sauté the onions, stirring often until soft, about 10 minutes. Stir in the garlic and potato and continue to cook just until the garlic is aromatic.
2. Add 5 cups of water and the bay leaves and bring to a boil. Season with a heaping teaspoon of salt and lower the heat slightly to maintain a good simmer. Cover and simmer for 15 to 20 minutes until the potatoes are just cooked through. Remove from the heat.
3. Bring a large pot of salted water to a boil, add the cabbage and simmer until tender, about 10 minutes. Set the pot aside.
4. With a slotted spoon, remove two large spoonfuls of potato from the pan (discard the bay leaves) and keep to the side. Purée the rest of the soup until smooth and return to low heat. Use your slotted spoon to add the cabbage to the puréed soup, together with about a cup of its cooking water. Allow to simmer for 5 minutes to meld the flavors, then add back the whole potato pieces. Adjust the seasoning with 1 teaspoon salt and one-fourth teaspoon pepper, or to taste, and remove from heat. Cover and keep the pan warm while you prepare the chorizo.
5. Grill the chorizo over a very hot grill or grill pan until golden and charred in places, then slice thinly. Ladle the soup into bowls and top each with a few slices of the sausage. Add a drizzle of piri piri sauce or oil.
Each 1-cup serving: 199 calories; 6 grams protein; 27 grams carbohydrates; 3 grams fiber; 8 grams fat; 2 grams saturated fat; 8 mg. cholesterol; 911 mg. sodium.
---