Restaurant review: XIV in West Hollywood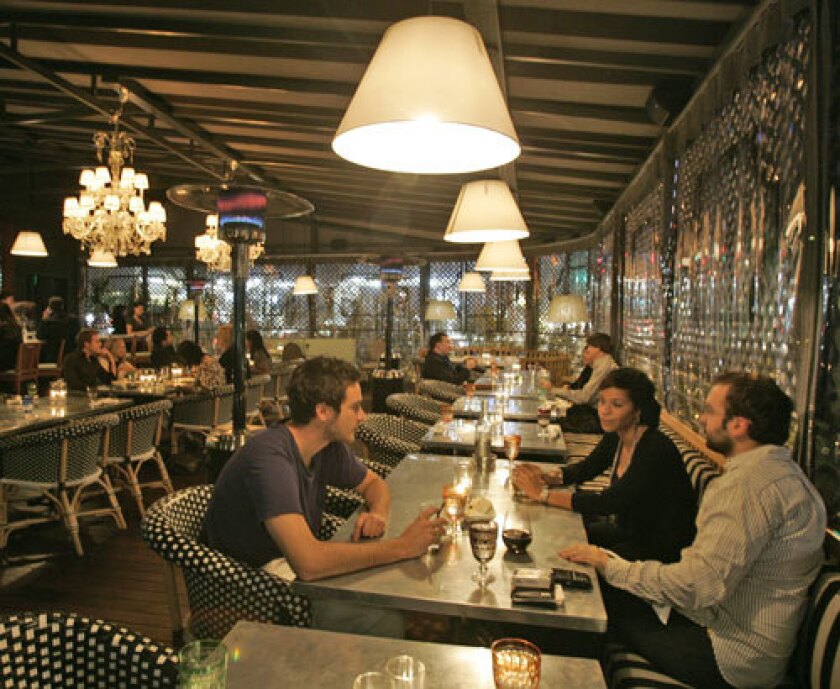 Restaurant Critic
After listening to the waiter try to explain the concept at the new XIV in West Hollywood, we're thoroughly confused. It's social dining, he tells us. But isn't all eating in restaurants inherently social? The menu is all small plates, but he doesn't call it a small-plates restaurant either. "So -- it's a tasting menu," someone prompts the waiter. "No, it's not," he answers. OK, then, could it be considered a do-it-yourself multi-course menu? Something like that.
Only problem: Because everyone at the table has to order the same thing, with my bunch of opinionated diners, we could be here all night negotiating. It happened on a first visit, and that was with like-minded guests. But with this group? I'm opting for the chef choosing. (Hey, but it's not a tasting menu.)
That's how it works at XIV, the 14th restaurant from highly successful San Francisco chef Michael Mina, who has, in addition to Michael Mina in San Francisco and several Vegas spots, the more traditional Stonehill Tavern at the St. Regis Monarch in Dana Point. Given its location on the Sunset Strip, this one has more in common with Vegas than San Francisco. It's glitzy and somewhat glib, pitched more to scenesters than serious food lovers.
It might help to bring an accountant along. Each of those small plates is $8 (except for a few extra-luxe dishes that add a supplement). Keep in mind that's per person, because if one person orders a dish, it's automatically multiplied by the number of people at the table. Order one $8 dish and if you're four diners, add $32 to the bill.
Or you can order one of those tasting menus that's not a tasting menu: You can have eight courses for $55, 11 courses for $75, 14 courses (the XIV) for $95. Or "the gamut," all 35 dishes on the menu for a whopping $250 per person, though our server points out that some people share.
One night, one of my more greedy guests preposterously wants to go for "the gamut."
Are you crazy? I ask, not expecting an answer. Since I'm the decider, I decree we're going for the 11-course "something more" -- in this case, something less.
I waffle, though, when the beguiling complimentary appetizer, a small dish of creamed feta and yogurt sprinkled with fenugreek and garnished with triangles of warm, freshly baked nan, comes out. But then I tell myself we can always order more if we're still hungry.
"Ice cold" shellfish arrives on a slender rectangle of white porcelain: a briny kusshi oyster with a filigree of Champagne foam, firm white shrimp in a silky panna cotta and a bite of king crab with sweet mustard. Five Nantucket bay scallops, cute as buttons, share another narrow plate with wisps of cauliflower and crumbled tempura batter. Diminutive heirloom beets are setacross the plate like jewels, interspersed with wild arugula, and extraordinarily creamy burrata, and dressed with aged balsamic and new olive oil. Caviar parfait is an adorable stack of minced hard-boiled egg with smoked salmon and osetra caviar. They're all delicious, but precious.
A small portion of porcini risotto laced with preserved Meyer lemon and Castelmagno cheese from Piedmont is terrific. But here's where the kitchen starts to slip: The few bites of chilled Maine lobster with celery, fingerling potatoes and black truffle is marred by the truffle oil used to amp up the truffle's perfume. You don't want to put truffle oil on anything, but certainly not anything chilled.
Taking in the scene
Between courses we have plenty of time to suss out the place, which, like the trendy Katsuya by Starck restaurants in Brentwood and elsewhere, and the Bazaar at the new SLS Hotel,is designed by French phenom Philippe Starck. You have to love the giant topiary out front spelling out XIV in 10-foot-high numerals for, presumably, Louis XIV, because inside, Starck plays off the idea of chateau or grand country house with miles of boiserie and glittery chandeliers that peek from beneath the bar's false ceiling like lace petticoats hanging below a tailored dress.
I'm a big Starck fan, but this is not his best design. It's meant to be witty, but the garbled Picasso- and Modigliani-esque paintings, the bric-a-brac and tchotchkes littering every flat surface, the old leather-bound books crammed into the pillars look like the stage set for a haunted house. You almost expect one of the bookcases to swing open to reveal a secret chamber where some wretched diner is attempting to make his way through "the gamut." In the ocean liner-sized dining room, chic little sofas draped in faux fur throws are pulled up to leather-topped tables.
The crowd is a mixed bag. Some people are dressed like they're on their way to Vegas. Several look like they just pulled on anything and ambled down the hill for dinner. One table of men is dressed like thuggish characters from "Grand Theft Auto." A few guests inspect each dish like bona fide foodies. Others constantly survey the room, hoping to catch a glimpse of some Hollywood hottie.
When the gentleman behind me is seated in a throne-like chair, he jokes to his date, "It's good to be king." Indeed. And the excess of service here does pamper guests to the max. Managers, waiters and runners all dance attendance. Each course appears on a large silver tray and is announced in all its particulars with all due ceremony. Mostly, they sound wonderful.
Dish after dish is introduced to our table. "Are we almost done?" asks the formerly greedy diner plaintively. "Aren't we just one or two from the end?" Hate to tell him, but I think we're just halfway through. It all started out so well too. But with a couple of exceptions, each time I ate at XIV, the food seemed to falter the further into the menu we got. The lineup also becomes monotonous.
I did enjoy the black cod with matsutake mushrooms and a dashi broth enriched with a little foie gras, the crispy pork belly glazed with orange and served with pea shoots, and the Angus beef rib cap. But jidori chicken with truffled mac and cheese is a cliché. And most of the meatier courses were cloyingly, exhaustingly rich, such as the short ribs braised in Worcestershire and the lamb with Medjool dates.
Vegetarian delights
Mina deserves kudos, though, for the vegetarian menu that parallels the regular menu dish for dish. If, for example, your party orders the Nantucket bay scallop tempura with cauliflower, you, as the vegetarian, get a version of the same dish that omits the scallops. Sautéed hearts of palm stand in for the pork belly, but with the same accompaniments, and so on. Finally, a chef who takes vegetarians seriously. Instead of being confronted with a boring plate of grilled vegetables, they get to experience the pace and intricacy of the dishes just like everyone else.
Cheese is gussied up with accompaniments like dates and smoked bacon powder for the Idiazábal, or rambutan, guava and white ale for the Chaource. At this point, your palate is pleading for something more simple, less elaborate.
By dessert, you're longing for a couple of delicious bites to cap off the evening. But the pastry chef, Jordan Kahn, is trying too hard to top what came before. Witness the baby block-sized white chocolate cube filled with seven layers of various red fruits and such. It makes quite a visual statement until you break into it with a fork and it collapses into an unappetizing mess. There's no way you can taste the layers the chef has so laboriously prepared: It's all mush.
And a glass of what's described as hazelnut milk with frosted flakes is served with a sugar "barrel" with whiskey at the bottom. With its cacophony of flavors, this may be one of the worst desserts I've tasted.
At so many restaurants, the execution is where the kitchen isn't up to par. Here, the execution is dead on -- and this is a tremendously difficult menu for the hard-working kitchen to pull off. It's the concept of some dishes and the wacky format that doesn't work.
Maybe I did fall down on my duty by not reporting on "the gamut," i.e., eating everything on the menu in one sitting. That's a torture I couldn't bring myself to endure. The true test for any restaurant is whether you'd go back. In this case, I wouldn't, no. And I suspect I won't be alone unless Mina and his chef can make his concept more user-friendly and the food less formulaic. On second thought, I might go back for wine director Raj Par's engaging and erudite wine list. The best bottles have considerable sticker shock, though. But then so did the valet parking, and that $14 charge has been lowered to $11. Will we be seeing further discounts at XIV to get more diners in the door? And will that be enough?
RATIING: **
LOCATION: 8117 Sunset Blvd., West Hollywood; (323) 656-1414; www.sbe.com
AMBIENCE: Playful "chateau" restaurant from San Francisco's Michael Mina and the SBE group designed by Philippe Starck. The concept is "social dining," all small plates, everyone at the table must have the same dishes.
SERVICE: Overstaffed and pampering, very nice, actually.
PRICE: Most dishes $8 each; chef selections: eight-course "light meal," $55; 11-course "something more," $75; 14-course "fourteen from XIV," $95; 35-course "the gamut," $250 per person.
BEST DISHES: Nantucket bay scallops tempura, ice cold shellfish, heirloom beets, porcini risotto, caviar parfait, black cod, crispy pork belly, Angus beef rib cap.
DETAILS: Open from 6 to 11 p.m. Sunday to Wednesday and 6 p.m. to 12:30 a.m. Thursday to Saturday. Full bar. Valet parking, $11.
Rating is based on food, service and ambience, with price taken into account in relation to quality. ****: Outstanding on every level. ***: Excellent. **: Very good. *: Good. No star: Poor to satisfactory.
---
Life is stressful. Our weekly mental wellness newsletter can help.
You may occasionally receive promotional content from the Los Angeles Times.