One Pico at Shutters on the Beach in Santa Monica: Relaxed and redone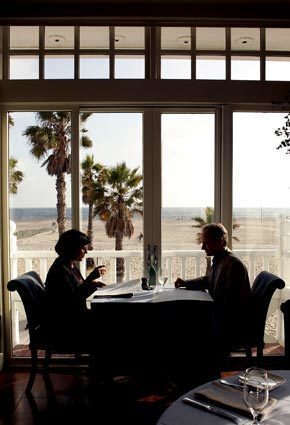 The best tables at the newly updated One Pico in Santa Monica are — what else? — the ones with an ocean view. An added bonus is a glimpse of the pier's glitzy new Ferris wheel.
(Carlos Chavez / Los Angeles Times)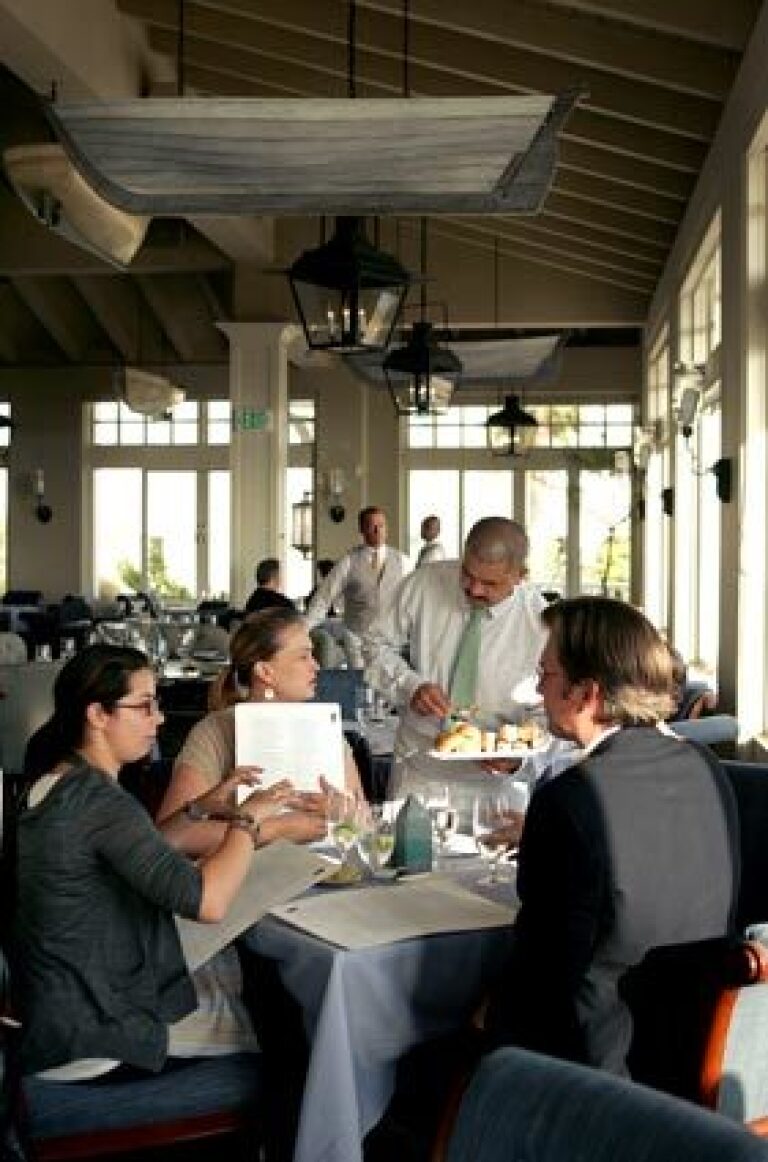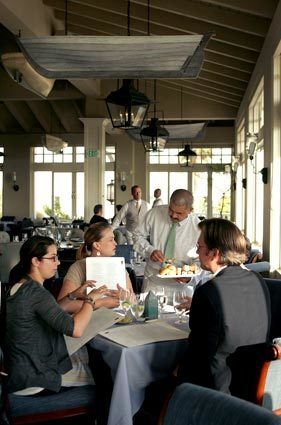 The blue and gray boat hulls that hang overhead were the creation of designer Michael S. Smith, who also installed brass-trimmed lanterns and hung pale seascapes to create the effect of a genteel beach resort.
(Carlos Chavez / Los Angeles Times)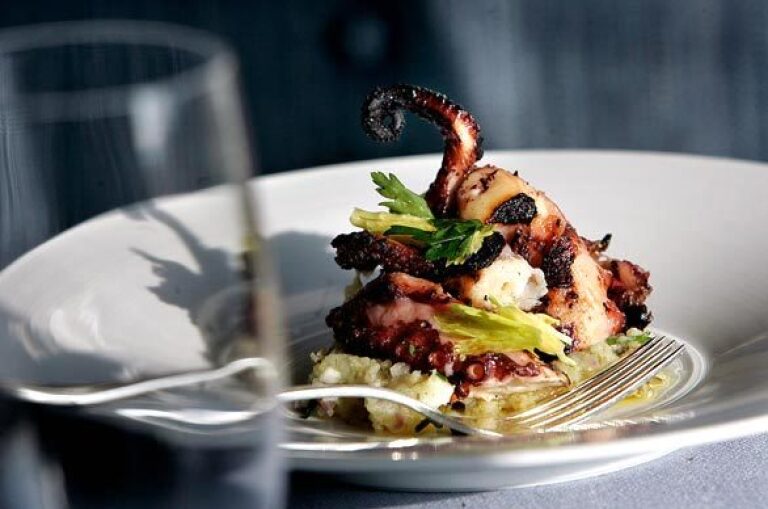 The grilled octopus is slightly charred and chewy but tender, served with a warm smashed potato salad drizzled with olive oil and a little vinegar.
(Carlos Chavez / Los Angeles Times)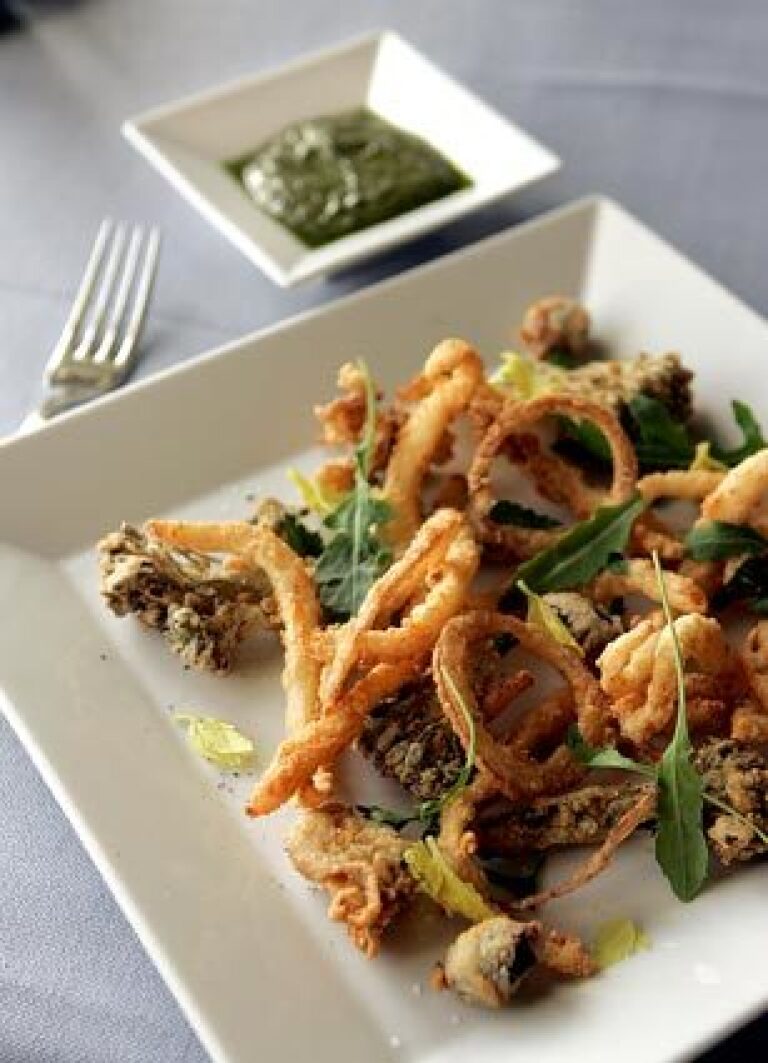 One of the specialties created by executive chef Michael Reardon is
fritti misti
, a batch of fried calamari, clams, asparagus, artichoke and other vegetables.
(Carlos Chavez / Los Angeles Times)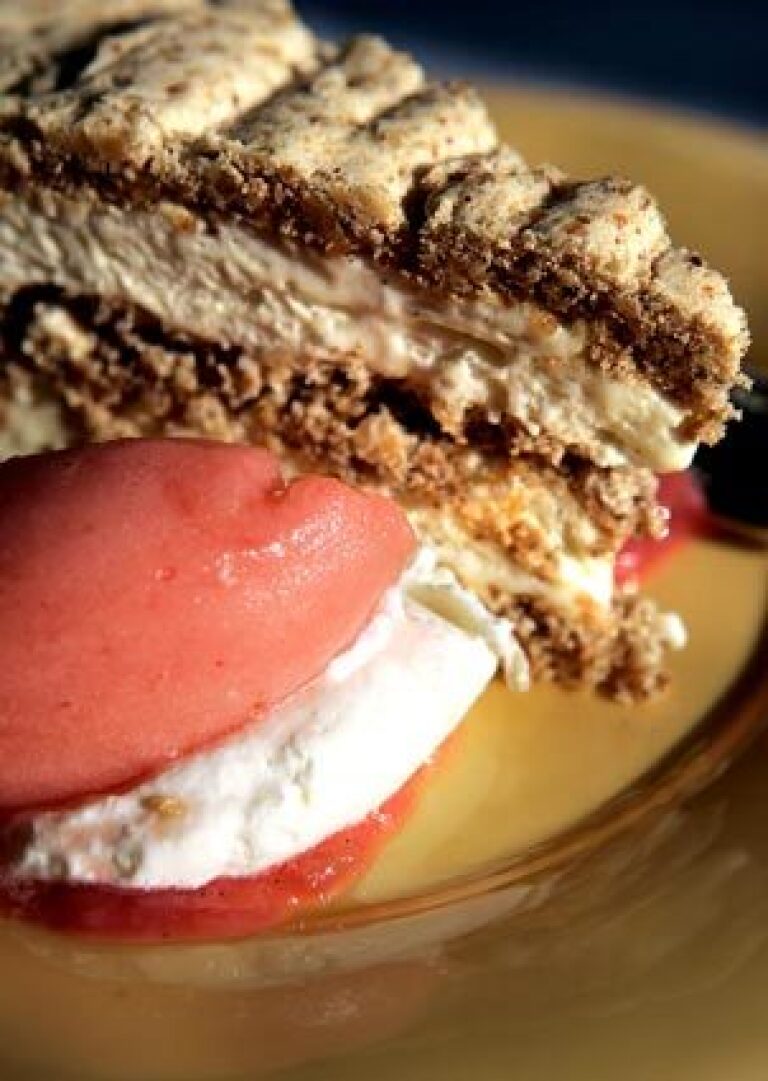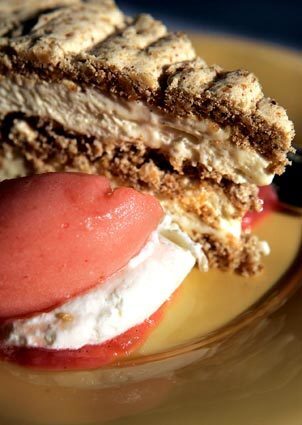 The walnut meringue is layered like a cake.
(Carlos Chavez / Los Angeles Times)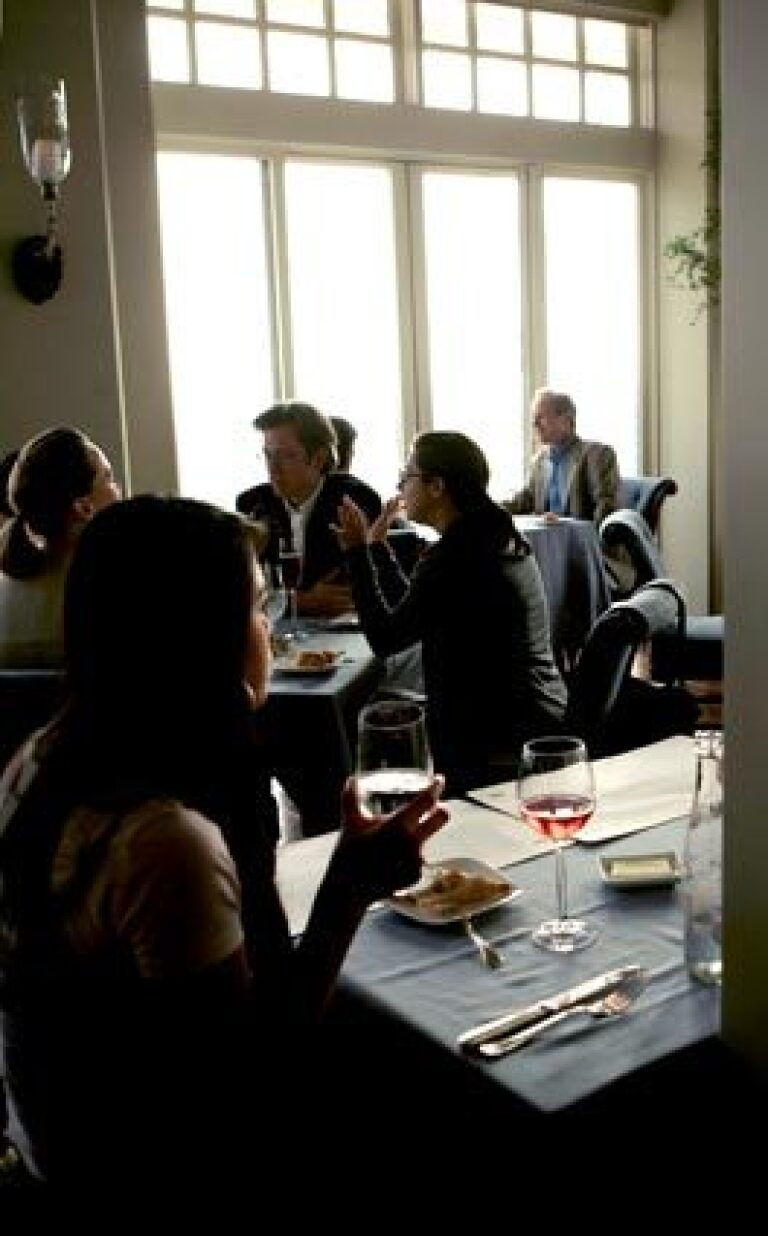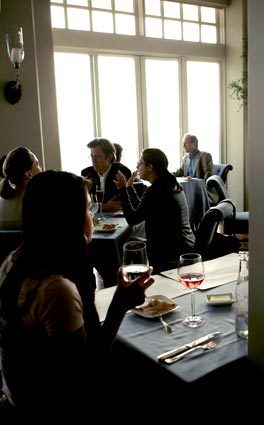 The comfortable and casual restaurant also features a new, uncomplicated California menu that's luring locals along with summer's hotel guests.
(Carlos Chavez / Los Angeles Times)
One Pico boasts an interesting selection of wines and a user-friendly list from master sommelier Peter Neptune that is very fairly priced for a hotel restaurant.
(Carlos Chavez / Los Angeles Times)
Times Restaurant Critic
TABLES lined up along the windows at One Pico offer not only an ocean view, but also a glimpse of Santa Monica's glitzy new Ferris wheel. Its complex computer system dials out the colors, changing light patterns the way a kaleidoscope does when the barrel is turned. In the foreground, palms nod their shaggy heads in the breeze, and the sand below is dimpled with hundreds of footsteps. Joggers streak down the beach as the waiter in a fitted vest pours glasses of Guigal Viognier from northern Rhône.
Something is different about the restaurant in Shutters on the Beach hotel in Santa Monica, and it's not just the reasonable wine prices or the interesting selection. To celebrate the iconic beach hotel's 15th anniversary, One Pico has undergone a much-needed makeover. And the powers that be have had the good sense not to go for a trendy restaurant-slash-lounge, but a comfortable and casual place with an updated California menu that emphasizes simplicity over complication, seasonal ingredients over the pricey and precious. It's a strategy that's bringing in locals along with summer's hotel guests.
Menu prices seem almost moderate for such a high-end hotel. The menu from executive chef Michael Reardon is atypical too. It's smart because it's not too fussy. The food sounds uncomplicated and delicious, very much in the California-Italian vein. If you're just in from Sydney or Shanghai, do you really want to dress for dinner at a formal restaurant serving extremely rich and elaborate dishes? The Tim Zagats and John Marianis of this world may be game, but I'm betting most jet-lagged travelers would rather wander into the lobby, sip an aperitif in front of the sunset, and then go into dinner for some handmade ravioli or spit-roasted seafood.
Noticeable luxury
THE MENU isn't the only thing at One Pico that got a makeover: So did the room. Shutters is 15 years old this year, and the dining room was very much in need of a makeover. Enter designer Michael S. Smith, who has graced many a shelter magazine and is author of "Elements of Style." He has given the restaurant a lovely and understated update. Blue and gray boat hulls weathered to a vestige of their original color hang overhead. He's installed brass-trimmed lanterns and hung pale seascapes. Beach grasses are planted in the window boxes. The effect is genteel beach resort, relaxed and casual.
Once we sit down, I immediately notice the luxuriousness of the blue- and natural-striped linen napkins and the blue herringbone linen tablecloth. When so many restaurants have gone to bare tables and place mats, it's almost startling to see real linen. Service is crisp, and servers, at least on the nights I was there, aren't plaguing the table with water refills every two seconds. They also know how to pour wine without overfilling the glass.
We watch the sun go as we wait for our first courses. Grilled octopus arrives slightly charred and chewy but tender, served with a warm smashed potato salad drizzled with olive oil and a little vinegar. A warm Pecorino (sheep's milk cheese) flan has a fragile, custard-like texture. I like it just as it is, without the tomato sauce alongside it on the plate, but it's there if you want it. Fritti misti is a bouquet of beautifully fried calamari, clams, asparagus, artichoke and other vegetables. It's such a delightful way to start a meal, I always order one for the table with that first glass of wine.
A light seafood salad of steamed clams, rosy prawns, rings of calamari and bites of lobster drenched in citrus gets a California twist with the addition of grassy ripe avocado. Huge white beans are paired with grilled shrimp for another summery salad that includes young arugula and a squeeze of lemon. Crisp hearts of romaine are flecked with anchovy to make a respectable Caesar. The original, of course, had no anchovies, but it's part of the tradition here in L.A. But this one could use a jolt of garlic.
The fish menu sounds wonderful, given that Southern California doesn't have that many local fish. So the fish proposed are Mediterranean sea bass and snapper, Alaskan halibut, John Dory and petrale sole, all very straightforward preparations like you'd get at a seaside resort in Viareggio in northern Tuscany or the Cote d'Azur. Which is just how you want to eat fish in summer.
Served up
MOST ARE grilled, sometimes whole, or spit-roasted. Some are served plain (you can order sides). But the beautiful piece of halibut, for example, comes with roasted artichokes, porcini mushrooms and celery. The kitchen, though, has a tendency to overcook the fish, not in a major way, but enough that, if you like your fish on the rarer side, you're left wishing you'd specified how you'd like it. But what's not to like about a piece of John Dory simply grilled and seasoned with lemon and thyme? Or a spit-roasted Mediterranean snapper? You want to taste the fish, not a sauce.
To round out the menu, there's a fine spit-roasted chicken served with a clutch of fresh vegetables. Rib-eye steak won't challenge those at Cut or BLT, but it's also less expensive and it's a steak with a view. Once it's dark, you can sense more than really see the ocean out there. You're left with those bobbing palm trees and the mesmerizing whirl of the Ferris wheel's lights in the distance. The good thing is that steak or the grilled lamb might call for a Gigondas or Chinon, or if you're feeling flush, a bottle of 2000 Bodegas Muga Prado Enea Rioja.
When the s'mores arrive, homemade sweet crackers sandwiching luscious marshmallow with a dark chocolate sauce to drop over the top, we're all at attention. Elongated triangles of caramelized puff pastry layered with orange and grapefruit wedges and a rich cooked cream make a seductive dessert too. But my favorite is the perfect walnut meringue, layered like a cake.
In its previous manifestations, One Pico played the role of dull and pricey hotel restaurant with a killer view. Change is sometimes a very good thing.
And with this update of Shutters' showcase restaurant, One Pico works for both out-of-towners and Angelenos who'd like to have a relaxed dinner by the beach.
One Pico Rating: **Location: One Pico, Shutters on the Beach Hotel, 1 Pico Blvd., Santa Monica, (310) 587-1717; www.shuttersonthebeach.com.Ambience: Comfortable and casual hotel restaurant with beach views on two sides and a small zinc bar.Service: Crisp, professional, occasionally stiff.Price: Dinner appetizers, $9 to $16; main courses, $18 to $22; pasta, $16 to $27; main courses, $26 to $36; sides, $8; dessert, $11.Best dishes: Grilled octopus with potatoes and capers, Pecorino flan, fritti misti, grilled artichokes, spit-roasted chicken, grilled Mediterranean snapper, grilled petrale sole grilled, caramelized puff pastry with citrus and cooked cream, walnut meringue.Wine list: User-friendly list from master sommelier Peter Neptune is very fairly priced for a hotel restaurant. Corkage fee, $25.Best table: One along the windows with an ocean view.Details: Open for dinner from 6 to 10 p.m. daily; for lunch 11:30 a.m. to 2 p.m. Monday to Saturday; for brunch 10:30 a.m. to 2:30 p.m. Sunday. Full bar. Valet parking, $7 with validation.Rating is based on food, service and ambience, with price taken into account in relation to quality. ****: Outstanding on every level. ***: Excellent. **: Very good. *: Good. No star: Poor to satisfactory.
---
Life is stressful. Our weekly mental wellness newsletter can help.
You may occasionally receive promotional content from the Los Angeles Times.