Review: Gordon Ramsay restaurant at the London hotel, West Hollywood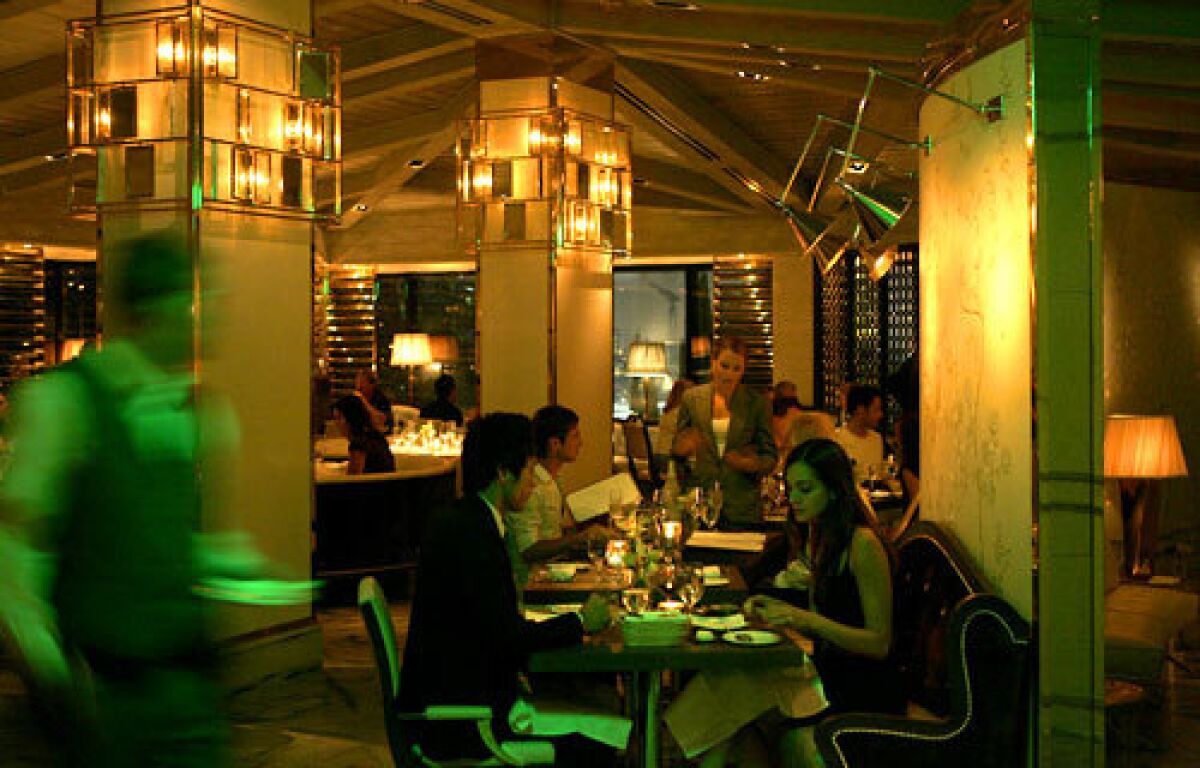 Times Restaurant Critic
Everything you've learned about British superstar chef Gordon Ramsay on television is a crock. On his hit television shows, "Hell's Kitchen" and especially "Kitchen Nightmares," the three-star Michelin chef hams it up, cajoling and bullying some of the most exasperating cooks and restaurateurs on the planet into doing better work. The histrionics make for riveting television, but give the wrong impression about Ramsay's own cooking.
At Ramsay's new eponymous restaurant at the London hotel in West Hollywood (a glamorous makeover of the former Bel Age Hotel), the cooking, it turns out, is nothing like the former professional soccer player's blustery TV personality. It is refined and elegant, contemporary and worldly. Especially, it seems, when he's in the house.
A rectangular white porcelain platter holds a slice of rosy pressed foie gras with a vein of black fig running through it. The composition of foie gras and plump figs with dots of dark violet fig compote and a pickled red pearl onion is truly lovely. And the combination of flavors is just as dreamy, the duck liver silky against the rich grainy texture of the figs.
Braised pig's head isn't the head on a platter, as Fergus Henderson might do it at St. John in London. It's a sliver of sublime head cheese strewn with lightly pickled vegetables -- turnip, cauliflower, zucchini -- with a touch of sauce gribiche, a mayonnaise flavored with minced cornichons and egg. Chilled almond soup is poured into an oval bowl around a heap of rose-and-white-striped spot prawns. A swirl of vinegar makes the flavors stand up and sing.
I'm trying to decipher the soup's flavors when I look over my spoon and see Ramsay in the flesh. It's not a mirage: There he is in his trademark short-sleeved chef's jacket, chatting up the next table. Not that I'm staring or anything, but Ramsay is one of the few people who look exactly the same in person as on television. Yet he seems, at least in this context, very different from the caricature of smug, exacting, ranting chef he plays in his series.
At this latest Gordon Ramsay restaurant (preceded by versions in London; New York; Versailles, France; and County Wicklow, Ireland) the chef exudes confidence -- as he should, being the chief executive of a fleet of restaurants around the world. He doesn't do the smarmy tour of the tables, but he's working the floor and decidedly not cooking. At this level, it would be absurd to pretend that he's behind the stoves. His chef here is Andy Cook, who has worked with him in London and Tokyo.
On several of my previous visits, Ramsay was not in town. But this time, three months after the restaurant opened, he is, and what a difference his presence in the house makes. The food didn't approach this level before. It was very correct, but somehow dull -- even though the ingredients and preparations were exactly the same.
It has to do with the balance of flavors and the crispness of execution. At their best, Ramsey's dishes have a tension that makes them exciting, and very often that tension is the presence of an acidic element. It's possible I'm making too much of his being on site, and the difference is simply that the kitchen staff has come together as a cohesive team.
A place with a pulse
THE SCENE seems to have changed for the better too. Glitzy couples swarm the hostess as she looks for their reservation. The 4-inch stilettos and sparkly dresses are out in force, and the bar is electric with energy. Whereas before, the place seemed half-asleep, now a small army of waiters rushes back and forth across the dining room so fast it's almost comical.
Carrying our cocktails on a tray, the hostess threads her way through the crowd as she leads us to our table, a semicircular sofa-banquette covered in an embossed pale rose leather. Polished brass shutters and modernist light fixtures sparkle and from the windows of the farther of the two dining rooms, the city lights glitter all the way to the Pacific.
Waiters aren't too formal and know everything about the menu. And you will have questions about the format and style. The menu of small plates is divided into three price categories and organized by weight with lighter and less expensive dishes going first. If you want to share in order to taste as many dishes as possible, you'll need the server's advice to know which dishes can be shared and which cannot.
It's less complicated, of course, simply to order the well-priced seven-course tasting menu. At $85, it's a bargain compared with restaurants at this level in Europe, and a good introduction to Ramsay's cooking.
Artful dishes
ONCE THE food starts coming, you'll discover that Ramsay is a miniaturist with an exquisite eye. He might talk like a hooligan, but his cooking is utterly poised and often astonishing in its balance and grace. These are dishes that need to be admired in their entirety, which is one argument against sharing plates.
A risotto of wild asparagus is beautiful to behold, the slender spears bundled into a curve on top of the pearly rice. Another night, Arborio cooked in tomato water with green and yellow zucchini makes a perfect summer risotto. On the weightier side of things, I like the broiled black cod spread with a fine mincing of crunchy, gelatinous pig's tail and raw Kumamoto oysters, a pairing that magically works with the rich oily fish. But cassoulet of seafood goes too far in a minimalist direction: It's basically a few bites of shellfish and a scattering of beans crowned by a tortellini filled with chunks of prawn.
The wine service is spot on. Temperatures of the wines are correct, and the markups are generally about three times wholesale, which is normal for a hotel restaurant. The selection is remarkably even-handed across most of the world's wine regions. There are some lovely Champagnes, such as those from Egly-Ouriet. For bargains, look in the Loire Valley, Savoie and Languedoc in France, or other less-renowned regions and you should be able to find some bottles under $50. Corkage is a steep $35 per bottle.
Desserts are accomplished, but also blissfully light. An individual pineapple soufflé arrives high and proud -- until the server opens up the top and slips in a scoop of Thai curry ice cream, which plays well against the taste of fresh pineapple. Passion fruit and candied ginger brighten a refreshing chilled coconut tapioca. And a lithe crème fraîche panna cotta swirled with strawberry gelée and acacia honey is delightful.
Just when it seems as if fine dining is going the way of the dodo in Southern California, this sophisticated Londoner arrives and dressing up for dinner seems fun again. Gordon Ramsay the restaurant may not be all there yet, but if the kitchen can get to the point where it performs every night the way it does when Ramsay is in town, L.A.'s best restaurants will have some feisty competition.
Gordon Ramsay Rating: ** 1/2Location:Gordon Ramsay at the London West Hollywood, 1020 N. San Vicente Blvd., West Hollywood; (310) 358-7788; www.gordonramsay.com.Ambience: Posh hotel restaurant from well-known British chef Gordon Ramsay. Two glamorous dining rooms flank a central bar where a glitzy, fun-loving crowd congregates.Service: Informed and solicitous.Price: Dinner small plates, $14, $18 and $22; desserts, $10; seven-course chef's menu, $85.Best dishes: Risotto, chilled almond soup with spot prawns, braised pig's head with pickled summer vegetables, pressed foie gras and black figs, broiled black cod with pig's tails and Kumamoto oysters, sea scallops with sherry vinegar reduction, rack of Sonoma lamb, pineapple soufflé with Thai curry ice cream, crème fraîche panna cotta.Wine list: Wide-ranging and even-handed with selections that span the globe. Though markups are fairly high, you can still find some bottles below $50. Corkage fee, $35.Best table: A booth or banquette in the far dining room with a view of city lights.Details: Open for breakfast 6:30 to 10:30 a.m., Monday through Friday, 7 to 11 a.m. Saturday and Sunday; for lunch noon to 3 p.m. daily, and for dinner 5 to 10:30 p.m. Monday through Saturday, until 10 p.m. Sunday. Full bar. Valet parking, $8.To see a photo gallery, go to latimes.com/food.Rating is based on food, service and ambience, with price taken into account in relation to quality. ****: Outstanding on every level. ***: Excellent. **: Very good. *: Good. No star: Poor to satisfactory.
---
Life is stressful. Our weekly mental wellness newsletter can help.
You may occasionally receive promotional content from the Los Angeles Times.