Every night is a big night at Terroni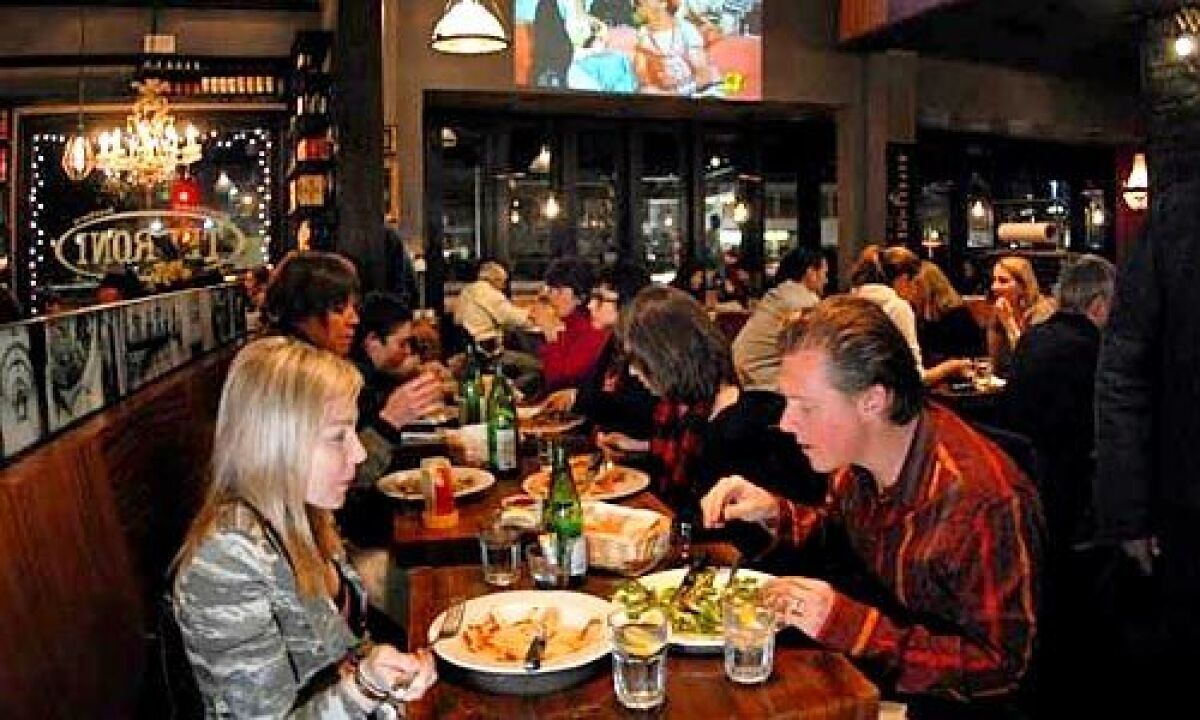 Los Angeles Times Staff Writer
IT'S the hot new Italian in town. Restaurant, that is. And in L.A., that usually means a formal attitude and northern Italian cuisine. But Terroni is a raucous, high-spirited place, and the kitchen is turning out southern Italian food heavy on the garlic, anchovies and hot peppers.
Oh, no, here comes some bewildered soul who's wandered in expecting Valentino and finds, instead, something that looks like an Italian broccante, or junk shop, with mismatched lamps, folk pottery from Puglia, funky midcentury wooden chairs and a couple of long country tables mixed in with shiny wood booths. Elegantissimo this is not. And the decibel level is earsplitting. Too late to turn around, though. He's already given the valet his Porsche.
Terroni is the L.A. outpost of a short string of places (namely three) owned by Cosimo Mammoliti -- in Toronto. What's he doing way down here on Beverly Boulevard, then? It seems Shereen Arazm, the club owner who lit up the Hollywood night with Parc and Shag, among others, worked for Mammoliti early in her career. For her first non-nightclub venture, she had a lively, casual place like Terroni in mind -- and in the end, went into business with Mammoliti and brought in a manager-partner from up north too.
It may not be the stuff of foodies' dreams, but Terroni is attracting hordes of twenty- and thirtysomethings for its moderately priced fare and high-energy ambience. Nothing sleepy about this place: It rocks. They take no reservations, so unless you're very early or very lucky, there's usually a wait for a table. All the better to sip a Negroni or a Campari and soda at the bar, which is often three or four deep, and check out the scene.
The room has a madcap, lighthearted décor, a little bit tongue-in-cheek, a little bit punk. Pretentious is not part of the vocabulary here, and I'd seriously advise anyone planning on dining here not to break out the Armani power suit or Dolce & Gabbana leopard print. The dress code is strictly Hollywood scruffy -- wool caps pulled low, hand-knit scarves, and vintage frocks mixed up with knee-high boots and backpacks. The crowd consists of girlfriends out for a night on the town, couples chewing over a movie they've just seen at the Grove, hungry musicians and groupies, teenagers scarfing down pizza and pasta -- in other words, the place has a broad appeal.
Those pizzas coming out of the wide-mouthed pizza oven have an enticing, crackling thin crust, and they're bargain-priced compared with fancier versions around town. They come in more than 30 varieties, which can seem overwhelming. Canadians, like Americans, must be enamored of choices. Among my favorites is the Polentona, a smear of light tomato sauce topped with a little mozzarella and Fontina cheese and blanketed in thin slices of speck, a smoked Italian ham, and pine nuts. Bufalina is a Margherita made with mozzarella di bufala, which gives it a slight edge over pizzas topped with the normal cow's-milk cheese. There's another pie topped with hot Calabrese salame, roasted red peppers and the basic mozzarella and tomato that's good too. It's called Natalina. But cheese is sometimes so meager you can easily end up with a piece of pie without any.
And what's with the cut-it-yourself policy? Even with a sharp knife, you still almost need two people to do it -- one to hold the pizza on the plate, one to cut. You may want to think about tucking a pizza cutter in your bag before setting off for Terroni. I know someone who did, and carried it off with aplomb.
Generous plate
ANOTHER great way to start a meal at Terroni is by ordering up the salumi plate, called "tagliere del salumiere." For $14, this has to be the most generous in town, and plenty for four to share. From the number of huge olivewood boards covered with prosciutto di Parma, jamónserrano, sopressata and coppa flying by our table, this has to be one of the most popular items on the menu. It helps that fat salame, hams and sausages are in full view in a glass case to one side of the open kitchen.
Cooks work double time under sparkly chandeliers and big red letters that spell out "CUCINA" with chef Fabio Moro, the import from Bologna via Toronto, directing. Of course, the menu offers plenty of items under the category "apristomaco" -- that is, stomach openers. These include an excellent grilled calamari nestled next to some salad greens and a mixed plate of burrata cheese, Serrano ham and fried artichokes that's ideal for one or two. Salads are rough and ready, sometimes underdressed, sometimes overdressed, with the ever popular Caprese appearing in two versions, one made with the more expensive bufalamozzarella, but neither with primo tomatoes. Steer clear of the fried zucchini blossom special: They're not only bland, but also greasy, limp and dull. And they haven't improved as the restaurant heads into its third month.
The rest of the menu is mostly pasta the likes of which we haven't seen around here for a while. My advice: go with the dried pastas -- rigatoni, spaghetti, bucatini, the ones that clearly have a southern Italian inflection. Which is what the kitchen does best.
I immediately gravitated to the spaghetti ca' Muddica sauced with olive oil, cherry tomatoes, anchovies, olives, capers and breadcrumbs, a gutsy and delicious dish. I like the maccheroncini Geppetto, too, mixed up with dandelion greens, spicy sausage and Fontina cheese despite that it's a bit heavy and greasy. But Bolognese sauce tastes like straight ground beef, and the other fresh pasta dishes are just as dispiriting. My tagliolini primavera one night was awful, made with cherry tomatoes, woody asparagus, mushrooms, zucchini and gummy pasta. It was missing the peas too. Maccheroncini with duck ragù, another special, is basically bland ground duck meat dumped over pasta. These are rustic all right, but not in a good way.
Overall, the cooking could use more polish. Especially the main courses. Thinly sliced beef tenderloin comes in a syrupy balsamic reduction that cloys after the first bite. Deep fried breaded lamb chops are pretty tasteless (and after those zucchini blossoms, I have to say frying is not the kitchen's strong suit). Grilled sausage with rapini and grilled polenta is a massive portion, yet no one at my table wants it, it looks so unappetizing.
No wonder that all around me, I see people chowing down on the pasta and pizza instead, giddy at the generous portions and the moderate prices.
The wine list, put together by partner and manager Max Stefanelli, offers some bargains, too. He brings in some of his own wines, many from southern Italy, where prices aren't crazy yet and there's lots to discover. Waiters don't know much about the wines, so go ahead, just pick something.
It's also helpful that Terroni offers a page of vino sfuso -- wines you can buy by the glass, the quartino (quarter liter) or the half liter, which is two-thirds of a normal 750-milliliter bottle, and priced more or less accordingly. It's a good way to get acquainted with wines made from Nero d'Avola (an indigenous southern Italian grape), or to explore Sicilian or Pugliese wines. If Stefanelli is around, he can offer informed advice and maybe a taste before you commit to a bottle. And if you're seated in one of the coveted booths along the wall, where it's just a tad less noisy, note that the vintage task lamps mounted on the wall fold out so you can light the wine list and the menu. What a concept!
Dessert standouts
IF after all this, you're still feeling peckish, two desserts stand out from the indifferent crowd: a tiramisu served in its own little casserole and an individual crostata, a high-sided tart with a rich, not-too-sweet ricotta custard filling dotted with pine nuts.
From the response to Terroni, this newcomer definitely fills a need for hearty, unpretentious Italian food in a high-energy setting. Just don't ask for anything special. They're from Toronto and, no, they won't cut your pizza or serve you pasta without the pasta (yes, I know an Angeleno who actually asked). Go figure.
Rating: *
Location: 7605 Beverly Blvd. (at Curson Avenue), Los Angeles; (323) 954-0300; www.terroni.ca.
Ambience: High-spirited southern Italian restaurant with a lively bar scene, charming boho decor and a strict no-reservations policy. Casual and fun.
Service: Pleasant, but harried.
Price: Antipasti, $3.95 to $14.95; salads, $6.50 to $10.95; pastas, $13.95 to $15.95; pizza, $11.95 to $14.95; panini, $10.95 to $11.95; main course specials, $25; desserts, $5 to $7.50.
Best dishes: Grilled calamari, salumi plate and/or cheese plate, spaghetti ca' Muddica, maccheroncini Geppetto, pizza Natalina, pizza Polentona, tiramisu, crostata di ricotta.
Wine list: Italian wines by the glass, quartino, half-liter and bottle, including a number from southern Italy at fair prices. Corkage fee, $25.
Best table: One of the booths along the wall.
Special features: A big table in the back can be reserved for groups, if you catch the owner in the right mood.
Details: Open 9 a.m. to 11 p.m. Sunday to Thursday, until midnight Friday and Saturday. Full bar. Valet parking, $6 at dinner, $3.50 at lunch.
To see a photo gallery, go to latimes.com/food.
Rating is based on food, service and ambience, with price taken into account in relation to quality. ****: Outstanding on every level. ***: Excellent. **: Very good. *: Good. No star: Poor to satisfactory.
---
Life is stressful. Our weekly mental wellness newsletter can help.
You may occasionally receive promotional content from the Los Angeles Times.