French Laundry chef Thomas Keller talks about his profession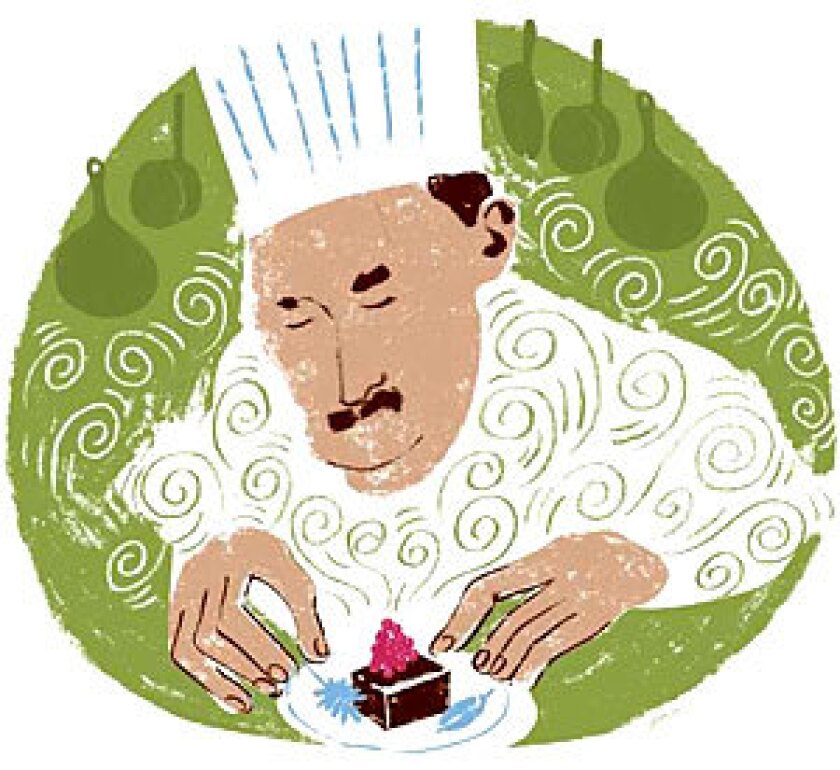 Special to The Times
When I was learning to cook, I never dreamed I'd wind up designing a line of porcelain.
In those days I believed I would be a chef at one restaurant with one menu and in one kitchen for my whole life. That was the way chefs had always worked.
Instead, I find myself in a generation of chefs whose responsibilities extend well beyond the kitchen. There is a whole new way of looking at the job -- one that none of us has been trained for.
Chefs today are businessmen as much as they are cooks. Rather than just preparing dishes in a kitchen, we are involved in balancing profit-and-loss statements, analyzing business plans and exploring new ventures.
We have opportunities earlier generations of chefs never dreamed of. But in some ways, that makes our jobs even harder.
Setting priorities
WITH SO many avenues open, how do we choose which to pursue?
On the one hand, we have tremendous possibilities, and even obligations, to develop our businesses and help our staffs grow and prosper. I'm incredibly proud that three chefs who won awards from the James Beard Foundation this year came out of the French Laundry kitchen.
But at the same time, we need to make sure that whatever we do, we are staying true to who we are as chefs.
Certainly, we must be dynamic and open to change. Success, for all of us, lies in adapting to meet new demands. Charles Darwin summed it up best: "It is not the strongest of the species that survives . . . it is the one that is most adaptable to change."
But even while we must be flexible, we must also remain true to our core beliefs and philosophy.
When I first started cooking, it was the rituals of work that I enjoyed: I took pleasure in working daily to improve whatever it was I was doing, whether it was sliding the rack into the dishwasher perfectly, or working for two years trying to perfect making hollandaise sauce.
Then I went to work for Roland Henin, a chef who showed me that cooking is not just a job. Cooking is about having awareness and sensitivity to the point that you feel a connection to the food and your customers. It is not only about satisfying yourself, but also satisfying other people.
He gave me a book, "Ma Gastronomie" by Fernand Point (1897-1955), the chef and owner at La Pyramide in France. For Point, running a restaurant was about the total experience -- the ambience, the wine, the guests and the cuisine.
Point insisted on Baccarat for crystal, his china was Limoges -- no detail was insignificant. He once said, "I'm not hard to please, I'm content with the very best."
It was this book that changed my perspective on what the role of a chef really is. I aspired not only to focus on cuisine, but on every aspect of the guests' experience.
When I opened the French Laundry, my goals were simple: Pay back my investors, improve the restaurant, and offer good benefits to my staff.
After two years my accountant called and told me that for the first time we had finally made a profit -- $17. But once we'd celebrated, the question became: What next?
It soon became clear to me that -- without abandoning those original goals -- I could do more.
I began thinking about furthering the success of the restaurant, of having an impact on the industry, perhaps of even establishing a legacy.
Eventually these vague thoughts became distilled in a philosophy that I can best sum up in one key word, "finesse." Finesse is so important to me that we have plaques on the walls in the French Laundry and Per Se kitchens that spell out the definition: "Refinement and delicacy of performance, execution or artisanship."
Performing with finesse is our philosophy at every level -- whether it is in the presentation of a dish, the sourcing of the highest quality ingredients, or the delivery of service.
Once a chef's philosophy is established, the standards can transfer to other venues and even to other businesses. In my case, standards created around food have been extended to cookbooks, knives and even china.
For my generation of chefs, career opportunities include some that are not related to cooking at all, such as television shows and movies. This has been a good thing. Many of the exciting changes that have happened in American cuisine in the last 30 years have come from today's broader ideas of what chefs can do.
Build on philosophy
BUT I believe that a modern chef who wants to execute at every level and make a difference at every level must accept only opportunities that will perpetuate his own philosophy. I suppose alongside "finesse," you must also add "integrity."
In the case of the china, I was fascinated by the idea that my philosophy of finesse could be transferred to something completely different and help me make a bigger difference than I could in just working with food.
But being open to the opportunity was only the beginning of the challenge. An equally important step was to select a company to work with whose philosophy, attention to high-quality products, and integrity I thought most matched my own.
There were many opportunities that we didn't pursue. For instance, there was one company that wanted to market a line of French Laundry flavoring extracts. It's hard to see how that would have fit with our philosophy.
We always must ask ourselves: "Is this opportunity right for me, for my staff, and for my industry?" If the answer to all three is yes, then you should pursue it to the very best of your ability.
But if the answer to even one of them is no, then no matter how attractive the opportunity might seem, you must make what is often the most difficult choice of all and just walk away.
Thomas Keller is chef-owner of Michelin three-star restaurants Per Se in New York and French Laundry in Yountville, Calif. This essay is based on comments he made in a speech to the California Restaurant Assn. On the Side is an occasional feature of the Food section that offers stories and points of view from professionals in food and restaurant fields.
---
Life is stressful. Our weekly mental wellness newsletter can help.
You may occasionally receive promotional content from the Los Angeles Times.