PANORAMIC:
A kitchen, living room, master bedroom and bathroom are on the two-story-high second floor, and on the third floor is a media room, above. A full view of the San Diego skyline can be seen from the mezzanine of the triangular, three-floor building, named R3. On the first floor is R3 Gallery, co-founded by Russell's wife, Ame Parsley.
(Mark Boster / LAT)
PROTECTIVE WALLS:
On the south side of the building, closest to San Diego airport's flight path, Russell erected two 30-foot-high walls, which he says serve as a bulwark in the event of a plane crash.
(Mark Boster / LAT)
NOT-SO-PRIME LOCATION:
An outside view of Russell's R3, which sits in front of Interstate 5 and is under the landing path of the airport. The building was originally a triangular lot where "people used to park their broken-down cars underneath the billboard," Russell says. He bought the land for $50,000.
(Mark Boster / LAT)
SKYLINE:
Lloyd Russell looks through a window that runs the length of R3, his new San Diego home, center and top.
(Mark Boster / LAT)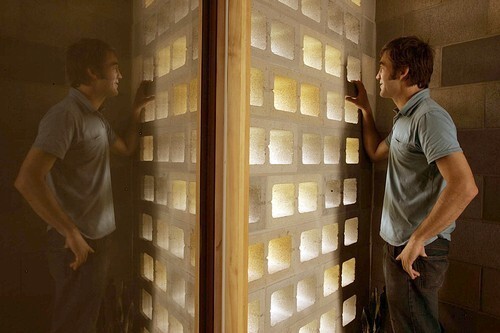 SOUND BARRIERS
: Architect Lloyd Russell used building materials such as blocks and textured concrete to absorb the noise of passing motorists vehicles and airplanes.
(Mark Boster / LAT)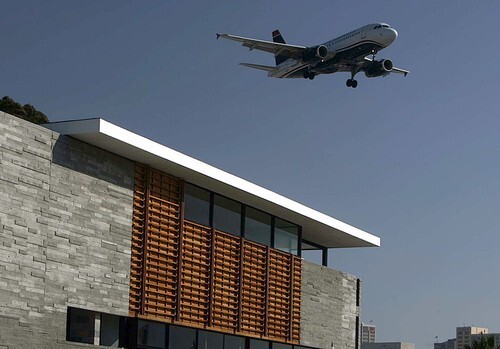 A new home designed by architect Lloyd Russell to combat urban noise sits next to Interstate 5, about 200 feet away from the San Diego airport.
(Mark Boster / LAT)