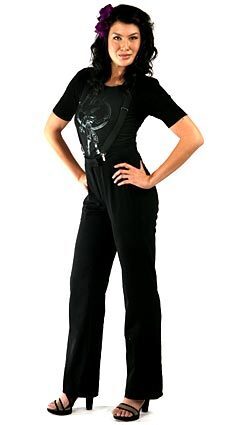 8 Images
Today's special: Stylish servers, designer uniforms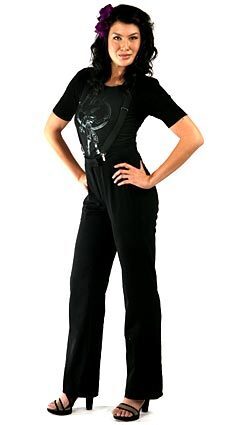 By Melissa Magsaysay, Times Staff Writer
Restaurant design is as much a part of dining out in L.A. as the food. And the attention to detail doesn't stop with coordinating porcelain and flat wear, chairs and wall color, vases and design objects. Servers' uniforms have become an extension of a restaurant's identity, a way to heighten brand awareness and make the experience and environment as memorable as possible.
"Uniforms are an accessory to a restaurant, like a piece of jewelry to a dress," says Jennifer Rosero, president of VIP services for SBE Entertainment, the restaurant group that owns Foxtail in West Hollywood.
The look:
Foxtail bartender Mia Tramz in a uniform custom designed by Biba.
(Mark Boster / Los Angeles Times)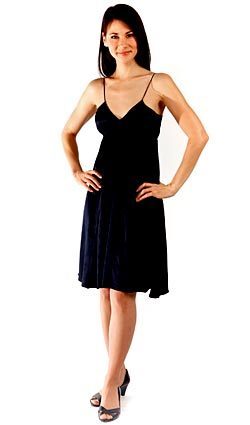 Gone are the days when a white button-down shirt and a pair of generic black slacks cut it on the service floor. At Akasha, the organic Culver City restaurant from celebrity caterer Akasha Richmond, servers wear organic cotton jeans and hemp aprons. At LA Mill, the super-hip Silver Lake coffeehouse/restaurant, the uniforms are designed by the owner's wife -- tissue-thin gray jersey peasant blouses and high-waist jeans. Comme Ça in West Hollywood has its waiters in geek chic gingham short-sleeve shirts. They make all the guys' arms look big, like those of 1950s-era hunks.
We found some of the city's most appealing uniforms, from a little black dress to a "Lolita"-style "maid," modeled by the actual servers who wear them.
The look:
Bond Street server Catherine Kresge wears a dress by Debra Rodman.
(Mark Boster / Los Angeles Times)
ABH
The vibe:
A rooftop pool -- at the Thompson hotel in Beverly Hills -- meets the ultra-cool bar scene from Bond Street. Can you think of a better summer hangout?
The look:
A brilliantly printed sundress by Theory; worn by server Catherine Kresge.
We say:
Appropriate for a poolside spot. The filmy-light cotton will keep servers cool in the summer. And a bonus: The colors really couldn't get much brighter, making it easy to spot your server when you're ready for another mojito.
Kresge's two cents:
She was pleased with the dress -- "It's really light and comfortable so I can move around" -- and was looking forward to wearing it when the rooftop opens in June. Then she considered the thigh-high hem: "I'm not sure how it's going work out if I'm taking an order from someone laying in a pool chair. That could be tricky."
(Mark Boster / Los Angeles Times)
The Maid Cafe at Royal/T
The vibe:
The booming Culver City art and restaurant scene come together in this combination gallery and Japanese-style cafe.
The look:
A saucy Japanese maid costume, designed by Lun*na Menoh, a Japanese designer who designed the similar Miss ko2 costumes at last year's Takashi Murakami gala at the Geffen Contemporary at MOCA; worn by Twee Nguyen.
We say:
The uniform is modeled on the one at Meido Kissa, one of the popular maid cafes in Tokyo's Akihabara district, a hub for computer games, anime, manga and "cosplay" (costume play). Servers dress in the cartoon-sexy uniforms, flirt in character and presumably serve food and drink. Will it fly in Culver City? We'll see. For now, the maids just circulate in the gallery; they'll start serving in a week or so.
Nguyen's two cents:
No, she doesn't feel ridiculous, and the uniform is actually comfortable (except for the itchy petticoat). "People love it and ask to have their picture taken with me," she says. "A lot of customers make reference to the anime characters -- especially men."
(Mark Boster / Los Angeles Times)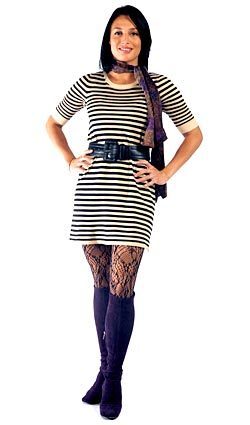 Foxtail
The vibe:
A dark West Hollywood supper club that's designed to transport you to 1970s London. It's all about the setting, even though "Top Chef" contestant Antonia Lofaso is behind the stove.
The look:
Striped mini dress, royal purple scarf and low-heeled purple boots, all by Biba; worn by server Sophia Kazolides.
We say:
Kudos for accuracy. Who better to create a '70s London uniform than Biba? The line epitomizes London fashion through those years. Unfortunately, knit dresses are less than flattering -- the tiniest pooch is writ large by the clingy horizontal stripes. But most of the servers can pull it off. And the black lace tights, purple scarf and boots are perfectly Nico touches.
Kazolides' two cents:
Cute dress, deadly boots. Despite the low heel, they're not comfortable, especially when you're running between the dining room and kitchen all night. Recently, the staff revolted and won the battle of the boots: The servers now have the option to wear a more comfortable black suede model with no heel.
(Mark Boster / Los Angeles Times)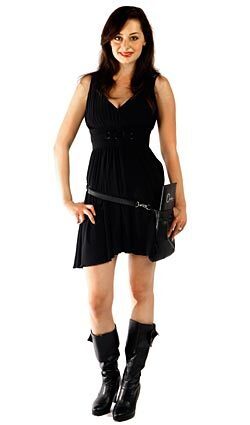 One Sunset
The vibe:
A flirtatious environment with a soundtrack so loud no one can possibly talk. The bass line pounds until the seats vibrate; waiters sling pretty, sweet cocktails; acres of candles flicker endlessly. We're in West Hollywood. It's all about the look.
The look:
Jeffrey Sebelia's slinky black jersey number is distinguished by a low-slung leather check pouch with metal hooks; worn by server Melinda Cohen.
We say:
There's no shortage of sexy black cocktail waitress outfits in this city, but Sebelia, a "Project Runway" winner, put a few interesting details on this one. The waist has geometric embroidery on the front that pulls the focus in, making the midsection seem smaller. The V-neck and soft pleating at the chest is also flattering for all sizes. It's the little black dress with a rocker edge.
Cohen's two cents:
It sure beats a lot of other uniforms. "I used to work at an Italian restaurant and wear a white blouse, slacks, tie and an apron. But I never had the top ironed in time for work. I didn't know how to tie a tie and would always get red wine on the blouse. It was a perpetual pain. I much prefer the casual black dress I wear now."
(Mark Boster / Los Angeles Times)
Chloe
The vibe:
A modern boite, a couple of blocks off Santa Monica beach. Think bistro furniture, vintage glasses and throwback drinks such as Pimm's Cups and French martinis.
The look:
Rami Kashoú's gray cotton sack dress with poppy red sash; worn by server Tehmina Sunny.
We say:
Unexpected -- in a good way, and not just because it's such a cute dress. It is surprisingly modern in the retro room, and the color combination feels like high fashion without trying too hard. The dress, from Kashou's spring collection, has a loose fit that gives it movement, and it looks good while the servers are running around. Kashou, one of the legions of "Project Runway" also-rans, should have brought this look back for the finale show.
Sunny's two cents:
"I love it because it's sexy and sophisticated. The belt comes up really high, which is flattering. And the straps stay up, so you're not having to adjust them back up on your shoulder while trying to take orders. I like to wear my uniform with black motorcycle boots sometimes, just to change up the look."
(Mark Boster / Los Angeles Times)