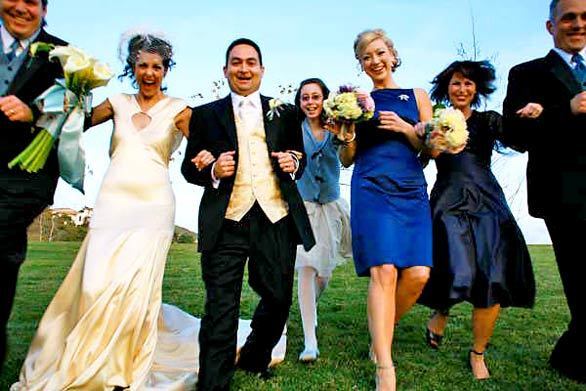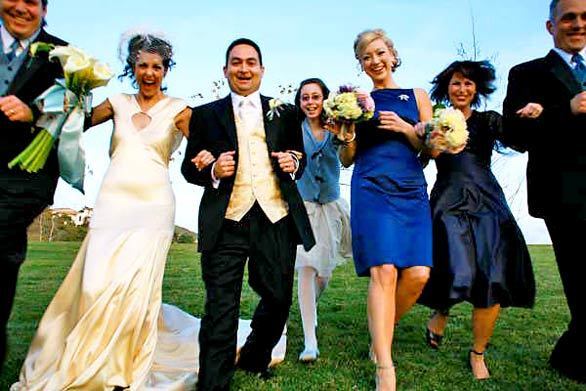 Married at Last!!!
Neither fire nor rain could stop this marriage in Rancho Santa Fe on Feb. 2, 2008. The San Diego fires in October 2007 forced us to postpone our wedding five days before the date! We felt so fortunate to finally get married three months later in February 2008 at the same location in Rancho Santa Fe, the epicenter of the fires.
Michelle Christensen and Dan Wien, Del Mar
More...
•
•
Also in the Magazine
•
•
•
•
()
Working Toward a Common Goal
Sharing a passion for soccer, the bride and groom start their marriage with a short passing game on the San Francisco waterfront.
Richard Terrazas and Jennifer Enson, San Francisco
More...
•
•
Also in the Magazine
•
•
•
•
()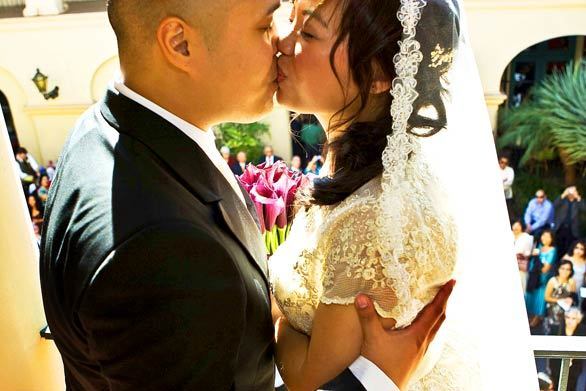 A Kiss to Build a Dream on
This is the wedding of Rachel Quizon and Ephraim Maniago on Oct. 20, 2007, at the Prado, Balboa Park, in San Diego. Surrounded by our family and friends, most of whom drove two hours from L.A. to San Diego to be with us, we were blessed with perfect weather just one day before the San Diego wildfires erupted. This photo captures one of my favorite moments of the day -- stealing a kiss on the veranda after the ceremony while our guests enjoyed cocktail hour in the Prado courtyard.
Rachel Quizon, Long Beach
More...
•
•
Also in the Magazine
•
•
•
•
(BKM Photography)
He Married the Monkey on His Back!
We grew up seven miles from each other outside of Boston but never knew each other. We met at a sunset beach party in Playa del Rey. Our entire family came out from Massachusetts to see us married in Malibu. Oct. 14, 2005, was the sunniest day of our lives.
Steve and Caitlin Friree, Brentwood
More...
•
•
Also in the Magazine
•
•
•
•
()
Flower Girl Pirouettes in the Sand
This is Claire Kupershmidt, age 5, at Monastery Beach in Carmel following our wedding on Aug. 5, 2007. She is the youngest daughter of the bride (me!) and completely stole the heart and lens of our brilliant photographer, Jose Villa. All of our wedding photos were spectacular, but there is something so pure and magical about this one moment.
Leanne Levine, bride of Dan Levine, La Crescenta
More...
•
•
Also in the Magazine
•
•
•
•
()
San Ysidro Ranch Wedding
As the sun set on a beautiful evening on Sept. 30, 2007, in Montecito, Miranda and Jeff Nobriga were married in an intimate ceremony at the San Ysidro Ranch attended by family and friends.
Miranda L. Nobriga, Oxnard
More...
•
•
Also in the Magazine
•
•
•
•
(Rikka Zimmerman)
Italian Wedding Overlooking Lake Como
My husband, John Hennessy, and I had been together for 12 years before we got married on Nov. 30, 2005. We decided it was time to get married, and we wanted something very special, small and with not a lot of people. We have very good friends in Milan and thought getting married in Italy with them standing up for us would fit our dreams. I had no idea what a tremendous amount of paperwork that would entail, but I was determined and we fulfilled all the necessary requirements. Our friends found a little village in the hills over ooking Lake Como that had a city hall and a mayor who agreed to perform the ceremony, with our friend being the translator. It ended up being romantic and charming. The mayor was thrilled to do it, and his secretary got me a bouquet that touched me to tears. We told no one at home what we were going to do and sent an announcement when we returned that was a duplication of a card given to us by the mayor.
Sally Carrocino, Beverly Hills
More...
•
•
Also in the Magazine
•
•
•
•
()
Perfect Kiss
We were married Sept 22, 2007, at Woods Cove in Laguna Beach. Everything was perfect, except it was high tide. During the ceremony everyone kept moving around, dodging the water. But one way or another, we all got a little wet. So, appropriately, after the ceremony, we took pictures in the water. This one was our favorite and reminds us of our perfect day and the perfect kiss.
Rali and Briana Sanderson, Laguna Beach
More...
•
•
Also in the Magazine
•
•
•
•
()
Triumphant Bride
Gloria Lloyd Morris celebrates after her marriage to Philip Craig Kruener on Dec. 14, 2007, at Tivoli Terrace in the Pageant of the Masters Complex, Laguna Beach, with guests and family attending from Florida, Maine and Hawaii.
Gloria Morris, Westchester
More...
•
•
Also in the Magazine
•
•
•
•
()
Jumping for Joy -- Dominican Style
In early February 2008, I was walking along Bavaro Beach in the Puna Cana region of the Dominican Republic, and I ran across this happy couple having their wedding photos taken.
Greg Nelson, Mission Viejo
More...
•
•
Also in the Magazine
•
•
•
•
()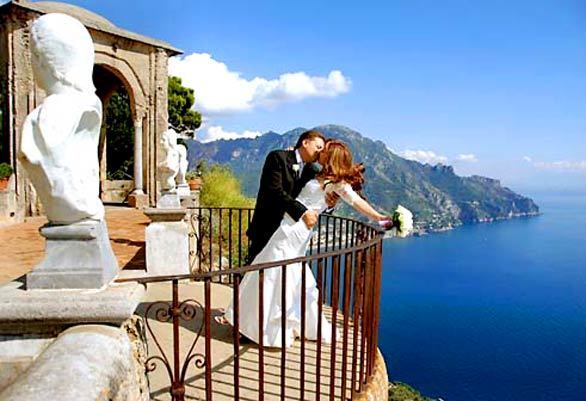 Our Mediterranean Wedding
We were married Oct. 12, 2007, in a seaside garden perched above the Amalfi coast in the small village of Ravello, Italy. Our wedding day was like a dream. We walked the narrow cobblestone streets in our wedding attire toward the magical 11th century Villa Cimbrone. Everyone involved in the wedding, from the hairdresser to the violinists, had lived their entire lives in this small region and made us feel as though we were part of their family. Standing perched over the Amalfi coast on our wedding day--there couldn't have been a better place to celebrate our love.
John Morcos and Terry Esparza Morcos, Laguna Beach
More...
•
•
Also in the Magazine
•
•
•
•
()
An Adoring Look
We were married July 7, 2007, in Santa Monica by a close family friend, with only our parents in attendance, at sunset under the pergola overlooking the beach on Ocean Avenue. Then we all walked to Michael's on Wilshire for Champagne and dinner!
Ezra and Jordan Hudson, Santa Monica
More...
•
•
Also in the Magazine
•
•
•
•
()
Love in Paradise -- the Riviera Maya
We wanted our Nov. 9, 2007, wedding to be memorable, with our immediate family and closest friends! There were 26 people with us in the Riviera Maya for a weeklong celebration. It was incredible . . . everything we wanted -- romantic and adventurous!
Jim Craddock and Rachel Bowler-Craddock, Santa Barbara
More...
•
•
Also in the Magazine
•
•
•
•
()
The Day I Became a Lira
We were married on July 8, 2007, at Point Vicente Interpretive Center in Rancho Palos Verdes. This is a whale-watching muesum located off the bluff. The day was dark and gray until the pastor pronounced us husband and wife and – no lie -- a ray of light shined from the sky. Our guests cheered so loud. It was an amazing day.
Nicole M. and Mark W. Lira, Long Beach
More...
•
•
Also in the Magazine
•
•
•
•
()
Our Wedding in a Swedish Castle
This is our Aug.19, 2006, reception at the Landskrona Citadellet, following our wedding at Glumslov church in Sweden. Citadellet is Swedish for castle, and we are standing next to the castle's moat. Aug.19 is special to my family: My stepfather, who is is Swedish, married my mother at the same church on that date in 1978. My two brothers and I were baptized on Aug. 19 at that church. And our son, Deucalion, was born on Aug. 19, 2007 (in London).
Melissa Coats, Aliso Viejo
More...
•
•
Also in the Magazine
•
•
•
•
()
Dreams Do Come True
This picture is of our marriage at the Sunset restaurant in Malibu on Dec. 16, 2007. I am from the United Kingdom and he is from the Valley, so we had 60 family members from all the world and locally to share in the most amazing day of our lives.
Amanda and Jason Raich, Los Angeles
More...
•
•
Also in the Magazine
•
•
•
•
(Ion Hartunian)