L.A. Affairs: No, I will not let you photograph my sweaty feet.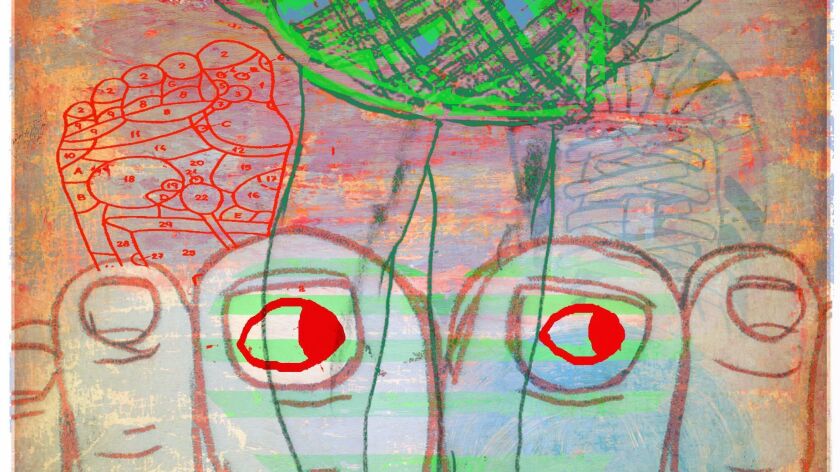 As an unfulfilled administrative assistant, I tend to go for "artistic" guys onto whom I can project my failed career aspirations. This "type" is also my escape from young-adulthood malaise. The first half of this year consisted of unsuccessful Tinder dates and emotional unavailability from the men I did like. One Saturday, after experiencing some anxiety over my career, I decided to go for a late afternoon urban hike to clear my mind.
I took the Metro Red Line to Vermont and Sunset before making my way from Los Feliz to Silver Lake. I was waiting at a stoplight at Sunset and Virgil when I noticed a guy in a black Honda Civic smile and wave at me. He was about to make a right-hand turn. I waved back and smiled, assuming that he was just being a polite driver and signaling that I could cross.
Are you a veteran of L.A.'s current dating scene? We want to publish your story
I continued walking down Sunset Boulevard when he apparently made a U-turn and parked his car on my side of the street. Quite literally jumping out of the bushes, he stopped me.
"Hey, do you mind if I talk to you for just one minute?"
I pulled out my earbuds, and mumbled "Sure."
He stood about 5 foot 8, a slouchy, dark-haired male, approximately 30 years old, with a beard and slight belly. He had that Arts District aesthetic. I noticed scuffed canvas Vans and a whimsical cartoon tattooed on his right forearm.
"Remember me? I saw you at the stoplight just now. I'm not tryna hit on you but you are beautiful. You have an amazing body. I'm a designer, photographer and artist."
All three boxes for occupational tropes in gentrified, metropolitan neighborhoods were checked.
"Are you a model?"
I shook my head.
"I can't believe that. Has anyone ever told you that you would be great for modeling?"
At 5 foot 3 with 40-inch hips, I know that I am way too short and not thin enough for traditional modeling. I was instantly suspicious that his idea of "modeling" had pornographic (or at the very least, "import model") elements.
"Do you mind if I ask what size shoes you wear? You must have beautiful feet.... You're wearing Adidas. I'm a huge Adidas fan. Those are really cool shoes. Can I take a picture of them for my street wear blog? I love your look."
I barely understood his rapid-fire, one-sided adulations.
He appeared a bit too friendly but essentially harmless.
"Is it OK if you model the shoes?"
What? Did he mean removing my shoes?
No, I found out that it actually meant taking off my socks and modeling the shoes next to my bare feet.
What was this guy's name again? I knew he introduced himself to me but he was just talking so fast.
"I don't have a foot fetish or anything. I just think you're really beautiful and you have a unique look."
I told him I was not comfortable with displaying my sweaty feet in front of his DSLR. He pulled out his iPhone and showed me a slew of girls with manicured toes posing next to sandals and sneakers.
And I had no idea how to react to his portfolio.
"Well, can I get your information so we can maybe schedule a photo shoot in the future?"
I suggested that he give me his information. (And I'd do some research before deciding whether to contact him.)
He obliged, and explained that he's really "talented at giving foot massages" and a whiz at the ancient art of "foot reading" (essentially fortune-telling, but for feet instead of palms). He offered to do me the favor of unraveling my fate via my soles.
No, no, no.
"Are you sure? My equipment is in my car if you want to go somewhere. I'd love to take a few photos of you."
I told him I was not willing to do an off-the-cuff, extended photo shoot with him … but I'd let him capture a quick snapshot of my sneakers.
Damn my eagerness to please rooted in gendered socialization!
He hesitated. That was not good enough for him.
"Can I just take a full body shot of you? So I can get your whole look. You have a great style."
I explained that I didn't want my face plastered on the Internet any more than it already was. I made the excuse that I was too sweaty and not ready for photos, to spare his feelings.
But I really don't know why I was so concerned with being polite to this very eccentric stranger.
I don't think I'm alone in this. Once again, I found myself prioritizing and preserving a man's ego over my own comfort level.
"That's cool. Well, can I get a few pictures of you from behind?"
What? I was speechless and my expression consisted of shock and terror.
"Look, I don't want to creep you out or bother you. Thanks for your time. I just wanted you to know how beautiful you are."
Oh, I think we passed creepy when you showed me your Rolodex of women's feet.
We parted ways and I continued my trek to the Micheltorena Stairs in Silver Lake.
Later that night, I found nothing on Google.
And what to think about his thinly veiled, socially taboo fetish? Man, if only I had the confidence of this Terry Richardson caricature. I'm way too shy to walk up to a guy and introduce myself. It's hard to meet potential mates, or even friends, when you're dealing with weird self-esteem baggage.
The encounter piqued my interest in the ways people come and go out of our lives.
How, in a city of nearly 4 million, do we find long-lasting friendships and convenient companions for the week? Common wisdom says meeting dudes IRL — in real life — is better than meeting dudes online. Spontaneously bumping into someone at a farmers market is obviously favorable to shallowly swiping right on a properly filtered selfie.
But I believe that if they are the right person for you (or for who you are at a certain point in time), it won't matter if you guys had a meet-cute at a coffee shop, connected through an app or were arranged through a paper marriage. It'll be kismet.
As for me? Yes, still single. Still looking. Still hopeful.
The author is a Los Angeles-based freelance writer. Read her short vignettes at amberkong.com.
L.A. Affairs chronicles the current dating scene in and around Los Angeles. If you have comments or a true story to tell, email us at LAAffairs@latimes.com.
To read the article in Spanish, click here
MORE L.A. LOVE STORIES …
The best advice I ever got for dating a guy with kids
We had a one-night stand. I wish it had stayed that way
---
The essential weekly guide to enjoying the outdoors in Southern California. Insider tips on the best of our beaches, trails, parks, deserts, forests and mountains.
You may occasionally receive promotional content from the Los Angeles Times.