Getting ready for a cruise? Here's what you need to know for 2018 before you say, 'Ahoy!'
Thirty-five new cruise ships are expected to slide into the world's oceans and rivers this year, a big splash in a building boom expected to last several years.
A reason for the increased tonnage: The number of people cruising is increasing steadily. Cruise Lines International Assn. is projecting a record 27.2 million cruisers this year, about 1.4 million more than last year.
To get you onboard, cruise lines are ramping up their marketing engines with promotions such as the just-announced deal-making former Los Angeles Laker Shaquille O'Neal the "chief fun officer" of Carnival Cruise Line. He is expected to make appearances on ships in his new pitchman role.
Together, the ships bring an increased focus on being cool and relevant as the cruise lines look to attract not just seniors and baby boomers but also more millennials, Gen X travelers and families.
Here's what's trending in cruising in 2018:
Alaska is hot
More than 1 million cruisers visited Alaska last year, and 10% more are expected this year. Many of them will arrive from Seattle on the 4,000-passenger Norwegian Bliss, the largest passenger ship ever in Alaska's waters, and the only one with a two-level electric go-cart racetrack. For those seeking a calmer experience, Windstar Cruises returns to Alaska for the first time in 20 years with its all-suite 212-passenger Star Legend.
Cruisers seek cold
More cruisers are putting colder ecotourism destinations on their bucket lists. The result is more ships heading straight from the shipyard to the polar regions and other chill spots. The completely rehabbed 690-passenger Azamara Pursuit will do its maiden voyages in August to Norway and Iceland. Polar specialist Quark Expeditions reports bookings are also robust for Greenland.
For a song, maybe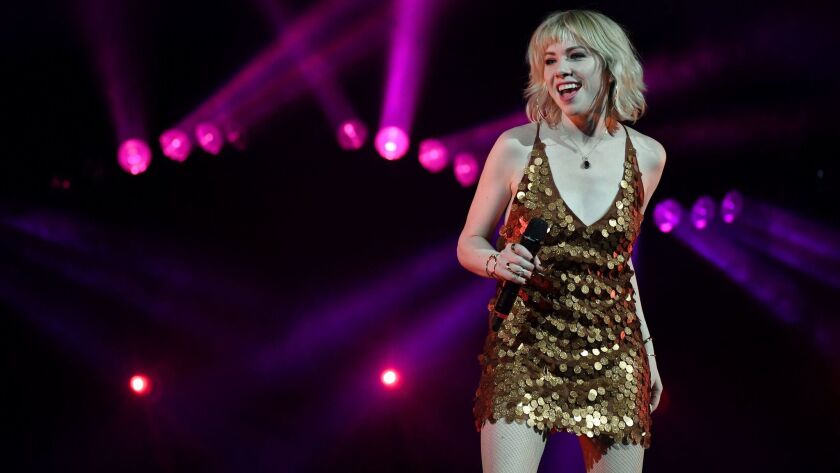 Guests on the Feb. 17 Carnival Splendor sailing out of Long Beach will see a free concert by "Call Me Maybe" singer Carly Rae Jepsen while the ship is docked in Puerto Vallarta, Mexico. It's part of the Carnival LIVE concert series, which has required the purchase of tickets to see name-brand acts. Whether the "free" part is a trend or a one-off promotion isn't clear.
Magic Carpet ride
Upscale Celebrity Cruises is going for the "wow" factor with a first-of-its-kind Magic Carpet on its 2,908-passenger Celebrity Edge, debuting in the fall. The tennis court-sized platform doesn't fly, but it does cantilever off the side of the ship, moving up and down like an elevator to add deck space where needed.
More family, more fun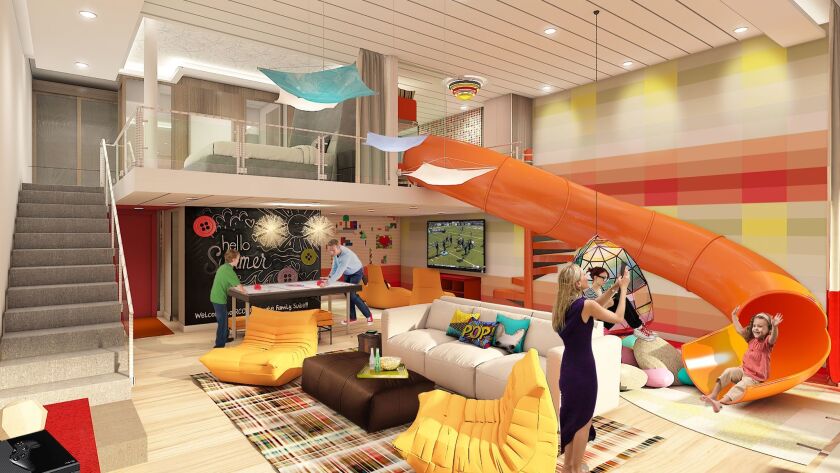 For those willing to pay $40,000 or more a week for a family of up to eight, the new, two-story family suite on Royal Caribbean's Symphony of the Seas offers such unusual enticements as a kiddie slide between levels and a floor-to-ceiling Lego wall. Sister brand Celebrity Cruises takes a page from river ships and will debut on Celebrity Edge the first balcony staterooms at sea: Push a button and your indoor seating area becomes open air.
More big news
Another year, another Royal Caribbean ship claims the title as the world's largest. Symphony of the Seas, which is being introduced in March in the Mediterranean, can carry nearly 7,000 passengers (5,535 based on double occupancy) and bounces sister ship Harmony of the Seas from the top spot. New is a massive sports bar with dozens of TVs in the lively Boardwalk neighborhood.
Comfort in familiarity
Several lines are introducing ships that make few changes from their siblings. These include Holland America Line's 2,660-passenger Nieuw Statendam (sibling to Koningsdam) with a three-venue live Music Walk; the 930-passenger Viking Orion (a copy of four earlier siblings) with NASA astronaut Dr. Anna Fisher as godmother; and the 600-passenger, all-suite luxury ship Seabourn Ovation, which shares with its sibling (Seabourn Encore) such niceties as the Grill by Thomas Keller.
New on the Nile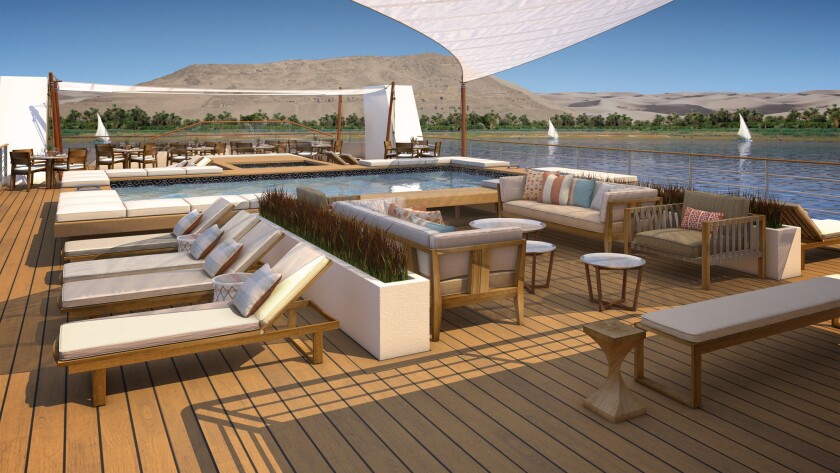 L.A.-based Viking River Cruises in March becomes the only Western company to own and operate a river ship on the Nile. (Other ships are chartered.) The 48-passenger Viking Ra debuts in March with a new 12-day Pharaohs & Pyramids excursion sailing round trip from Cairo.
For millennials only
U by Uniworld launches its revamped and renamed 120-passenger river ships A and B with European cruises for millennials and those slightly older. You must be 21 to 45 to step foot onboard and partake of U by Quinoa burgers and such activities as mixology classes and late-night "silent disco" parties.
Well, well, well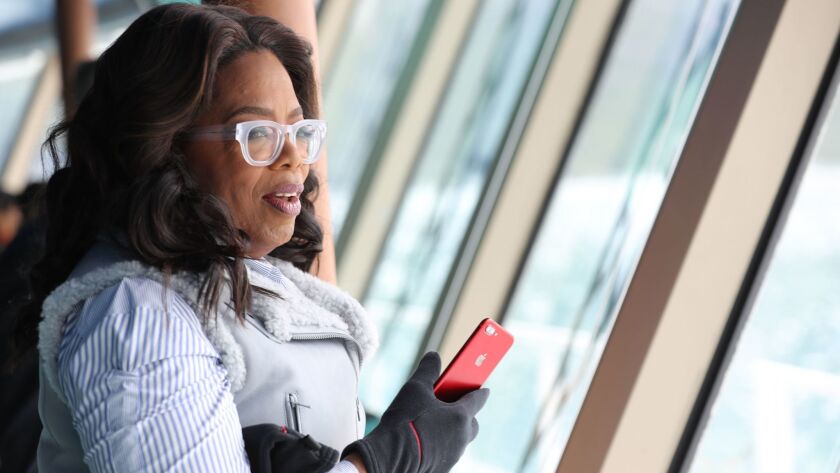 Cruisers are showing a penchant for wellness at sea. Personal growth and wellness activities inspired by O, the Oprah magazine, are now on all Holland America cruises sailing from North America, with three upcoming O magazine-inspired theme cruises upping the ante. On Seabourn ships, a wellness program with Dr. Andrew Weil has daily yoga and meditation sessions and seminars on such topics as Spontaneous Happiness. Weil himself will headline an August Mediterranean cruise.
Greener ships
Two ships launching this year bring significant environmental advances. German line AIDA Cruises' 5,000-passenger AIDAnova will be fully powered by liquefied natural gas, the cleanest-burning fossil fuel. Norway's Hurtigruten will introduce the 530-passenger Roald Amundsen, with dual engines and the ability to run at least part of the time on electric propulsion.
Family things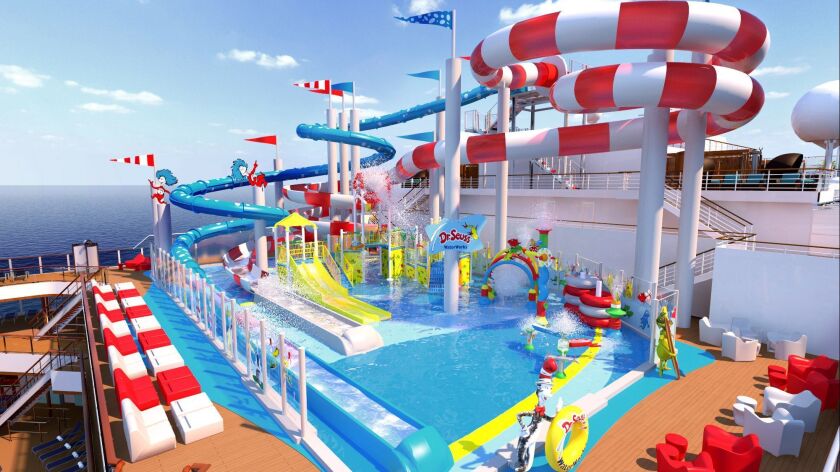 Thing 1 and Thing 2 get increased play on Carnival with a Dr. Seuss-themed WaterWorks park debuting on the new 3,954-passenger Carnival Horizon (a sister ship to 2016's Carnival Vista). Disney Cruise Line's Disney Magic ups its "Tangled" experience with Rapunzel's Royal Table, a dining experience with movie characters and live entertainment. ("Tangled: The Musical" is on the ship's main stage.) Compete with the kids on new laser tag attractions on the Norwegian Bliss (open air and space station-themed) and Symphony of the Seas (indoors, glow-in-the-dark and intergalactic themed).
Ocean or river? Both
River or ocean cruise? Viking is marrying the two with combo voyages. Hop on one of the company's river ships from Basel, Switzerland, to Amsterdam, for instance, and then do an ocean cruise from Amsterdam to Bergen, Norway, a 15-day itinerary featuring the Black Forest, fiords and castles. Another option gets you from Basel to Barcelona, Spain, in 18 days.
Tony toys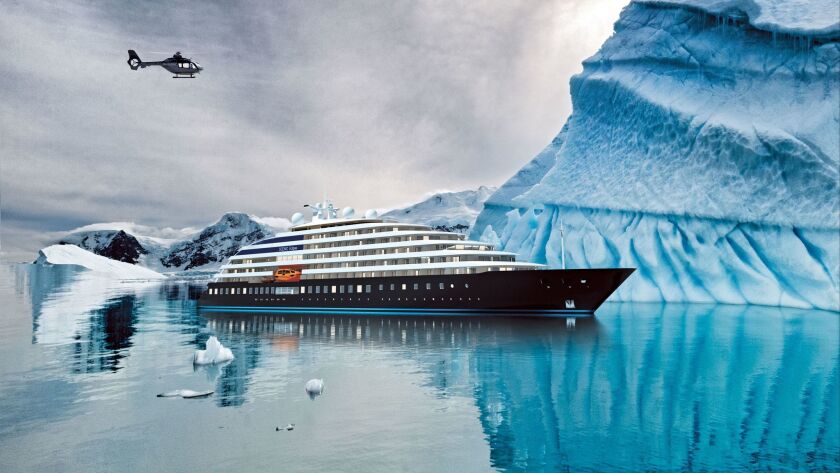 Adventure travelers get small ships with enviable accouterments and ice-strengthened hulls for Arctic and Antarctic cruising. Australian river line Scenic debuts the 228-passenger Scenic Eclipse, its first fancy, ocean-going "discovery yacht," featuring an onboard submarine and helicopters. Underwater drones created by Blueye Robotics are the new attraction on Hurtigruten ships. And French line Ponant has a pair of 184-passenger yachts, Le Lapérouse and Le Champlain, with below-the-hull, multisensory observation providing Jules Verne-esque underwater views.
Cuba, sí
With its 1,350-passenger Veendam, Holland America is the most recent of more than half a dozen American lines that sail to Cuba, a market that just reopened last year. Royal Caribbean and Norwegian each have two ships visiting the island nation this year. The cruises, some of which include overnights in Havana, meet Trump administration travel requirements through organized people-to-people shore excursions, with limited free time on shore.
That's entertainment!
Tony Award musical winner "Jersey Boys" is debuting at sea on the Norwegian Bliss. Princess Cruises adds "The Secret Silk," a Stephen Schwartz show created and directed by John Tartaglia ("Sesame Street," "Avenue Q"), with puppets by Jim Henson Creature Shop, on the 3,600-passenger Royal Princess. Debuting on Celebrity Edge is an interactive dinner theater extravaganza created in partnership with the producers of off-Broadway's "Queen of the Night."
You'll know these names
The Ritz-Carlton Yacht Collection and Virgin Voyages introduce their first ships in late 2019 and 2020, respectively. The luxury hotel operator plans a fancy yacht experience for 298 passengers, and Virgin is going for a lively, adults-only, 2,700-passenger big-ship experience. Sign up to be first in line at the Virgin Voyages website. The Ritz-Carlton cruises go on sale in May.
Helping hands at sea
As more travelers seek authentic experiences, cruise lines are responding with new shore excursions that contain cultural immersion elements. Carnival Corp.'s social impact Fathom brand goes a step farther by offering volunteer-focused excursions, and is now organizing groups of travelers to cruise while helping in Caribbean communities affected by last year's devastating hurricanes. The inaugural group, 150 travelers, sailed on the 3,080-passenger Caribbean Princess this month. Two more helping-hand groups will set sail in March and May.
travel@latimes.com
---
Get inspired to get away.
Explore California, the West and beyond with the weekly Escapes newsletter.
You may occasionally receive promotional content from the Los Angeles Times.