New advanced-design ship will travel deeper than ever into the polar ice, Lindblad says
If you've always wanted to walk in the footsteps of legendary Arctic explorers, Lindblad Expeditions has a voyage in mind for you.
On Thursday, the adventure cruise line detailed plans for its new ship, the National Geographic Endurance, at a live video conference.
The ship, an advanced-design icebreaker, is scheduled to launch in early 2020 and is being designed to weather polar conditions, making it possible for passengers to discover difficult-to-reach parts of the world.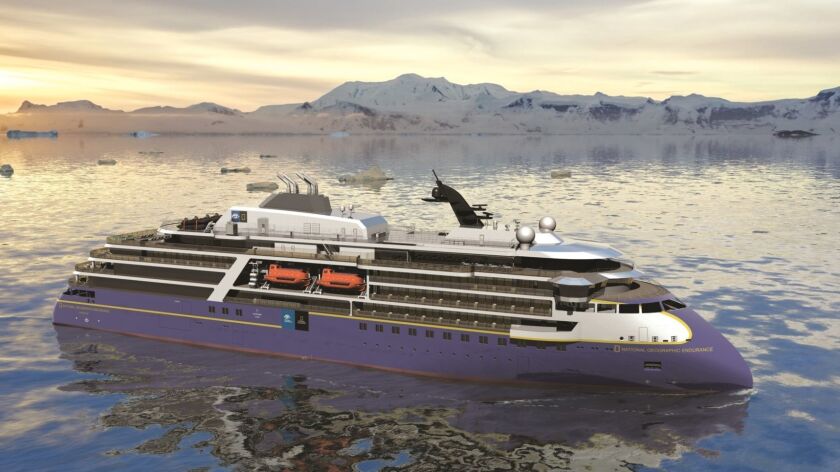 "We will go to places unfathomable to reach before," said Sven Lindblad, CEO and president of the company. "We will literally go where no one has gone before."
Lindblad Corp. calls the ship "the world's most advanced polar expedition ship," and says that its unique design allows a smooth ride and cushy interior coupled with fuel efficiency and low emissions.
Capt. Leif Skog, a company vice president says, "It can literally go two-thirds of the way around the world without refueling. It can travel deeper into the ice for longer times."
In 2020, the Endurance will set sail on a series of eight inaugural Arctic itineraries.
Rates start at $7,950 per person, double occupancy, for a nine-day May cruise of the Norwegian fjords and Scottish Isles.
Other voyages will include a Northeast Passage trip from Norway to Alaska (20 days, $23,870 per person) and a trip to Northeast Greenland National Park, known for polar bears, seals, walrus, glaciers and coastal villages (26 days, $34,750 per person).
Info: (800) 397-3348, www.expeditions.com
---
Get inspired to get away.
Explore California, the West and beyond with the weekly Escapes newsletter.
You may occasionally receive promotional content from the Los Angeles Times.