For Arbor Day, 6 trees worth hugging and where to find them, including ... Clifton's?
Arbor Day was first celebrated in Nebraska on April 10, 1872. Why there? Because that's where editor and politician J. Sterling Morton lived — and he wanted his community to plant more greenery in the Midwest state.
It worked. Since then, Arbor Day has become a national holiday marked on the last Friday in April, which this year falls this Friday.
Some states do it differently. California, for example, celebrates Arbor Day on March 7, the day horticulturist Luther Burbank was born.
Whenever you choose to celebrate trees, here are six species worth traveling to see.
1. Redwoods
The sheer size of redwoods make jaws drop, and for good reason. They're the tallest, most massive trees in the world — and they thrive in several parts of the Golden State and points north.
You'll find giant sequoias — the thick ones such as the General Grant Tree in Sequoia National Park — that would take several people to wrap their arms around. It's an easy hike to get to this tree.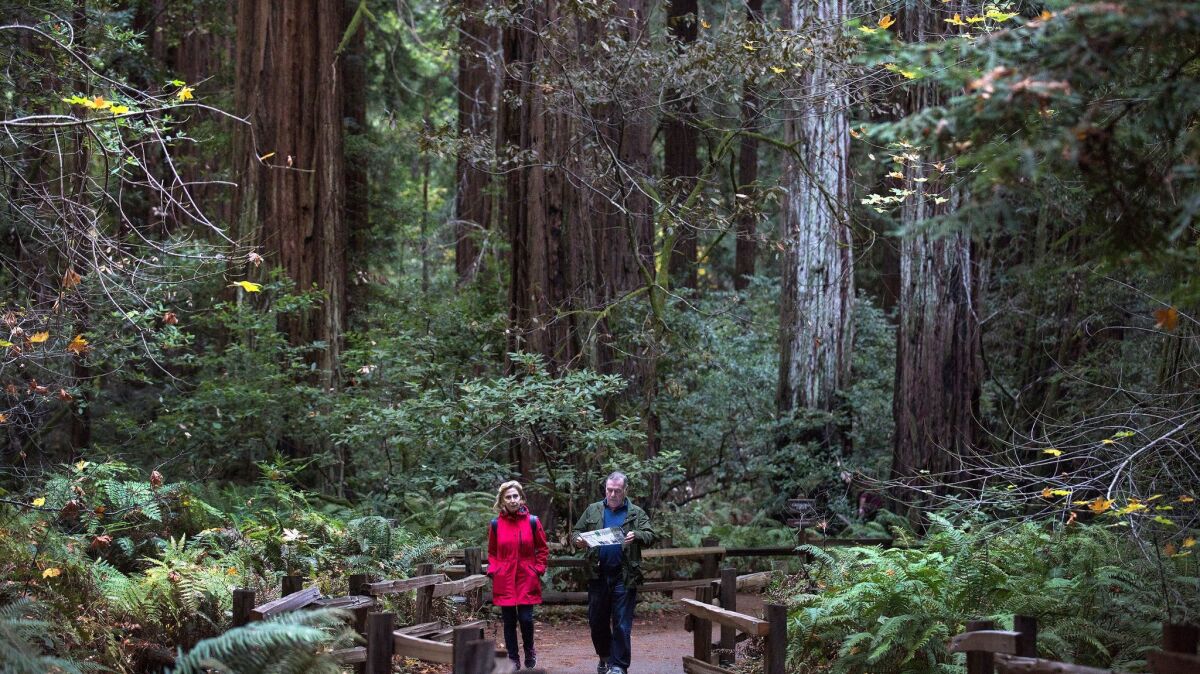 You'll find coast redwoods from Monterey County to southwestern Oregon along the Pacific Coast, at parks like Muir Woods National Monument in Northern California and Big Basin State Park in Central California and points north.
2. California fan palms
Nothing is more breathtaking than meeting the only true California native palm tree. These behemoths line a series of canyons in Palm Springs owned by the Agua Caliente Band of Cahuilla Indians.
California fan palms, or Washingtonia filifera, are much brawnier and shaggier than the ones you see lining streets in L.A., which are Mexican fan palms, many planted in the 1930s to enhance the city's exotic, tropical appeal.
Stroll down Palm Canyon, and you'll follow a stream that leads to a palm oasis with plenty of shade. Andreas and Murray canyons, also on easy paths, feature the same rugged desert terrain mixed with native palm trees. Admission costs $5 to $7.
Info: Indian Canyons, 38520 S. Palm Canyon Drive, Palm Springs; (760) 323-6018
3. Joshua trees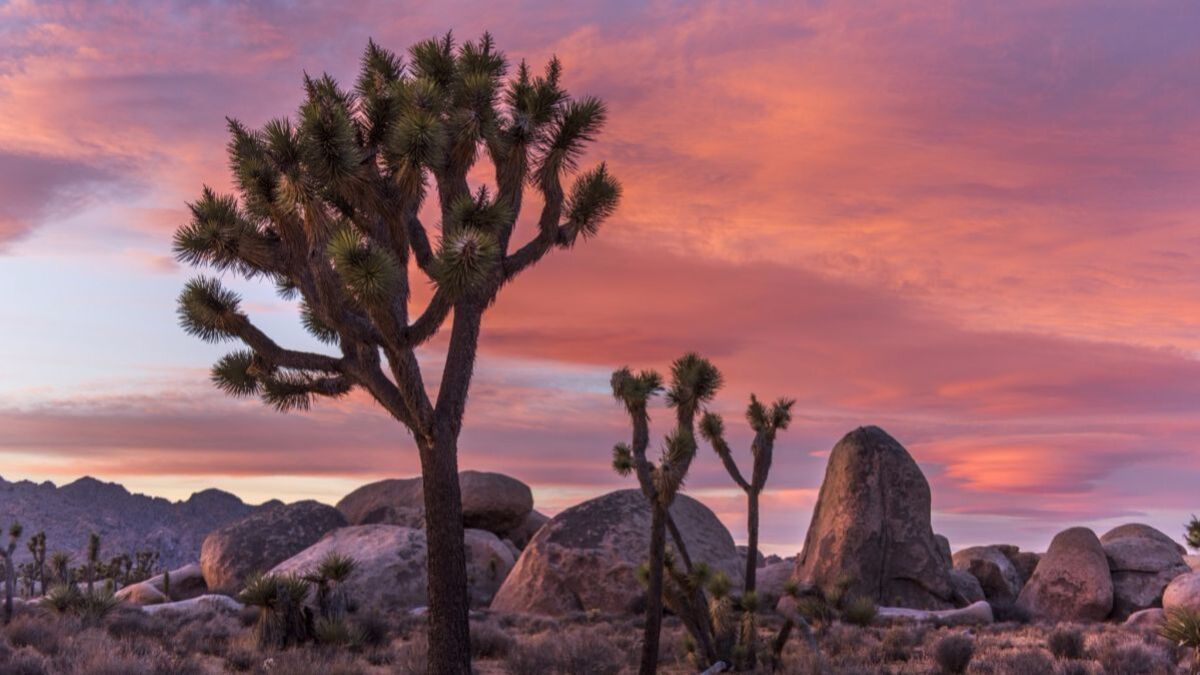 Joshua trees are a type of yucca, Yucca brevifolia, to be specific, that may be a tad too prickly and too tall to hug. At least some of their fame may come from the 1987 blockbuster U2 album "The Joshua Tree."
You can find them in southwestern California (particularly at its namesake national park) as well as Utah, Nevada and Arizona. Sadly, these trees that grow at elevations up to 6,000 feet, are losing ground to climate change, their fate being threatened by hotter temperatures.
Joshua Tree National Park was established in 1994. It was based on a designation as a 794,000-acre national monument made by President Franklin Delano Roosevelt in 1936. It costs $25 to enter, good for seven days.
Info: Joshua Tree National Park, (760) 367-5500
4. Ancient bristlecone pines
The twisted, snarled ancient bristlecone pines are among the oldest living things on the planet. Some of these living trees at the Ancient Bristlecone Pine Forest east of Bishop are more than 4,000 years old.
Trees in the Schulman and Patriarch groves in the high-altitude White Mountains are among the most photographed in the forest.
Info: Ancient Bristlecone National Forest, Inyo National Forest, (760) 873-2400
5. Quaking aspens
Quaking aspens give the Eastern Sierra its yellows and golds when fall sets in. These beauties can be found along hiking trails and mountain roads around Bishop and points north.
Actually, these aspens have the widest natural range of any tree in North America, which means you can easily find one to honor on Arbor Day.
Just remember, in spring and summer, leaves will be green and fluttery. Make sure you re-visit in autumn.
Info: Eastern Sierra Fall Color Guide
6. Walk-in faux redwood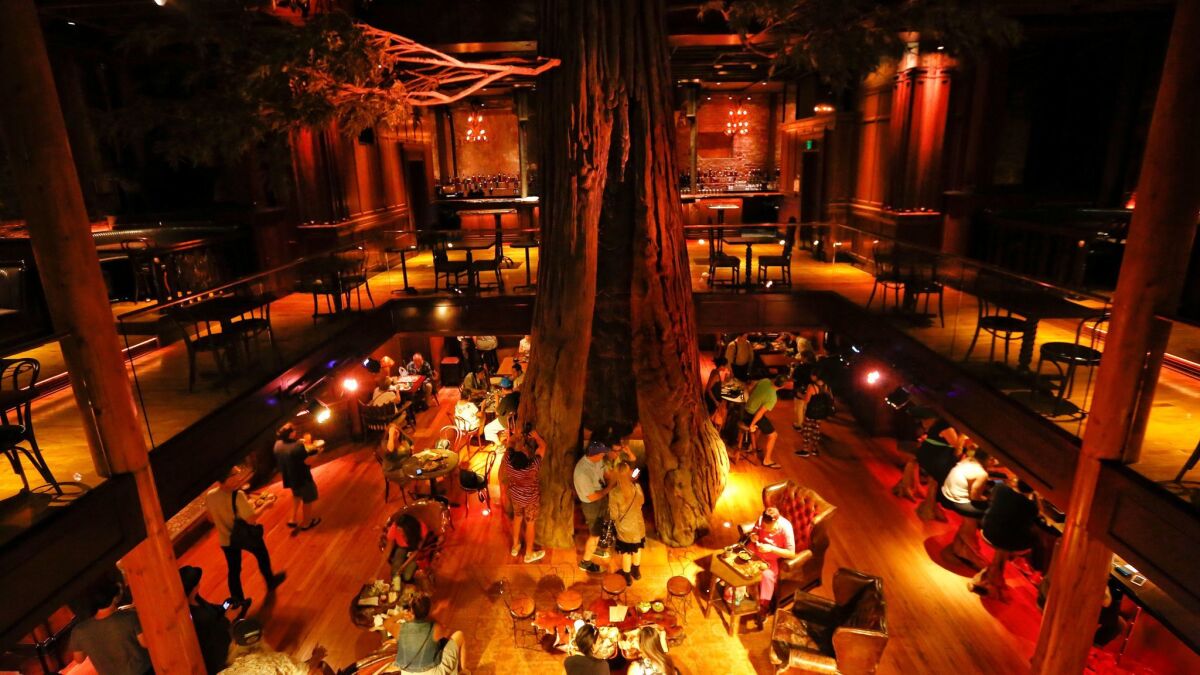 If you need an arboreal fix in the city, try downtown L.A.'s version of the High Sierra. Clifton's, the landmark cafeteria opened by Clifford Clinton in 1935 and reimagined in 2015, features a huge faux redwood that rises five floors.
You can gather at the tree's base, step inside the trunk and imagine yourself in a California forest. And you can marvel at the fake foliage with a Big Sur or Fort Ross cocktail in hand.
Info: Clifton's, 648 S. Broadway; (213) 627-1673
ALSO
With spring snow (and so much of it!) comes discounts at California ski resorts
What Japan's perfect cherry blossom moment looks like
American and United offer a sure bet for saving money: a $77 round-trip fare to Las Vegas
Why visit this 'desert beach'? Get back to nature for a weekend escape at the Salton Sea
---
Get our L.A. Goes Out newsletter, with the week's best events, to help you explore and experience our city.
You may occasionally receive promotional content from the Los Angeles Times.