Looking for places to get your Halloween spooky on? Think a little farther than your local theme park gore fest.
In Romania's Transylvania region, for example, you can visit Bran Castle, which has become known worldwide as Count Dracula's home. Dracula is fictional, of course, but this remarkable fortress that dates to the 14th century most resembles the description of the castle in Bram Stoker's dark novel. It's open daily and costs 7.8 euros ($9) for adults and 1.5 to 4.5 euros ($1.70 to $5) for kids and students. Info: Bran Castle
Here are other places perfect for an October visit to the dark side.
Paris
Everyone knows Paris' more famous landmarks, but there's an underworld just 65 feet below street surface — and Halloween may be the perfect time to visit. The Paris Catacombs Underground Tour by City Wonders guides you through quarry tunnels to see skeletal remnants of some 6 million souls. The boneyard became the city's answer to overcrowded cemeteries in the 18th century. Nowadays, it's a popular tourist attraction, despite the macabre overtones. The two-hour walking tour with an English-speaking guide takes you to some areas off limits to the general public too. Cost is $106 per person. Info: City Wonders Paris Catacombs Underground Tour, (800) 358-1942
London
You wouldn't expect the Royal Lancaster London hotel overlooking Hyde Park to be serving up a Halloween Afternoon Tea. But the holiday has strange powers, even across the pond. The traditional British tea takes on a noir vibe that pays tribute to the thriller films of the 1960s and '70s. You can watch an Alfred Hitchcock film flickering on the wall and nibble on Cursed Blackbird Macaroon and Night of the Living Tart, two of the sweeter picks. While at the hotel, check out the more than $100-million makeover completed for its 50th year. Halloween Afternoon Tea costs 35 British pounds ($47) and is served from 2 to 5:30 p.m. from Oct. 17 to 31. Info: Royal Lancaster London, Lancaster Terrace, London W2 2TY
Tokyo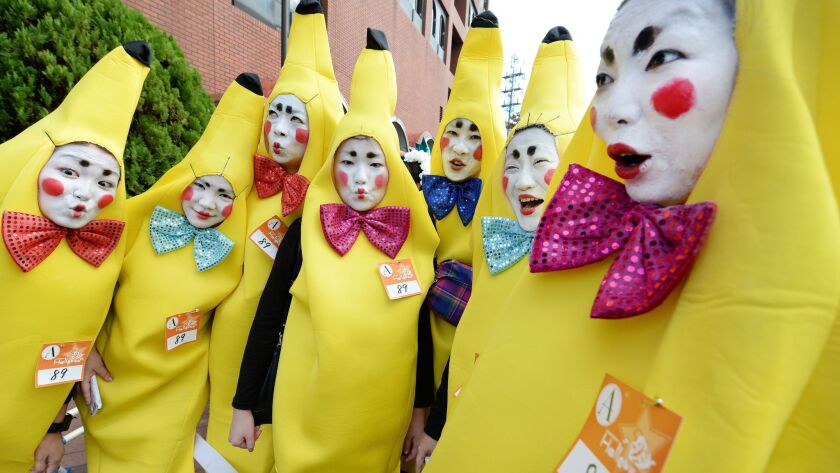 Going all out for Halloween is a relatively new thing in Japan, Brian Ashcraft wrote on the Kotaku blog: "When I first came to Japan in 2001, Halloween was not a thing. At all. Well, it was if you were foreigner, but Japanese people just didn't really get it." But all that has changed. One of the biggest celebrations is the Tokyo suburb of Kawasaki's Halloween Parade, which features dressed-up characters that dance their way down the street, thanks to DJ's spinning tunes. You pay to march in the parade, but you can watch for free. Head over to the neighborhood and follow the walking bananas — or zombies, or "Star Wars" characters, etc. — from the Kawasaki railway station to La Citadella shopping complex from 2:30 to 4 p.m. Oct. 29. Info: Kawasaki Halloween Parade
Zagreb, Croatia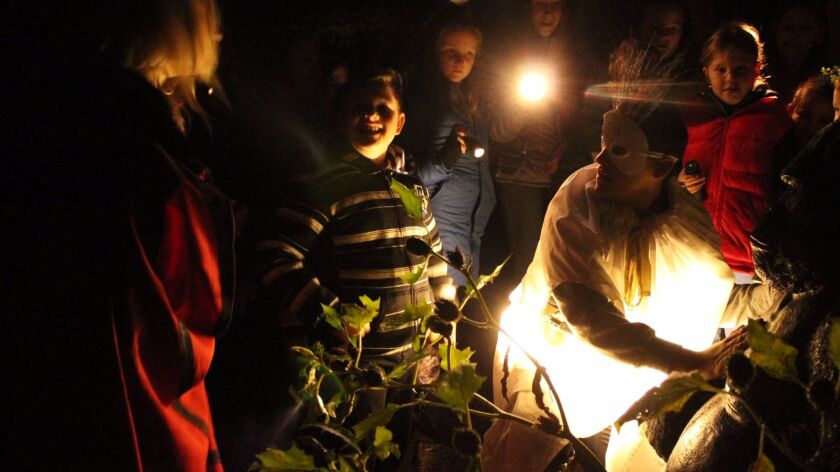 Witches and wizards take over the zoo in the Croatian capital of Zagreb to tell their stories and legends. This year the good Maksimir Witch (named for the city's oldest park, Maksimir Park, where the zoo is located) leads children 5 and older through the Abrakadabra Zoo to see animals such as crocodiles, monkeys, bats and lizards while on a quest to defeat Laverna, the Roman goddess of thieves and cheats. Shows start at 6:15 and 8:15 p.m. and last almost three hours, starting Friday through Oct. 31. Tickets cost 60 Croatian kuna ($8) for 5- to 14-year-olds and 80 kuna ($10) for older kids and adults. Info: Abrakadabra Zoo
---