Where do those Hawaiian tattoo patterns come from? Here's one place to find out
In Hawaiian culture, images of curling waves, hibiscus and geometric patterns are repeated on cloth, mats and even skin.
The Bernice Pauahi Bishop Museum in Honolulu culled from its roughly 25 million items cultural and natural objects, and grouped them by common patterns and shapes rather than their use or historical era.
"Hulia Ano: Inspired Patterns" opened last Saturday at the museum.
In the show, cases are filled with objects relating to a single Hawaiian word. For example "kikeekee," which means "zigzag," can be interpreted as "connected to the movement of fresh water, or representative of teeth," the museum's cultural adviser Marques Hanalei Marzan told SFGate.
In the show, patterns appear on kapa, decorated cloth made from tree bark; sedge mats; dyed gourds and bamboo stamps.
Contemporary works by five artists, including a newly made kapa by artist Verna Takashima and Hawaiian feather work by Kawika Lum, were created for the exhibition.
At 1 p.m. Tuesdays, Wednesdays and Thursdays, visitors can test their skills at traditional Hawaiian printing by using stamps and inks crafted from the local landscape to create their own patterns.
You can also decorate digital gourds by selecting and positioning patterns on a touch-screen computer, and arrange icons from historic quilts — crowns, pineapples and flowers — to make designs that are then projected onto a wall as full-size quilts. (Hint: Be sure to snap a photo to use as wallpaper on your phone or computer.)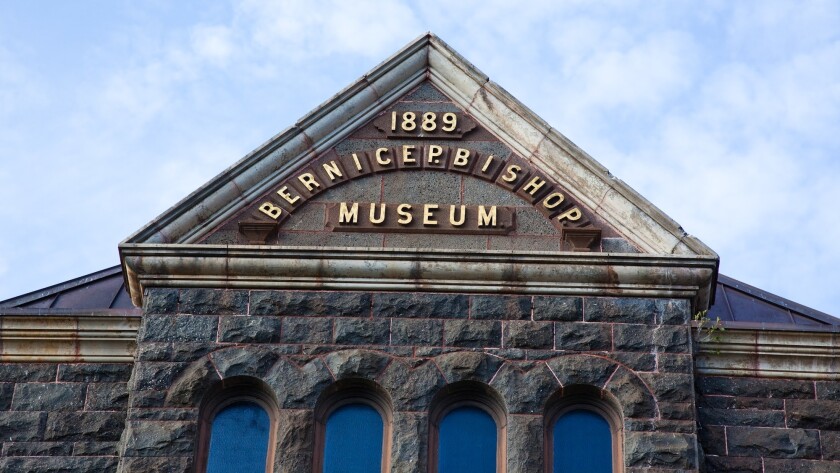 The museum is open 9 a.m. to 5 p.m. daily. Tickets purchased online cost $19.95 for adults. The show continues through Oct. 16.
Info: Bernice Pauahi Bishop Museum, 1525 Bernice St., Honolulu; (808) 847-3511
ALSO
Open House San Diego invites you to explore the city, building by building
Volcano watchers in Hawaii trekked dangerously close to Kilauea's lava — and got caught
Where's the best mai tai in Hawaii? What's the best island? Best place to stay? Readers share their favorites
---
Get inspired to get away.
Explore California, the West and beyond with the weekly Escapes newsletter.
You may occasionally receive promotional content from the Los Angeles Times.