It's whale-watching season in Hawaii, and these creatures are ready to play
It's whale-watching season in Hawaii, and these creatures are ready to play.
Humpback whale-watching tours are in full swing in Hawaii, and some visitors are discovering the giant mammals to be curious creatures.
Last week a young, playful whale appeared beside some kayaks off the island of Maui, surprising five tourists and their guide.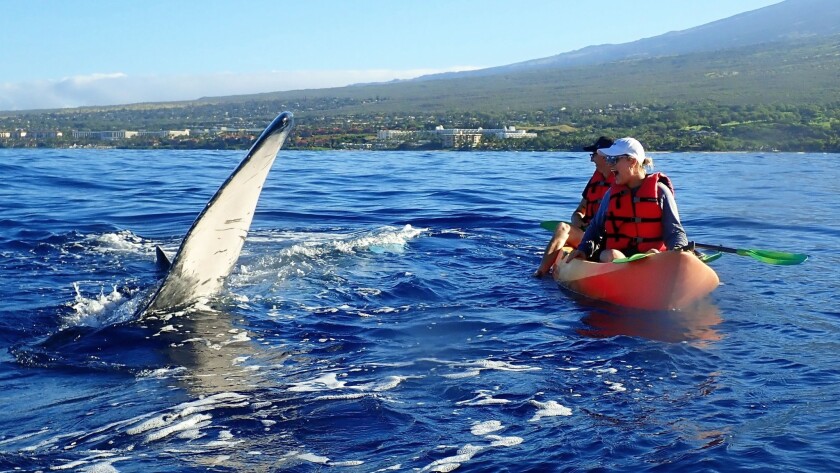 "This whale was swimming about 40 to 50 feet underwater, and then it just started playing with the guests for about half an hour," Matt Robson, who leads tours for Maui Kayak Adventures, said in a prepared statement.
Robson went on to describe the Jan. 8 experience.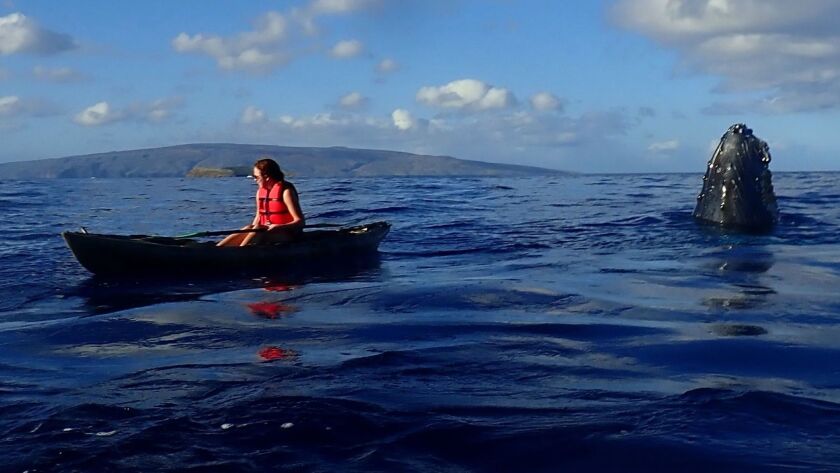 "I see whales every day on Maui during whale season, but not like that," he said. "They've never interacted with my kayaks before."
The up-close visit took place about half a mile offshore from Makena, South Maui, in a shallow channel that's particularly popular with humpback whales that winter in Hawaii. They come to mate and have their babies.
The Auau Channel, which has waters 300 feet deep and is sheltered by Maui and the nearby islands of Kahoolawe, Lanai and Molokai, is known for some of the finest whale watching in the world.
"It's like a giant bathtub for them. It's very protected," said Bill Unruh, lead naturalist for Atlantis Adventures Whale Watch cruises off Waikiki on the island of Oahu.
The season runs from late December to mid April. By mid-January, Unruh said he was spotting the giant mammals on about 75% of his tours.
"What they're doing at the beginning of the whale-watching season here is they're having their babies," he said. "They're kind of reclusive, staying underwater. But after they've had their babies, they're training their babies and they're more active, jumping out of the water."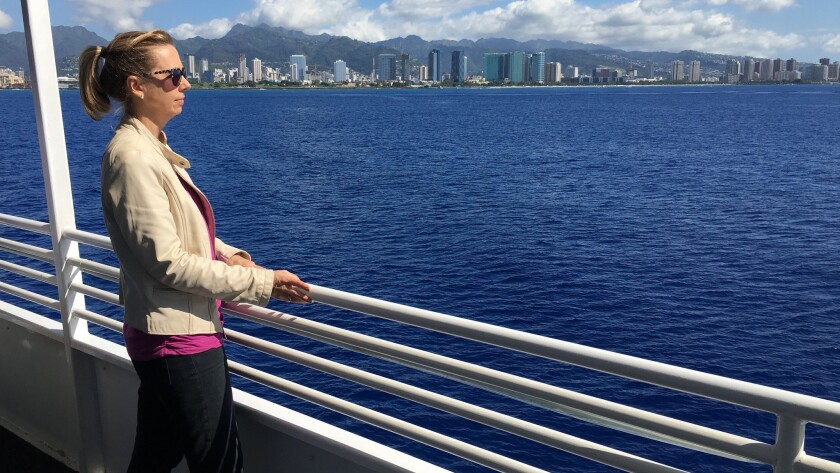 Like Maui, Unruh said the best whale watching near Honolulu is in relatively shallow water one-half to two miles out to sea.
"Our favorite spot off of Oahu is at the Diamond Head buoy, because when they cross between the islands, they go right in front of that buoy," he said.
While it's illegal for tour boat operators to knowingly get within 300 feet of a whale, all bets are off when a whale surprisingly surfaces beside boats full of curious humans.
The newborns, which are 12 to 15 feet long and weigh 1 to 2 tons, are particularly curious.
"They'll come right up to the boat," Unruh said. While their mothers often nudge them away, the naturalist said it's not uncommon for the youngsters to circle back for another close-up look at their fellow mammals.
Robson said the inquisitive whale off Maui was a yearling about 20 feet long. Unruh added that when fully grown, humpbacks are 45 to 50 feet long, and weigh as much as 45 tons. The massive creatures live an average of 50 to 60 years.
By May, the pods begin the 3,000-mile swim north to Alaska, where they spend their summers.
Hotel concierges on the various islands of Hawaii can direct guests to nearby whale watching tours.
---
Get inspired to get away.
Explore California, the West and beyond with the weekly Escapes newsletter.
You may occasionally receive promotional content from the Los Angeles Times.