Travelers awaiting flights can relax at the Star Alliance lounge with a view of the Bradley International Terminal concourse and its many video screens.
(Jim Edwards)
The bar is a popular spot for travelers at the LAX Qantas lounge.
(Jim Edwards )
The view from the Private Suite limo that takes high-end guests directly from the Private Suite off-airport facility to the plane, dodging taxiing aircraft on the short drive and depositing their clients at their flight for boarding. Here driver Stevens Maldonado demonstrates how close he must get to the massive jetliners, a task for which he received 50 hours of training.
(Jim Edwards )
A remotely controlled dome keeps refrigerated selections cool for diners in the Emirates lounge at LAX.
(Jim Edwards )
From left: Chicken piccata made fresh at the LAX lounge of Etihad Airways; travelers get comfortable in the One World lounge at LAX; others relax at the Star Alliance lounge.
(Jim Edwards )
Wine bottles form a backdrop for the buffet at the Star Alliance lounge.
(Jim Edwards)
I was killing time at LAX and wandered into the Qantas first-class lounge. A waiter appeared offering Champagne. To my right was a posh bar where a mixologist was creating drinks.
At the rear of the 15,065-square-foot room was an open kitchen where the staff was whipping up fine-dining entrees. I sat down at a table and was given a menu from which I could order steelhead trout with herb salad or black Angus steak with chips and chipotle butter. And everything was free.
In real life, of course, I wouldn't be in the Qantas first-class lounge enjoying all these amenities. I'd be down on the concourse, jockeying for a seat with the rest of the economy-class fliers and trying not to spill my $8 soda.
But inquiring minds want to know what it's like to be among the 1% who begin their international travels with a blissful lounge interlude. I spent some time at the airport recently comparing top-end lounges, most in the Bradley International Terminal.
Who knows? Maybe I'll win the lottery. Or maybe you'll win the lottery and need to know where to hang out before your flight to Bora-Bora.
If you don't strike it rich, there are other ways to gain entrance to lounges. Some airlines allow passengers to buy a day pass for $50 to $100 — check their websites for details — or you might be able to use frequent-flier miles, credit card perks or join a lounge network.
Another good way is to get a credit card that offers airport lounge privileges. Or, if you fly a lot, you could buy an annual pass.
It might be a good investment. LAX is in the middle of major renovation and expansion projects that add to the headache of getting to your flight on time. Its lounges offer a place to decompress in today's sometimes chaotic world of air transportation.
One place I'd be happy to decompress — besides to Qantas First — is the Star Alliance Lounge, which is so attractive I wanted to move in for a day or two.
I sat by a fire pit on the outdoor terrace, drinking a crisp Pinot Grigio and watching planes soar into the night sky. Inside the 18,000-square-foot facility, I could choose from several dishes at a buffet, plug in my computer and do some work, or sit on the terrace and read a book.
The lounge, run by Air New Zealand, is open to the 28 Star Alliance airlines, which include United, Lufthansa and Singapore.
I was impressed by the Emirates Lounge. The lounge for the Dubai-based airline, known for its high-end service, is in keeping with its reputation.
The decor is contemporary yet classic, with deep leather chairs and crystal table lamps. A buffet serves a mix of Western and Middle Eastern dishes.
The indoor terrace, which overlooks the eye-popping shopping concourse of the Bradley terminal, is a highlight. People watch or gaze at the amazing graphics playing on the terminal's giant screens.
The mood is totally different at the One World Business Lounge, which has a cool vibe, sort of like a fun club in Sydney or Brisbane, Australia.
The lounge, operated by Qantas, welcomes 13 One World alliance airlines, including American, British Airways and Cathay Pacific. Its more than 30,000 square feet are capable of seating 545 people.
Parents can find a room full of toys to keep kids busy, those who need to work can find plenty of plug-ins and desk-like spaces for computers, sleepyheads can find chairs that make a nap possible.
You'll find a buffet, full bar, taco cart and a cozy indoor fire pit surrounded by the seating, where I hoped to meet a good-looking bloke from Down Under. No such luck.
My next stop was the First Class and Business Lounge that Etihad Airways opened last year. Etihad, like Emirates, has only one flight leaving LAX daily, but the Abu Dhabi-based airline maintains a small, elegant space for its travelers, some of whom are Middle Eastern royalty.
"We can close off part of the room when we have dignitaries. We have a lot of royals," said Erick Fernandez, airport operations manager.
It has a full bar, plus a buffet. You'll find first-edition books if you need something to read.
Other lounges in the Bradley terminal include:
Korean Air KAL/Sky Team Lounge: Nearly 1,000 passengers a day visit this lounge, which welcomes the 20 members of the Sky Team Alliance, including Delta, Air France, China Eastern, AeroMexico and a host of others.
It has an indoor terrace, and there's a small buffet with limited food selections. Cup of Noodles is the most popular food choice, I was told.
Several reviewers call this the least desirable lounge in the terminal, and it seemed crowded and uncomfortable. Korean Air does have a small attached first-class lounge with private drawing rooms.
Los Angeles International Lounge is small and bare-bones, serving Air Tahiti, Fiji Airways and Philippines Airlines, among others.
Its best feature is an indoor terrace that overlooks Bradley's shopping area; there's also a work area with lots of plugs and a variety of chairs. The food is mainly packaged snacks. A self-pour bar is available.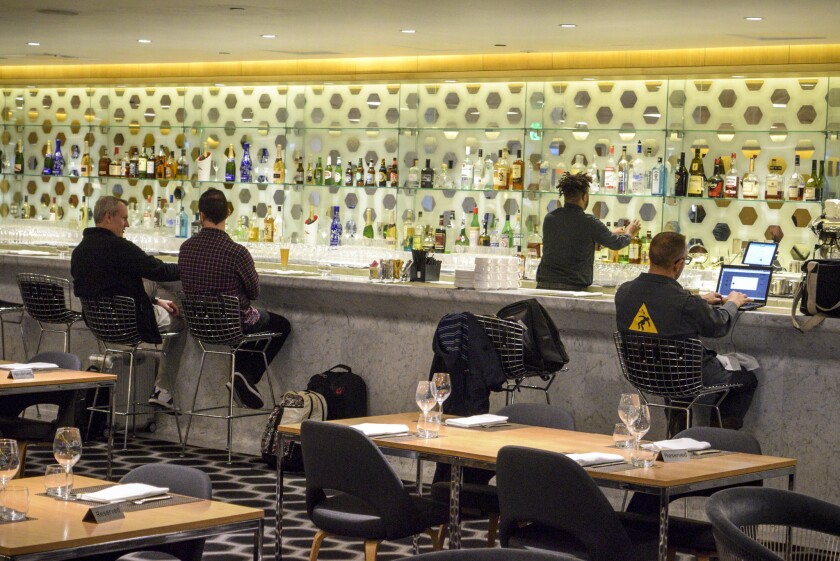 A few international carriers have lounges outside Bradley. And like the airport itself, some of them have renovation projects in progress. Updates or major renovations have recently taken place at American Airlines' lounges and Delta's Sky Clubs.
American's Flagship Lounge, which opened earlier this month, is in Terminal 4, a 10-minute walk to Bradley. It offers custom meals similar to Qantas' in its first-class dining area. (In the world of frequent fliers, custom meals rate high on the perks list.) And there are showers and quiet areas, which are standard in high-end lounges.
"LAX is a key hub for us," said Josh Freed, a spokesman for American. "It's one of our major international gateways. A lot of really discerning customers fly through here to Hong Kong on our Boeing 777-300."
In May, Delta moved its operations to Terminals 2 and 3 from the other side of the airport, necessitating new Delta lounges — and new lounges for the airlines that swapped terminals with Delta, such as Air Canada's Maple Leaf Lounge, which ended up with a small but attractive space in Terminal 6.
As for Delta, renovations are ongoing at the Terminal 3 lounge, as Delta undertakes a $1.9-billion redevelopment of the terminals.
A first-class perk that hasn't changed is Delta's ONE check-in experience, which offers passengers a private check-in area and a private corridor that takes them to the front of the Transportation Security Administration PreCheck lane. Sweet.
But then, LAX offers a lot of sweet features for travelers who can afford them. For instance, Virgin Atlantic, which has a lounge in Terminal 2, offers limo service to the airport.
The airline is known internationally for its lounge perks — I got a new hairstyle last summer at a Bumble & Bumble hair salon in Virgin's Heathrow Airport lounge in London and then had a massage.
Alas, the airline has no plans for a hair salon or massage service at LAX. But Virgin has a full bar and restaurant table service, featuring a menu that includes items from the Century City restaurant Hinoki & the Bird.
Meanwhile, fliers at Terminal 7 are taking advantage of new digs at LAX United Club, where they can choose from a buffet with light bites, salads, soups and charcuterie.
The 20,000-square-foot United Airlines flagship lounge just celebrated its one-year anniversary and is considered the jewel in United's $573-million Terminal 7 renovation project.
One of its highlights is an outdoor terrace where visitors can watch planes take off. The lounge is open to both international and domestic passengers.
There are lots of perks to choose from at LAX. How do our lounges compare to those in other world-class airports? I asked Brent Griffith, vice president of LoungeBuddy.com, which rates thousands of lounges in hundreds of airports worldwide.
"L.A.'s lounges are very nice and only getting better by the day," he said, giving kudos to Qantas, Etihad and Star Alliance lounges at Bradley and renovations by American, Delta and United at their terminals.
"With all of them striving to make improvements, things are definitely looking good for LAX."
Want your own lounge?
If you like the perks at LAX lounges, you're going to love Private Suite, a lounge service that opened in May.
Here are the basics: You drive to a gated compound on the south side of the airport, are admitted by a guard after showing identification, then walk 20 steps to your own private lounge. You eat the food and drink waiting there for you — the company has made sure your faves are stocked — while burning up time before your commercial flight departs. When it's time to leave, you go through a private TSA line, then are driven across the runway to your aircraft.
No nasty lines in the terminal, no long walks, no need to mingle with other travelers.
The drawback? It costs $4,000 for an international flight, $3,500 for domestic. But you can travel with a group of three for no additional charge.
Members pay a bit less; they can save $800 to $1,000 per flight. But the annual fee to join is $7,500.
Of course, if you're a celebrity or VIP, it might well be worth it to avoid the paparazzi and adoring fans.
The suites are comfortable and nicely decorated, looking similar to a modern stadium suite. Guests can take a nap, read, watch TV, shower or chow down on the many snack foods.
If you have kids, you can watch them play in a small playground inside the compound.
Want to leave your car while you're gone? There's a private garage, of course.
If you're returning to LAX from an international trip, Private Suite will pick you up at the aircraft, fetch your luggage and take you to a private room at its compound where you can clear customs and immigration. Again, no need to mingle with hoi polloi.
---