13 Images
Best new international theme park rides for 2013
Italy's Gardaland plans to release a series of five online animated web-comics as year-long tease to a possible new attraction called Raptor: Genetix. Ride speculation centers on a companion attraction to the Raptor wing coaster that incorporates a similar creature and egg back story. Gardaland's UK sister-park Alton Towers recently created a similar companion attraction called Nemesis: Sub-Terra.
(Gardaland)
Walibi Belgium plans to reopen the Turbine with new Gerstlauer trains after the steel coaster was closed in 2009 due to noise concerns. The looping Schwarzkopf shuttle coaster, which was partially enclosed in 1999, will see both end spike tracks enclosed in sound insulation tubes to reduce noise.
(Walibi Belgium)
Universal Studios Singapore has announced plans to add three new attractions in 2013, including a wacky and humorous Sesame Street dark ride in the New York Street section of theme park. The second attraction is also expected to be unique to the park with the third a copy from a sister park.
(Universal Studios Singapore)
The new wooden coaster will be the centerpiece of Happy Valley Tianjin, part of a chain of theme parks in China. Gravity Group previously teamed with Martin & Vleminckx Amusement to build a dueling wooden coaster at Happy Valley Wuhan (shown).
(Gravity Group)
Tokyo Disneyland will add high-definition 3-D imagery to the aging Star Tours attraction with multiple storylines. Updated versions of the 1980s-era simulator ride debuted in 2011 at Disneyland in California and Disney's Hollywood Studios in Florida.
(Disney)
Germany's Europa Park will add a new carousel, kiddie drop tower and indoor family roller coaster in 2013 based on the "Arthur and the Invisibles" animated movie by French director Luc Besson.
(Europa Park)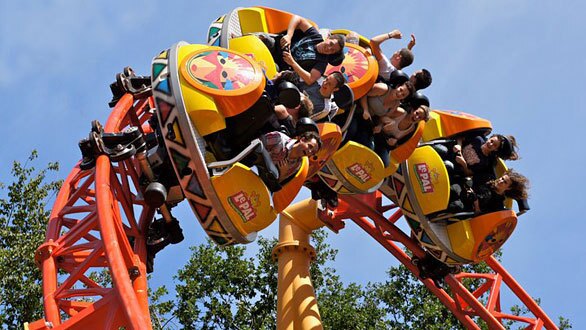 The $26 million Magic Valley theme land at Toverland in the Netherlands will include eight new rides, including a Mack spinning coaster, a Hafema river rapids ride, a junior drop tower and a water carousel. (Shown: Twist at Le Pal)
(Le Pal)
A historic trust hopes to reopen Dreamland Margate in the United Kingdom as a repository of classic amusement park rides, including a whip, shoot the chutes, caterpillar and haunted swing. The centerpiece of the project would be the 1920 Scenic Railway, a brakeman-operated wooden coaster partially destroyed by fire in 2008.
(Dreamland Margate)
The Etnaland water park in Italy plans to add a theme park that includes a Twist N Splash teacup ride with water cannons, a haunted dark ride, a drop tower and a Mack Mega Lite launched coaster. Known as The Storm, the 105-foot-tall Etnaland coaster will feature a 70-degree first drop and a heartline roll inversion.
(Mack Rides)
The 20-acre dinosaur-centric Jurassic Dream indoor theme park will be located in Daqing, a petroleum-rich city of 3 million people in northeast China that has been the site of numerous prehistoric fossil finds.
(Thinkwell )
Alton Towers has announced plans for a new "world's first" thrill coaster in 2013 dubbed Secret Weapon 7. The United Kingdom park has announced that one lucky contest winner will join the SW7 design team in dreaming up plans for the new coaster. The last Alton Towers secret weapon, the family-oriented Thirteen vertical drop coaster, debuted in 2010.
(Alton Towers)
The $1.6-billion Ocean Kingdom theme park in China will feature the world's longest wooden roller coaster and the world's tallest Ferris wheel as well as boat rides, a 4-D theater and a nighttime zoo.
(Ocean Kingdom)
Mystic Manor will serve as Hong Kong Disneyland's ghost-less Haunted Mansion, with tributes to the classic Disney attractions Indiana Jones Adventure, Enchanted Tiki Room and Adventurer's Club included throughout the ride.
(Hong Kong Disneyland)