How will LAX's new Wi-Fi stack up against other airports'?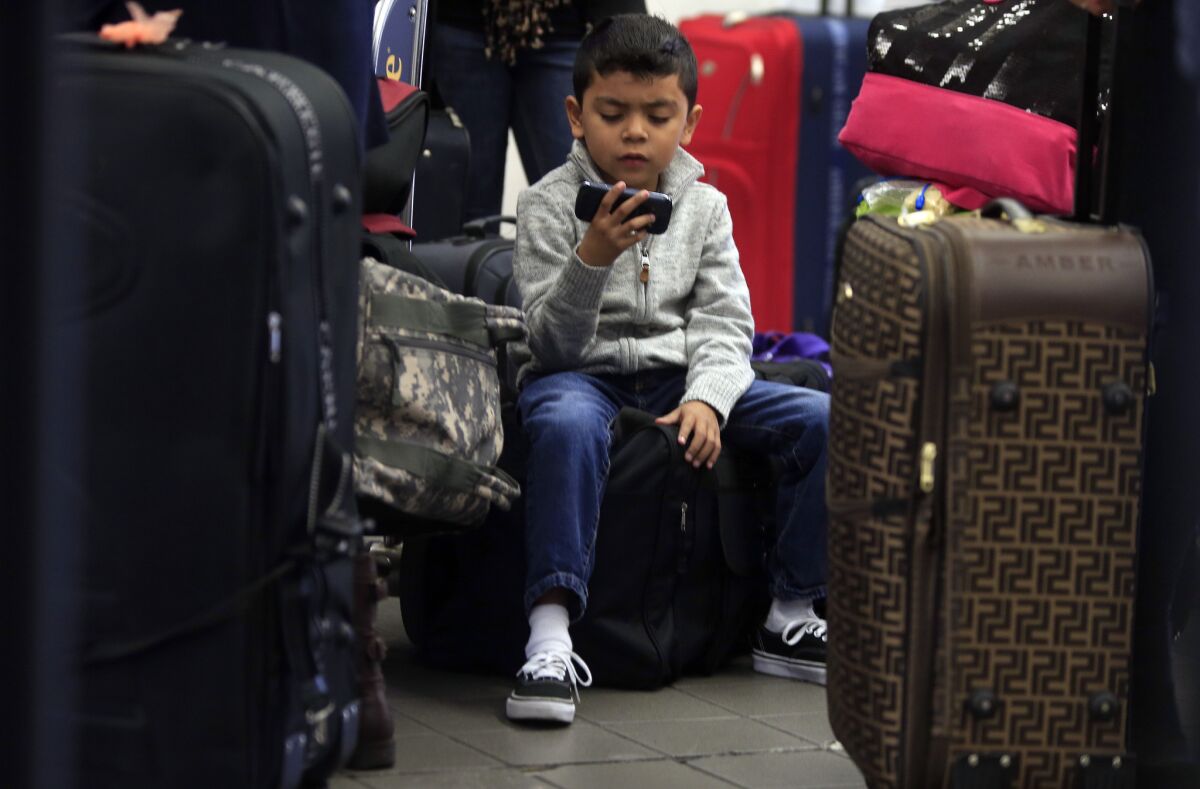 Tired of slow, balky internet at LAX? Take heart. Los Angeles International Airport will soon install a $1.5-million system that should boost free speeds significantly.
Travelers should find it easier to surf the Web in the terminals, a relief to those who have suffered through slow connections. Boingo, the provider, was unable to give a projected completion date.
Here's a quick overview of how the new Wi-Fi at LAX will compare with other airports' service, including the all-important download speed category, expressed in mbps, or megabits per second. Information was provided by airport representatives.
How fast is fast enough? A guide to Internet speed--and why it matters to travelers
Airports listed below LAX, identified by their airport codes, are Houston George Bush (IAH), Dallas/Fort Worth (DFW), Phoenix (PHX), San Francisco (SFO), Atlanta (ATL) and Seattle-Tacoma (SEA).

FREE AIRPORT WI-FI

Airport
Download speed*
Time limits
Ads
Availability
Caveats
LAX
5 mbps
45 minutes**
Yes
Public areas
May be slow in peak periods
IAH
6 mbps
No
No
Gates, ticket lobbies, bag claim, garages
Occasional service interruptions
DFW
10 mbps or more
40 minutes**
Yes
All passenger terminals
Occasional log-in problems
PHX
Up to 5 mbps
24 hours
Yes
All terminals, most shops, restaurants, gates; lobby of car rental center
Paid service is pricey (see below)
SFO
3 mbps or more
No
No
Passenger terminals, rental car center
Slow when use is high
ATL
5 mbps or more
No
No
Everywhere in the terminals
Very occasional service interruptions
SEA
5-20 mbps
30 minutes**
Yes, occasionally
All public areas
Balky during "major Internet events"
*Speeds are approximate**You may log in again after your time period has ended.
Can I pay for faster service?
Yes, you can. Some airports offer a premium Internet service, which often is significantly faster than their free service. LAX will offer two options with its new service. But others do not.
Of the airports listed above, only Phoenix offers a paid option. Boingo serves both LAX and Phoenix and offers an unlimited pass good at both airports and others for $9.95 a month.
Here is how premium service at LAX and Phoenix will compare after the LAX upgrade is completed.

PAID AIRPORT WI-FI

Airport
Speed
Cost
LAX
10 and 20 mbps
TBA
PHX
Up to 15 mbps
$2.95/hr, $6.95/24 hours, $9.95/month
Not everyone thinks a paid option is imperative.
"We believe that Wi-Fi is like any other free utility, whether it's the electricity at our charging ports or the water from our water bottle filling stations," Reese McCranie, a representative for Hartsfield-Jackson Atlanta International Airport, said in an email.
"Quite frankly, just like in hotels and many public venues across the country, people expect free Wi-Fi. Our airport should be no different."
But the 10 mbps and 20 mbps speeds for LAX's paid option will be a big improvement.
More tidbits from LAX and other airports
LAX: The new free Wi-Fi at LAX will be more than four times faster than current speeds -- enough to support some music and video downloads and streaming, although the the airport recommends passengers buy the premium options for reliably fast speeds.
The new system is designed for a busy airport, but if two A380s depart from nearby gates at the Tom Bradley International Terminal and hundreds of passengers log on at the system time, the Internet may lag.
More than 1.2 million passengers access the free Wi-Fi every month at LAX, according to the airport commission.
Houston George Bush: At 6 mbps, your connection, provided by Phonoscope, should allow you to stream video, the airport says. You must agree to terms of service, which is standard on many networks.
Dallas/Fort Worth: The airport says it has enough bandwidth to support music and video downloads. The system averages 55,000 connections per day.
It says occasional log-in difficulties are due to "changing atmospheric conditions," i.e., Texas weather.
Phoenix Sky Harbor: Speeds vary based on how many users are on the network. Under most conditions -- "most" being the operative word -- the free network should be enough for passengers to watch streaming video, the airport says.
Wi-Fi is available in all terminals on both sides of security, near gates, in most retail and restaurant areas, and in the lobby of the rental car center.
San Francisco: Although typical speed is only about 3 mbps and sometimes greater, that should be fast enough to stream content. SFO, by the way, operates its own Internet service.
Besides being available in passenger terminals, it is also available in the rental car center.
Hartsfield-Jackson Atlanta: The airport says the system is usually fast enough to allow travelers to surf the Web, check email and download presentations, movies and music. It can accommodate 15,000 users at a time.
In a few instances, the system has been overloaded, said a spokesman for the airport, which runs its own Wi-Fi service.
Seattle-Tacoma: In the home of Microsoft, Sea-Tac offers potentially the fastest speeds of any of the airports in this survey. The Port of Seattle, which manages the network, is investing nearly $10 million to upgrade the public Wi-Fi network.
The system can be slow during "major Internet events," such as the World Cup or the Super Bowl.
Get our L.A. Goes Out newsletter, with the week's best events, to help you explore and experience our city.
You may occasionally receive promotional content from the Los Angeles Times.