9 Images
Photos: 'Mickey and the Magical Map' show at Disneyland
The new 22-minute "Mickey and the Magic Map" musical at the Fantasyland Theatre features songs from half a dozen Disney animated films.
(Disney)
An artist rendering of King Louie from "Jungle Book," who performs "I Wanna Be Like You" in the "Mickey and the Magical Map" stage show at Disneyland.
(Disney)
The princess medley in "Mickey and the Magic Map" blends together songs by Pocahontas, Mulan and Rapunzel.
(Disney)
The virtual map mixes hand-drawn cartography, computer-rendered characters and occasional live-action on a giant LED screen.
(Disney)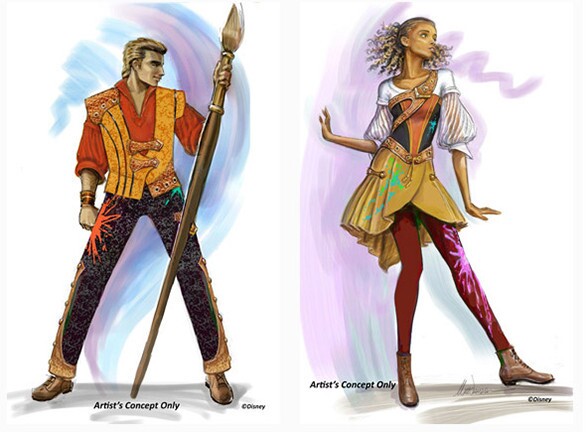 About two dozen dancers and singers performed with a backing soundtrack in a production approaching Broadway quality in the refurbished Fantasyland Theatre.
(Disney)
The "Magical Map" in the title of the show was accomplished with six interconnected LED screens divided vertically into thirds by a pair of largely invisible catwalk stages for the performers.
(Disney)
The new show casts the mischievous Mickey Mouse in his classic role of sorcerer's apprentice from "Fantasia."
(Disney)
The new show at Disneyland's Fantasyland Theatre features Mickey Mouse as an apprentice to a map-making sorcerer.
(Disney)
King Louie from the "Jungle Book" dances wildly with his fleet feet and lively long arms to "I Wanna Be Like You."
(Disney)