40 Images
Reader summer photos 2019
The best summer photo submissions from our readers
Michele Castagnetti from Los Angeles took this photo at Rovinj, Croatia, on Aug. 15, with a Nikon Coolpix A900.
(Michele Castagnetti)
David Liehn from Redondo Beach took this photo in Juneau, Alaska, on June 28 with a Canon 6D.
(David Liehn)
Allison Kahan from Sherman Oaks took this photo off the island of Lokrum in Croatia on July 10 with an iPhone 10.
(Allison Kahan)
Monica Chan from Honolulu took this photo in Yellowstone National Park on June 1 with an iPhone X.
(Monica Chan)
Sondi Toll Sepenuk from Los Angeles and her daughter Hazel, 16, were in Nice, France, on Aug. 8, enjoying a perch above a rocky beach. That's when the elder Sepenuk noticed the pattern of the umbrellas overhead and caught it with her iPhone XR.
(Sondi Toll Sepenuk)
Romine Damon from Valley Glen took this photo in Porto, Portugal, on July 12 with an iPhone 8.
(Romine Damon)
Jon Dickens from Los Angeles took this photo at Prince of Wales Island, Alaska, on Aug 27 with an iPhone XS.
(Jon Dickens)
Daniel Elder from Echo Park too this photo at Hat Creek, Calif. on June 20 with a Sony a7R III.
(Daniel Elder)
Paul Alwine from Irvine took this photo at Ring of Kerry, Ireland, on July 13 with a Sony DSC-HX80.
(Paul Alwine)
Carol Cohn of Corona del Mar, Calif., and her husband were part of a photo safari group in August looking for leopards in Serengeti National Park. No luck — but they did see this perfectly placed giraffe. Cohn had brought a sophisticated camera and long lens to Africa, but when this moment arrived, the tool was her "purse camera," a Canon G7 X Mark II.
(Carol Kunkis Cohn)
Axel Santiago from Pittstown, N.J., took this photo at Salzburg, Austria, on June 23 with a Nikon D750.
(Axel Santiago)
Randy Malone from Camarillo took this photo at Seyoisfjorour, Iceland, on July 22 with a Canon 6D.
(Randy Malone)
Rebecca Quan of Los Angeles took this photo in Japan on June 23 with an iPhone 8.
(Rebecca Quan)
Linda Houseman of Torrance took this photo in Athens on June 23 with a Canon SX730 HS.
(Linda Houseman)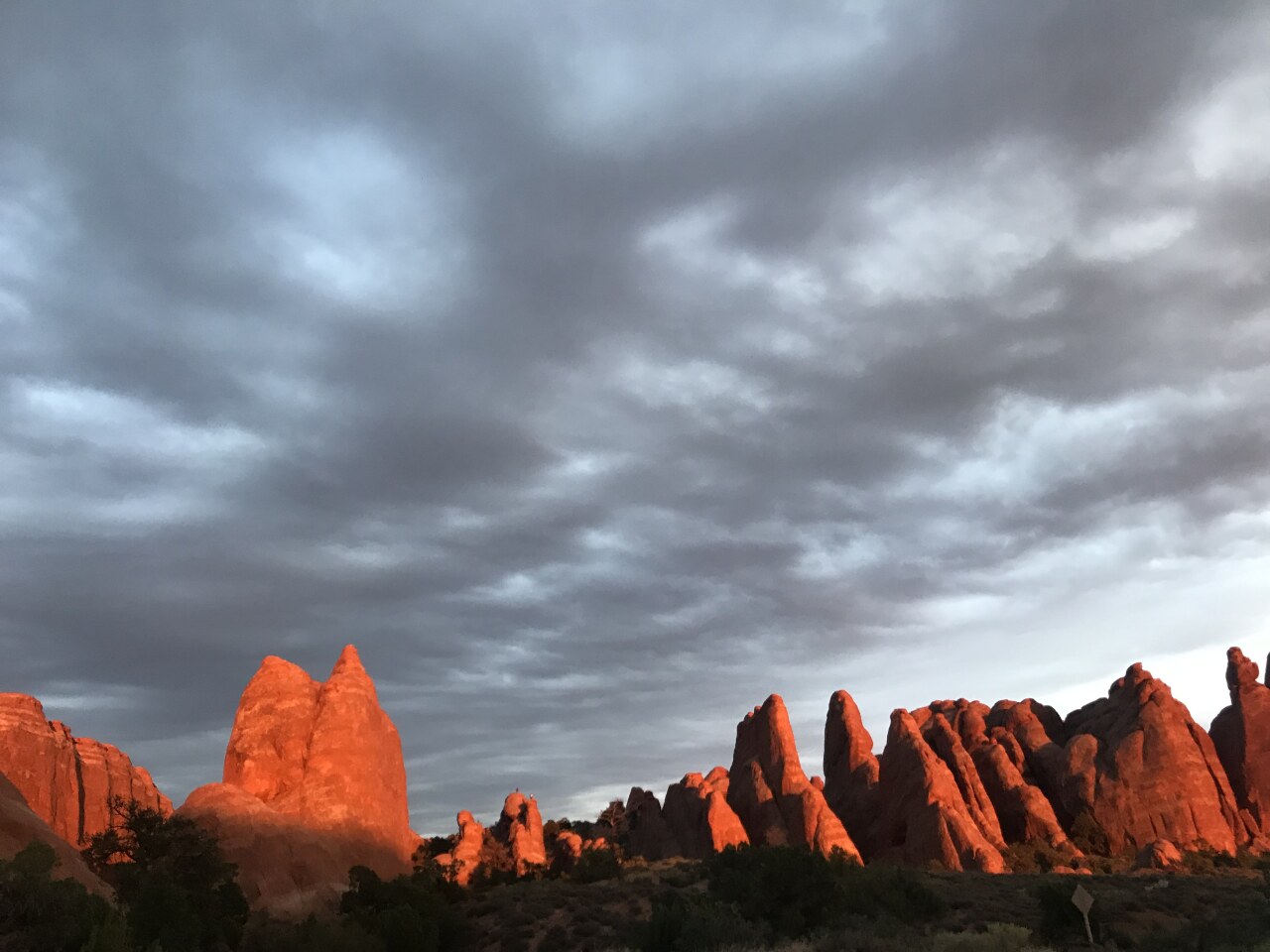 Austin Lyke from Santa Monica took this photo at Arches National Park in Moab, Utah, on Aug. 7 with an iPhone 7.
(Austin Lyke)
Steve Leff of Los Angeles took this picture along Seattle's Lake Union on Aug. 13 with a Samsung Galaxy S9+
(Steve Leff)
Chris Lock from Huntington Beach took this photo at Setsukeian Farmhouse, Nantan, Kyoto, Japan on June 15 with a Fuji X-T2.
(Chris Lock)
Timothy Boettcher from West Los Angeles was struck by the colors and shapes of this urban scene in Stone Town, the oldest part of Zanzibar City. He snapped this picture in June with a Sony DSC-RX10.
(Timothy Boettcher)
Sandy Davis from Pasadena didn't travel far on Aug. 2 — just to the Los Angeles Zoo — but he chose his time and place well. While Davis trained his Nikon D800 and its 28-300 mm lens on the tiger enclosure, the big cat posed by a rock formation.
(Sandy Davis)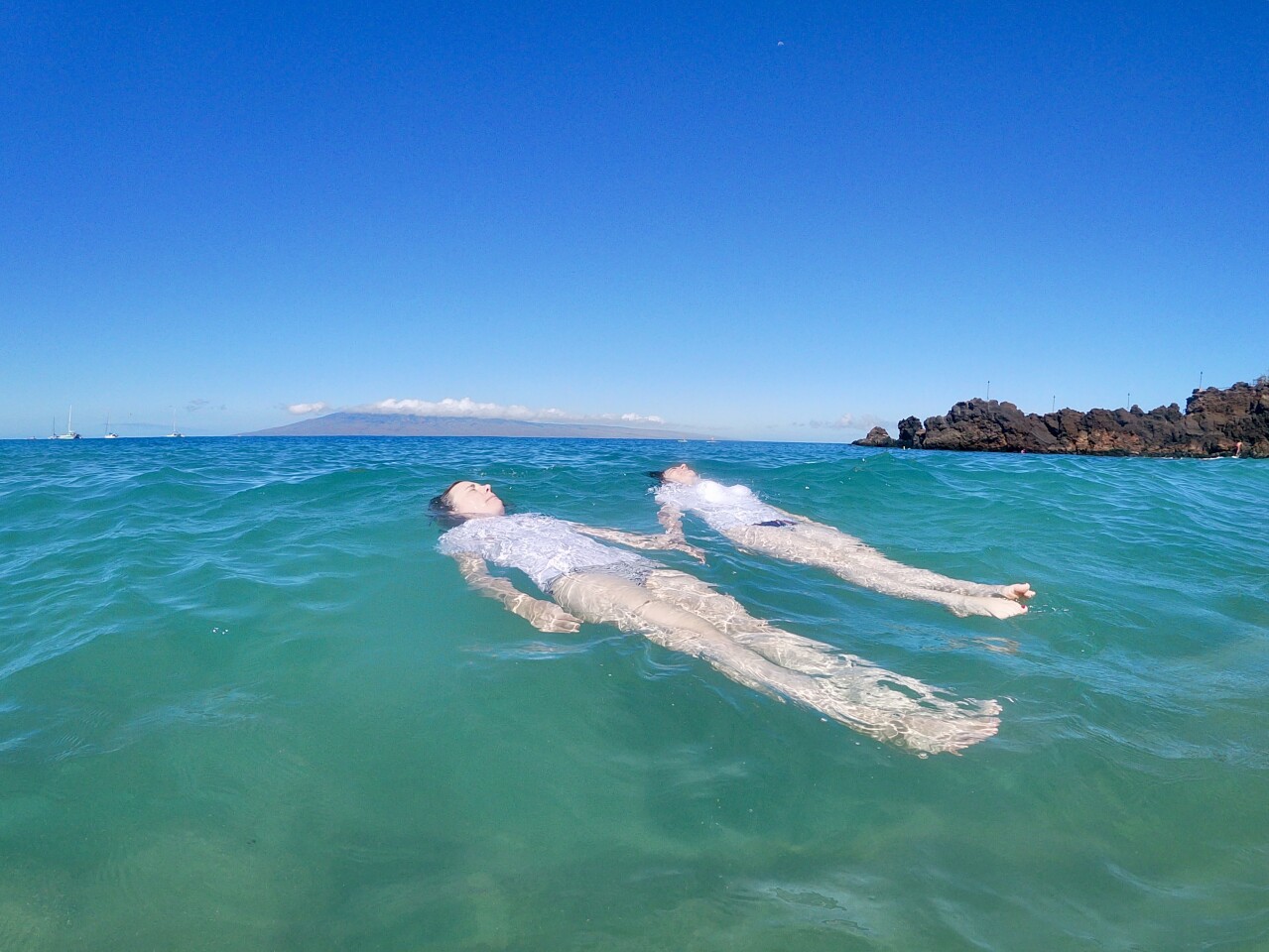 Kevin Zelenay from Los Angeles was snorkeling on Aug. 22 at Maui's Black Rock Beach with his wife, Diane, left, and her sister when this scene took shape. He captured it with a GoPro Hero 7.
(Kevin Zelenay)
On June 5, Sue Bachmann from Long Beach flew from Tanzania's Mt. Kilimanjaro to the Serengeti, then joined a game drive that encountered these two zebras. Bachmann raised her Sony DSC-HX80 and caught their gentle interaction.
(Sue Bachmann)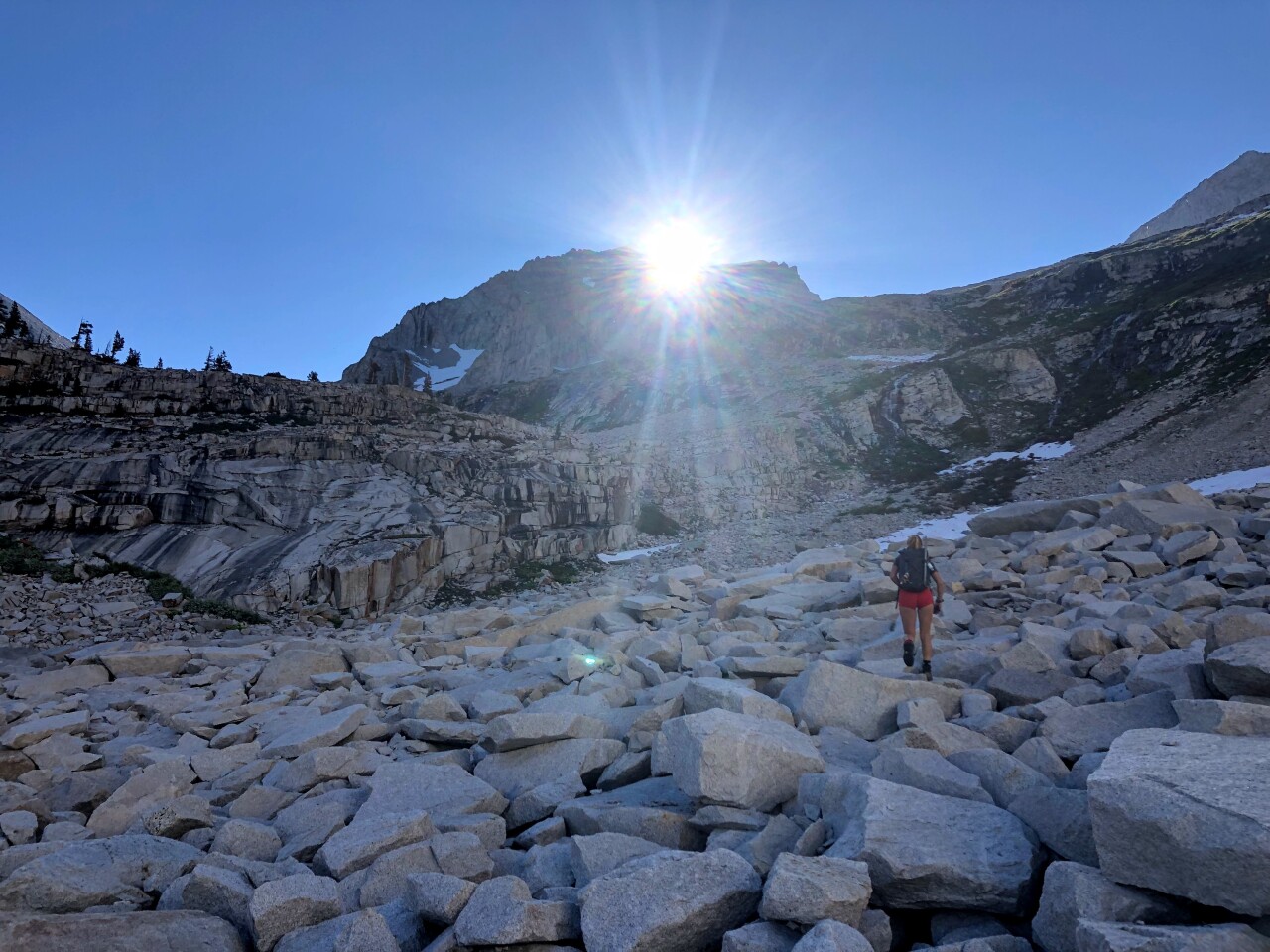 Lucas Lochner Bravo from Pioneer, Calif. and his girlfriend, Emma Lautanen, were on a three-day backpacking trip when he caught the sun peeking over the ridge and Lautanen below. He used his iPhone 6.
(Lucas Lochner Bravo)
Steve Giffin, his wife and their teenage daughter were dead tired on June 22 after an overnight flight to Paris. Their hotel clerk prescribed a short walk near the Eiffel Tower. Bingo. "The energy and vibe around the tower really set a great mood for the rest of the trip," Giffin wrote.
(Steve Giffin)
On June 24, Randy Howard from San Dimas was on a photo tour in the Dolomites region of northern Italy. At the Giau Pass, he and a few others climbed about three-quarters of a mile to a vantage point. Then, Howard said, "The clouds started rolling in" and this scene materialized. He used a Canon 5D Mark III.
(Randall R. Howard)
On June 29, Kathryn Keeney Jaeger from Pasadena and her family headed on their sport-fishing boat to the Two Harbors area of Catalina Island. While she and her 11-year-old son, Robert, were walking on shore, a breeze caught his towel. Jaeger captured the moment with her iPhone 7. Her fancy Nikon? On the boat.
(Kathryn Kenney)
Tiffany Yip from Pasadena was at the Hemis Festival in Ladakh in August when this masked figured turned her way. She snapped with a Nikon D7200.
(Tiffany Yip)
Janet Hirth from Laguna Niguel was walking the shoreline of Lake Moraine between bouts of rain on Aug. 31 when she came upon these canoes and turquoise waters. She shot it with a Samsung Galaxy Note 8.
(Janet Hirth)
Virgilio Go from Chino Hills met these Maasai on Aug. 16 near the Tanzanian border and seized the chance to get a picture of the boldly dressed foursome jumping. He used a Sony a7 III.
(Virgilio Go)
Steve Fujinaka from Torrance spotted this polar bear on July 27 on a small-ship cruise. The bear spent about two hours romping near the ship as Fujinakasnapped away with his Nikon D850 camera with a 180-400 mm lens and 1.4x teleconverter. Fujinaka liked this image of the bear because of "how comfortable it was being around us," he said.
(Steve Fujinaka)
Major Cay in the Exuma Cays is known for its feral pigs that swim. Mike McDonnell from Newbury Park arrived by boat on June 17 and got this picture with his Sony a7R III. Hurricane Dorian mostly missed Major Cay on Sept. 1 when it roared into the Bahamas.
(Mike McDonnell)
Marcio Romani and Clayton Mosher from Los Angeles were knocked out by the scenery at Savannah's Wormsloe State Historic Site, an 18th century colonial estate with ruins, costumed interpreters and a nature trail. Appraising this watery scene on Aug. 31, the two came up with a plan: Romani would jump on the fallen tree, climb out over the water and strike a yoga pose. Mosher would snap the picture on the iPhone XR. But once Romani started climbing, "It was very wobbly, kind of dangerous." So he just sat and looked into the distance. Mosher snapped. Nice.
(Marcio Romani)
Josh Means from Corona del Mar, an 18-year-old student at Cal Poly San Luis Obispo, was on a backpacking trip when he set up his Sony a7 III for a long night-sky exposure near Thousand Island Lake. The image, made June 30, gives us a big view of the Milky Way.
(Josh Means)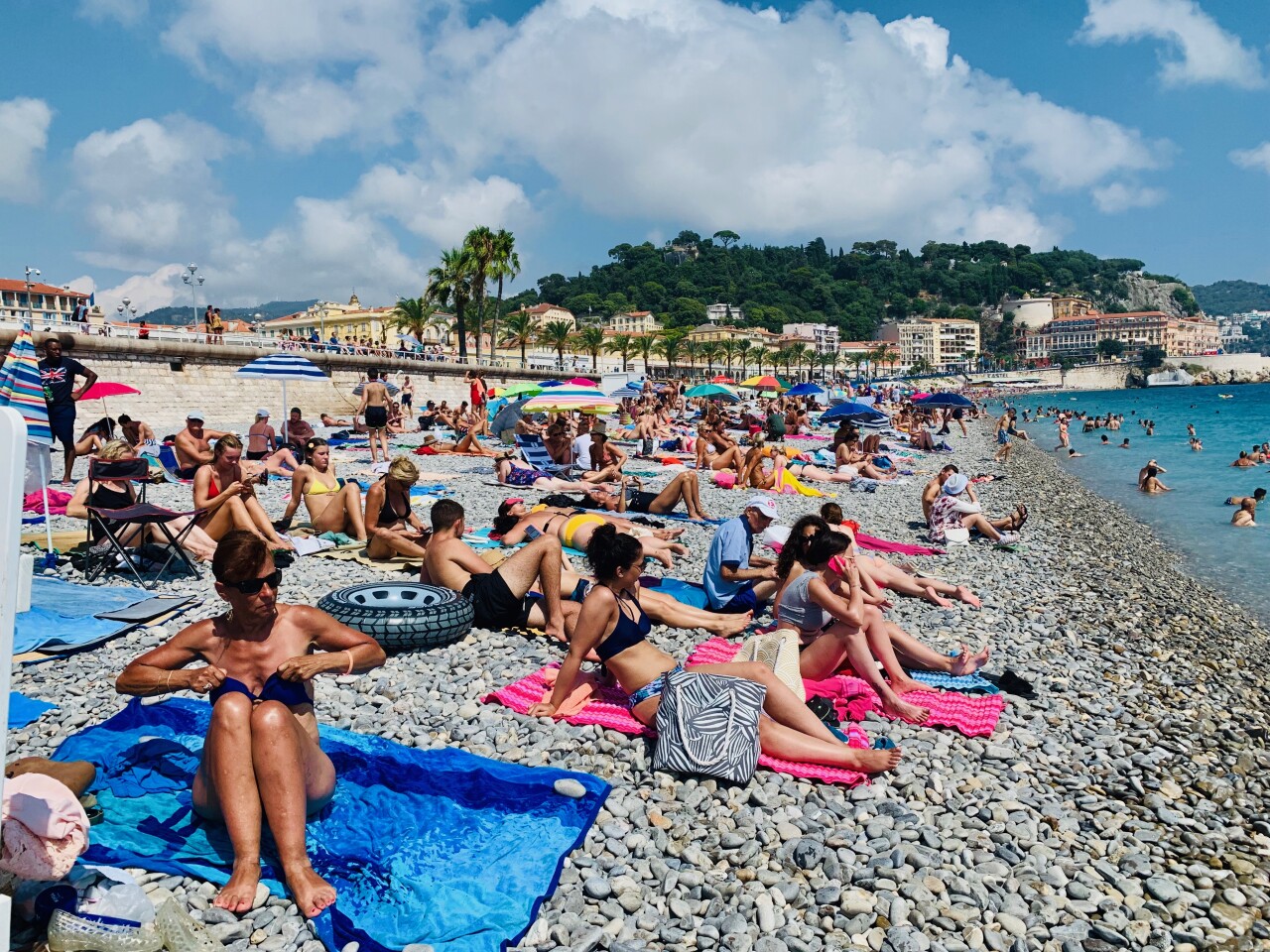 Hazel Sepenuk from Los Angeles, 16, and her mother, Sondi Toll Sepenuk, were in Nice in August, enjoying a perch above a rocky beach. The younger Sepenuk stepped down to water's edge with her iPhone X.
(Hazel Sepenuk)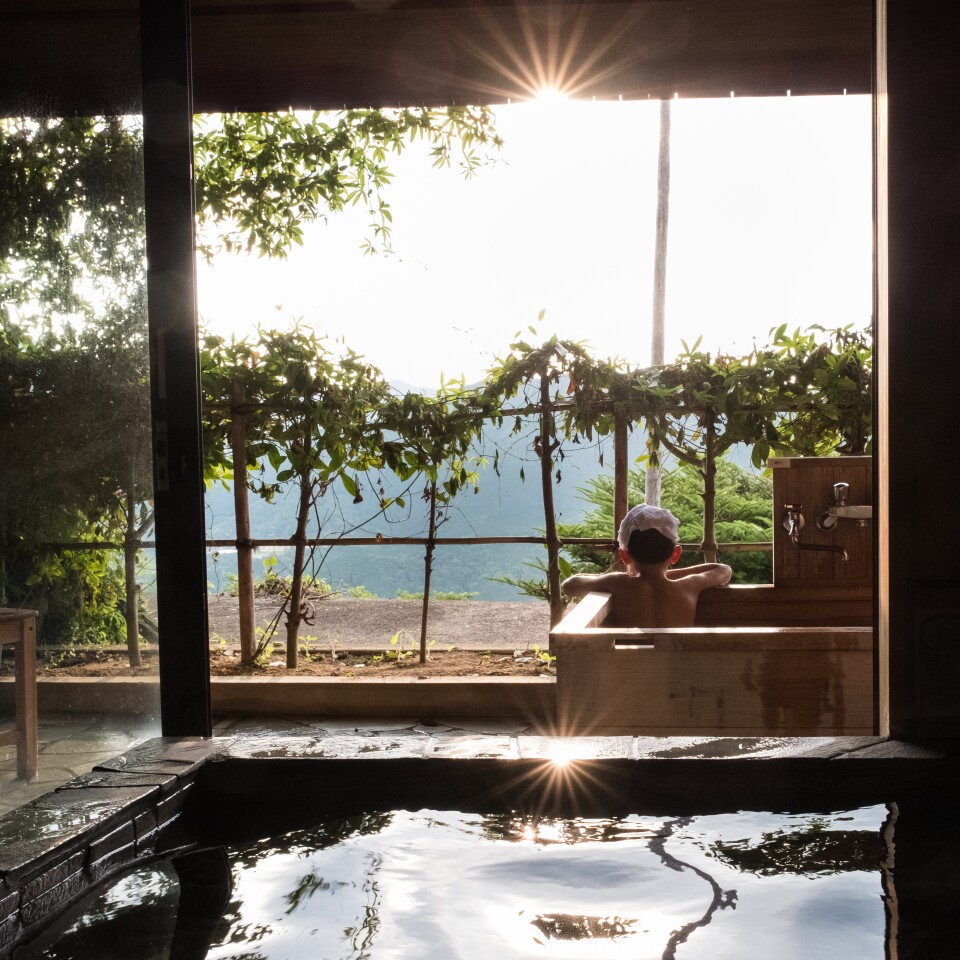 On a family trip to Japan in June, Chris Lock from Huntington Beach hiked the Kumano Kodo trail network with his sons, Grant, 11, and Austen, 13. After about three miles, father and sons repaired to Kirinosato, a
ryokan
in Takahara, for a sunset
onsen
soak. That's when Lock raised his Fuji X-T2 and got this shot.
(Chris Lock)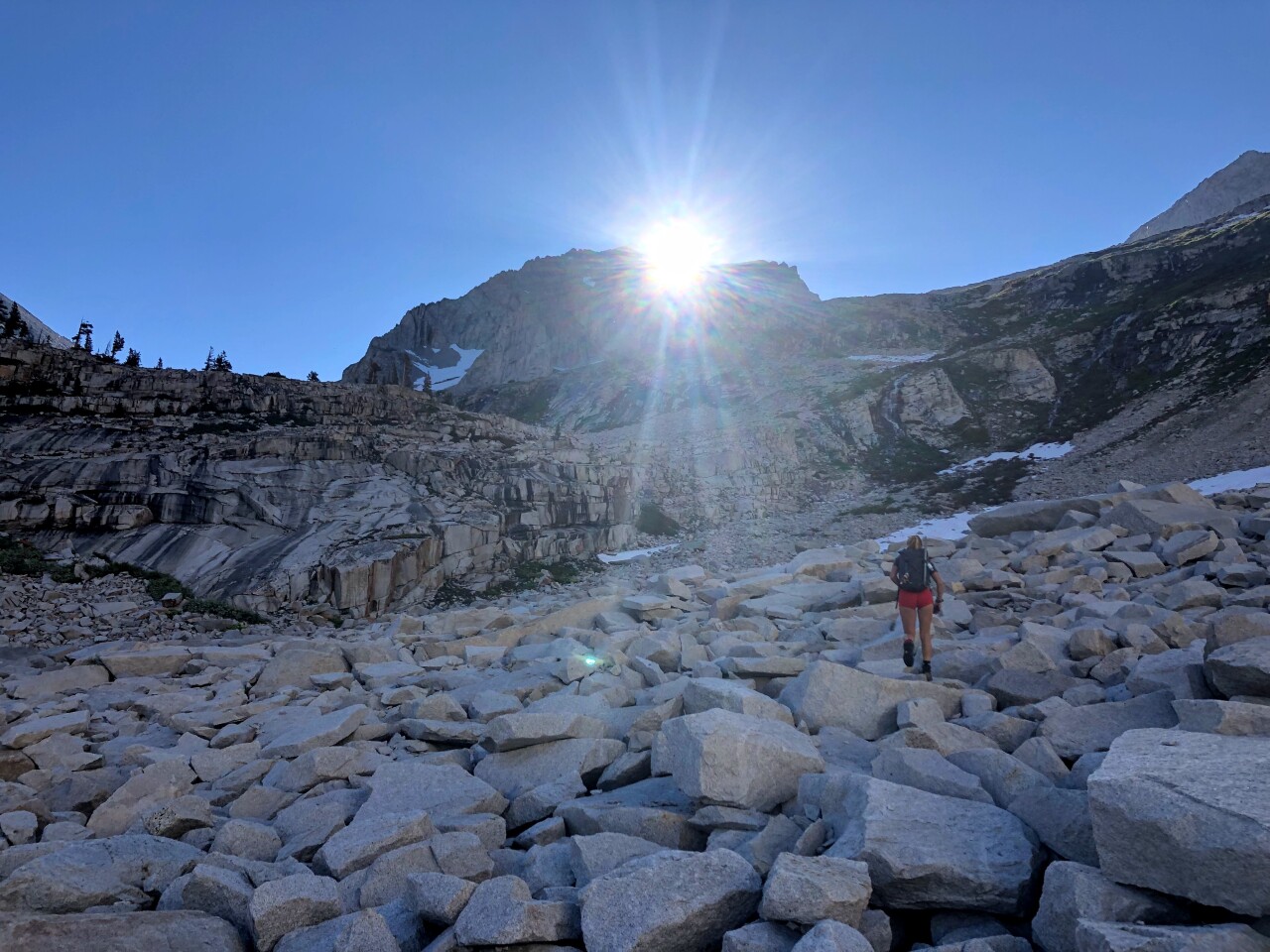 Lucas Lochner from Pioneer, Calif. and his girlfriend, Emma Lautanen, were on a three-day backpacking trip when he caught the sun peeking over the ridge and Lautanen below. He used his iPhone 6.
(Lucas Lochner)
Antelope Canyon, just east of Page, Ariz., is owned by the Navajo Nation, which allows escorted tours. Anita Mauch from Moorpark took one Aug. 12 and discovered these two trickles of sand within the red walls of the slot canyon. She used a Nikon D3400.
(Anita Mauch)
Ashlee Okamura from Irvine, 16, found this angle during a fireworks display above the Star Wars: Galaxy's Edge area of Disneyland, which opened in May. She used a Nikon D5000.
(Ashlee Okamura)
On Aug. 11, Sally Raskoff from Woodland Hills stepped into Sainte-Chapelle, a 13th century chapel that was once home to kings and queens, and saw a picture-perfect view above. "It's just magical," she said. She used an iPhone 7 Plus.
(Sally Raskoff)
Tina Studier from Manhattan Beach, her husband and two of their children spent two nights at Sossusvlei, including a June 18 stop at the Namib Desert's much-admired Dune 45. She trained her Canon PowerShot SX40 HS on the slope while others climbed the hill.
(Tina Studier)
Susan Gross from Santa Monica and her mother, Helen Gross, 87, on Sept. 3 finally got to a long-anticipated landmark: Niagara Falls. As they approached on foot from the Canadian side, Susan spotted the U.S. sightseeing boat Maid of the Mist and raised her iPhone 7.
(Susan Gross)