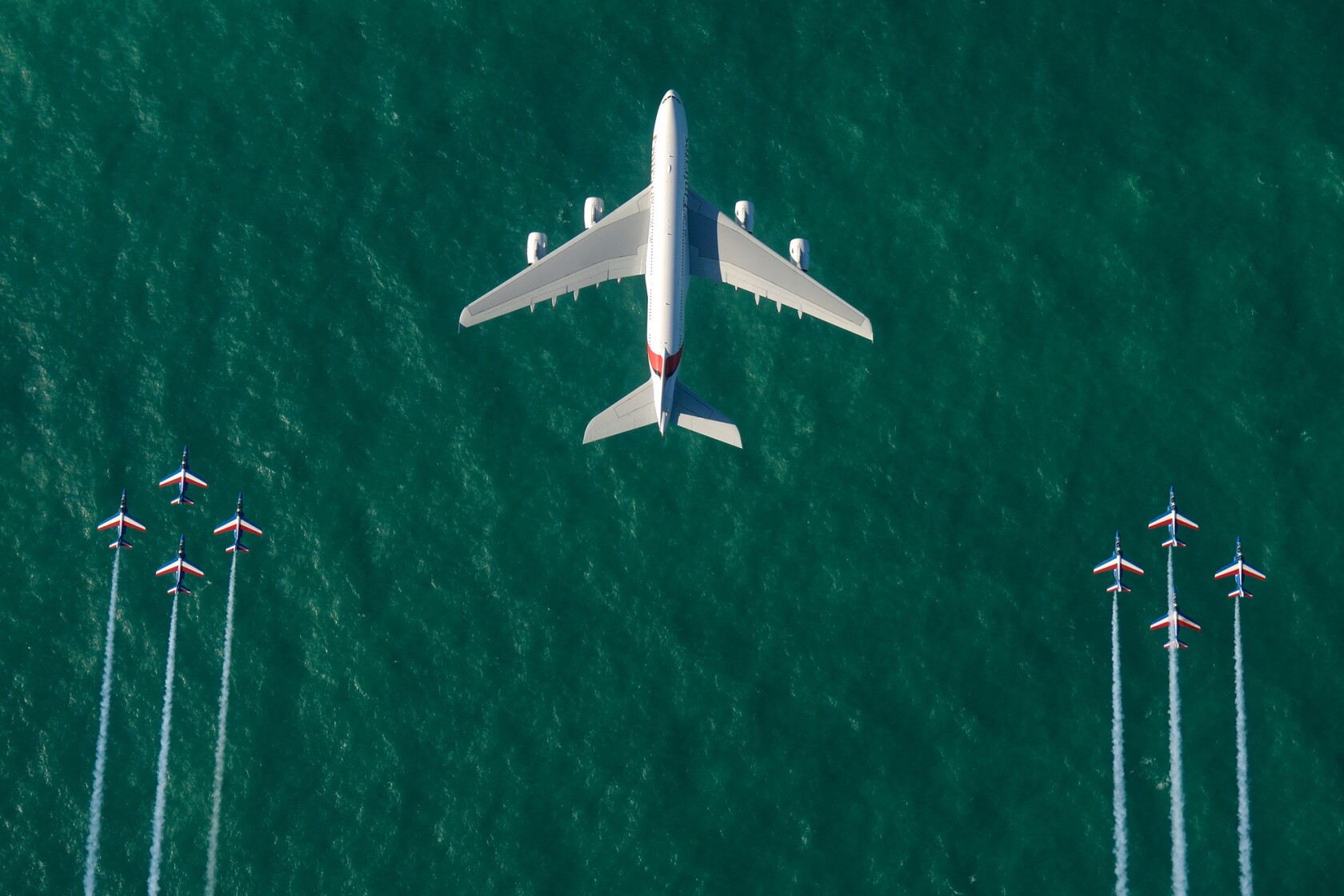 Un Airbus A380 toma vuelo en el Dubai Air Show. (Aurbus / MCT)
()
El salón a bordo de una aerolínea de Emirates A380. Emirates ha sido un gran cliente del jet gigante. (Emirates)
()
Asientos de primera clase en un Airbus A380 de la aerolínea Emirates. (Emirates)
()
La zona 'Business class' en un A380 de la aerolínea Emirates. (Emirates)
()
El baño equipado en un Airbus A380. (Airbus)
()
La suite de primera clase en el Airbus A380. Tenga en cuenta las dos sillas y cuatro ventanas.
(Getty Images)
El Airbus A380 empequeñece a los otros modelos del fabricante de aviones. (MCT)
()
Un Airbus A380 con compartimiento de primera clase. (MCT)
()
El salón de primera clase y libre de impuestos del Airbus A380 en Toulouse, Francia.
(Getty Images)
El Airbus A380 se eleva sobre el aeropuerto de Le Bourget, en el Salón Aeronáutico de París.
(Getty Images)
Pasajeros y empleados de Airbus abandonan el A380, en su primer vuelo en Toulouse, Francia, en septiembre de 2006. (Airbus / EPA)
()
Adam McLeod, de Sydney, Australia, se relaja en su propia suite "más allá de la primera clase" en un Airbus A380 de Singapore Airlines.
(Peter Pae / Los Angeles Times)
Menos de 14 años después de su primer vuelo, apenas una década después de comenzar a llevar pasajeros, el A380 se quedará aparcado.
(AP)
Solo se completarán 17 avionesmás, a finalizar en 2021. La aerolínea Emirates, el cliente más leal de la compañía francesa, dijo que comenzará a utilizar aviones menos grandes.
(Getty Images)
La decisión ya tuvo un costo de 523 millones de dólares en pérdidas en 2018, apuntó Airbus. La empresa, que es una de las más importantes de Europa, se prepara además para afrontar una grave interrupción en su producción intracontinental ante una salida posiblemente caótica de Gran Bretaña de la Unión Europea.
(Al Seib / Los Angeles Times)
Airbus reportó una ganancia neta de 3,100 millones de euros en 2018, frente a los 2,400 millones de euros de 2017. Además de las pérdidas del A380, reveló una carga de 436 millones de euros del A400M, utilizado por varios ejércitos europeos.
(Don Bartletti / Los Angeles Times)
The first Airbus A380 commercial flight to land at Los Angeles International Airport arrived in October 2008 to the kind of reception that is usually accorded A-list celebrities or heads of state.
In a way, the Qantas aircraft was all that. The crowd included actor John Travolta, who had been a brand ambassador for Qantas, and singer Olivia Newton-John, along with then-L.A. Mayor Antonio Villaraigosa, the Los Angeles Times reported.
Airbus, the European maker of the jumbo craft, announced Thursday that it would cease production of the jet, which was heralded at its debut as a boon for LAX. Instead, the airliner is no longer an attractive financial proposition.
"After an initial surge of orders, especially from Dubai-based Emirates, demand dried up and the program has never turned a profit," the BBC reported.
Like the Concorde, the supersonic transport that whisked passengers across the Atlantic in less than four hours a generation ago, the A380 was a crowd-pleaser.
"I loved the A380," said John DiScala, the Southern California-based travel blogger who runs JohnnyJet.com. "It was a great plane. And boarding, if you do it right, doesn't take any longer than to board than a 737."
DiScala, a veteran of many long-haul itineraries on the aircraft, said he also loved checking the jet's "tailcam" view, especially during takeoffs, for a bird's-eye view of the aircraft from a camera fixed near the top of its tail fin.
One drawback he noted: As configured by some carriers, the gap between the A380's window seats and cabin wall in coach class was too wide to comfortably lean your head against the wall or window to catch a nap.
But if you're flying first-class on, say, Emirates, there is much to love. There is an onboard lounge and, if you're in a first-class suite, you can have a shower to freshen up before arrival (see photo gallery above).
The A380 can carry more than 800 passengers, depending on how the plane is configured. Dubai-based Emirates airline, a big fan and buyer of the A380, created suites on its aircraft that are considered the height of luxury for a commercial liner. The twin-aisled jet has a range of more than 8,000 miles and is said to be quieter than most craft.
But airlines found the smaller A350 more economically feasible to operate. "Most airlines are looking for efficiency rather than luxury," How Stuff Works said in an article on the A380.
Dave Wallsworth, whose Twitter profile identifies him as an A380 captain with British Airways, said after the announcement it was "a very sad day for an amazing aircraft which pilots & passengers love. However, large efficient 2-engined aircraft are favoured by airlines and are an easier fit at airports."
---