When it comes to driving, Los Angeles drivers stink, but not as badly as those in Baltimore.
Just in time for Labor Day — a time of road trips that let you have one last blast before summer's passed — AllState has released statistical proof of just how bad we are and how good other places are by comparison.
Tanking at No. 200 on a list of 200 is Baltimore. But Los Angeles isn't exactly golden: It ranked at 194. Apparently its driving habits rubbed off on neighboring Glendale (or the other way around), which came in at No. 196, the worst among California cities.
If you're looking to places where the drivers apparently know what they're doing, try Brownsville, Texas, which AllState said has the safest drivers in the country. Brownsville is in far southeastern Texas, a little less than 30 miles from South Padre Island, whose website describes it as "Texas' Best Beach."
The other place that ranks high: the Kansas City area. Kansas City, Kan. (the smaller of the two Kansas Cities), ranks No. 2, and add in the suburbs of Olathe (11) and Overland Park (13, and a city of about 189,000) and Kansas City, Mo., at No. 32, and you seem to have an agglomeration of driving ability.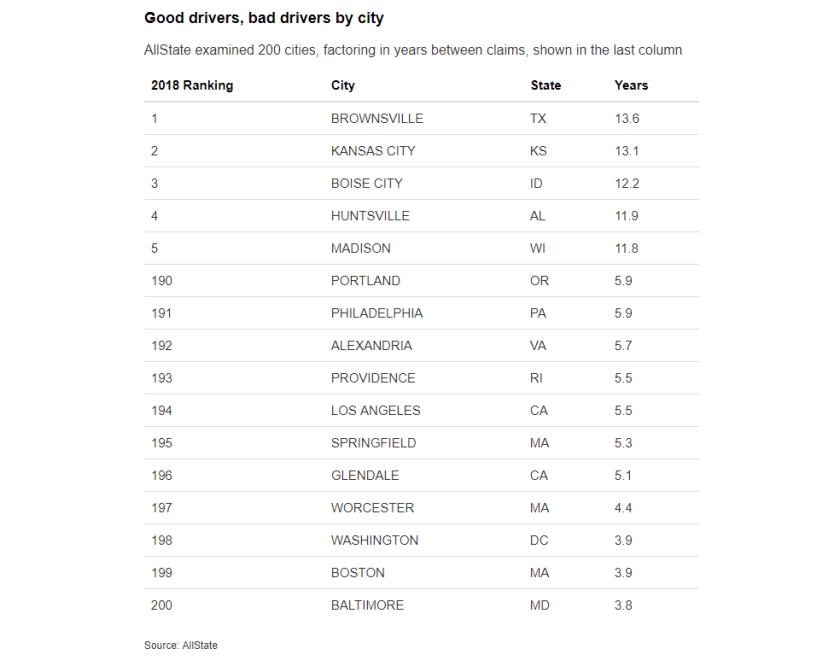 But what exactly constitutes a good driver? AllState evaluates the 200 largest cities on claims data. An average driver, AllState says, has one claim a decade. The brownie-point-winning Brownsville has a claim every 13.6 years.
And Los Angeles? Once every 5½ years (5.1 for Glendale).
All is not lost. Cities can get better. Witness Miami, which moved up 37 spots.
But they also get worse: Spokane, Wash., did, dropping 37 places, continuing a slide from the year before that saw it drop by 12 places.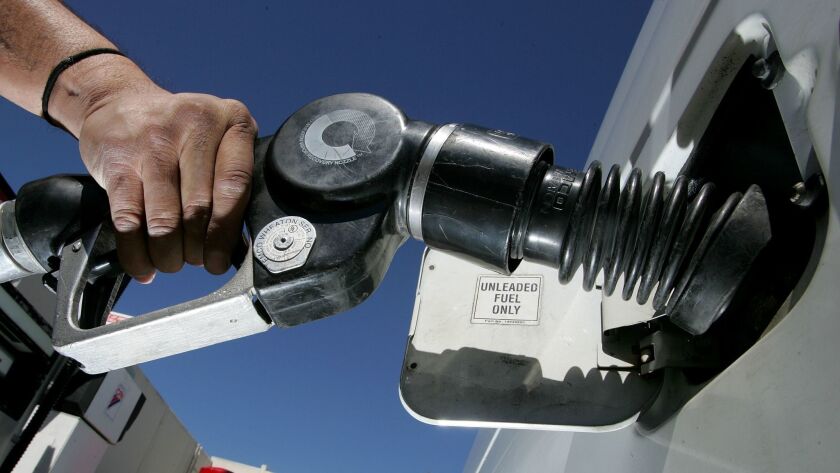 Memorial Day and Fourth of July were especially busy on the roads, and although figures aren't yet available for expected traffic volumes this weekend, there is at least one factor that may deter as many people from heading out: the price of gas.
An increase of a few cents per gallon has little impact on overall costs, but it's a psychological jolt that may tip the go/no go scales to no go.
The national price for a gallon of regular gas as of Wednesday: $2.84 a gallon. The California price as of the same day: $3.60, which means we're paying 76 cents more a gallon than average. And the bad news: A year ago, we were paying $3.04.
Consider how this pencils out.
Let's say you're going to San Diego for the weekend, about 240 miles round trip from L.A. If your vehicle gets 35 mpg, your fuel costs will increase $3.84.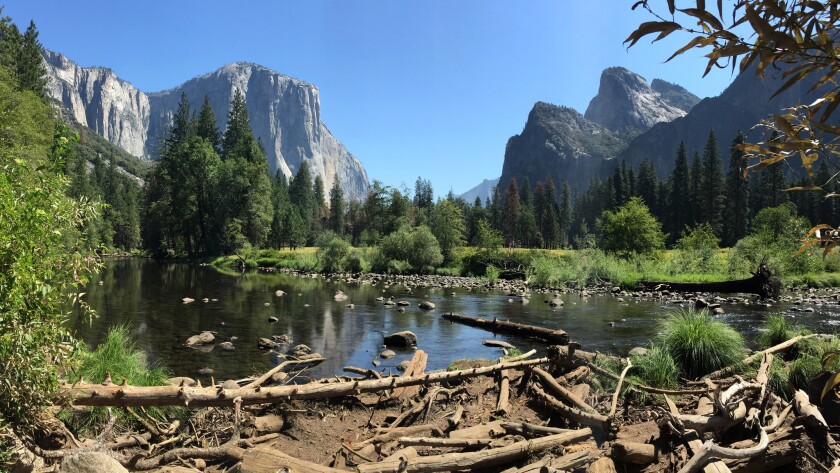 If you're headed to Yosemite, about 600 miles round trip, you'll pay $9.91 more.
No reservations for the national park? You may be in luck. It has some availability for the weekend, although Saturday night is sold out, a park representative said.
Tenaya Lodge, meanwhile, is offering 20% off its regular rates on Labor Day weekend with the promo code HOTDEAL, which means you'll find rates starting at $311 a night. Not inexpensive, but also pretty uncommon to find discounts on a holiday weekend.
No matter where you go — or even if you go — remember that if you're driving, you need to be really careful. You may be a great driver — most of us think we are, many studies show — but think about the bozo in the next lane who may be a wreck waiting to happen.
---