A St. Patrick's Day visit to Savannah, Ga., reveals a city with almost paranormal charm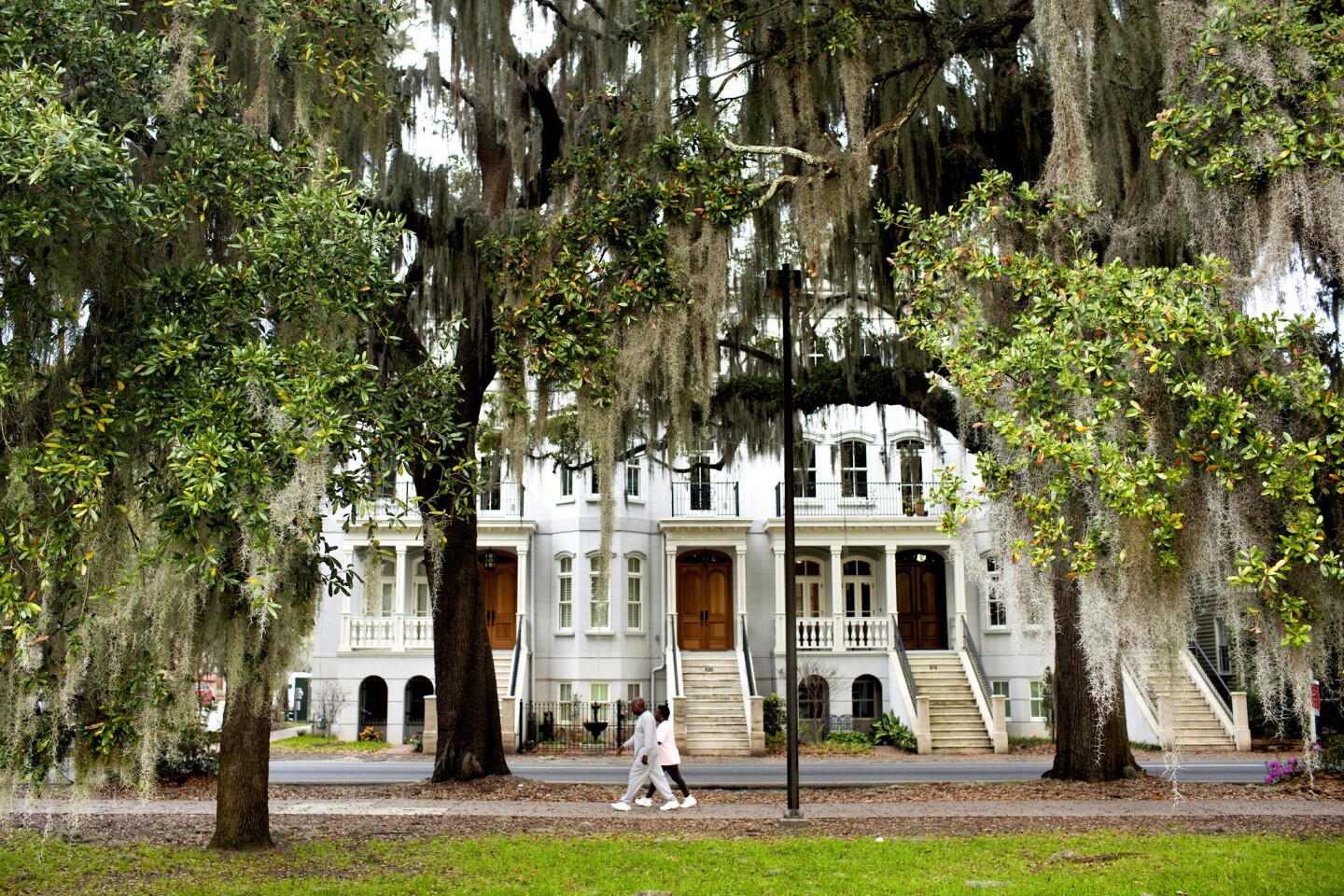 Spanish moss, historic buildings and lovely Forsyth Park in Savannah.
(Brendan Smialowski / AFP/Getty Images)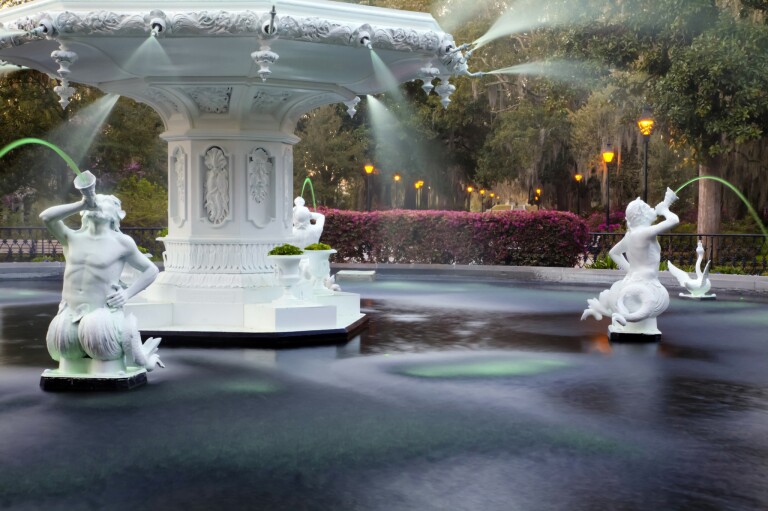 The water flows green from Forsyth Fountain during St. Patrick's festivities in Savannah.
(Danita Delimont / Getty Images / Gallo Images)
Forsyth Park and its lovely fountain are favorites with tourists and locals alike in Savannah.
(Panoramic Images / Getty Images )
SAVANNAH, Ga. —
Georgia had never held much allure for me despite my love of peaches and the Atlanta Braves. That's probably because as a young child, I spent four long, hot summers in Macon with my grandparents.
Fast-forward a few decades. My daughter, Remi, and I decided last year to do something different.
After spending the night in Atlanta, we drove 31/2 hours to Savannah, Georgia's oldest city — and first capital — established in 1733 when British army officer James Oglethorpe and about 100 settlers arrived.
We checked into the restored Park Avenue Manor "just in time for sherry in the parlor," said Maurice Norman, then a co-owner. The manor is a block from Forsyth Park and within walking distance of many of the city's attractions.
It also was the day before Savannah's annual three-hour St. Patrick's Day Parade, when its population of nearly 142,000 swells. What started in 1824 as a small procession honoring the city's Irish immigrants has grown into one of the South's largest parties after Mardi Gras, with more than 300 marching units.
City of squares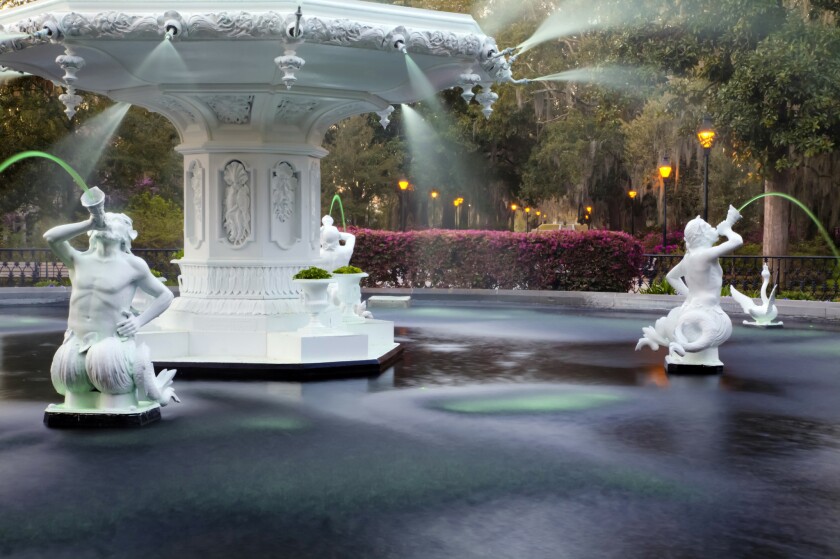 Savannah's downtown includes the historic district and a grid of thoroughfares punctuated by beautifully manicured squares. Forsyth Park and its large fountain (flowing green for St. Patrick) is at one end of the historic district, and the 70-foot-tall, gold-leaf-domed City Hall near the Savannah River is at the other.
During our visit, we walked through or around all 22 squares. Everywhere we turned, there were gorgeous examples of Greek Revival, Federalist and Georgian architecture with intricate wrought-iron features and moss-draped live oaks.
Tom Hanks, as Forrest Gump, sat on a bench in Chippewa Square and uttered those now-famous words, "My mamma always said, 'Life was like a box of chocolates. You never know what you're gonna get.'" Gump's actual bench rests at the Savannah History Museum.
After a late lunch, we continued past Johnson Square and arrived at Riverfront Plaza, where St. Patrick's Day festivities were in full swing with green beer and Jell-o shots. (Savannah has a limited open-container law.) Although revelers seemed to be enjoying themselves, they were, much to my surprise, somewhat subdued.
The next morning, after a delicious breakfast at the manor that was served on china likely around since the Civil War, we walked to Lafayette Square to watch the St. Patrick's Day Parade.
Remi and I were overwhelmed by the pride of participants, which included high school bands, charitable, veterans and business organizations, Clydesdales and, of course, military bands. This was small-town America at its finest.
Cuisine, on the other hand, is anything but small town in Savannah. There are traditional Southern barbecue styles at Sandfly BBQ, well-crafted, all-American food at Crystal Beer Parlor and new Southern cuisine at Olde Pink House.
Our favorite meal was at A.lure, in an old cotton warehouse where chef Greg Silver's low-country boil — shrimp, crab cakes, baby potatoes, smoked sausage, sweet-corn flan and spicy collard greens drizzled with hollandaise — was divine.
Ghost stories
What brings many to Savannah is the Mercer Williams House, a stately, circa 1868 Italianate mansion overlooking Monterey Square, designed by John S. Norris.
It was here in 1981 that historic preservationist Jim Williams was accused of fatally shooting his 21-year-old handyman and lover, Danny Hansford. The trial turned Savannah upside down and became the basis for John Berendt's 1994 book "Midnight in the Garden of Good and Evil" and the 1997 movie adaptation.
Williams was tried four times, the last ending in acquittal; he died six months later. Williams' sister owns the house now. Because she lives in it, the home tour covers just the gardens and main floor.
So yes, Savannah is rife with characters, eccentrics and drama. Nowhere was this more evident than when taking an evening ghost tour, a highlight of our trip. Although I'm hardly a believer in the paranormal, by the tour's end, my resolve was not quite as steadfast.
Our Savannah-born-and-bred guide was a wealth of information about the "possessed" homes and buildings we visited that night. As we strolled back to Park Avenue Manor, we looked at each beautifully restored mansion with a little more skepticism. Through the shadows, we wondered what other secrets those walls held.
On our final day, we walked along Savannah's eastern edge and to visit the City Walk art galleries, hoping against hope that we would walk long enough to work off at least a few bites of another generous breakfast.
Southern hospitality, eating, history and a few ghosts made for a memorable journey in honor of St. Patrick. As Henry James once said, "I recall my fleeting instants in Savannah as the taste of a cup charged to the brim." Indeed.
::
If you go
THE BEST WAY TO SAVANNAH, GA.
From LAX, American, Delta, United and JetBlue offer connecting service (change of planes) to Savannah. Restricted round-trip fares from $415.
Savannah is a walking city, and that's the best way to see it. The city also has free hop-on, hop-off buses that cover all major sights.
WHERE TO STAY
Park Avenue Manor, 107-109 Park Ave.; (912) 233-0352, www.parkavenuemanor.com. Doubles from $159, depending on room and season. Includes breakfast, Wi-Fi and parking.
WHERE TO EAT
A.lure Restaurant, 309 W. Congress St.; (912) 233-2111, www.aluresavannah.com. Dinner for two $100, including cocktails and wine.
Crystal Beer Parlor, 301 W. Jones St.; (912) 349-1000, www.crystalbeerparlor.com. Lunch for two $25.
Sandfly BBQ, 1220 Barnard St.; (912) 335-8058, www.sandflybbq.com. A carnivore's dream. Try the hog-wild platter; dinner for two $30.
Olde Pink House, 23 Abercorn St.; (912) 232-4286, www.plantersinnsavannah.com. Try the Habersham Platter with shrimp and grits, crab cake and seared scallops, and the fried green tomatoes. $100 for two.
TO LEARN MORE
Sixth Sense, (866) 666-3323, www.sixthsensesavannah.com. Unforgettable ghost tour with knowledgeable local guide.
Mercer-Williams House Museum, 429 Bull St.; (877) 430-6352, www.mercerhouse.com.
Visit Savannah, www.visitsavannah.com.
---
Get inspired to get away.
Explore California, the West and beyond with the weekly Escapes newsletter.
You may occasionally receive promotional content from the Los Angeles Times.