Planning your Haleakala bike trip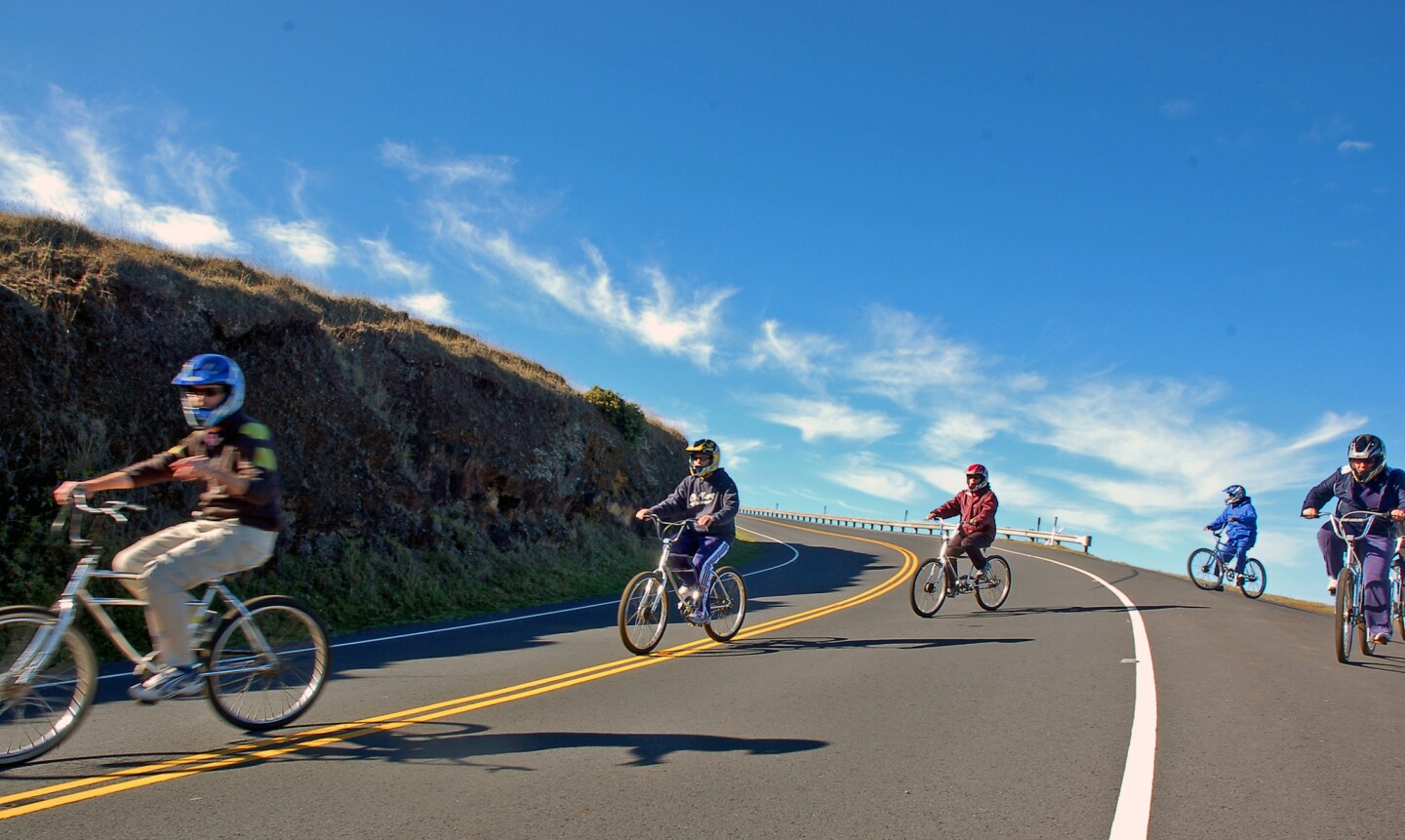 Riders cross back over the road after a scenic viewing stop on their sunrise bike trek down Haleakala, a nearly 10,000-foot volcano on Maui. Every year, thousands of bicyclists take the 27-mile ride to the sea.
(Christopher Reynolds / Los Angeles Times)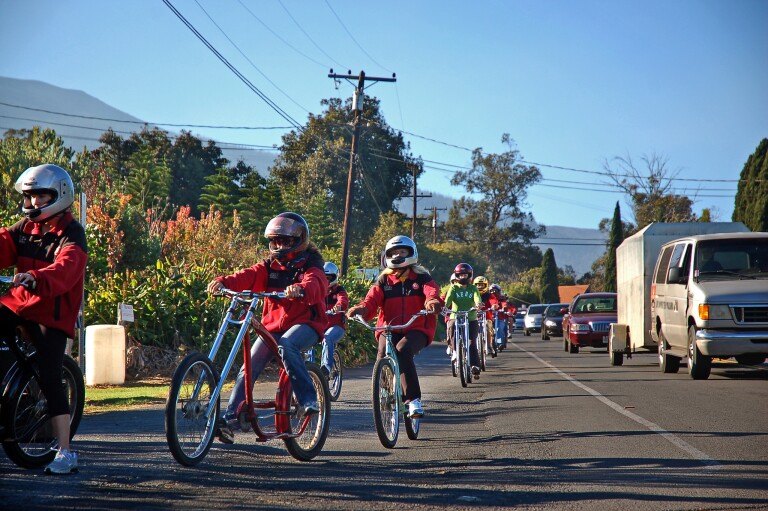 Bicyclists keep to the side of the busy road as they pass through the upcountry hamlet of Kula.
(Christopher Reynolds / Los Angeles Times)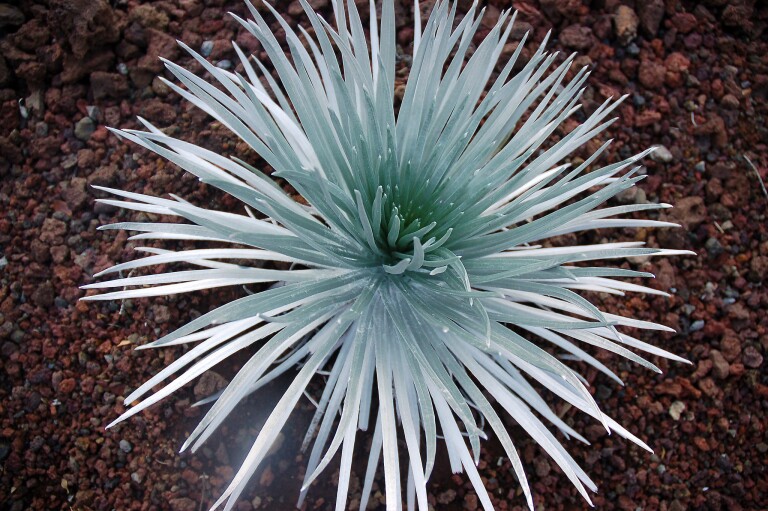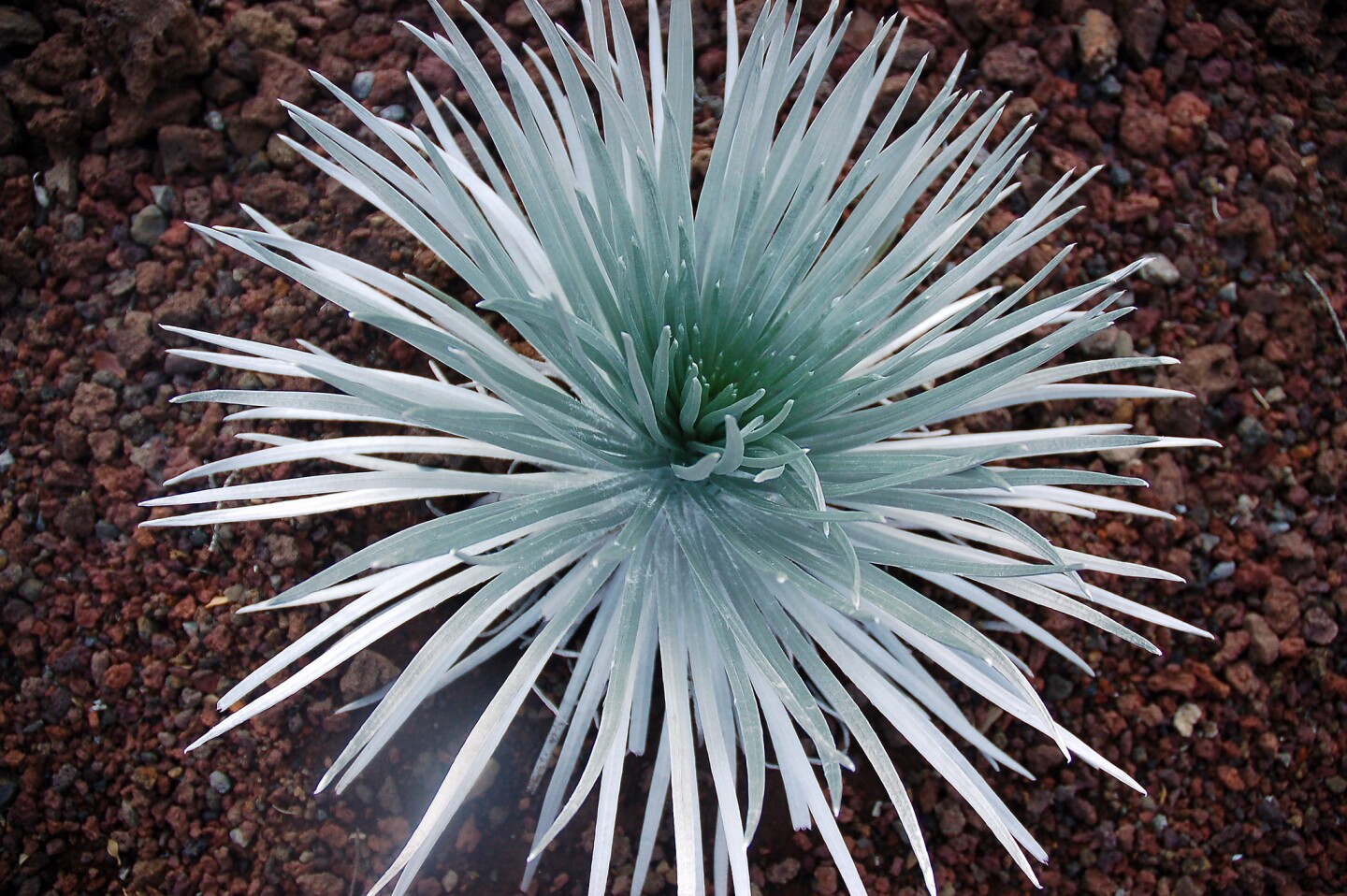 The rare Haleakala silversword grows at high altitudes on the harsh slopes of the Hawaiian volcano.
(Christopher Reynolds / Los Angeles Times)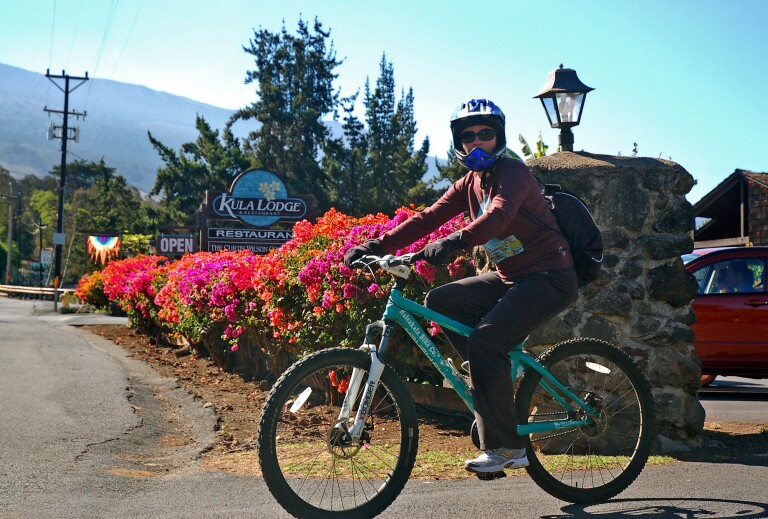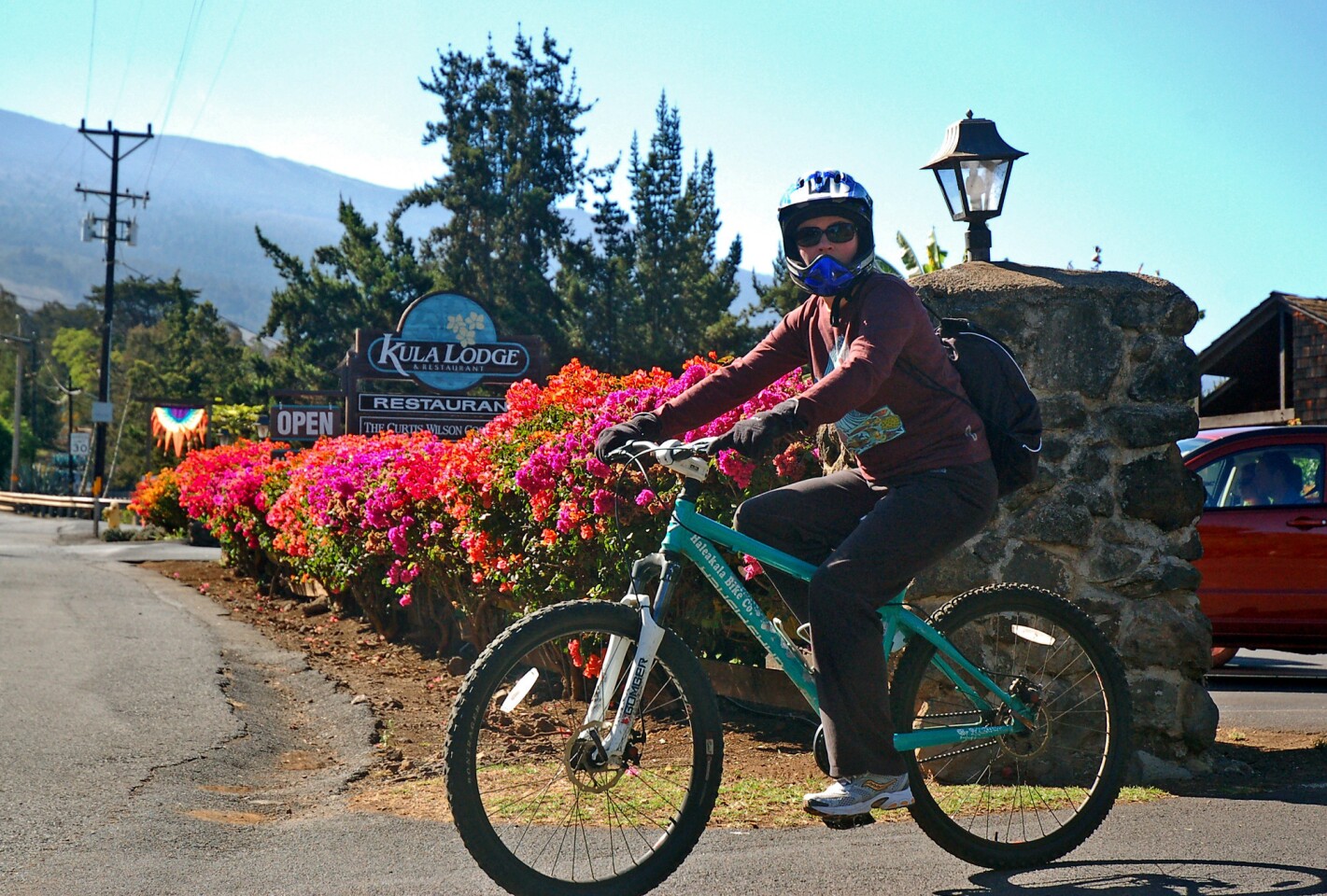 The Kula Lodge, about 3,200 feet above sea level, is a popular breakfast stop for cyclists as they descend from Haleakala to the seaside town of Paia.
(Christopher Reynolds / Los Angeles Times)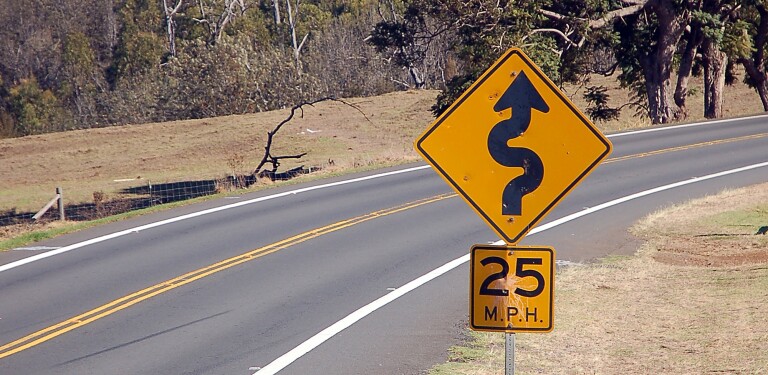 The sign says it all: The road down the volcano features dozens of tight turns. For the riders, it's eyes on the road only.
(Christopher Reynolds / Los Angeles Times)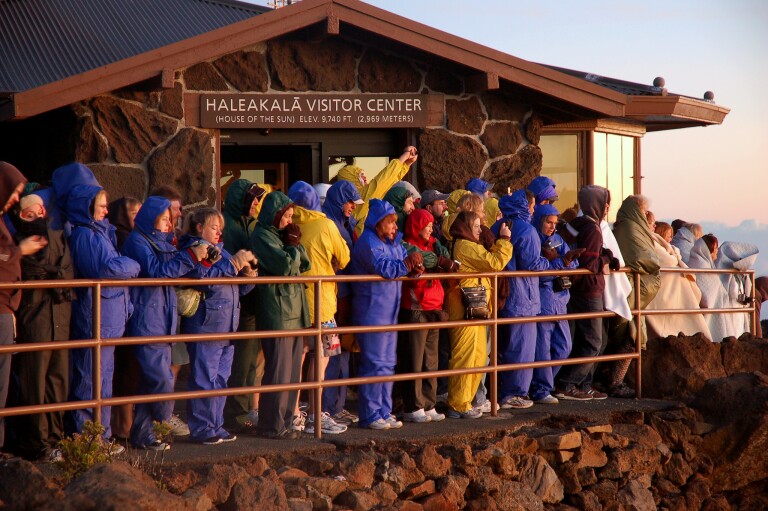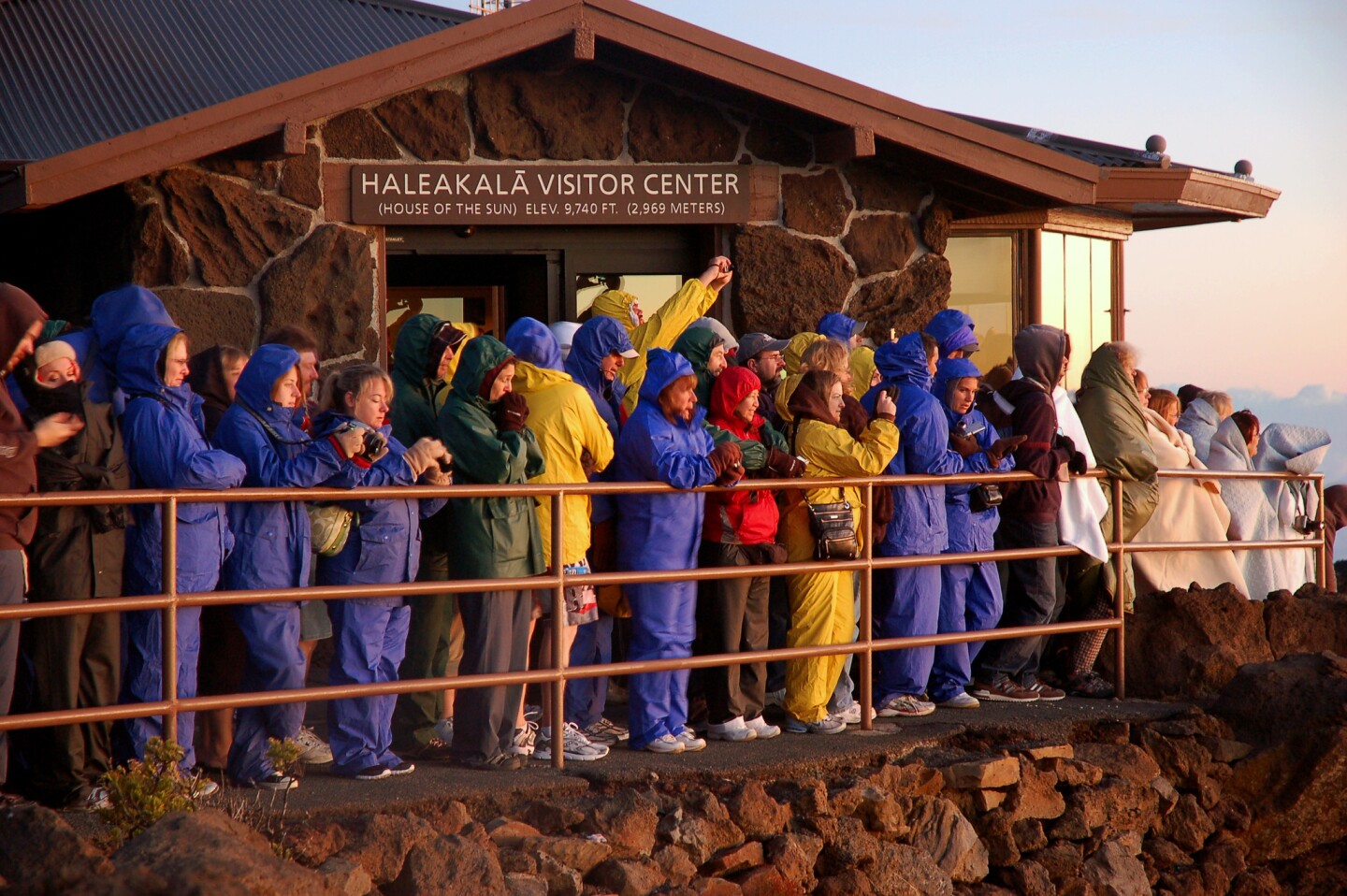 Visitors are bundled up, some wrapped in hotel blankets, to watch the sun rise from the rim of Haleakala volcano. At this altitude, it can get mighty chilly. Winter visitors take note: Sunrises this time of year are often rainy and cloudy.
(Christopher Reynolds / Los Angeles Times)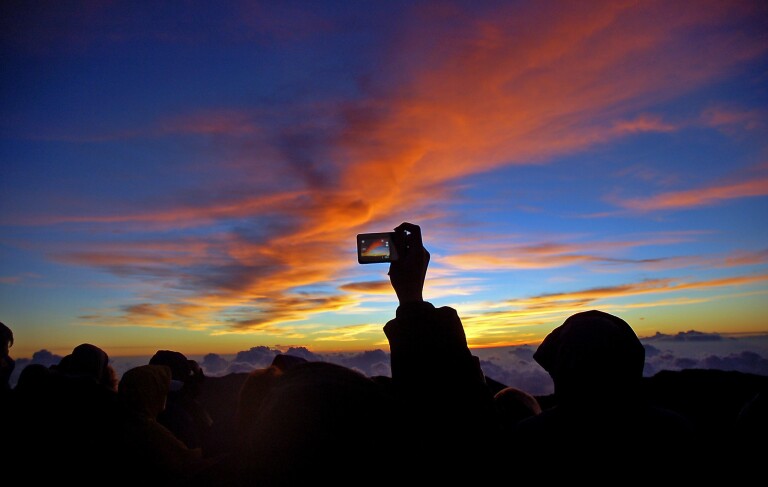 Dawn on the lip of Haleakala makes for a memorable photo op.
(Christopher Reynolds / Los Angeles Times)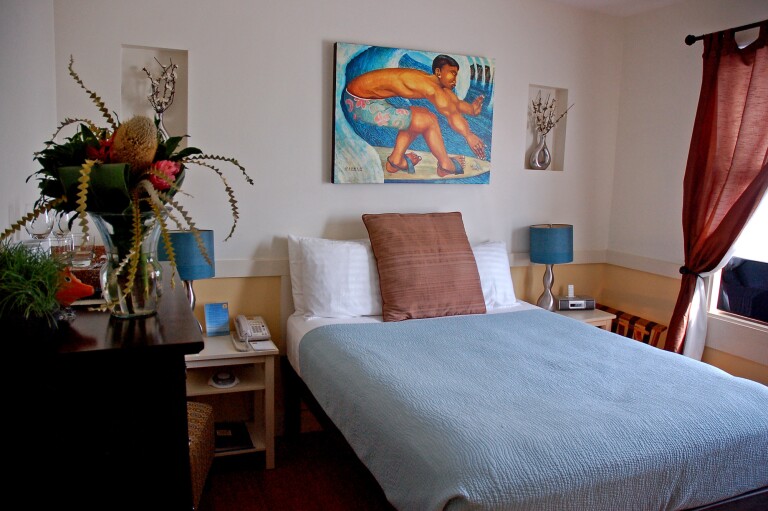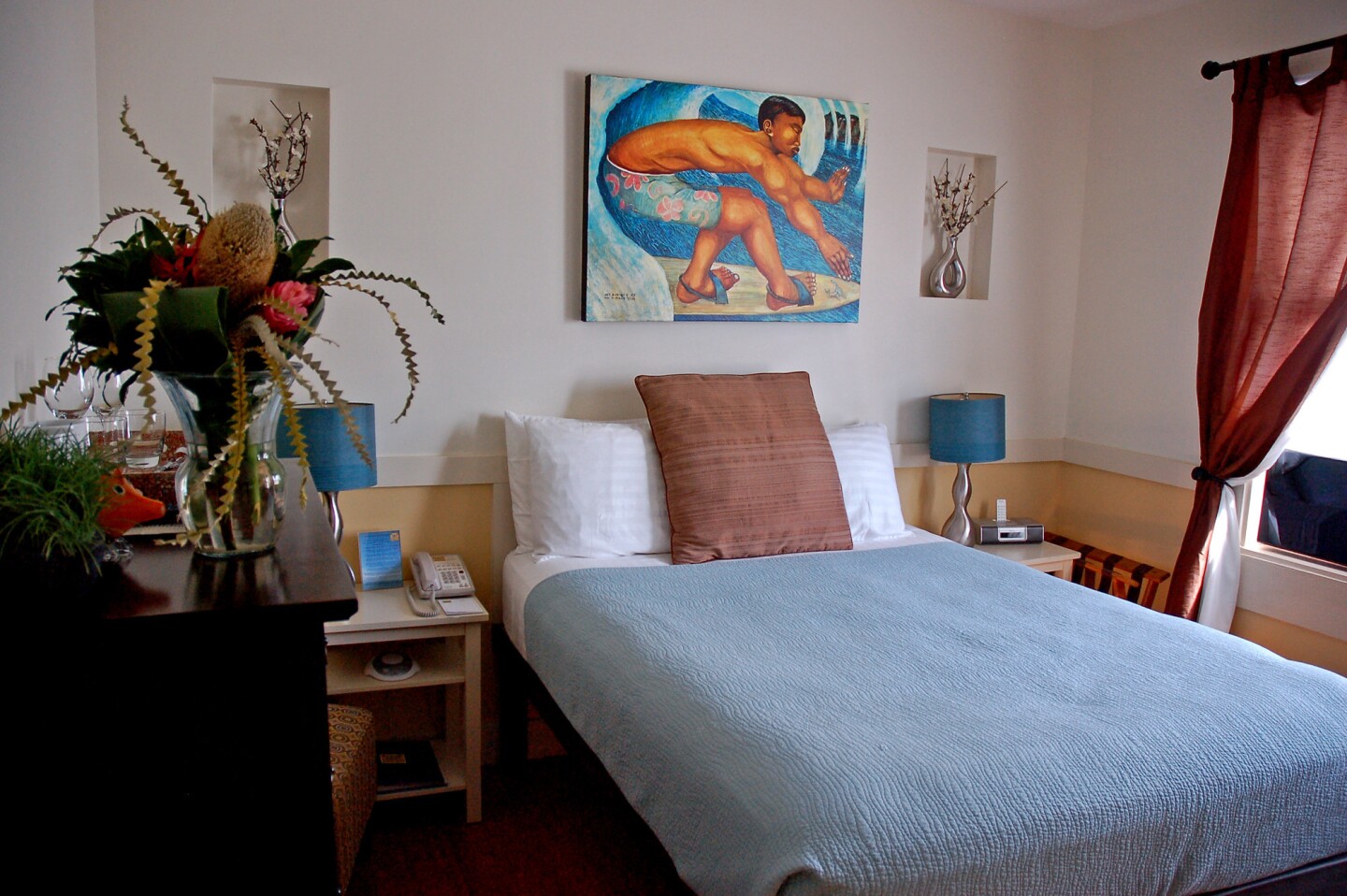 At the end of the bike trek is the Paia Inn, along the North Shore of Maui.
(Christopher Reynolds / Los Angeles Times)
Los Angeles Times Staff Writer
THE BEST WAY TO MAUI
United flies nonstop LAX to Maui's Kahului airport.
BIKES GUIDEBOOK:
Seven companies on Maui hold permits to offer bike tours that begin with van or bus trips to sunrise viewings atop Haleakala. The guided rides go from the edge of the park to sea level, a 6,500-foot descent over about 27 miles of two-lane public roads.
Among the companies offered guided bike tours: Maui Downhill, https://www.mauidownhill.com; Mountain Riders, https://www.mountainriders.com;; Maui Mountain Cruisers, https://www.mauimountaincruisers.com; Cruiser Phil's Volcano Riders, https://www.cruiserphil.com; Bike It Maui, https://www.bikeitmaui.com.
Also two companies offer sunrise tours with unguided bike rides: Haleakala Bike Company, https://www.bikemaui.net; and Maui Sun Riders, https://www.mauibikeride.com
All of these companies offer other rides at other times, as well, as well, some unguided. Five companies do escorted rides; two offer unguided rides. Prices typically run from $115-$150 for sunrise tours, but discounts are common. Rides that begin later (or exclude the volcano rim visit) cost substantially less. And besides these companies, many others offer bike rentals

WHERE TO STAY
In Kula, Kula Lodge, 15200 Haleakala Highway, Kula, Maui; 808-878-1535 or 800-233-1535; https://www.kulalodge.com. Besides its restaurant, art gallery and market, the lodge has five "rustic chalets" (all with private lanai, four with sleeping lofts in addition to queen beds below) for travelers seeking a roost on the way to Haleakala. No phones or TVs. Rates $100-$220 for two. Manage hopes to add 10 units in the next two years.
In Paia, Paia Inn, 93 Hana Highway, Paia, Maui; 808-579-6000 or 800-721-4000, https://www.paiainn.com. Fourteen rooms and suites and one beach house in three buildings. Opened with 5 rooms in 2008. From the ramshackle outside, you'd never guess what upscale, stylish haven waits within this 1929 building. Hardwood floors, cool contemporary art. Eight rooms have kitchens, all have private access to beach. The primo unit is the two-bedroom beach house, which looks across a little lawn to the sea. Breakfast, WiFi and parking included. High marks from trip advisor. Rates usually $189-$529.
In Paia, Mama's Fish House Restaurant and Inn, 799 Poho Place, Paia, Maui; 808-579-9764 or 800-860-HULA; https://www.mamasfishhouse.com. Tucked behind this well-known waterfront restaurant at the edge of Paia, the Inn at Mama's offers 12 one-bedroom and two-bedroom cottages. Four face the water; all have outdoor areas and kitchens or kitchenettes. Rates $175-$575.
WHERE TO EAT
In Kula, Kula Lodge (see above address). Commanding valley views, lots of locally grown produce and an eclectic menu (vegetable ragout quesadilla, mango BBQ ribs, macadamia encrusted fish). Breakfast, lunch, dinner. Main dishes $13-$26.
In Kula, Sunrise Country Market, 16157 Haleakala Highway, 808-878-1600, no restaurant website. Breakfast and lunches, including salads, sandwiches and main dishes, about $6-$9. Last food stop on the way up to volcano. Opens daily at 6:45 a.m., closes at 2:45pm.
In Makawao, Makawao Sushi and Deli, 3647 Baldwin Ave., 808-573-9044. Lunch and dinner. Bento box $8.99. Most dishes $3.25-$9.
In Paia, Café des Amis, 42 Baldwin Ave., 808-579-6323; no website. Casual Mediterranean and Indian food, including crepes and curries, with a pleasant patio. Breakfast, lunch, dinner. About $4-$13.
TO LEARN MORE
Haleaka National Park, https://www.nps.gov/hale/
National Park Service 2008 bike-tour safety analysis, https://www.nps.gov/hale/parkmgmt/bikesafety.htm
---
Get inspired to get away.
Explore California, the West and beyond with the weekly Escapes newsletter.
You may occasionally receive promotional content from the Los Angeles Times.