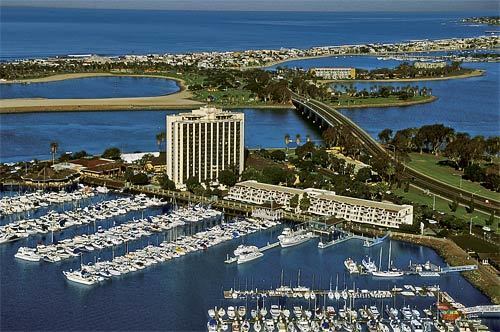 5 Images
San Diego: Hyatt Regency Mission Bay Spa & Marina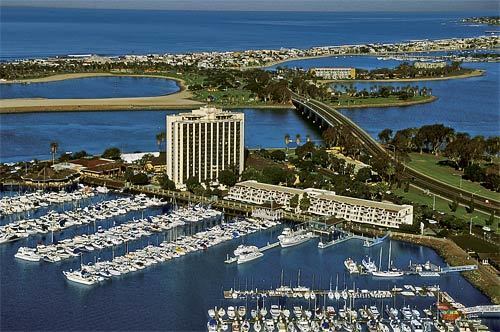 San Diego Hyatt Regency Mission Bay Spa & Marina
1441 Quivira Road, San Diego; (619) 224-1234,
www.hyatt.com
In the living room of the 553-square-foot suite, a beige six-seat sectional couch surrounded a cluster of four navy leather cubes. From the couch, you can watch the 32-inch LCD flat-screen TV or gaze into the mirror suspended from leather straps. Or trade your spot for the plush sea-blue armchair, ottoman and reading lamp.
A pocket door separates the living room from the bedroom, a blaze of ultra-white bed linens, wood-slat window blinds and white-curtained sliding glass doors. The bedroom has a second TV, this a last-century set that anchors a large desk, and a comfy, king-size, pillow-top bed framed by a wicker headboard. Alas, the two-story fitness center blocked our bay-and-marina view.
-- Valli Herman
Read more:
San Diego's Hyatt Regency Mission Bay Spa & Marina
(Hyatt Hotels)
For families with children, the pool is a big plus at the Hyatt Regency at Mission Bay. Kids will find a new surprise since the renovation: three pool slides, which keep them occupied while the adults swim nearby, relatively undisturbed. A Los Angeles Times hotel reviewer notes a downside of the pool: Guests may find lounge chairs scarce. Boat owners who rent slips at the nearby Hyatt-managed marina seem to like to drop in and monopolize the seating.
(Kathy M.Y. Pyon / Los Angeles Times)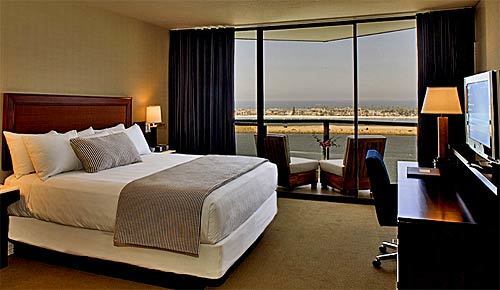 The recent updates at the Hyatt Regency Mission Bay Spa and Marina includes updated décor throughout the rooms in the 17-story tower and the 76 marina-side suites. All rooms include high-speed Internet access and a 32-inch flat-screen television.
(Hyatt Hotels)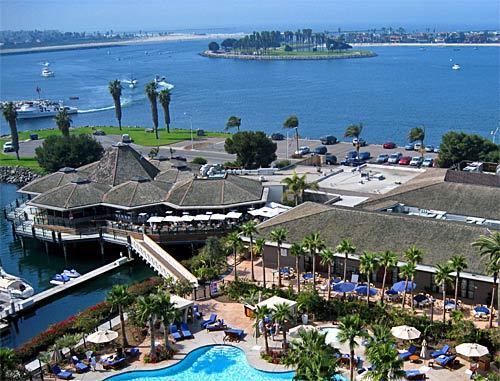 The view from the 17-story tower at the Hyatt Regency takes in the Red Marlin restaurant, left, more guest rooms, right, and the pool area in the foreground. Mission Bay is in the background.
(Kathy M.Y. Pyon / Los Angeles Times)
The 17-story tower at the Hyatt Regency Mission Bay Spa and Marina glows in the sunset in San Diego. L.A. Times hotel reviewer Valli Herman writes that the sleek, renovated Hyatt still has a few things to learn about pleasing families.
(Kathy M.Y. Pyon / Los Angeles Times)