A wary mom new to Toronto finds plenty of spots that appeal to kids and parents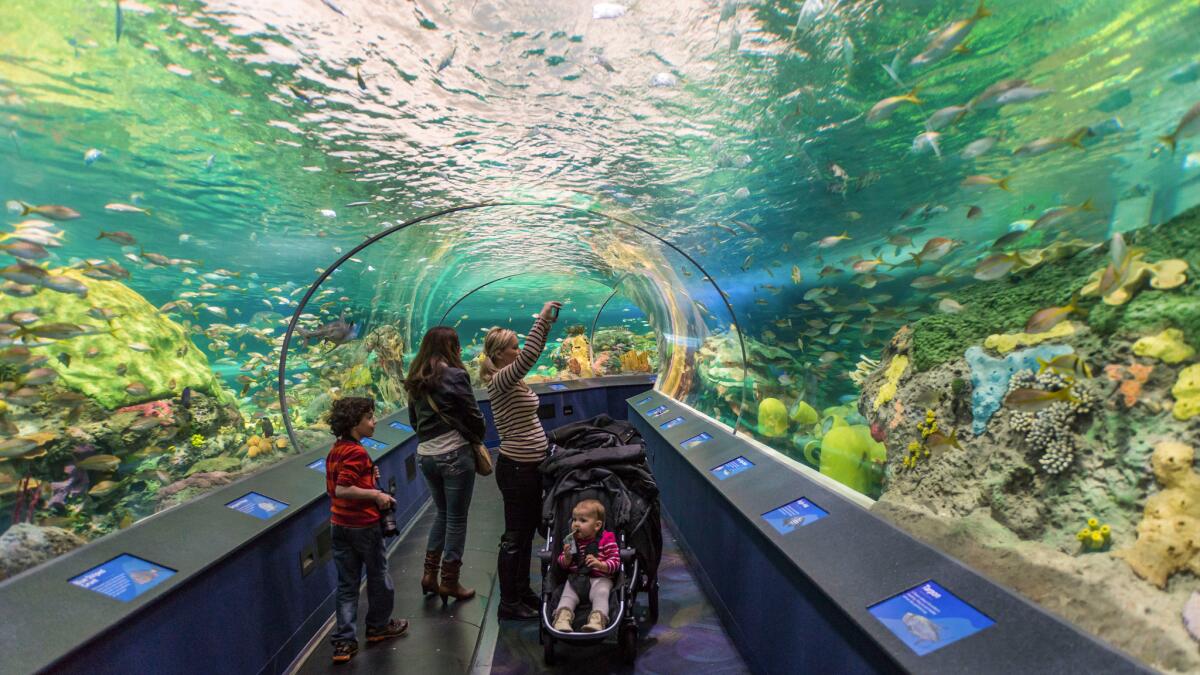 When my TV-writer husband's career led to a temporary transfer to Toronto last winter, Alex and I were excited to have a few months to explore a new city, but we weren't sure how well the rest of our family would react.
Although our devilish tabby cat, Layla, adjusted well to the move, our then-14-month-old son, Hudson, didn't understand why his roaming space had been downgraded from a house to an apartment living room.
Because I value organization but have a poor sense of direction, I created a Google map to best maximize the opportunities to see places that both parents and their young kids would want to explore.
Royal Ontario Museum: After breakfast at the nearby Over Easy, we ventured inside the massive museum to explore Canadian and Chinese art, then headed upstairs to view that perennial kid favorite, the dinosaur exhibit. Because of poor parental planning, Hudson fell asleep in his stroller and missed a chance to see the remains of beasts from the Jurassic and Cretaceous periods that awaited us at every turn. He probably would have been too scared of the T. rex that appears through augmented reality, although a photo of them would have been an excellent choice for our holiday card this year.
The museum embraces the kid-friendly notions of looking and touching. Its hands-on biodiversity exhibit has interactive displays and "touchable specimens" such as a shark jaw. There's also a discovery zone where kids can try on costumes and dig for fossils.
Info: Royal Ontario Museum, 100 Queens Park; (416) 586-8000. Over Easy, 208 Bloor St. West; (416) 922-2345.
Indigo: This multistory bookstore is east of the museum in the shopper's paradise of Yorkville. The play area in the kids' section gave Hudson a chance to burn off some post-nap energy while I picked up a copy of "The Hockey Sweater," an essential read for Canadian youth since its publication in 1979.
Info: Indigo Books, 55 Bloor St. West; (416) 925-3536.
Art Gallery of Ontario: Toronto's other major art museum is a better destination for older kids. Although it has a children's section with dress-up and drawing areas, Hudson mostly fixated on the pop art collection. Specifically, he was upset that he could not eat and/or dive onto Claes Oldenburg's "Floor Burger."
Info: Art Gallery of Ontario, 317 Dundas St. West; (416) 979-6648.
Ripley's Aquarium of Canada: Here was a chance for our toddler to get up close and marvel at stingrays, sharks and jellyfish. The space, with windowed tunnels that go under fish tanks and glass floors to see other marine life, is ideal for kids learning to explore. There are also dive shows and talks by in-house experts.
Info: Ripley's Aquarium of Canada, 288 Bremner Blvd.; (647) 351-3474.
Ripley's is adjacent to the soaring CN Tower, where kids of all ages who don't suffer from acrophobia (or who don't have parents who do, like my kid) will enjoy the rotating restaurant as well as walking on a glass floor that lets them look 1,122 feet straight down.
Info: CN Tower, 301 Front St. West; (416) 868-6937.
The Beaches (or just the Beach to some): This neighborhood east of downtown has three beaches that front Lake Ontario and is great for an afternoon walk or drive ( when you're trying to get your baby to nap). It's also home to an Ed's Real Scoop location. The shop sells chocolate and fudge, but kids won't take their eyes off the main event: burnt marshmallow ice cream. Hudson woke up in time to help me devour mine.
Info: Ed's Real Scoop, 2224 Queen St. East; (416) 699-6100.
Distillery District: We spent one Saturday exploring the Distillery District on the east side of downtown Toronto. The former home of Gooderham & Worts, once a thriving distillery, is home to shops and restaurants built in the worn brick buildings. These, and the art galleries and theaters, are fun to explore in warmer months — and the open space is great for running around — but our trip in the winter was cut short because the harsh winds made it nearly impossible to push our stroller.
We also were there a few months too late to enjoy the annual Christmas Market, when the district is hopping with families enjoying the a Ferris wheel, carousel and life-size gingerbread house.
We did stop at SOMA Chocolatemaker, where we took the chill off with Mayan hot chocolate made with chile peppers and orange peel, while Hudson was transfixed watching chocolate being made in the glassed-in kitchen.
Info: Distillery District and SOMA, 32 Tank House Lane; (416) 815-7662.
Casa Loma: Toronto is home to Casa Loma, a Gothic Revival castle built in the 1910s that will appeal to older kids interested in history and younger ones still attracted to shiny things. The "Downton Abbey"-esque former home of the late financier Sir Henry Mill Pellatt now serves as a museum of Canadian history.
Casa Loma's narrow staircases are not equipped for strollers, but we were assured it was safe to leave ours in the lobby while we headed upstairs to tour towers with winding staircases and the well-appointed Windsor Room that Pellatt had designed in case the royals popped in for a visit (sadly, they never showed).
Info: Casa Loma, 1 Austin Terrace; (416) 923-1171
High Park: Fresh air is a key component of Torontonian life, as just about every neighborhood has a public park and playground. High Park, west of downtown, has a train, a duck pond, picnic areas and a zoo. There's also a playground that looks like a castle, where the sight of kids in snowsuits preparing to defend their turf can warm the coldest of hearts.
Info: High Park, 1873 Bloor St. West
Honest Ed's: With its flashing, pun-themed signs, Ed's looks like a cross between a swap meet and the Circus Circus casino in Las Vegas. It is paradise for any bargain-hunting kid (or parent) who wants to spend an afternoon looking for snow globes, candies, T-shirts and pretty much anything else they would want to take home to their friends. Hudson scored with a Beanie Baby monkey, which he promptly named Night Night. But go quickly. Ed's closes it doors in December.
Info: Honest Ed's, 581 Bloor St. West; (416) 537-2111
If you go
THE BEST WAY TO TORONTO
From LAX,
Getting Around: The Toronto Transit Commission strives to be as user-friendly as possible, but not all subway stops are accessible for strollers and others who need assistance. Check its website, www.ttc.ca, to see if your stop meets your specifications.
Get our L.A. Goes Out newsletter, with the week's best events, to help you explore and experience our city.
You may occasionally receive promotional content from the Los Angeles Times.