Portland, Ore., is a smaller, cleaner, wetter alternative to L.A.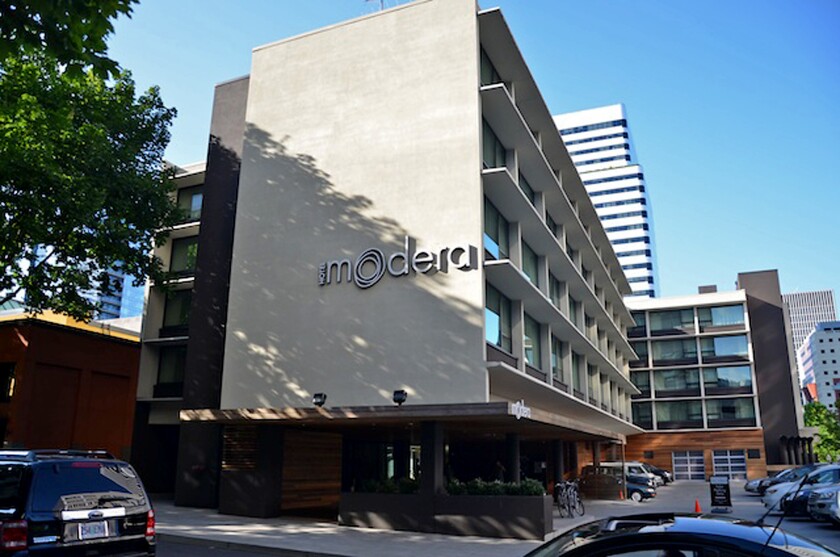 The Portland Hop. I know, it sounds like a dance craze in 1937. But really, it's what you do when Southern California gets you down and you need to drink small-batch beer, eat Northwestern locavore meals and see bike commuters in the rain. My wife, daughter and I hit Portland, Ore., for a few days last August. Here's the report.
The bed. Once a Days Inn, the Hotel Modera (515 S.W. Clay St.; [503] 484-1084; rooms for two start at about $129 in spring) got a serious upgrade before opening in 2008. Its lobby and 174 guest rooms are done in modernist style, punctuated with lots of original art and accompanied by an accomplished upscale restaurant, Nel Centro. We stayed two nights, ate well in the restaurant and enjoyed being situated about six blocks from Portland's central Pioneer Courthouse Square.
The meal. It's tempting, but I'm not going to insist you try "totchos" (the marriage of Tater Tots and nachos), which we encountered at the genial Oaks Bottom Public House in the Westmoreland area. Instead, keep an eye out for the tasty and casual Pacific Pie Co. (1520 S.E. 7th Ave.; [503] 381-6157; no single item over $9). The bakers here specialize in Australian-style meat pies and sweet pies. As is the Portland way, they value sustainability and local ingredients. If the Moroccan chickpea pie doesn't seduce you, the grass-fed beef braised in stout beer just might.
The find. In the trendy Pearl District, we browsed and bought at Oblation (516 N.W. 12th Ave.; [503] 223-1093), "a 19th century print shop designing wedding invitations for the 21st century." We didn't need wedding invites, but our friend Lisa knew we'd appreciate such witty and gorgeous uses of good old paper and ink. We lingered long.
The lesson learned. Beware the maze of one-way streets near Hawthorne Bridge, which turned our hunt for the hotel into a comic misadventure. (As you read all the NWs, NEs, SWs and SEs in addresses, remember that the Willamette River separates east from west and Burnside Street separates north from south.)
The tab. Airfares aside (about $220 round trip), we spent about $550, including $170 a night at the Hotel Modera (thanks to the first AARP discount of my life) and $28 at Pacific Pie Co.
---
Get inspired to get away.
Explore California, the West and beyond with the weekly Escapes newsletter.
You may occasionally receive promotional content from the Los Angeles Times.