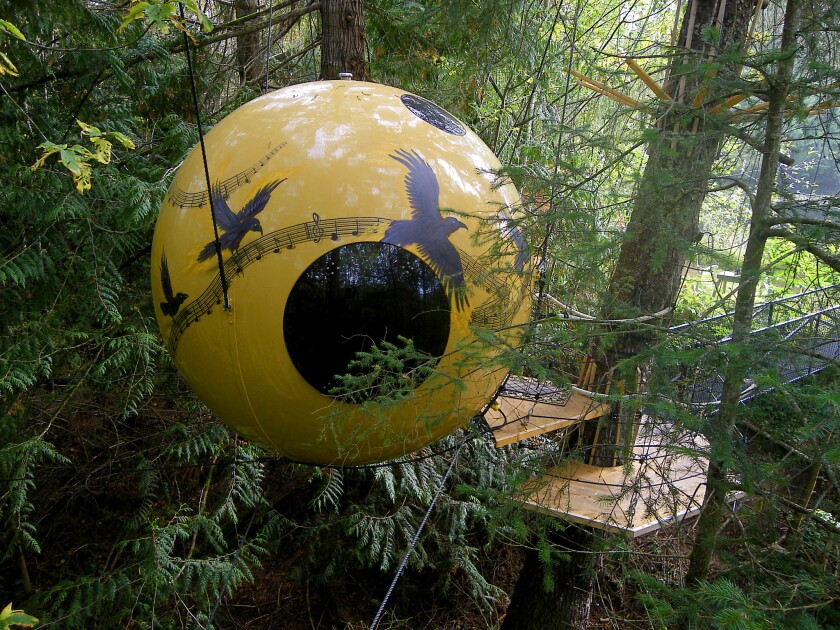 Seeing the Grand Canyon might be on your bucket list, but sleeping in an underground cavern 200 feet below the Earth's surface confers some major bragging rights.
And that is what many travelers crave.
Unusual accommodations — treehouses, castles, lighthouses and more — are growing in number and popularity, in part because the Internet makes them easier to find.
"Travelers want to invest in experiences, and swapping your standard room for a treehouse or houseboat is an experience you definitely won't forget," said Laurel Greatrix, spokeswoman for TripAdvisor Rentals.
Still, sleeping on ice, as people do at the famed Icehotel in Sweden, isn't for everyone.
"There are many people who are perfectly happy with tried and tested accommodation … and have little desire for quirky accommodation," said Makarand Mody, assistant professor of hospitality marketing at Boston University. "It takes someone with a certain kind of personality."
If you're one of those people, here are six offbeat accommodations that should appeal to you.
Kokopelli's Cave
This 1,700-square-foot house, named for the Hopi fertility deity, was built into sandstone cliffs near Farmington, N.M., where it provides guests with solitude 70 feet below the surface of the Earth.
How it came to be: Owner Bruce Black, a geologist born and raised in New Mexico, loved the cliff dwellings of the ancient Pueblos. He had $20,000 to spend so he hired a crew to blast out his home. "I told them to make me as big a hole as they could."
The result, which took years to finish, is perched 300 feet above La Plata River Valley.
What you'll find: The house offers everything you need for a comfortable stay, including a bathroom with a waterfall shower and jetted tub.
Sliding glass doors in the master bedroom and front entrance open to porches with stunning views of the landscape, including the Four Corners area, where Arizona, New Mexico, Utah and Colorado meet. Guests might spot coyotes, bobcats, deer, foxes, eagles and other animals.
"Many [guests] describe staying there as an almost spiritual experience," Black said.
Possible downside: The house does not have an elevator. Although guests can drive to the house rather than hike in, they will need to walk on a sloping path and stairs to enter and exit. Packing light is advised.
Info: Kokopelli's Cave, Farmington, N.M.; (505) 860-3812. $620 for a two-night stay for two, plus $50 for each additional guest.
Grand Canyon Caverns Inn
The Underground Cave Suite at the Grand Canyon Caverns Inn is described as the "deepest, darkest, oldest, quietest motel room in the world."
How it came to be: Rock from an ancient seabed was lifted by geologic forces and eroded by fresh water to form the caverns along what is now Route 66 in northern Arizona.
What you will find: The rough-hewn suite — more than 65 million years old and buried under 220 feet of earth — has what owner John McEnulty called "Mother Nature's wallcovering" with sea geodes, selenite crystals and other evidence of the ancient past.
There are no bats, insects or vegetation, and the air is pure, filtered by rock, McEnulty said.
The suite has a library filled with books and old National Geographics — some dating to 1917 — a record player and beds to accommodate six.
There is no kitchen, but guests can order food from the Caverns Grill.
Possible downside: Although the cavern housing the suite is huge — 200 by 400 feet with 70-foot ceilings — claustrophobia does stop some people from entering. It happens about twice a year, McEnulty said.
Info: Grand Canyon Caverns Inn, Peach Springs, Ariz.; (928) 422-3223. $850 per night for two people, with $100 for each additional guest. A motel, camping and an RV park are other lodging options.
Point No Point Lighthouse keeper's home
The Point No Point Lighthouse, built in 1879, continues to guide sailors to safety. The keeper's house, open to guests since 2008, guides travelers to serenity.
How it came to be: The Point No Point Lighthouse and keeper's house sit on a spit of land in Puget Sound about an hour from Seattle.
What you'll find: The two-story house has a wide front porch where you can sit and watch the boats, birds and whales.
Although the home's exterior has been restored to its proper period, the interior is updated, said Jeff Gales, executive director of the U.S. Lighthouse Society, which rents the house.
The furnishings have more of a beachy feel so visitors don't feel as if they are living in a museum. The house is bright and tidy with a living room, formal dining area, full kitchen and two bedrooms.
"It gives a sense of history [without] feeling uncomfortable," Gales said.
"When the park closes and there's no more people, no more activity, there is something special about that feeling," Gales said. "You sit and are quiet for two minutes and something comes over you. You are connected to nature."
Possible downside: Although the bedrooms have no windows that would capture light from the working beacon, guests might hear the horns of passing ships.
Info: Point No Point, Hansville, Wash.; (415) 362-7255. $275 a night; a two-night minimum stay is required Fridays-Sundays.
Free Spirit Spheres
These spherical treehouses of fiberglass and wood resemble nothing so much as giant birdhouses.
How they came to be: The three spheres, set in a rainforest on Vancouver Island, Canada, are the work of Tom Chudleigh, who began building them in 1993.
"My original idea was to create something that would allow people to move into a forest canopy without leaving any footprints — just to give people an opportunity to experience the magic of an old-growth forest without damaging it," he said.
What you will find: Chudleigh's spheres are functional works of art, highly polished structures that each took about 5,700 hours to build. The spheres, suspended by ropes in the trees and reached by circular walkways, have sitting and sleeping areas as well as lookouts onto nature.
"Above all else there is a feeling of tranquillity," he said. "At night as the birds are roosting and the bird chatter dies down, it gives way to the croaking of frogs and owl sounds. The presence of nature sprites and fairies is almost tangible."
Possible downside: The spheres have no bathrooms (they are at ground level) or kitchens.
Info: Free Spirit Spheres, 420 Horne Lake Road, Qualicum Beach, Canada; (250) 757-9445. About $435 for a two-night stay for two.
Calpine Lookout
This 1934 fire lookout in Tahoe National Forest, about 40 miles west of Truckee, Calif., doesn't have running water or electricity, but it does have unrivaled views at 5,980 feet.
How it came to be: This three-story lookout was built in an unusual "windmill" style, with its first two floors enclosed. Only three such lookouts remain in California.
What guests will find: The third floor of the tower, at 196 square feet, is outfitted with two twin beds, a dry sink, a propane stove and a propane heater.
Guests will need to bring bedding, water, firewood and even toilet paper (there's a vault toilet at the tower's base).
But unlike other fire lookouts available for rent, guests can drive to this tower in summer with their essentials. (In winter, they can snowshoe in.)
Staying there is peaceful, said Barbara Cooper, visitor services information assistant with the Sierraville Ranger District. "You can kind of unplug."
With a deck and no light pollution, the tower is a great place to study the heavens. "You can watch stars for hours and hours," she said, suggesting guests time their visits to coincide with meteor showers or other astronomical events.
Possible downside: The tower has two twin beds. Families might want to camp at its base.
Info: Calpine Lookout, (530) 994-3401. $45 a night; books months in advance. For more lookouts available for stays, go to www.recreation.gov.
Earthship Biotecture
If you want to live off the grid but don't enjoy roughing it, five rental homes outside Taos, N.M., show how it's done.
How they came to be: Architect Michael Reynolds has been experimenting since the 1970s with sustainable building practices now showcased in a 650-acre community. Five of the houses, known as Earthships, are for rent.
What you will find: Earthships are made with recycled materials and use passive solar heating; there also are copper counters, slate backsplashes and other luxury touches.
The homes range in size from the studio-size Hobbit House, Reynolds' first Earthship, to the Phoenix, with three bedrooms, two baths, a jungle greenhouse and a fishpond.
Kirsten Jacobsen, education director of Earthship Biotecture, said people are often surprised by what they find. The earth-berm houses have Wi-Fi and Apple TV with Netflix; they aren't as dark or cramped as expected.
Guests "are surprised they can live off the grid without having to change their lifestyle," she said. "People can see that living off the grid wasn't just for hippies or survivalists."
Possible downside: Guests might spend so much time admiring the sustainable design features that they won't have time to explore the nearby San Francisco de Asis Mission Church or the Enchanted Circle Scenic Byway.
Info: Earthship Biotecture, 2 Earthship Way, Taos, N.M.; (575) 751-0462. From $140 a night.
Please consider subscribing today to support stories like this one. Already a subscriber? Your support makes our work possible. Thank you. Get full access to our signature journalism for just 99 cents for the first four weeks.
---
UPDATES:
This article was updated with contact information of Point No Point.
---