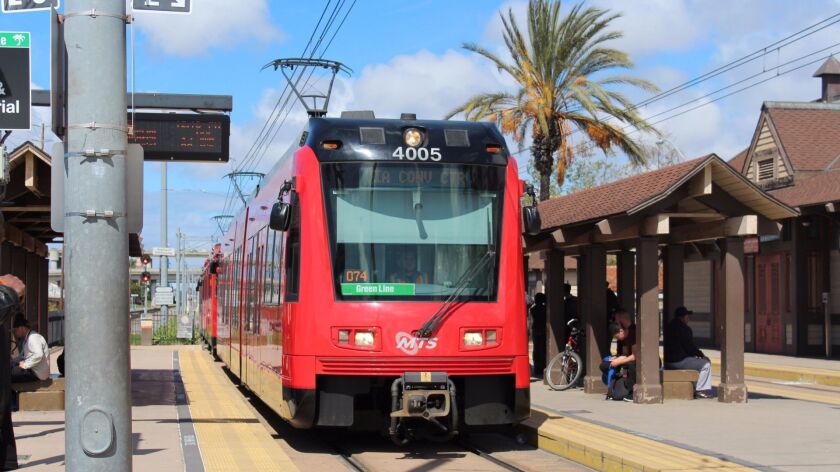 My family and I are always more than ready to ditch our car after a bumper-to-bumper drive to San Diego. On three recent visits we did just that, trading our car for the city's Green Line trolley to visit Old Town, Little Italy, the Gaslamp Quarter and more.
Traveling by light rail is easy here. Arrival times are posted electronically, and we found the trolley cars convenient, clean and brightly illuminated at night.
Reusable Compass Cards, $2 each, can be loaded with a one-day pass for $5 at any trolley station or online. A three-day pass costs $12. On Saturdays and Sundays, up to two children, 12 and younger, may ride for free when accompanied by a paying adult. For information on other discounts, check the Metropolitan Transit System's website.
We twice set up base camp near the transit center at Old Town State Historic Park. Not only did we save on room rates, but hotel parking also was cheaper ($20 and $18) than what we could find in the Gaslamp Quarter.
Last year, a good rate lured us farther away to the Marriott Mission Valley (8757 Rio San Diego Drive; [619] 692-3800). The Rio Vista trolley stop is next to the hotel, and Old Town is just minutes away.
If you want to skip the drive completely, take Amtrak's Pacific Surfliner). Trains and trolleys stop at Old Town and the Santa Fe Depot downtown.
Here are some places to go without your car:
Old Town State Historic Park
History and museums
Experience the early history of San Diego and California at Old Town State Historic Park (San Diego Avenue and Twiggs Street) through 1800s-era buildings, blacksmithing demonstrations and tales of ghosts. We took a nighttime tour) that was fun, not scary.
Just outside the park, we found Casa del Rey Moro, a small museum that highlights Africans' influence on the Americas (2471 Congress St.; [619] 220-0022).
Shops
Stores are plentiful in Old Town. Bazaar del Mundo (4133 Taylor St.) is a beautiful collection of shops. At Fiesta de Reyes (2754 Calhoun St.; [619] 297-3100), souvenir and specialty stores surround the courtyard restaurant Casa de Reyes (2754 Calhoun St.; [619] 220-5040). We stopped at Nibble Chocolate (2754 Calhoun St.) for samples and a lesson in making the confection.
More shops are mixed among museums in the park and beyond. My daughters went straight for hooded Mexican ponchos and traditional blankets.
Food
No surprise, Mexican restaurants are everywhere in Old Town. When choosing, consider these options: outdoor dining, mariachis, handmade tortillas, tequila selection and discounts for kids.
RELATED: Carless in Los Angeles | San Francisco
We watched a woman make tortillas at Old Town Mexican Cafe (2489 San Diego Ave., [619] 297-4330) before going inside for a satisfying meal of machaca con huevos, carne asada, enchiladas, tacos and way too many tortilla chips.
Hotels
Inside Old Town Historic State Park, we had a delicious brunch with eggs, sausage, seasoned potatoes, biscuits and corned beef hash on the patio of the Cosmopolitan Hotel and Restaurant (2660 Calhoun St.; [619] 297-1874). Lunch, dinner, free kids' meals and afternoon tea are also served.
If you want to stay longer, the Cosmopolitan, a former adobe mansion full of old-time charm, has 10 guest rooms furnished with antiques, a saloon and entertainment. Rooms from $149 a night.
The expansive entryway and lobby of the Hilton Garden Inn San Diego Old Town (4200 Taylor St.; [619] 260-0607) made us feel as if we were staying at a resort, but in March we paid just $135, not including taxes, plus $20 for parking, for a room with two queen beds, mini refrigerator and microwave. Old Town Transit Center is about a half-mile away (2½ long blocks).
On our trip in April, we stayed in a room with two queen beds and a mini refrigerator at Courtyard San Diego Old Town for $143, not including taxes, plus $20 for parking (2435 Jefferson St., [619] 260-8500). The public spaces were small but nice, and the hotel clerks cheerfully offered advice. The trolley stop is about half a mile away (roughly four shorter blocks).
Also within walking distance of the transit center are Best Western Plus Hacienda Hotel and Fairfield Inn & Suites San Diego Old Town.
Little Italy / San Diego Harbor
Tours and museums
Go east from the County Center / Little Italy trolley stop, and you will be among some of San Diego's most talked-about restaurants.
Go west and you'll find Waterfront Park with a playground and interactive water fountain.
Just beyond is the Embarcadero, a boardwalk along San Diego Harbor. Start your walk at the beautiful ships and Soviet-era submarine of the Maritime Museum (1492 N. Harbor Drive; [619] 234-9153 Ext. 101. $18 for adults; $13 for seniors, active military and students; $8 for children ages 3-12; free for children 2 and younger).
The museum also offers cruises and concerts.
Head south to the Broadway Pier to catch the ferry to Coronado (990 N. Harbor Drive, [800] 442-7847). The short ride through San Diego Bay, $9.50 round-trip, took me past sailboats and kite surfers on the way to the Coronado Ferry Landing , a marketplace with rooflines that mimic the Hotel del Coronado's. Free shuttles run to the hotel through Labor Day.
Numerous harbor tours (Hornblower 970 N. Harbor Drive; [619] 686-8700, and Flagship, 990 N. Harbor Drive; [800] 442-7847, ) leave from the Broadway Pier.
The USS Midway Museum (910 N. Harbor Drive; [619] 544-9600) is one pier over. The popular Carnitas' Snack Shack (1004 N. Harbor Drive; [619] 696-7675) is here too.
Ready to get back on the trolley? You are now closer to the Santa Fe Depot (and Museum of Contemporary Art, 1100 and 1001 Kettner Blvd.; [858] 454-3541).
Food
We saved most of our meals for Little Italy. India Street is lined with inviting restaurants. But don't overlook Kettner Boulevard, which runs parallel, and the streets in between.
At Bencotto Italian Kitchen (750 W. Fir St.; [619] 450-4786), we savored ravioli filled with pumpkin, Parmesan and amaretto; lasagna with bechamel sauce; and caprese salad with fresh mozzarella.
If you want old-school Italian fun, try Filippi's Pizza Grotto (1747 India St., [619] 232-5094).
RELATED: Carless in San Francisco »
Dining choices aren't limited to Italian. We had pork belly-mochi yakitori and hakata ramen at RakiRaki Ramen (2254 India St.; [619] 240-8511), and a sushi burrito stuffed with poke, crab and lotus chips at neighboring Pokirrito (also at 2254 India St.; [619] 240-8510).
At the outdoor Crack Shack (2266 Kettner Blvd.; [619] 795-3299), we feasted on deviled eggs topped with French-toast crumble and candied bacon, the crispiest fried chicken and a spicy fried thigh sandwich with crispy onions and pickles on a potato roll.
Queenstown Public House (1557 Columbia St.; [619] 546-0444) charmed us with its humorous design and delicious brunch. The menu includes lamb hash, cauliflower sandwich and sha shouka with eggs, chorizo and cornmeal cakes.
Beer lovers will appreciate Ballast Point Brewing Tasting Room & Kitchen (2215 India St.; [619] 255-7213).
At iDessert (1608 India St., Suite 104; [619] 544-1033), food is entertainment too. Using a tablet, we chose a meringue crust, gelato, cream, cake, fruit and sauce for our colorful dessert, then watched as it was made. For a bit of show, we ordered the Vegas Bowl, which surrounded our creation with a dense cloud of dry ice.
Numerous galleries and boutiques dot the area. For us, shopping highlights included Atacama Surf Shop (2165 India St.; [619] 795-6178), not because we're surfers but because we loved the cool T-shirts and socks.
We picked up fresh spaghetti and homemade pesto at Assenti's Pasta (2044 India St.; [619] 239-5117).
On Saturdays, a farmers market (West Cedar Street between Kettner Boulevard and Front Street) offers produce, trendy food, flowers, jewelry and more from 8 a.m. to 2 p.m. We left with greeting cards, bread, jam, mozzarella and a chile mango lemonade.
At the market's end, we stopped at the Lofty Coffee Co. cafe (444 W. Cedar St.; [760] 230-6747, Ext. 3) for a Turkish latte.
The nearby San Diego Firehouse Museum (1572 Columbia St.; [619] 232-3473. $3 for adults, $2 for children.) features antique equipment, including a horse-drawn steamer.
For events held throughout the year, including a summer film festival, go to littleitalysd.com.
Hotels
Hotels less than half a mile from the County Center/Little Italy stop include Hampton Inn San Diego Downtown, Residence Inn San Diego Downtown/Bayfront, Best Western Plus Bayside Inn, Wyndham San Diego Bayside, Hilton Garden Inn Bayside, Urban Boutique Hotel and La Pensione Hotel.
Downtown / Gaslamp Quarter
Seaport Village stop
The Seaport Village trolley stop is steps from Kansas City Barbeque (600 W. Harbor Drive; [619] 231-9680), made famous by the movie "Top Gun."
Cross Harbor Drive to get to the Headquarters at Seaport (789 W. Harbor Drive), featuring art galleries, clothing stores and a toy shop.
An eight-cell jail block, historic photos and police memorabilia are evidence of the complex's past as San Diego's police headquarters.
Neighboring Seaport Village (849 W. Harbor Drive) is 14 acres of shops, entertainment and restaurants along the water's edge. I wandered through Upstart Crow (835 W. Harbor Drive, Suite C; [619] 232-4855), a coffeehouse and bookshop that feels more like a neighborhood joint than tourist stop.
Convention Center stop
The Convention Center station puts you at Martin Luther King Jr. Promenade, which runs alongside the trolley tracks. The 12-acre memorial features sculptures, a reflecting pool and inspirational quotes from the civil rights leader.
The New Children's Museum (200 W. Island Ave., [619] 233-8792. $13 for adults and children, $8.50 for seniors) is a block from the station. Inside is an imaginative collection of hands-on art installations and activities.
Even adults are charmed by the mix of whimsical and modern design — couples marry here. FYI: Admission is discounted on the second Sunday of the month, and free for active military daily through Labor Day.
The San Diego Chinese Historical Museum (404 Third Ave.; [619] 338-9888. $5; free for children younger than 12), fewer than 500 feet from the trolley station, celebrates art, history and culture. On the second Saturday of the month at 11 a.m. docents lead a walking tour through historic Chinese, Japanese and Filipino districts ($10, includes museum admission).
Gaslamp Quarter stop
The Gaslamp Quarter stop is at the entrance of the 16½-block historic area, jam-packed with hotels, restaurants and a vibrant nightlife.
Explore its Victorian buildings on a variety of walking tours — including ones for children and fans of ghosts.
A good part of our time downtown was spent watching baseball at Petco Park), a block from the trolley stop. (Unless you want to enter the front of the stadium, don't get off at the 12th and Imperial stop. You'll walk along a huge parking lot.)
We also toured the ballpark. $15 for adults, $10 for children 14 and younger, seniors and active military). The 80-minute tour took us to the press box, a luxury suite, the Padres Hall of Fame, the visiting players' clubhouse, the Padres dugout and onto the field (dirt track only).
Guides tell how the ballpark came to include the historic Western Metal Supply Co., a brick building that now houses a gift shop, suites and a restaurant where you can reserve outdoor stools to watch the game.
After a night game, we walked to the recently opened Monkey King (467 Fifth Ave., [619] 359-8897). We ate fried rice, pho, poke-kale salad and yellow curry. Why settle for hot dogs at the ballgame?
Many hotels are within walking distance of the Gaslamp stop, including the Hard Rock Hotel, Marriott Gaslamp Quarter, Residence Inn San Diego Downtown/Gaslamp Quarter, Hilton San Diego Gaslamp Quarter and Omni San Diego (which has its own entrance to the ballpark).
New to the area is the grand Pendry San Diego (550 J St.; [619] 738-7000) with sustainable seafood at Lionfish, seasonal fare at the Provisional and nightlife at the Oxford Social Club.
---