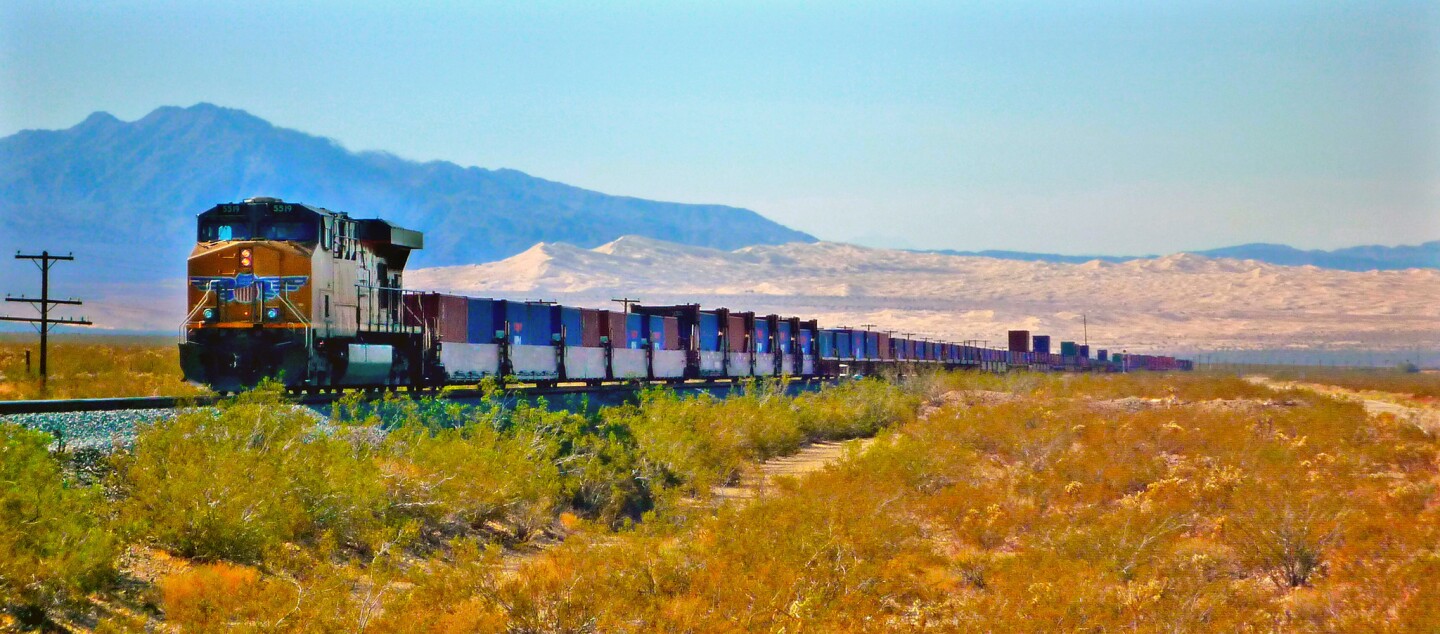 16 Images
Road trips from Southern California: California deserts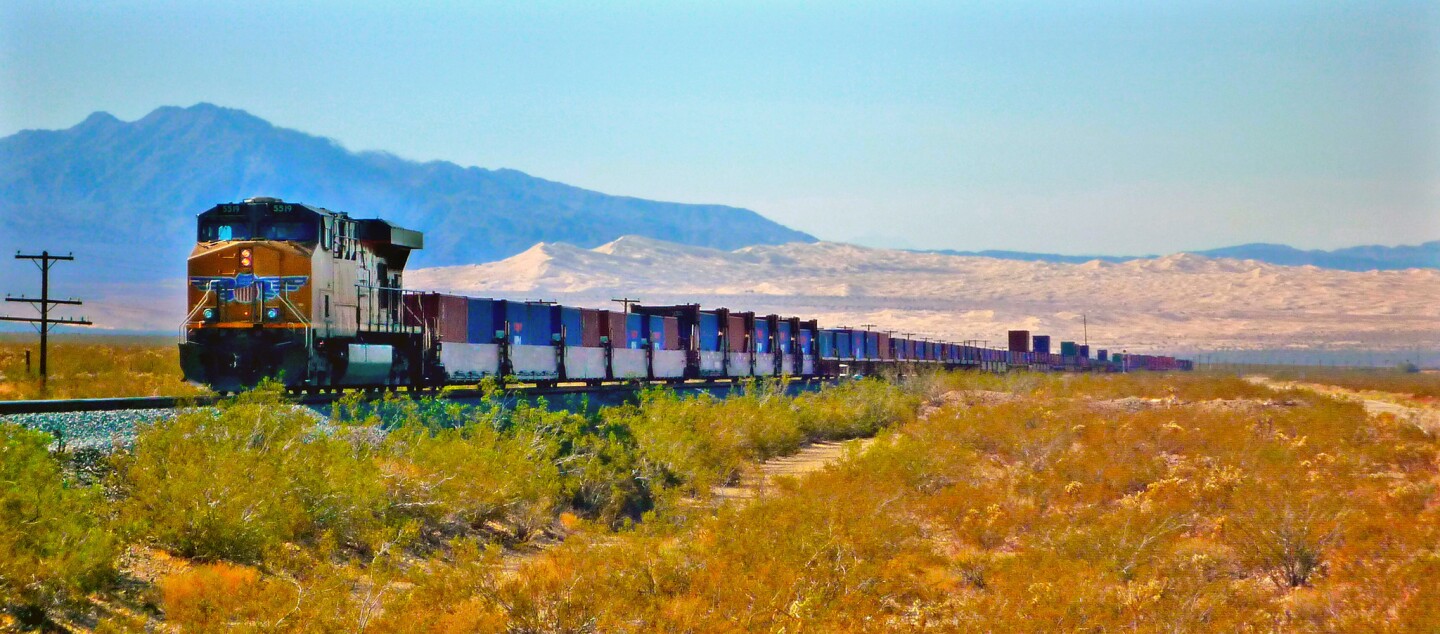 A Union Pacific freight train is an hourly sight -- and sound -- in the Mojave National Preserve. The Kelso Dunes are in the background.
(Mark Vanhoenacker )
The General Store was established in Randsburg, Calif., around 1896, just months after the discovery of gold in the town.
(Gina Ferazzi / Los Angeles Times)
Maybe you've already seen the wind mills on the way to your favorite resort in La Quinta -- those rows of tri-blade ivory towers spinning away like alien corn in the blustery San Gorgonio Pass near the exit to Palm Springs.
( Sandy Huffaker / Associated Press)
Sunnylands, the 200-acre Annenberg estate in Rancho Mirage that hosted five decades of political and Hollywood luminaries behind its pink walls, opened to the public for the first time in March of 2012.
(Robert Gauthier / Los Angeles Times)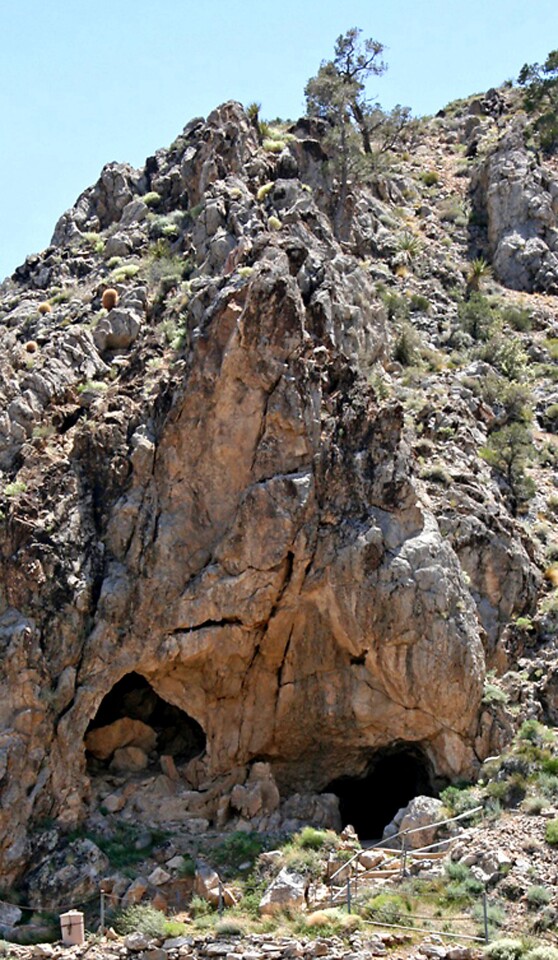 Distance:
231 miles one-way.
My trip to the
Providence
Mountains State Recreation Area, about four hours east of Los Angeles, introduced me to a world I'd never experienced. And because this is California, the colorful subterranean wonderland of the area's Mitchell Caverns come with a story that's tailor-made for the movies.
-- James Dorsey
(James Dorsey )
We had checked in about 1 a.m. after a five-hour drive from Los Angeles. Our domicile for two nights in mid-February was one of three tepees on the grounds of China Ranch, a date farm in the tiny town of Tecopa just outside Death Valley National Park.
(Terry Case / For The Times )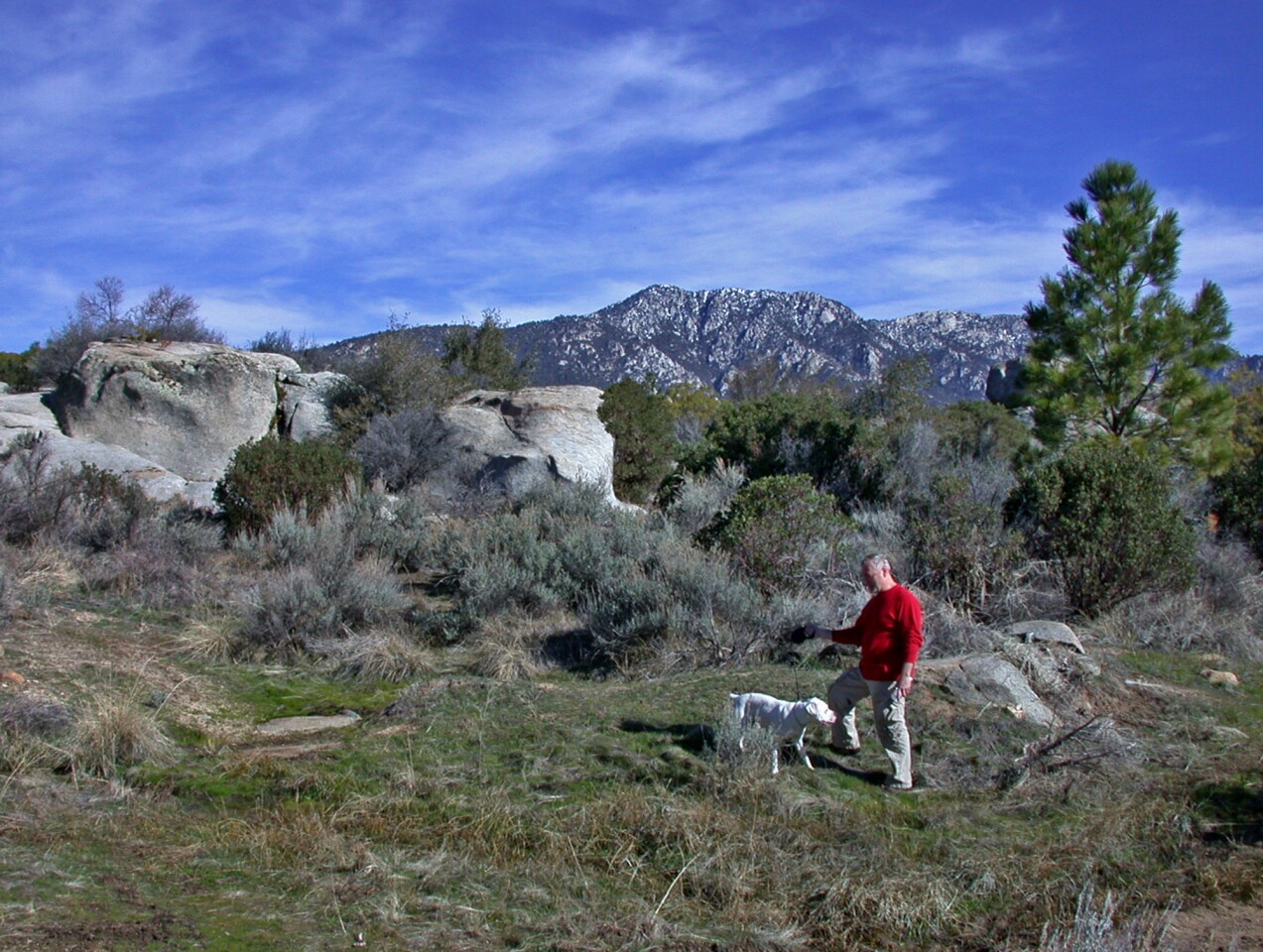 Hurkey Creek Park has more than 100 sites with picnic tables, fire pits, restroom and shower facilities, and a two-vehicle/six-person limit per site.
(Jordan Rane )
No one knows for sure who decorated Little Petroglyph Canyon with images out of a dreamscape, some thought to be more than 10,000 years old. But the area is probably the richest Amerindian rock-art site in the hemisphere.
(Manuel Nunez / Los Angeles Times)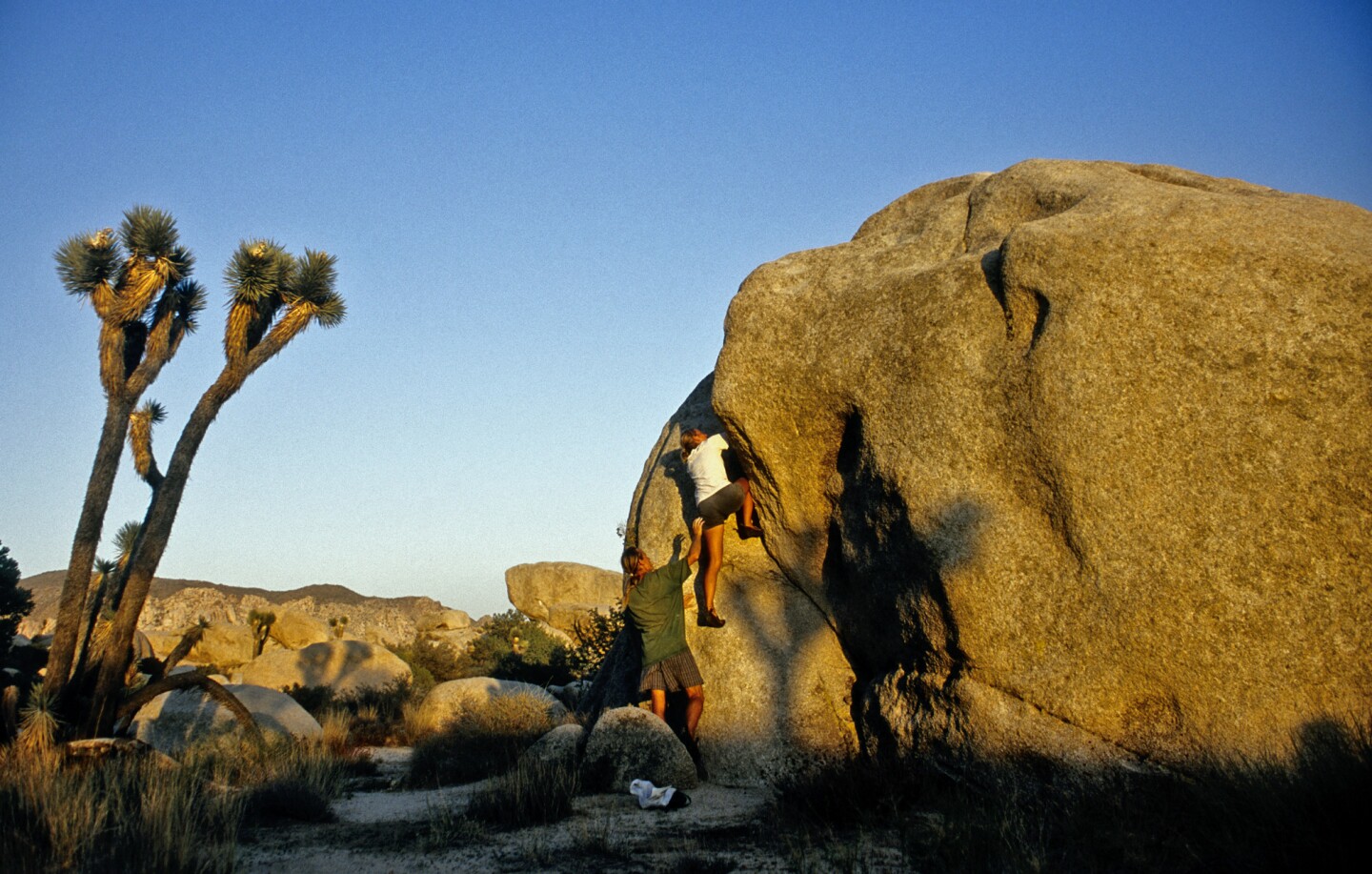 Spectacular granite formations, plus unique desert plants, make Joshua Tree National Park a rock star. The evening sky astounds visitors with its brilliance. A favorite spot is Hidden Valley.
(Chris Reynolds / Los Angeles Times)
Borrego doesn't get the attention that desert areas farther north do, but it's the biggest state park in California. Borrego Palm Canyon is a testament to the violence of desert life and it's the park's star hike.
(Annie Wells / Los Angeles Times)
This spot has delicious date shakes and free screenings of that California blockbuster "The Romance and Sex Life of the Date."
(Christopher Reynolds / Los Angeles Times)
Arriving from Los Angeles, you first climb to the largely residential community of Pine Cove, then descend to about 5,300 feet, where you see half a dozen blocks of shops, restaurants and art and craft galleries.
(Christopher Reynolds / Los Angeles Times)
Since 1963, this 2 1/2-mile ride has connected the dry desert (altitude 2,643 feet) and frequently snowy upper slopes of Mt. San Jacinto (8,516 feet) in a journey of 10 minutes.
(Luis Sinco / Los Angeles Times )
Natural hot springs are rare in Southern California, mainly because of the lack of searing underground volcanic rock to heat subterranean water. So, I was willing to overcome my hang-ups and insecurities to soak in one of SoCal's few natural hot tubs.
(Hugo Martin / Los Angeles Times)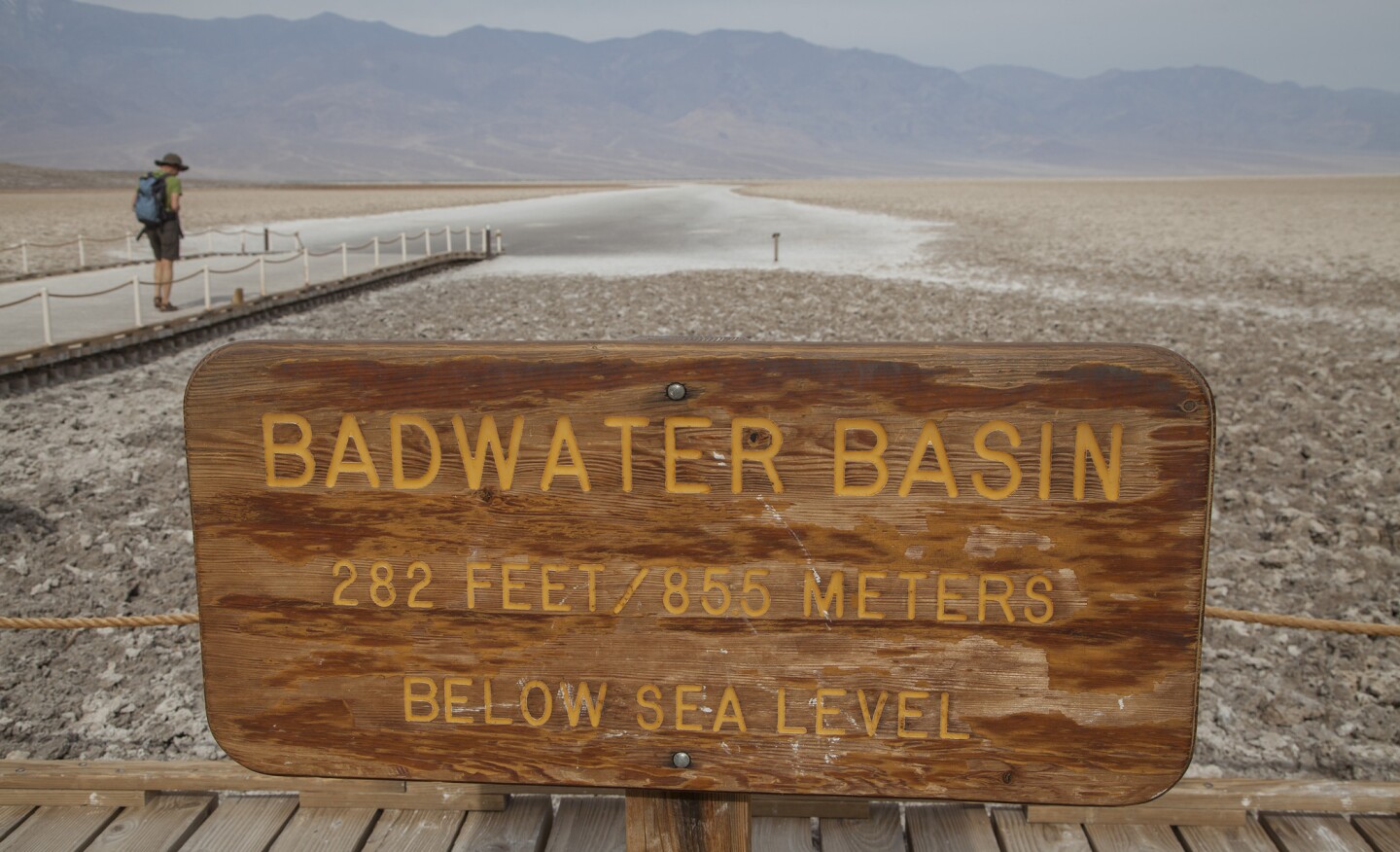 The lowest point in North America, 288 feet below sea level. When you are standing in the basin, you can look up and see this sign high above in the surrounding rocky cliffs.
(Don Kelsen / Los Angeles Times)
This barren patch of desert on Death Valley that's littered with broken bottles and abandoned mine shafts is the site of one of the most bizarre deaths in the old West, and now a headless saloon keeper named Hooch reportedly haunts the site of Skidoo.
(Irfan Khan / Los Angeles Times)