20 Images
Road trips from SoCal: Sierra Nevada
Stopping at Bodie State Historic Park is a must in this remote area of the Eastern Sierra south of Bridgeport, Calif. But to really appreciate the hills, visitors should take 18 scenic miles on the off-road Geiger Grade from high desert sage to little aspen groves that blaze yellow in the fall.
(Tim Shisler / For The Times )
The lake, a glassy body of water fringed with wildflowers in late summer, sits two well-marked miles from the South Lake Trailhead, near Bishop. Press on a few more miles and you come to equally scenic Saddlerock Lake just below Bishop Pass. Um, did we mention the awesome peaks?
(Tom Politeo)
Would-be visitors should note the comparison between the number of people who visit Yosemite Valley and those who visit Hetch Hetchy. Yosemite: 3 million a year. Hetch Hetchy: 50,600 a year. Most come from the Bay Area. In fact, Hetch Hetchy may be San Francisco's best-kept secret.
(Jae Feinberg )
Sagebrush-covered flats and scattered juniper give rise to rocky slopes on the Modoc Plateau in the northeast corner of the state that's home to herds of wild horses and antelope.
(Tim Shisler / For The Times )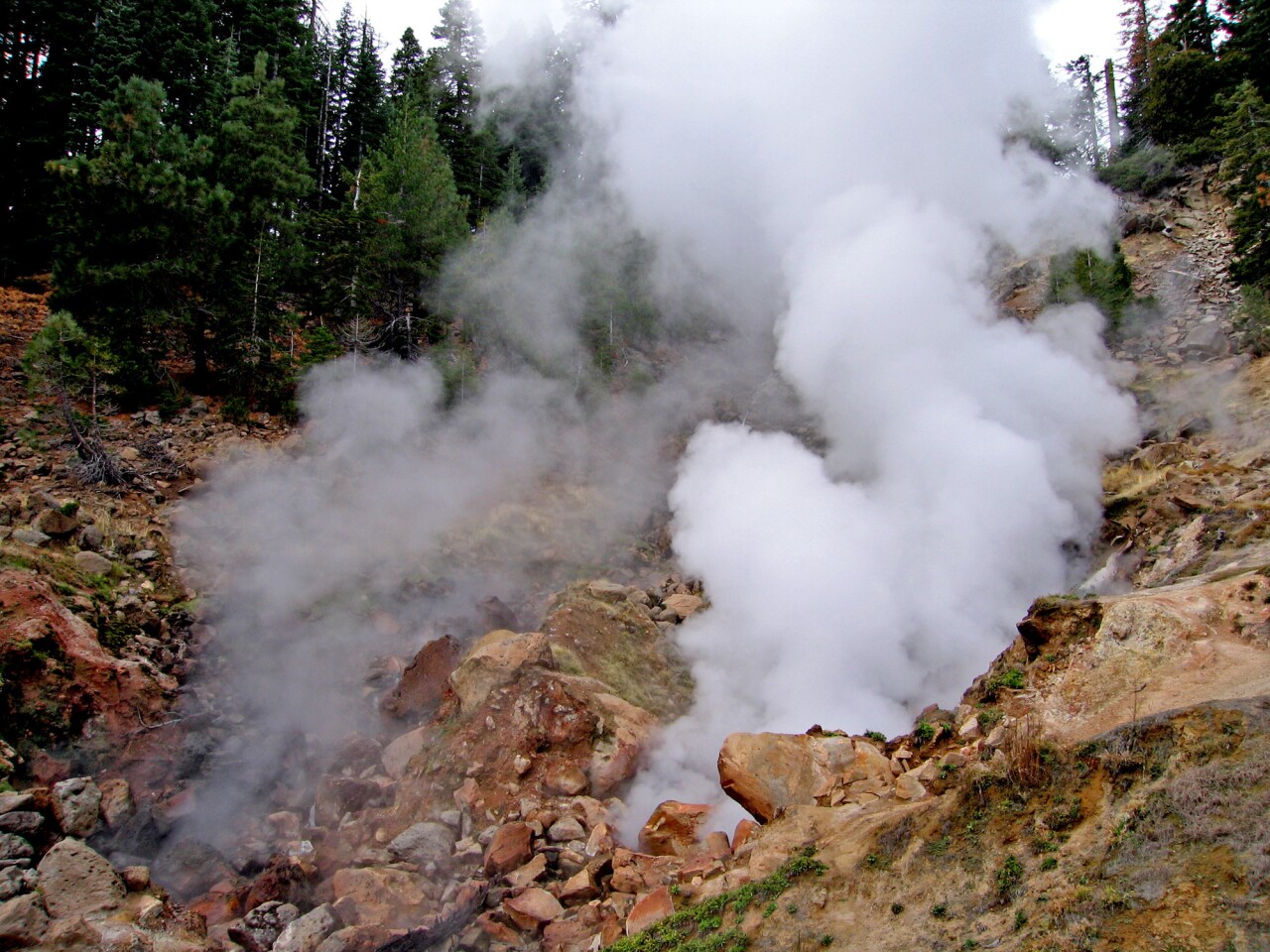 Lassen Peak, which last erupted in 1915, is the largest of more than 30 volcanic domes in the park, which is about 165 miles north of Sacramento. Hissing fumaroles (steam vents) and boiling mud pots from those volcanoes continue to shape the park's landscape.
(Russell Virgillo / NPS)
Established in 1890, Sequoia is the nation's second-oldest national park after Yellowstone. The 406,425-acre park is home to some of the world's largest trees, including the famous Gen. Sherman tree. Avoid the crowds by visiting in the spring and fall. Park traffic peaks in July and August.
(Mark Ralston / AFP/Getty Images)
For hikers, the John Muir Wilderness, southwest of Mammoth Lakes, has few equals. With 590 miles of trails, dozens of pristine aquamarine lakes and the most spectacular peaks in the Sierra Nevada, this wilderness area exemplifies the beauty its namesake so prized.
(Ken Hively / Los Angeles Times)
For skiing and snowboarding in winter, hiking and mountain-biking in summer.
(Chad McDermott / Los Angeles Times)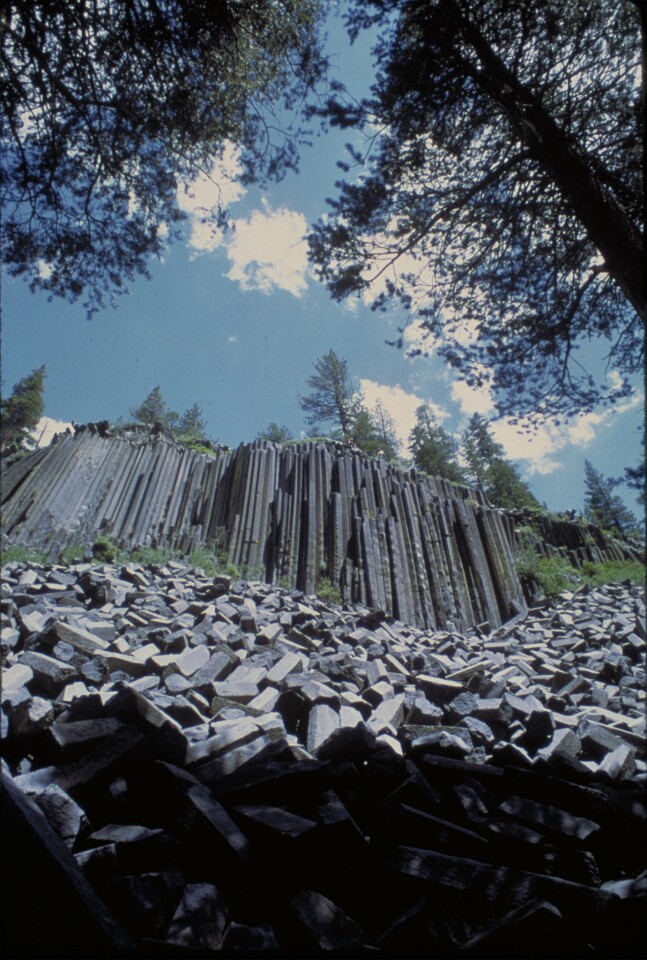 The narrow rock columns at Devils Postpile National Monument make a bizarre sight. They were formed about 100,000 years ago from cooling lava, then eroded by glacial movement.
(National Park Service)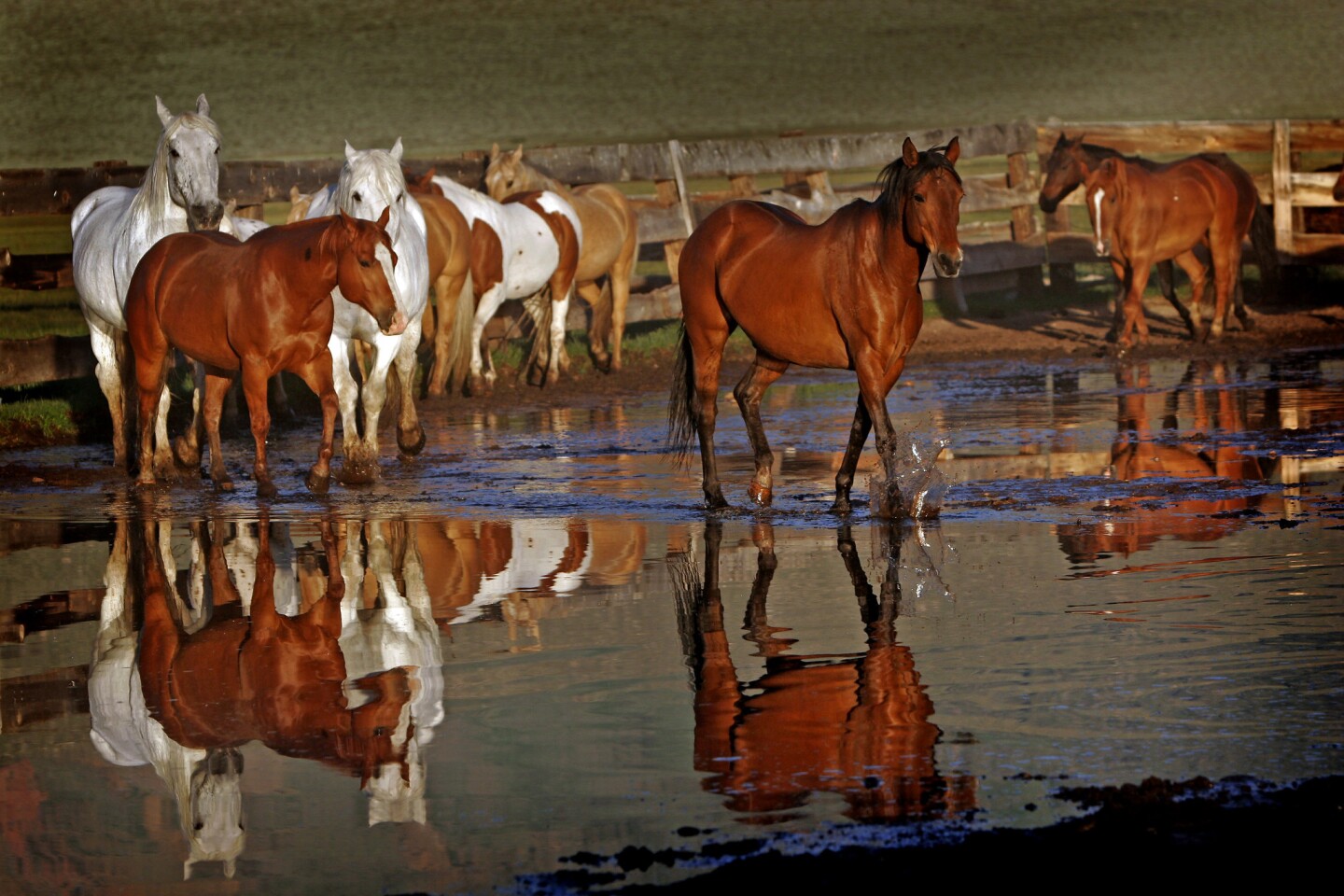 The heifers are acting surly, but my horse pushes forward. My young crew of 10 or so cowpunchers encircles about 30 head of cattle on a wide pasture in the shadow of a sawtooth mountain just west of Bridgeport. Our horses slowly lead the cattle toward a gate at the far end of the field.
(Myung J. Chun / Los Angeles Times)
Distance:
247 miles one-way.
In a state that doesn't hold with tradition, the General Grant Tree stands tall. In 1925, Charles E. Lee of the tiny town of Sanger successfully petitioned
President Coolidge
to have the giant sequoia in the Grant Grove area of Kings Canyon designated "the nation's Christmas tree." Ever since, Sanger residents have led hundreds of people each year on a winter trek to the tree. It has no tinsel or lights, just the tree as it has stood for 2,000 years. In 1956, the tree notched another distinction as the nation's only living national shrine. Sanger passes down this
California
tradition to every third-grader in town who gets to "meet the great tree up close and personal" on their own special trek.
Info: The 82nd Trek to the Tree is Dec. 9. Drive to Grant Grove, or take a chartered bus from Sanger for $23 to $42.50 (some rides include meals); (559) 875-4575, www.sanger.org.
--Mary E. Forgione
(National Park Service)
Distance
: 378 miles one-way.
As I step off a 25-foot-tall wooden platform, a shrill scream nearly drowns out the high-pitched zipping sound of a metal trolley spinning along a half-inch metal cable just above me.
Legs flailing, hair blowing in the wind, a white-knuckle grasp on a harness, I fly at 40 mph toward a tiny tower, barely visible in the distance. A blur of trees, shrubs and hiking trails flies past my feet. It's all happening so fast that it's hard to take in. If only that annoying girlie scream would stop.
Wait a minute. That falsetto is mine.
Then it's over. Somehow I miraculously slow down and swing to a stop, and I'm standing on the other tower, ready to do it again.
-- Hugo Martín
(Stephen Osman / Los Angeles Times)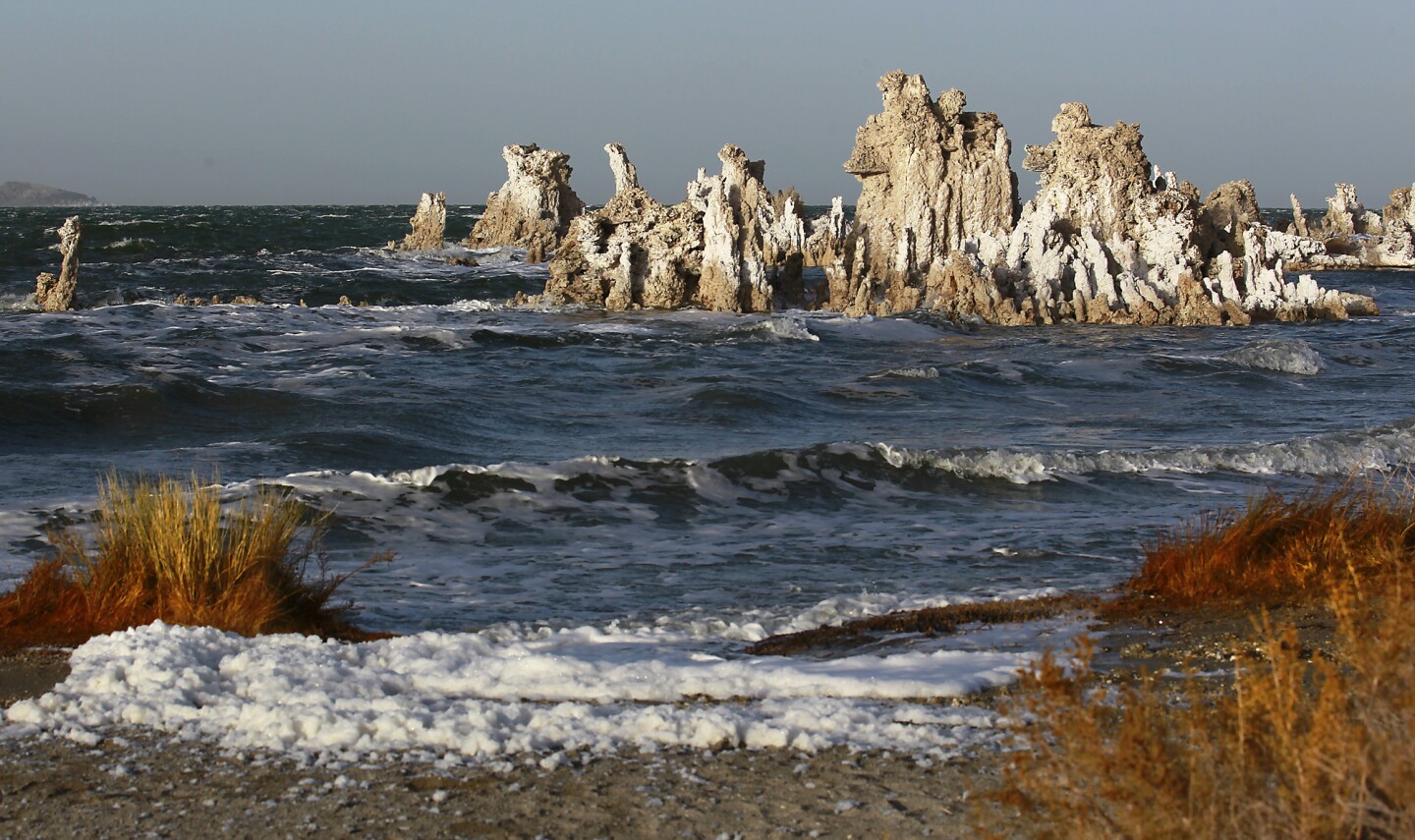 Distance
: 333 miles one-way.
If you haven't seen a tufa tower (or don't know what one is), proceed immediately to Mono Lake, rent a kayak and paddle out to these bizarre turrets in this inland salt lake. Insiders know that this lake northeast of Yosemite is a perfect example of one of
California
's more extreme forces of nature. Forest Service Visitor Center, (760) 647-3044; the Mono Lake Committee, www.monolake.org.
(Brian van der Brug / Los Angeles Times)
Distance:
234 miles one-way.
Some die-hard lovers of the great outdoors claim to appreciate the hardships of backpacking. But I felt plenty appreciative when I heard I could sleep on clean sheets and eat gourmet meals at a new luxury tent camp in Giant Sequoia National Monument.
Sequoia High Sierra Camp sits on 40 of the 49,000 acres of private land that was grandfathered into the monument.
-- Susan Spano
(Ricardo DeAratanha / Los Angeles Times)
Distance
: 488 miles one-way.
Positioned astride the
California
-
Nevada
border, the lake is neighbored by ski runs and casinos and boasts 72 miles of shoreline and beautiful deep-blue hues.
Contact: North Lake Tahoe Visitors & Convention Bureau, (800) 462-5196; Lake Tahoe Visitors Authority, (800) 288-2463 (AT-TAHOE); www.visitinglaketahoe.com
(Brian van der Brug / Los Angeles Times)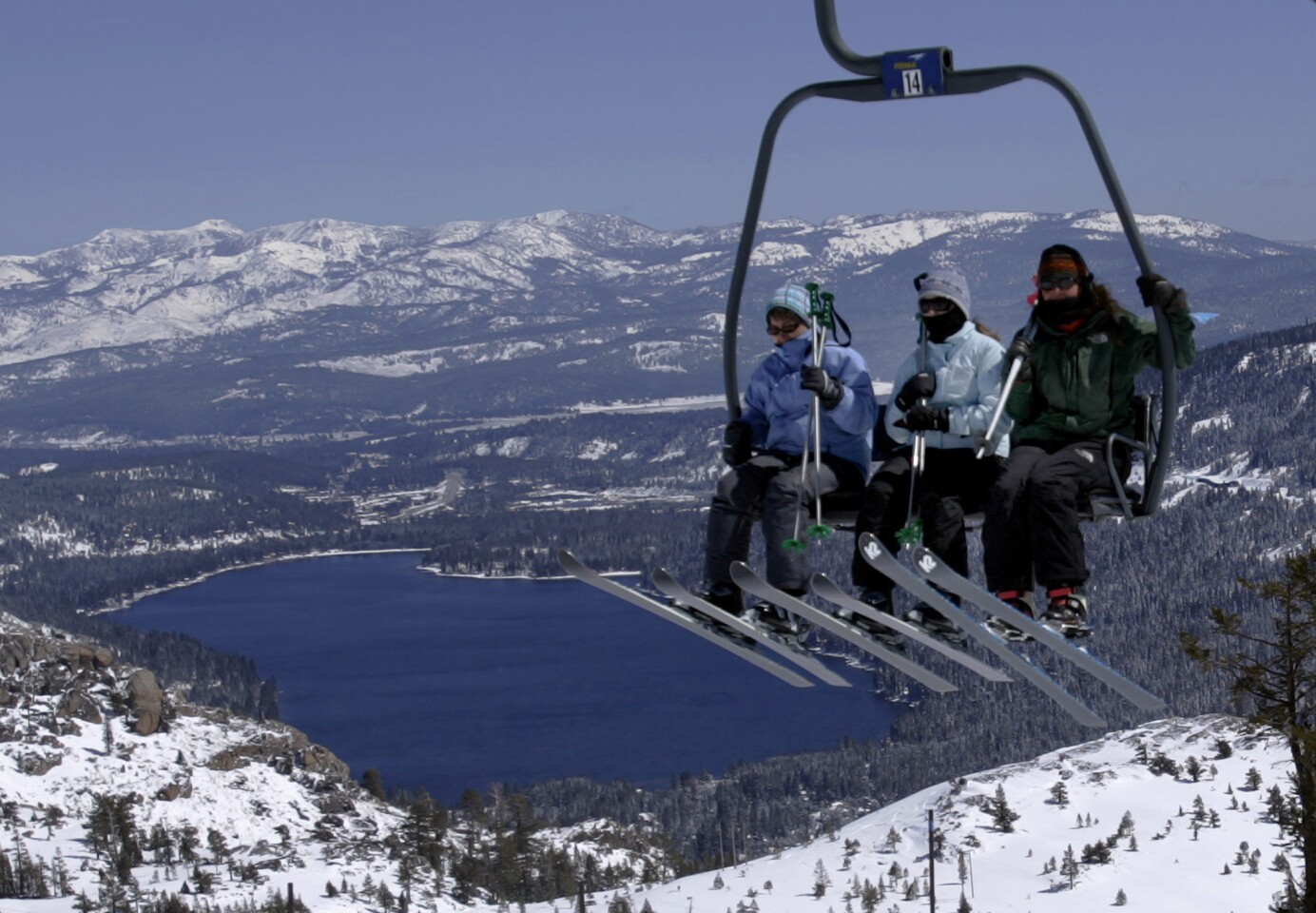 Distance
: 488 miles one-way.
The sign on the shoulder of U.S. 40, west of Truckee, says it's "Old School Thursday" at Donner Ski Ranch, lift tickets $10 a day. They must be pretty desperate to offer tickets that cheap, I think as I pull into the rutted parking lot that is only a quarter full. It's late January, the mountains are covered with snow, and ski season is well underway.
Talk about old school. The main lift to the summit is manned by a middle-aged guy in a thick flannel jacket, jeans and hiking boots. His long gray hair sticks out from under a baseball cap. The lift is a renovated three-seat chair that moves as if it's being pulled by a team of mules.
--Hugo Martin
(Gina Ferazzi / Los Angeles Times)
Distance
: 310 miles one-way.
Maybe it's because I'm punchy. It's been a trying day, 10 hours on the road. The babies got carsick in the mountains, and one threw up rather spectacularly. After arriving at Upper Pines campsite, I had to back the 26-foot Airstream trailer into a tight space between trees, in the dark, a nerve-racking man audition with a gathering audience of seasoned and skeptical RVers shouting advice: "Cut the wheels to the left. . . . The other other left!"
--Dan Neil
(Mark Boster / Los Angeles Times)
Distance: 305 miles one-way. Ask folks whether they've been to the Sierra, and they'll likely cite a well-tromped trail in Yosemite. But plunge deeper into California's iconic backyard and you get to Thousand Island Lake, a spot around 10,000 feet above sea level where teensy granite islands glitter in the sun, where alpenglow bouncing off Banner Peak rivals the Northern Lights, where you could spend slack-jawed hours staring at the landscape. Ansel Adams snapped it; John Muir dubbed it "Islet Lake." Do it as a day hike, or sleep over to catch the light show over the lake at dusk and dawn. Far from Mt. Whitney's crowd, the lake showcases the Sierra stun factor. Quietly. Info: Thousand Island Lake is seven miles from the Agnew Meadows Trailhead off California 203 near Mammoth Mountain. Camping permit required. Inyo National Forest, (760) 873-2400, www.fs.fed.us/r5/inyo/. -- Mary E. Forgione
(Ken Hively / Los Angeles Times)
Distance:
263 miles one-way.
So where is this drive? The seasonal loop swings within 20 miles of the southern entrance to Yosemite National Park -- which, admittedly, has more spectacular natural formations -- but you feel eons away from the hordes at Half Dome.
--Mary Forgione
(Mary Forgione / Los Angeles Times)
Distance:
221 miles one-way.
It's the highest point in the lower 48 — 14,497 feet above sea level — and just 76 miles west of Badwater as the crow flies, 135 miles as the ultra-marathoners jog, walk and crawl. Intimidated by the climb? Take a little hike from the Whitney Portal Store at the trailhead instead.
Contact: Inyo National Forest, (760) 873-2400, www.fs.fed.us/r5/inyo/ or www.whitneyportalstore.com
(Jacquie Kaner / For The Times)