You can blame Walt Disney or 'Game of Thrones' — it doesn't matter. Britain's castles rock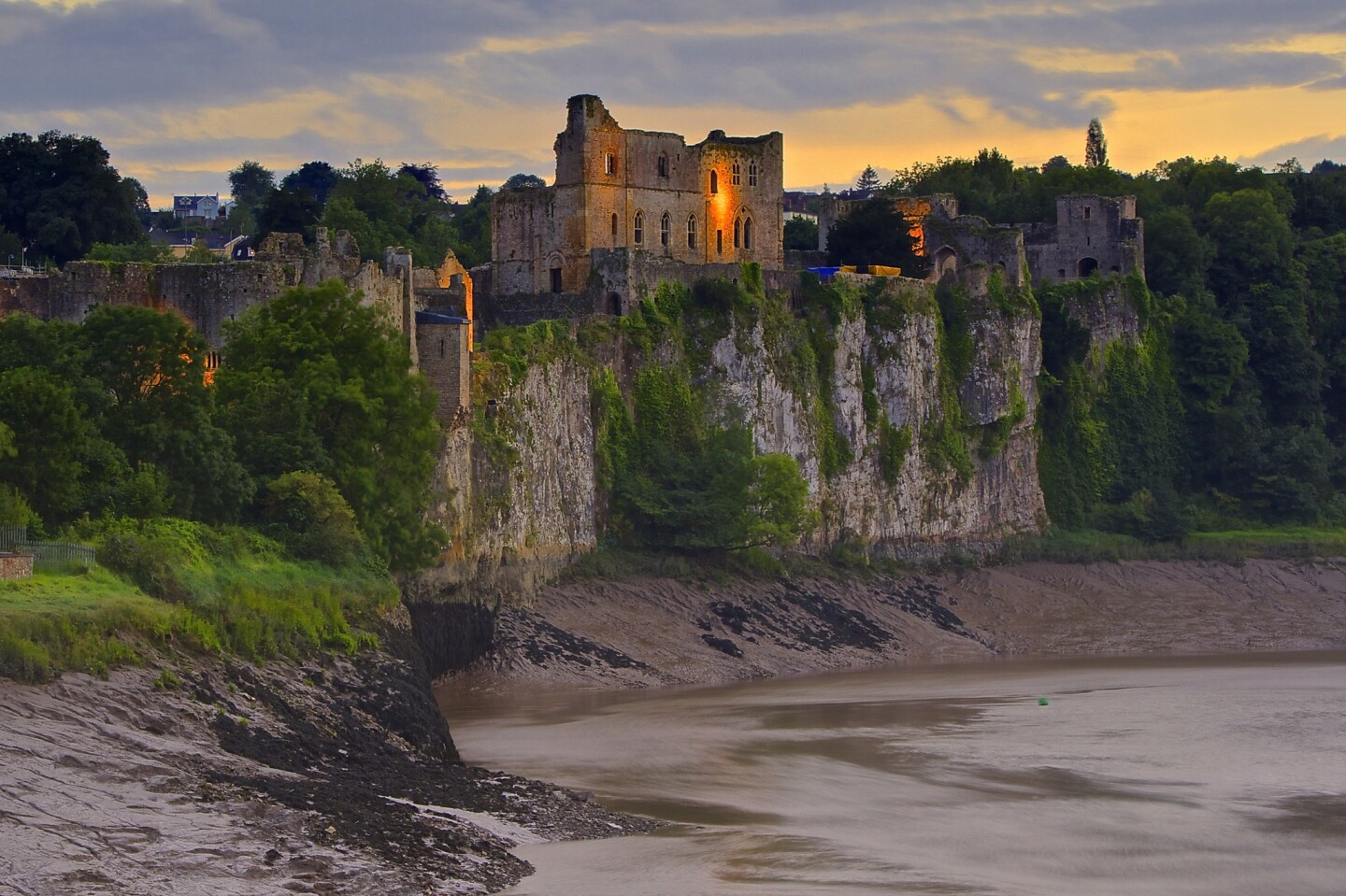 Chepstow Castle was built after William the Conqueror was crowned king of England in 1066.
(by Andrea Pucci / Getty Images)
View of Dover Castle from below. It is known as the key of England because of its historical role since medieval times.
(larigan - Patricia Hamilton / Getty Images)
A member of the Royal Collection staff poses beside a portrait of the Duke of Wellington in the Waterloo Chamber at Windsor Castle.
(Dan Kitwood / Getty Images)
A view of the Tower of London with the top of the Shard behind it.
(Kypros / Getty Images)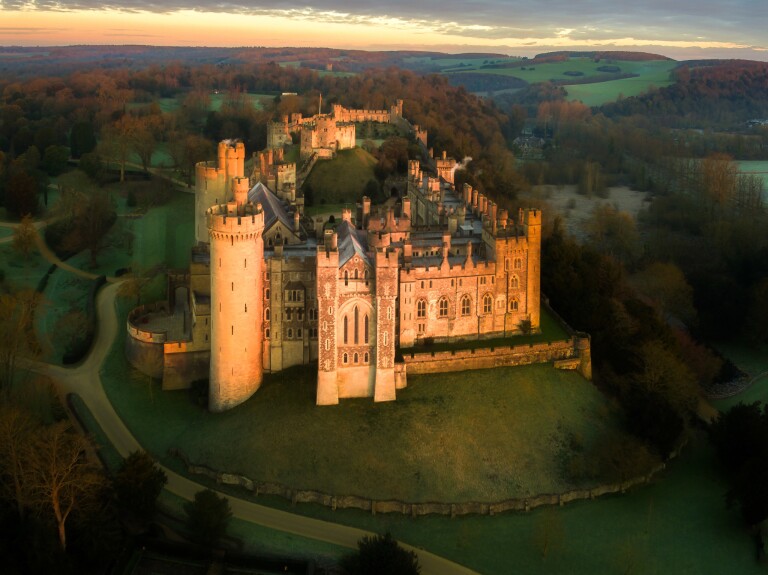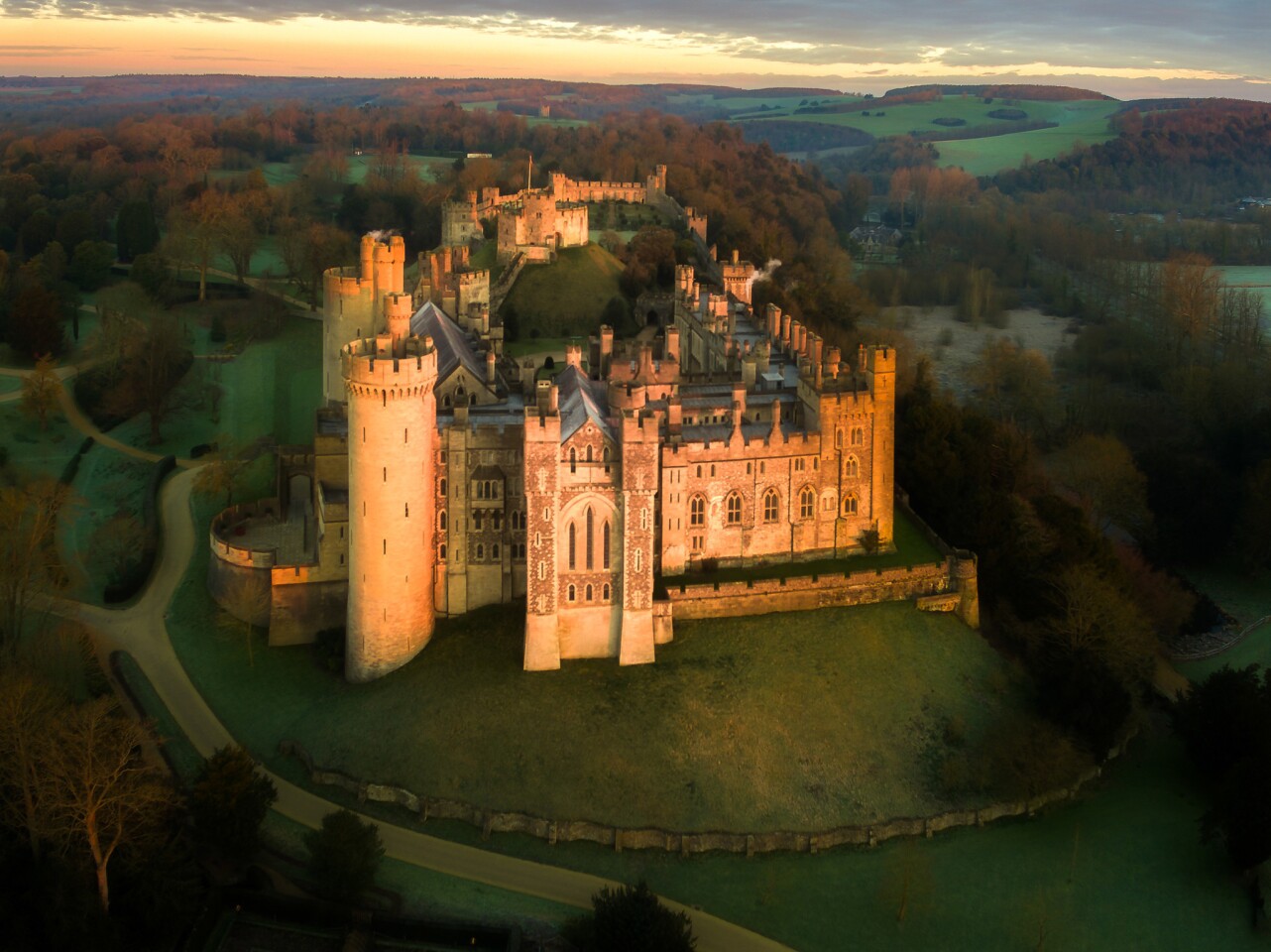 Arundel castle can be dated back to 1067. The castle was damaged in the English Civil War and then restored in the 18th and 19th centuries.
(Andrew Thomas / Getty Images)
Edinburgh Castle in Scotland.
(Karol Kozlowski / Getty Images/AWL Images RM)
Autumn colours at Warwick castle on the river Avon in England.
(wolfman57 / Getty Images/iStockphoto)
Reporting from Oxford, England —
Turrets and moats. Kings and queens. Sword fights and treachery. No, I'm not describing that HBO series. I'm giving a shout-out to the real thing. Castles.
In some parts of Europe, castles are nearly as common as Starbucks are in the United States. You don't have to go far to quench your thirst.
Why do they hold us spellbound?
I blame Walt Disney for stoking our childhood fantasies with Sleeping Beauty Castle and a passel of fairy-tale princesses.
But Disney wasn't the first and isn't the last. Look at how many references there are in pop culture: movies, books and series such as "Game of Thrones" and "Downton Abbey."
No wonder we're hooked. I'm such a fan that I took a weeklong summer course at Oxford University called Castles of Great Britain and went on field trips through the English countryside and to tiny Wales, one of the castle capitals of the world, with more than 600. The trip was a corker, as the Brits say.
You don't have to take a class to explore the castles. There are more than 1,000 in England, Scotland and Wales. And there are castle trails to help you explore.
In Scotland, there's an official trail in Aberdeenshire. Although the region is just slightly bigger than the state of Delaware, it counts 300 castles within its leafy green borders, including Balmoral, the Scottish Highland residence of the British royal family.
In England, you can walk the Three Castles Path, a 60-mile route inspired by the 13th century journeys of King John between Windsor Castle and Winchester. This scenic, easy-going path takes walkers through rolling hills and past small villages and historic ruins.
You don't want to miss Wales, where wonderfully preserved castles bring to mind the nation's action-packed 2,000-year history.
Lessons in stone
I had just arrived at one of these formidable Welsh castles, Chepstow, about 120 miles west of London, when the romance of the place struck me.
Chepstow, built in 1067, is one of the oldest surviving stone castles in Britain. It stands high on a cliff overlooking the Wye River and has all the trappings: a drawbridge, secret passageways and towering turrets.
My imagination shifted into overdrive as I pictured jousting knights, dancing lords and ladies and pitched battles for control of Wales.
But even as these fantasies marched through my head, I realized my enthusiasm for Chepstow and other sites pales in comparison to that of professional castle hunters.
"I get very excited about this building. In fact, you have to hold me down," Trevor Rowley, my Oxford professor, said as our class of 14 students milled around him.
Rowley, an archaeologist, is an emeritus fellow of Kellogg College, one of the Oxford University colleges, and author of several books on landscape history.
Chepstow was a Norman castle, he told us, built in an effort to control the Welsh, adding that construction began less than a year after William the Conqueror was crowned king of England in 1066.
He pointed out one of the defense systems — a series of self-contained enclosures within the castle's walls. "They could be sealed off from each other as the inhabitants retreated," he said.
Our next stop was at nearby Tintern Abbey, another incredible Welsh ruin. Founded by the lord of Chepstow in 1131, it is one of Wales' great monastic ruins.
It looks much as it did in the Middle Ages, except for the missing roof and windows and a floor of green grass.
Oxford classmate Alice Bisno of Culver City summed it up as she looked at the soaring walls: "You can see the bones, the ribs of this amazing church. It's incredible."
A totally different historic structure awaited us in Oxfordshire, about 90 miles from London. Dreamy Broughton Castle looks like something out of a movie — several movies in fact, including the 2011 film "Jane Eyre" and the 1998 movie "Shakespeare in Love," which starred Joseph Fiennes as a young Shakespeare.
Here's where the story gets quirky: British actors Joseph and Ralph Fiennes are related to the current owners of this elegant estate, the 21st Lord and Lady Saye & Sele , whose family name is Fiennes.
Ownership has been in the family since 1447, giving new meaning to the phrase "longtime residents."
Broughton Castle, built in the 1300s and renovated in the 1500s, is the home every princess-wannabe wishes her prince would own.
It scores points for its beauty from a distance and up close. Livestock graze in its lush pastures, flowers bloom in its carefully tended gardens and full-length portraits of ancestors fill the Great Hall.
Wide Tudor windows throughout the house fill the rooms with sunshine. From the third story, a rooftop viewing platform overlooks the Ladies Garden full of hedges in the shape of fleur-de-lis. There's a broad moat beyond and green pastures in the distance.
Although the castle was built to keep people out, it's now wide open to visitors. In fact, visitors' fees play an important role in its upkeep, a docent said as I toured this Fantasyland.
Speaking of which, no disrespect Walt, but your castle just wouldn't cut it here.
More castles to visit
More than 1,000 castles dot the British Isles, making it easy to put together an itinerary if you want to go castle-hopping.
Some of the fortresses are in ruins, others are occupied, some are hotels or can be rented for weddings or other events.
Many of the structures originally served as military bastions and as private homes. Some are large, well-known complexes that are easily visited, such as the Tower of London, a top British attraction that houses the Crown Jewels, and Scotland's imposing Edinburgh Castle.
Windsor Castle, where British kings and queens have lived for more than 1,000 years, is about 22 miles from London and is open for tours.
Other castles are off the beaten path but pay great dividends to those who want to explore the countryside. Each offers a fascinating window into the past.
There's little agreement as to the top castles because experts have their favorites. But here are some suggestions:
Arundel Castle: This West Sussex castle, founded at the end of the 11th century, overlooks the River Arun and has been the family home of the dukes of Norfolk and their ancestors for nearly 1,000 years. About 64 miles south of London.
Dover Castle: This giant fortification, one of the largest castles in England, was a secret command post in World War II and starred in the 1990 film adaptation of "Hamlet," starring Mel Gibson. Eighty-two miles southeast of London
Leeds Castle: Check out the maze and gardens at this castle, which once housed six medieval queens and Henry VIII. Forty-two miles southeast of London.
Warwick Castle: Originally built by William the Conqueror in 1068, Warwick is near Shakespeare's birthplace, Stratford-upon-Avon. about 100 miles northwest of London.
The Oxford Experience
Want to say you attended Oxford? Try the Oxford Experience, a weeklong study program at the oldest university in the English-speaking world.
The one-week Christ Church residential program, which has no requirements, exams or papers, offers more than 60 courses on history, politics, creative writing and other topics. Among the titles: Country Houses, Music of the Beatles and Castles of Great Britain.
Excursions, tours, pub walks, whiskey tastings and croquet are available. The continuing education program draws students from their 20s to 90s, many from the U.S., Europe, Australia and New Zealand.
Dates: July 1-Aug. 11
Price: From $1,806, including tuition, accommodations in student housing with shared bath, evening entertainment, a welcome reception and all meals — many in Tudor Hall, made famous by the "Harry Potter" films. Rooms with private bath are $2,048. International airfare and some excursions are not included.
Info: Oxford Experience. Early application is recommended because classes fill quickly.
If you go
THE BEST WAY TO LONDON
From LAX, Virgin Atlantic, British, Air New Zealand, United, American and Norwegian offer nonstop service to London, and United, Delta and American offer connecting service (change of planes). Restricted round-trip airfares from $490, including taxes and fees.
TELEPHONES
To call numbers below from the U.S., dial 011 (the international dialing code), 44 (the country code for England) and the local code and number.
WHERE TO STAY
Hotel Malmaison, Oxford Castle, 3 New Road, Oxford, England; 1865 689944. The 95 rooms at Malmaison Oxford were once prison cells. The hotel, next to Oxford Castle, is a good place to pretend you're on someone's most wanted list. Centrally located. Doubles from $193 a night.
Three Tuns Inn, 32 Bridge St. Chepstow, Wales; 1291 645797. B&B and pub adjacent, built in the early 1600s, to Chepstow Castle. It has character, hearty breakfasts and a wonderful view. It's a five-minute walk from the train station. Doubles from $70 a night.
LTR Castles; 1835 824642. Rent a room in a castle such as Inverlochy in the Scottish Highlands (doubles from $589 a night) or rent an entire castle or manor house such as Forter Castle in Angus, Scotland, for $4,050 per night or the baronial castle Aldourie on the banks of Loch Ness, Scotland, for $13,496 a night.
WHERE TO EAT
Hampton Court Palace, East Molesey,England; 844 482 7777. Three restaurants serve the palace, which was the elegant home of Henry VIII and his many wives. Try the Fountain Court Cafe in summer or the Privy Kitchen or the Tiltyard Cafe, both open year-round. About a 45-minute drive from London. Entrees from $16.
Saye & Sele Arms, Main road, Broughton, England; 1295, 263348. Popular and convenient pub when visiting Broughton Castle or the Cotswolds. Try owner Danny's "Proper Pies," from $22.
Chepstow Castle Inn, 12 Bridge St., Chepstow, Wales; 1291 630956. Bargain meals and large portions at this pub and B&B adjacent to the castle. A large menu with fish and chips dishes, meat and veggie pies and traditional British dishes. Entrees less than $13.50.
TO LEARN MORE
---
Get inspired to get away.
Explore California, the West and beyond with the weekly Escapes newsletter.
You may occasionally receive promotional content from the Los Angeles Times.