11 Images
Las Vegas Car Culture
A stock car streaks along at the Las Vegas Motor Speedway complex, where companies give customers an idea of what it's like to compete. Avid amateurs can even sign on for a program that enables them to race with the Sports Car Club of America.
(Luis Sinco / LAT)
Traffic streams past landmarks on the Strip in Las Vegas, which Times automotive critic Dan Neil says has become a major destination for people who want to get their wheel freak on.
(Luis Sinco / LAT)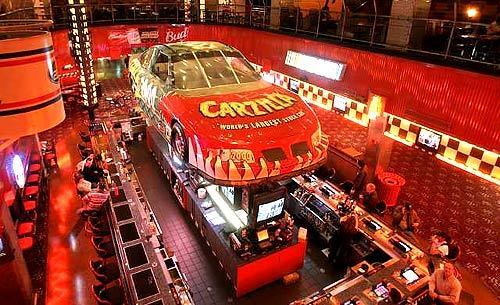 Carzilla looms over the NASCAR Café at the
Sahara Hotel & Casino
. According to the Sahara, the hulking Carzilla — a Pontiac Grand Prix — weighs 3 tons.
(Luis Sinco / LAT)
Slot players can admire the rakish profile of a Chevrolet Corvette lounging above a row of machines at the Sahara. They can also rent a Corvette to tool around Vegas; one local company has set a rate of $289 a day.
(Luis Sinco / LAT)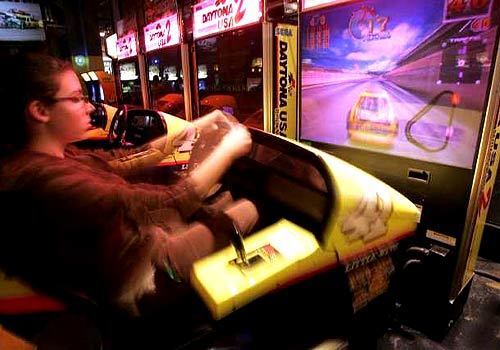 Driving games are the specialty at
Gameworks Arcade
on Las Vegas Boulevard. Daytona USA 2, Need for Speed GT, Ferrari 355 Challenge, Indy 500 and other games test players' skills.
(Luis Sinco / LAT)
Exotic-car rentals add to Vegas' glitz. Among the offerings, Dream Car Rentals tempts with a Ferrari 360 at $1,100 for five hours and a classic 1959 drop-top Cadillac at $325 a day.
(Luis Sinco / LAT)
Stately cars exude dignity at a vast showroom at the Imperial Palace Hotel. The showroom was converted from a museum in 2001, and many of the cars are for sale. The permanent collection includes Johnny Carson's 1939 Chrysler Royal Sedan and Howard Hughes' Chrysler with air purification system.
(Luis Sinco / LAT)
A driver skitters around a tire-lined course at Fast Lap Indoor Kart Racing, the only indoor kart track in town. A 10-minute heat in one of the raucous 200 cc go-karts will set you back $25.
(Luis Sinco / LAT)
A driver churns up a wake at Nellis Dunes. The sandy spot on the outskirts of Las Vegas is among places off-roaders go to make some noise.
(Luis Sinco / LAT)
The desert sun helps brighten the day of a driver at Nellis Dunes. The most adventurous the customers of Vegas' Sun Buggy Fun Rentals will sign up for the Mini Baja trip, a bone-shaking 90-minute tour of Nellis' terrain. Full-face helmets are provided.
(Luis Sinco / LAT)
Amid all the distractions of Las Vegas Boulevard, an Elvis Presley impersonator just tends to blend in.
(Luis Sinco / LAT)