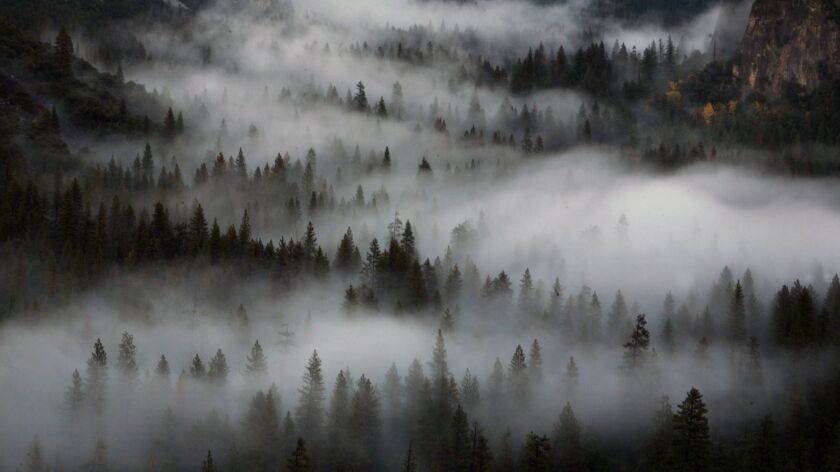 Yosemite National Park plans to shut Tioga Road and Glacier Point Road ahead of a series of winter storms forecast for the region through Thanksgiving weekend. If you're planning to visit, know that the roads are set to close to traffic starting at 6 p.m. Tuesday, reopening as conditions allow, a park release issued Monday said.
The planned road closures don't affect visitors to Yosemite Valley (where lodges, hotels and restaurants are located) who enter the park on highways 120 West, 140 and 41.
The Weather Channel is predicting a 100% chance of snow Wednesday, 40% on Thursday and 90% on Friday in parts of the park. In Yosemite Valley, which sits at around 4,000 feet in elevation, rain and milder temperatures (highs in the 50s) are forecast all three days, according to the National Weather Service.
On its website, Yosemite warns visitors that rockfalls and debris flows are more likely during heavy rains, particularly in areas that burned in the Ferguson fire, which started outside the park's south side in July and temporarily shut down the park on Aug. 5.
During heavy rains, there may be road closures on Highway 41 from Fresno between Chinquapin (Badger Pass Road intersection) and Tunnel View; and just west of Savage's Trading Post to the junction with Big Oak Flat Road (just west of Yosemite Valley).
In fact, when weather in the area turns bad, all park roads are subject to closure, and all visitors are required to carry tire chains, even if their vehicles have four-wheel drive.
Tioga and Glacier Point roads aren't necessarily closing for the season. Both routes typically shut to vehicles between November and May. Last year, they closed for the season on Nov. 14.
Tioga Road, the main east-west route through the park (part of Highway 120), allows visitors to enter near Lee Vining in the east and drive all the way to Big Oak Flat Road in the west. Glacier Point Road leads to the popular Yosemite view point at Glacier Point.
Info: Yosemite National Park, (209) 372-0200 (press 1, then 1) for up-to-date conditions.
Twitter: @latimestravel
---