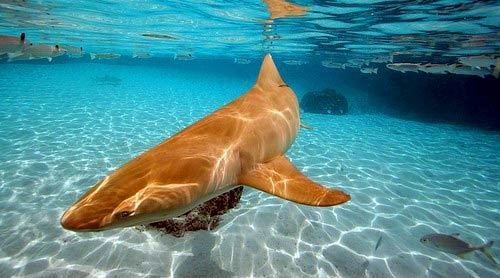 14 Images
Bora-Bora Activities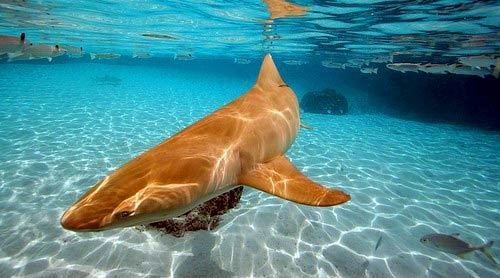 Off Bora-Bora, the life aquatic includes curious lemon sharks. The water is so clear in this stunning slice of French Polynesia that snorkelers can see to the bottom of the lagoon — and its many colorful inhabitants. Water sports are big in this playground for the rich and famous, but because of development and the island's growing popularity, there are far more jet-powered skis and far fewer schools of brightly hued fish.
(Bob Chamberlin / LAT)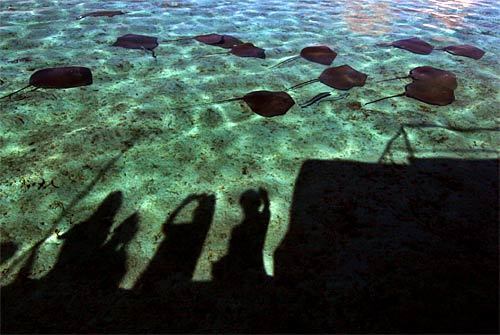 Tourists throw their shadows into the water as a school of bat rays glides by a shark-ray feeding excursion boat. Even with its growing popularity, the best-known of Tahiti's sister islands hasn't become Maui South. No pink high-rises, no sprawl of condos and mini-malls, no snorkeling adventures in intimate groups of 75.
(Bob Chamberlin / LAT)
On another lazy day of blue skies, puffy clouds and amazingly azure water, a bit of multi-tasking seems in order: A couple of tourists work on their tans while heading into the northern end of Bora-Bora's lagoon to check out a nursery breeding ground for fish.
(Bob Chamberlin / LAT)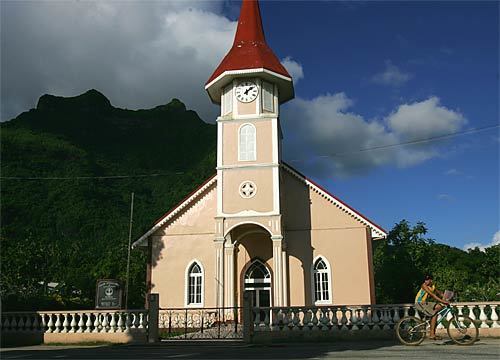 A young bicyclist pedals past the Evangelical Church Temple in the tiny town of Vaitape on Bora-Bora. His cargo? A loaf of French bread. No surprise, as Bora-Bora is a French overseas territory. Most natives speak Tahitian and French, but there are enough English speakers to make U.S. tourists feel comfortable.
(Bob Chamberlin / LAT)
Who needs pedaling? A bicyclist is along for the ride, courtesy of a youngster on a motor scooter on a road near Matira Point. Low tourist numbers have allowed Bora to remain the iconic South Pacific Eden that has always lured wealthy travelers. Tropical flowers and vegetation still cloak the valleys and mountainsides, and islanders still set up small roadside stands where they sell pineapples, taro and just-caught wahoo, a type of mackerel.
(Bob Chamberlin / LAT)
Amy and Levi McCoid of California enjoy their sunset beers on the patio of their villa at the St. Regis Resort. Tahitian-style thatched-roof bungalows that sit on stilts over the water are an island trademark.
(Bob Chamberlin / LAT)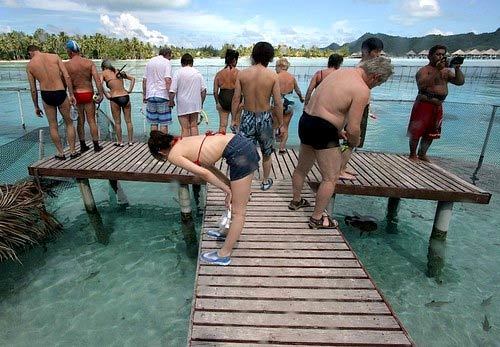 Tourists gather at a protected nursery to observe young sea life in a lagoon during a feeding tour.
(Bob Chamberlin / LAT)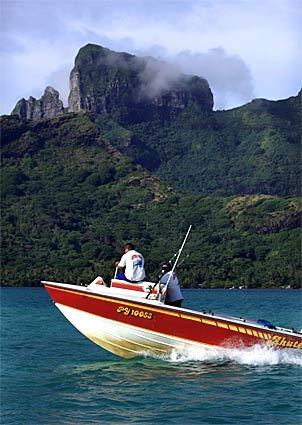 A sport fishing boat zips past Mt. Otemanu. For the well-heeled tourist — and who isn't on Bora-Bora? — charters are available to explore the lagoon and the waters of French Polynesia aboard the 50-foot catamaran Taravana or the 34-foot sport fisher Luna Sea. Half-day charters start at $1,200
(Bob Chamberlin / LAT)
Newlyweds Angelic and John Durante greet the passengers aboard a passing excursion boat. Tired of the water? Time to explore the island's interior. On a backcountry tour, participants can see stone temples and World War II guns that once guarded the island.
(Bob Chamberlin / LAT)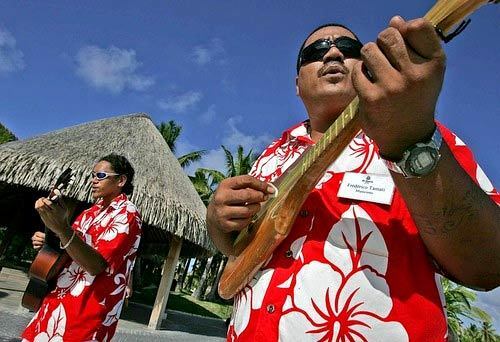 Tropical sounds greet guests arriving at the exclusive St. Regis Resort. The idyllic lifestyle begins the moment guests step on the grounds of the hotel, which is a favorite with the rich and famous.
(Bob Chamberlin / LAT)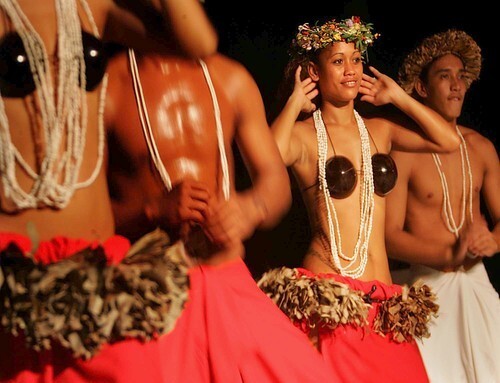 A Tahitian ensemble performs a native dance for guests at the posh InterContinental in Bora-Bora. Sit back, sip a cocktail and enjoy an evening in paradise.
(Bob Chamberlin / LAT)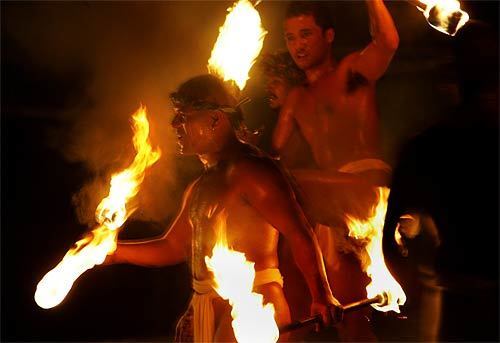 Dancers from a local ensemble, the 22-member Maui Nui, perform a native fire dance during a show for guests at the very exclusive Hotel Bora Bora.
(Bob Chamberlin / LAT)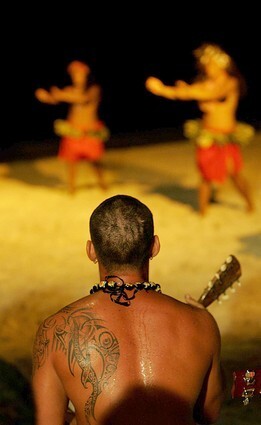 Manu accompanies members of the Maui Nui ensemble on his ukulele, during a show at the Hotel Bora Bora. Tattoos such as Manu's tell his family's story.
(Bob Chamberlin / LAT)
Clouds drift by as morning breaks on another day in paradise. How many shades of blue are there in the lagoon? So many, and each is lovelier than the last. The Tahitian-style bungalows of the InterContinental, left center, and the St. Regis Hotel, bottom right, dot the lagoon.
(Bob Chamberlin / LAT)