Until you've been enveloped in the glow of 3 million red, white and green Christmas lights cast from the Mission Inn in Riverside, you haven't had a quintessential Southern California holiday experience.
At the historic hotel, strands of brilliant lights cascade from balconies, twist between the bougainvillea and ivy, wrap around tree trunks and wink from pine garlands. Scores of animated costumed figures wave and nod from balconies, courtyards and walkways.
()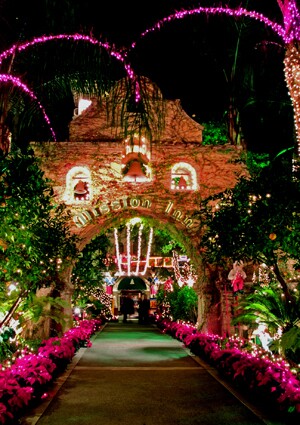 MISSION INN
The Mission Inn, a 104-year-old national landmark, is internationally recognized and locally treasured for an elaborate light festival that has become a centerpiece of holiday celebrations, particularly in the Inland Empire.
When Riverside resident and entrepreneur Duane R. Roberts bought the hotel -- appropriately enough, on Dec. 24, 1992 -- he pictured it as a winter wonderland.
()
The multimillion-dollar decorations have grown more elaborate and include an international array of costumed characters and Christmas trees flanking priceless paintings.
The crowds keep growing too. Duane R. Roberts said about 50,000 showed up on Nov. 23, when the first lights of the season were switched on and fireworks were shot from the roof.
(Bob Torrez)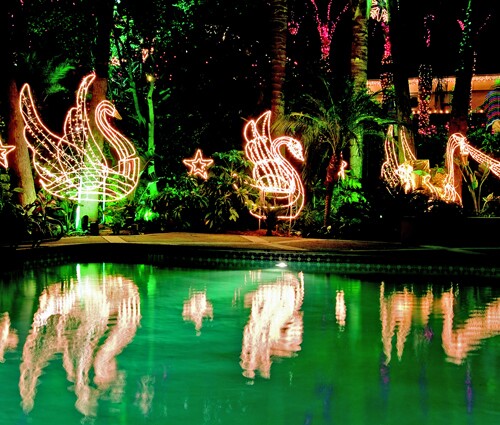 The display, which runs through Jan. 2, takes six weeks to dismantle, inventory and store, he said. By then, Roberts estimates that 350,000 people will have seen the spectacle and the adjacent street fair.
During the event, the hotel will serve as many as 1,900 holiday meals and double its revenue, but profit isn't the point.
()
ST. REGIS RESORT MONARCH BEACH
Orange County's St. Regis Resort Monarch Beach brings back an only-in-California tradition: a sand sculpture.
This, however, is not just any sand castle, but a 9-ton porous piece of artwork depicting a group of carolers, just as you enter the lobby.
()
Carolers will be singing at the St. Regis Resort at various times, including each Sunday during the Champagne Brunch at Motif restaurant. (Kids will love the 50-topping pancake station.)
The sand sculpture is in addition to a giant Christmas tree on the Grand Lawn and traditional decorations throughout the grounds and public spaces.
The resort also hosts a $59 Gingerbread House Academy for the little ones at 10 a.m. most Saturdays and Sundays in December.
()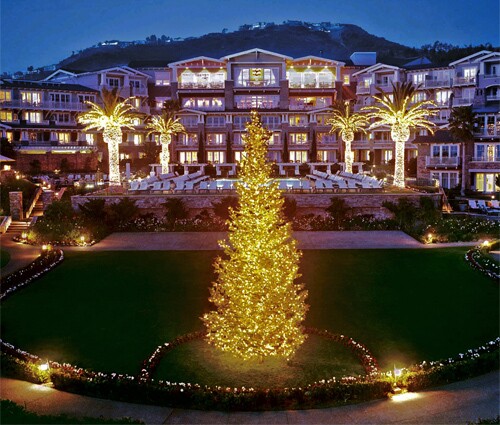 MONTAGE RESORT & SPA
Montage Resort & Spa in Laguna Beach blends the elegance of rich holiday decor with the abundant flora of California. Inside and out, the luxury hotel is laden with lush poinsettias, colorful ornaments, pine garlands and, a fun touch, a ball of lights suspended between palms trees to look like "a moon over Montage." On the broad Pacific Lawn, a towering Christmas tree adds holiday sparkle to the ocean vista.
()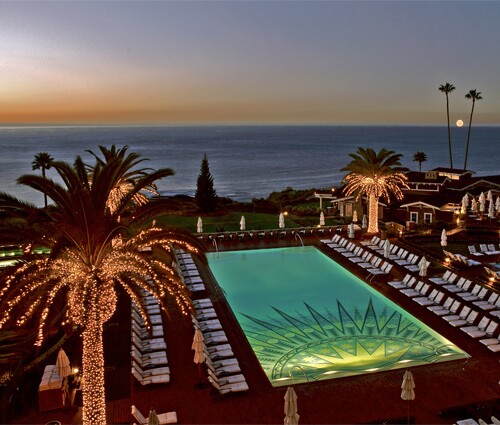 From Wednesday through Sunday, the beach-side Montage is staging two-hour wine tastings at the Loft bistro. It's free for guests, $25 for everybody else.
On Dec. 11 and 18, the hotel's pastry chef will teach a 90-minute class on making and decorating a gingerbread house; for reservations, call (949) 715-6420.
At Paintbox, the resort's children's club, in addition to the daily half- and all-day activities, Montage is adding holiday-themed fun, including storytelling, Santa Claus tuck-ins, crafts classes, stocking delivery and a New Year's Eve dinner and party.
()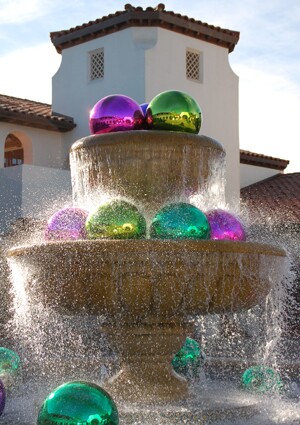 BACARA RESORT & SPA
Bacara Resort & Spa in Santa Barbara smells like the holidays should -- full of evergreens, chocolate and wood smoke wafting from indoor and outdoor fireplaces.
Designer Scott Corridan has practically stuffed the resort with all forms of decorated evergreens, pine cones and branches.
()