An image of simple tranquillity, the Ierusalema Hou Church perhaps underscores a prevailing desire of Molokai's about 7,000 residents: to keep the Hawaiian island's laid-back lifestyle as it is. Molokai, which boasts rural, unspoiled beauty and few hotels, has adopted a responsible-tourism initiative based on community input. What islanders
don't
want is for Molokai to become like nearby Maui, where high-rise hotels and condos have sprouted and Wal-Mart, Costco, KFC and the Hard Rock Cafe have arrived.
(Karl Lehmann / Lonely Planet Images)
Molokai calls itself "the Friendly Isle," but as these anti-development signs make clear, there's a limit. Mainlanders' snapping up real estate and building vacation mansions have caused resentment. "If you could separate tourism from sale of real estate," says Davianna Pomaikai McGregor, a University of Hawaii professor and part-time Molokai resident, "I think tourism would be more warmly embraced."
(Beverly Beyette / Los Angeles Times)
A pool shimmers at the upscale, 22-room Lodge at Molokai Ranch, where there's hula on Sunday nights and Hawaiian music Fridays and Saturdays. The lodge is in the town of Maunaloa, home to a general store, the island's only movie theater and -- worth a visit -- the Big Wind Kite Factory. The lodge's sister property, the Beach Village at Molokai Ranch, has 40 two-bedroom "tentalows" on the island's west end, at lovely Kaupoa Beach.
(Beverly Beyette / Los Angeles Times)
Cheryl Corbiell, left, who leads a panel on responsible tourism, and fellow islanders look over photos of an area targeted for development. Corbiell's image of the ideal tourist: one who values peace and quiet and seeks "a people experience, rubbing shoulders with locals in a local environment." As for large-scale tourism, she says, "We want to share our authentic Hawaiian culture, not sell it."
(Beverly Beyette / Los Angeles Times)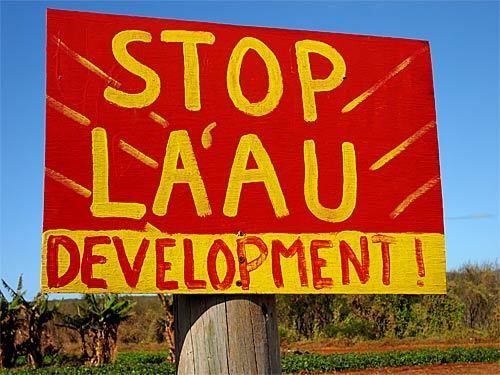 An anti-development message comes with an exclamation point. Molokai folk are "very stubborn, tenacious about their land," notes McGregor, the University of Hawaii professor, who also find that newcomers often have a "me-first, me-only" attitude that offends locals. And yet Molokai knows that it needs to increase visitor numbers to improve its economy, and visitors who are sensitive to local customs are welcome at island events.
(Beverly Beyette / Los Angeles Times)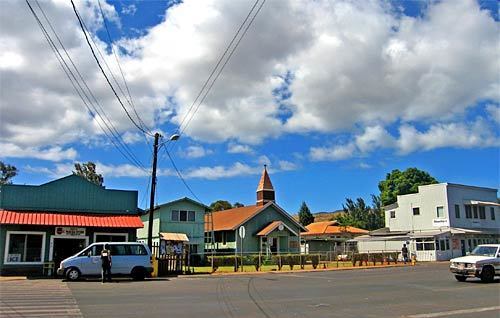 Ala Malama, the main street of the island's main town, Kaunakakai, is a snapshot of authentic Hawaii, where the pace is slow and non-stressful. The locally owned stores aren't fancy, but they're great for browsing. That simplicity, along with the island's overall unspoiled beauty, can exert a strong appeal. Tourists "tell us, 'Don't change a thing,' " says Karen Holt, executive director of the Molokai Community Service Council.
(Beverly Beyette / Los Angeles Times)