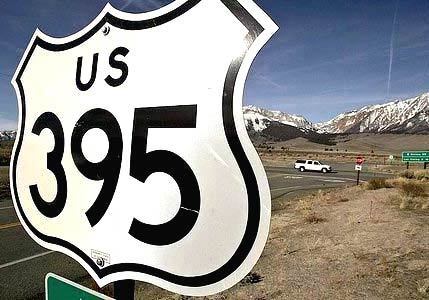 14 Images
California's Eastern Sierra: Hwy. 395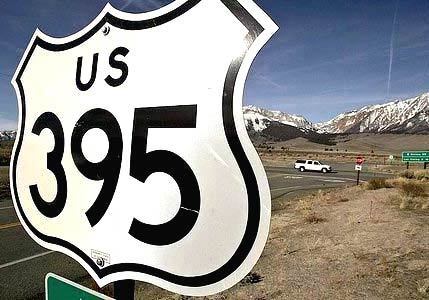 A road sign proclaims the region's transportation backbone. U.S. 395, whose panoramas of the Eastern Sierra are an invitation to shift into a simpler time. It covers about 1,300 miles, from California through parts of Nevada to Oregon and Washington state.
(Luis Sinco / LAT)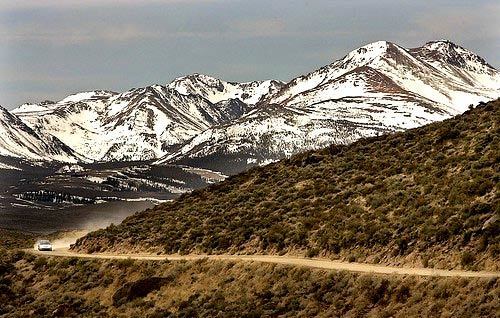 North of Lee Vining, a car kicks up the dust of California's vast Eastern Sierra — an outback of wide-open vistas, plentiful trout fishing, ski getaways, western movie locations and landmarks in the history of the state and the nation.
(Luis Sinco / LAT)
A trout crests a pond at Mt. Whitney State Fish Hatchery near Independence. The historic facility produces 160,000 pounds of trout annually for lakes and streams from Bishop to Lone Pine. Egg fertilization takes place in a stone structure that resembles a Swiss chalet; outside, the fish bulk up to catchable size.
(Luis Sinco / LAT)
Early-morning sunlight reaches 14,495-foot Mt. Whitney, center, the Lower 48's tallest peak, lording it over the Alabama Hills near Lone Pine. Whitney is irresistible to many hikers, but the Alabamas, covering 30,000 acres of desert, exert their own attraction — rock formations that look like molten monsters, granite boils and bulbous faces.
(Luis Sinco / LAT)
A ghostly moon peers over the Alabama Hills, where more than 400 movies and television shows have been filmed, including 1939's "Gunga Din" and 1960's "Hell Bent for Leather." To reach the hills, take Whitney Portal Road west from U.S. 395 in Lone Pine and turn right on Movie Road.
(Luis Sinco / LAT)
Hollywood's reliance on the Lone Pine area is made clear at the Beverly and Jim Rogers Museum of Lone Pine Film History. Along with these posters, there are exhibits of movie costumes, posters and props, including swords from "Gunga Din," a killer earthworm from "Tremors" and a life-size stagecoach.
(Luis Sinco / LAT)
A typically picturesque stretch of U.S. 395 between Lone Pine and Bridgeport. The scene of mountains and lake is a reminder that the road is not only a faithful companion to the Eastern Sierra but also the gateway to the state's premier fishing lakes and streams.
(Luis Sinco / LAT)
Silver Lake makes its case as one of the prettiest attractions in the June Lake Loop, which refers to four lakes bordering California 158 about 14 miles north of Mammoth Lakes. Anglers debate which of the four — June, Gull, Silver or Grant — produces the biggest bounty.
(Luis Sinco / LAT)
A few miles east of 395, Hot Creek Geologic Site sends up steam, the result of water seeping down into a chamber of hot magma three miles beneath the surface. To reach Hot Creek, turn west on Hot Creek Hatchery Road after passing Mammoth-June Lake Airport and go about three miles to a paved parking lot.
(Luis Sinco / LAT)
A monument stands amid a few remaining graves at the cemetery at Manzanar National Historic Site, where 10,000 Japanese and Japanese Americans were interned during World War II because of their ancestry. The interpretive center at the site eight miles north of Lone Pine shows how internees played, studied, farmed and worshiped. A helpful resource:
www.nps.gov/manz
.
(Luis Sinco / LAT)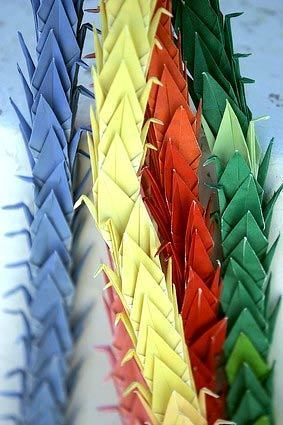 Chains made of thousands of paper origami cranes adorn the monument that marks the cemetery at Manzanar, one of several internment camps where people of Japanese descent were kept at the outset of WWII.
(Luis Sinco / LAT)
Clean, clear water from snowmelt cascades down Rock Creek in the Eastern Sierras near Mammoth Mountain.
(Luis Sinco / LAT)
A visitor wanders around the ruins of Bodie State Historic Park, site of a once thriving gold mining community in the Eastern Sierra Nevada mountain range near Willow Springs.
(Luis Sinco / LAT)
Mono Lake and its tufa formations are a photographer's delight near the town of Lee Vining in the Eastern Sierra Nevada mountain range.
(Luis Sinco / LAT)