6 Images
Space Camp in Huntsville, Alabama
John Horn and son Charles prepare for a simulated space walk at Space Camp in Huntsville, Ala. The camp, part hands-on field trip, part sleep-away camp, is an outgrowth of the U.S. Space & Rocket Center's museum education program. Space Camp is aimed at science-minded kids ages 7 to 18, some of whom bring their parents. Activities include low-gravity rides and simulators, pretend space walks and the study of rocket history.
(John Horn / LAT)
Space Camp highlights include simulators, like this trainer, which imitates low gravity. Group leader Bob Jones reviews the mechanics with camper Charles Horn, age 7.
(John Horn / LAT)
Space campers direct a shuttle crew in one mission-control exercise. Participants perform training missions followed by "flights."
(John Horn / LAT)
Kids study aviation at camp. Charles (in blue) and another pilot-in-training compare flight uniforms.
(John Horn / LAT)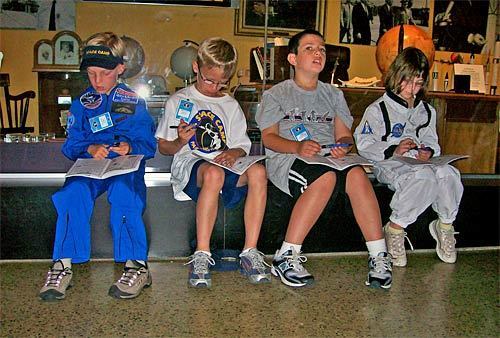 Campers test their newfound knowledge in a trivia contest called the Space Bowl. From left, Charles Horn, Brantley Adams, Josh Goodman and Hero Magnus ponder their answers.
(John Horn / LAT)
Model rockets built and decorated by campers and their parents are readied for launch. Blowing winds sent many of the rockets into trees.
(John Horn / LAT)