24 Images
Barbara Davidson: 10 years at The Times
"I realized I was shot when my leg started burning and I saw holes in my leg…. I was just crying, hoping that the ambulance would hurry up and come." Three bullets tore into 10-year-old Erica Miranda's back, knee and hip while she played basketball outside her home in Compton.
(Barbara Davidson)
Friends and family hold a memorial for Porche Ledae Charles, who was shot and killed when she stepped onto a porch at her aunt's 70th birthday party in Hyde Park. Charles was 28.
(Barbara Davidson)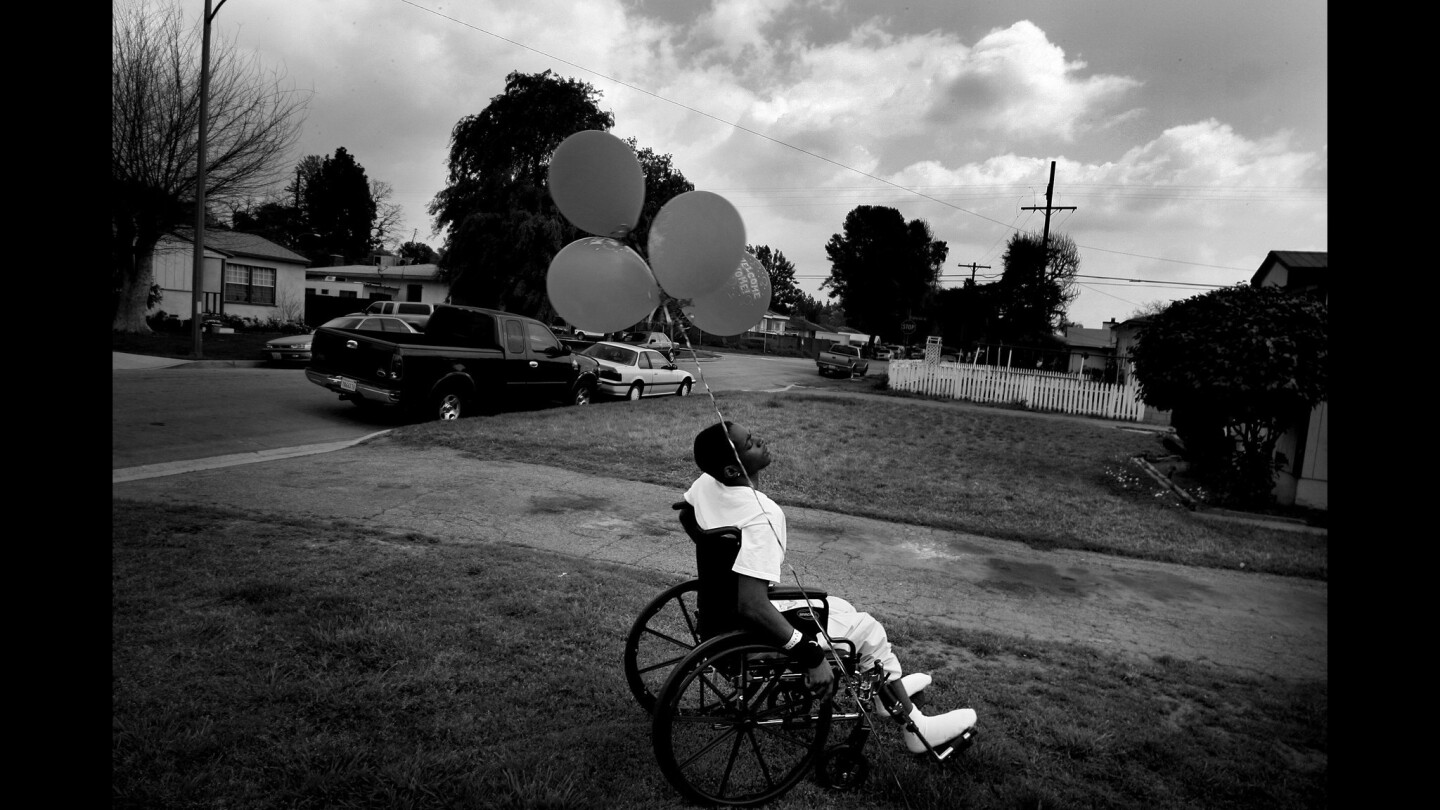 As he swept the front steps of his neighborhood church, Davien Graham was shot in the back in a targeted act of gang violence. After four months in the hospital, he returned home to learn to live his life as a paralyzed man.
(Barbara Davidson)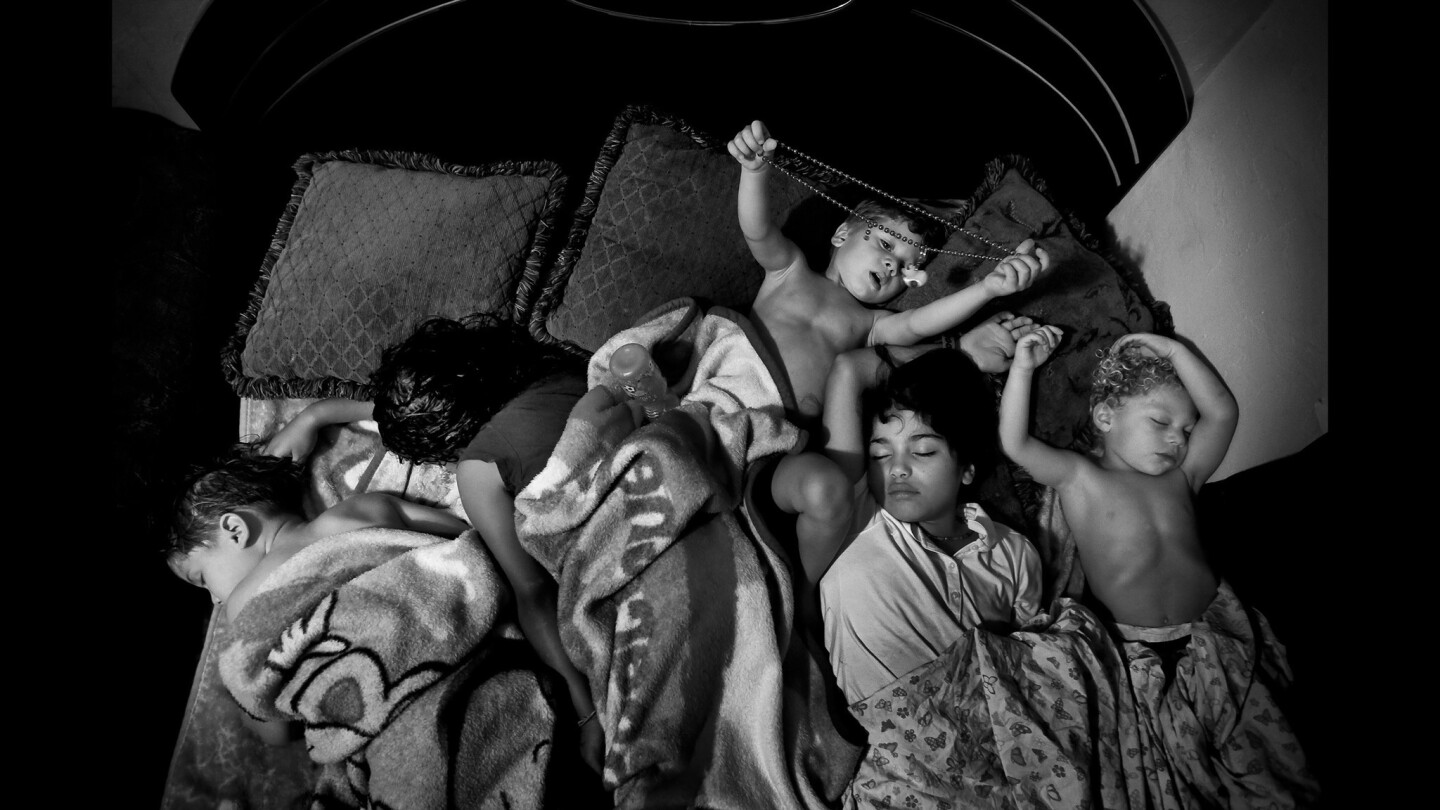 Josue, from left, Katherine, Kevin, Kimberlin and Oscar sleep in their mother's one-bedroom apartment. Since being shot in the back of the head, Josue insisted on sleeping next to Katherine. Police called Katherine a hero for carrying her brother's limp body inside after the shooting.
(Barbara Davidson)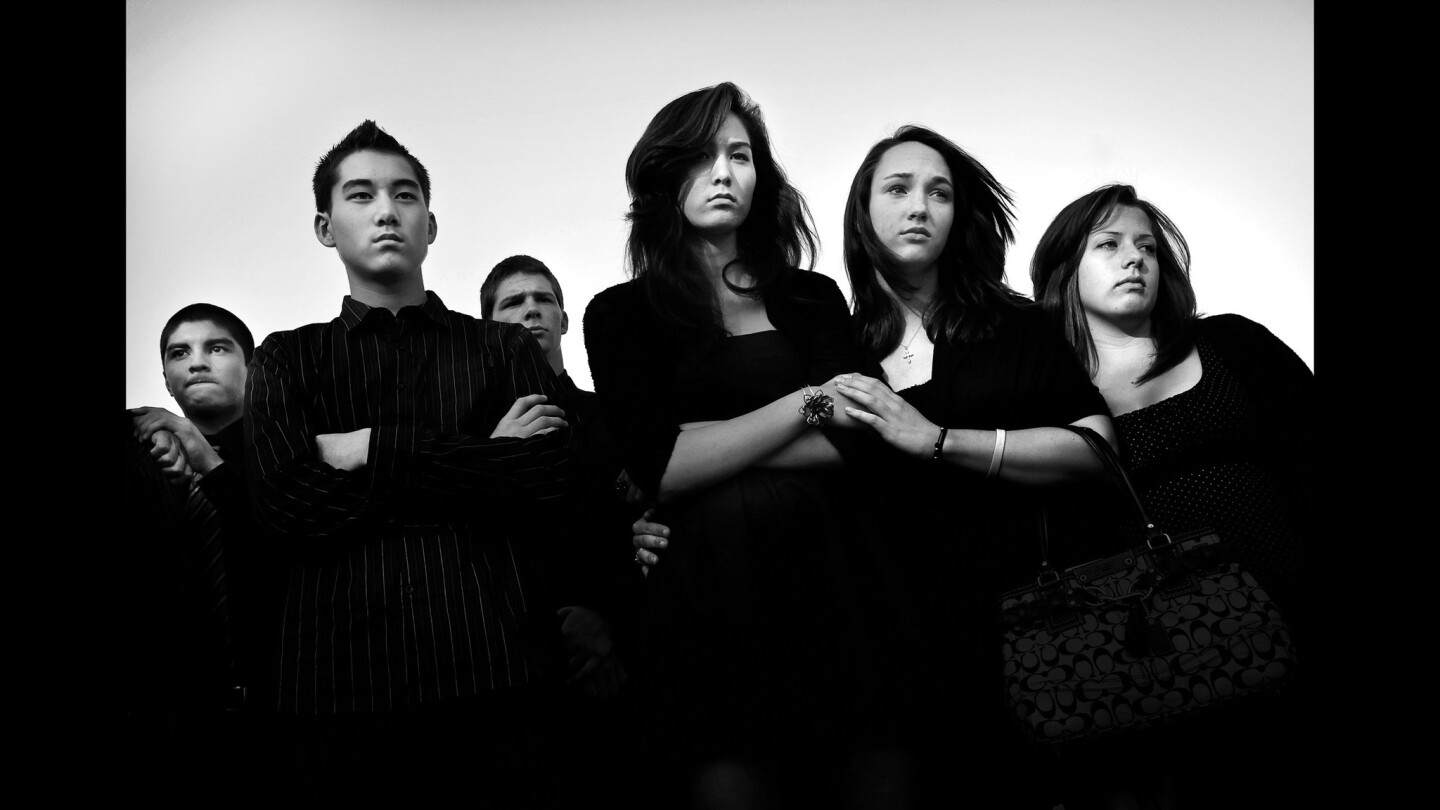 Tori Rowles, center, flanked by brother Forrest Rowles and friend Kat Mokry, attends burial services for Melody Ross, 16. Tori and Melody had planned to go to college together and become fashion designers. Tori was next to Melody when she was shot by a stray bullet after a homecoming football game.
(Barbara Davidson)
Dancers perform at the Cathedral of Our Lady of the Angels in L.A. during the Lord of the Miracles festival, honoring the patron saint of Peru.
(Barbara Davidson)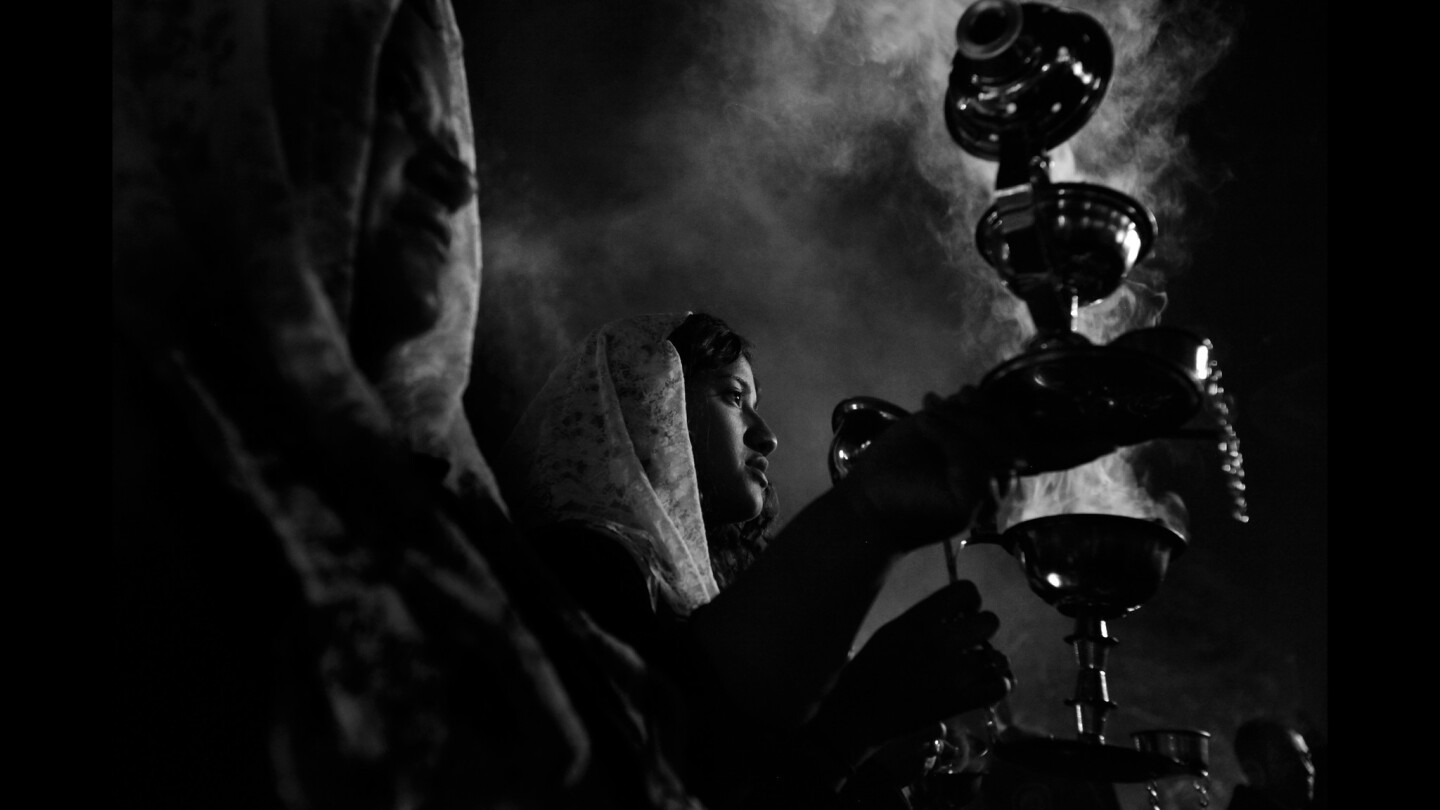 Women carrying incense pray alongside hundreds of worshippers late into the night to honor the patron saint of Peru.
(Barbara Davidson)
A pit is prepared for kushti wrestling in Kolhapur, India. Top prizes are nearly $1,500 for heavyweights — more than the average farm household earns in a year.
(Barbara Davidson)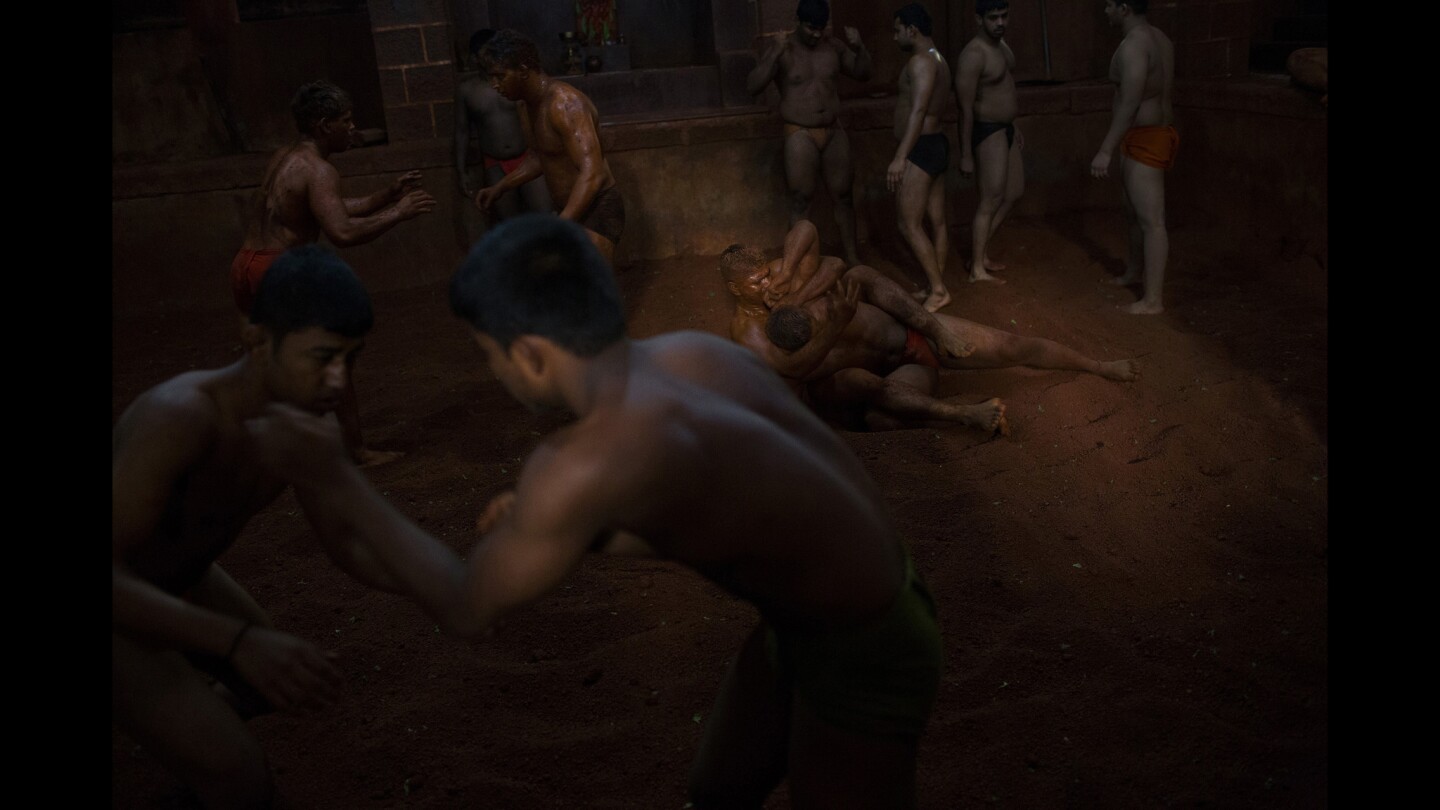 Kushti wrestling has been practiced for some 3,000 years. The tradition of wrestling in red clay pits is deeply rooted in the city of Kolhapur, India.
(Barbara Davidson)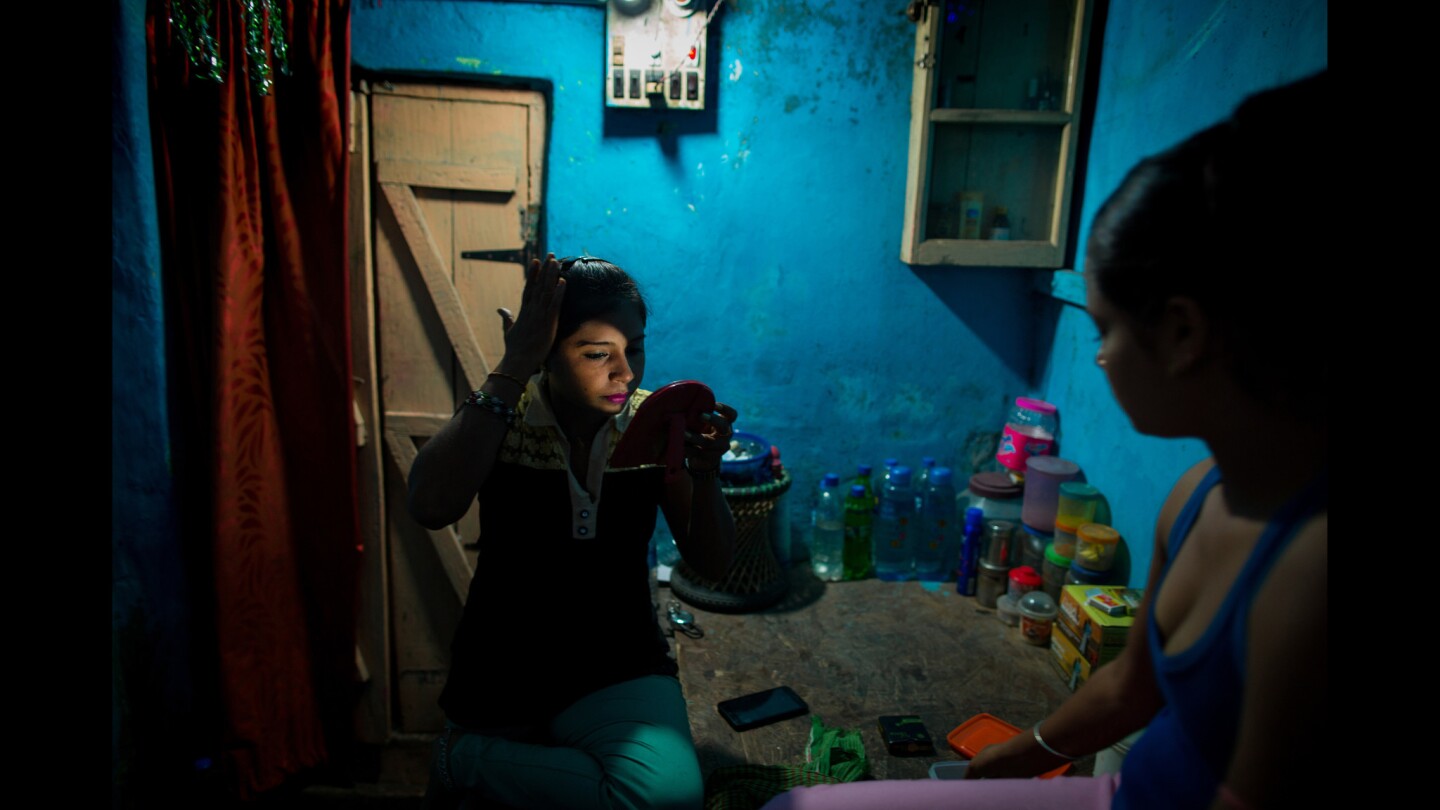 Inside the tiny room of a Kolkata brothel, Shabnam, left, and her cousin Niya — both in their 20s, they say — primp for a night of working as prostitutes. Shadnam says she was beaten and forced into the sex trade and then ordered by an abusive madam to coerce her cousin to join her.
(Barbara Davidson)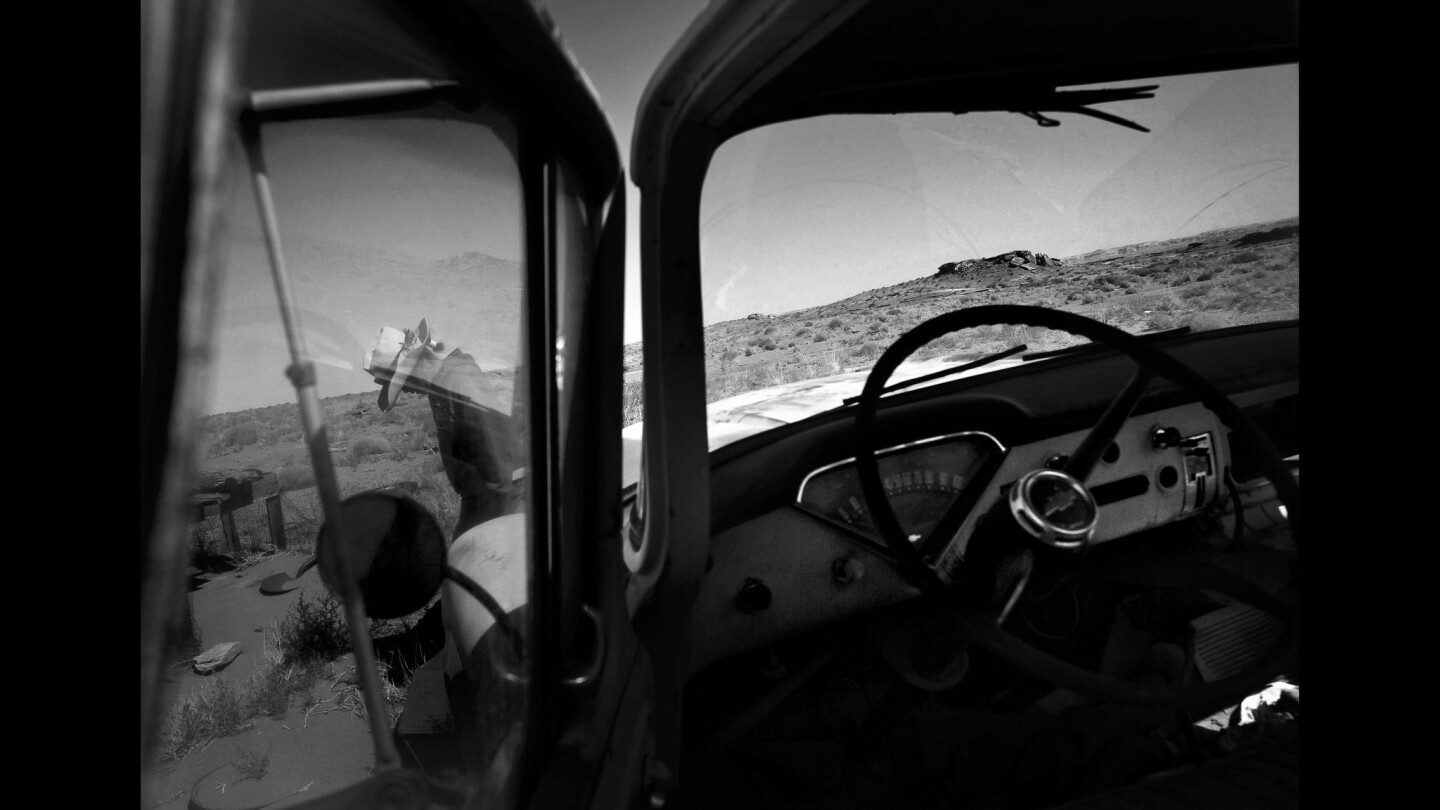 Larry Gordy's family was forced to leave its ranch outside Cameron, Ariz., after a 1966 decree known as the Bennett Freeze. It meant the Gordys and the 8,000 or so other Navajos living on the land couldn't erect homes, open businesses or even repair their roofs. No electric, gas or water lines were permitted.
(Barbara Davidson)
Thomasina Nez, 35, gives Bobbi, 4, one of her seven children, a bath in a small tin basin next to the wood stove in their dilapidated trailer in Cameron, Ariz., on a cold December day. The family has to haul water inside their reservation home after a 1966 decree known as the Bennett Freeze.
(Barbara Davidson)
In 1966, Commissioner on Indian Affairs Robert Bennett outlawed development on a 1.6-million-acre tract of tribal land in Arizona that was claimed by both the Navajo Nation and the Hopi Tribe. The "Bennett Freeze" was meant to prevent either tribe from taking advantage of the other while they settled the dispute. n 2009, President Obama officially repealed the law.
(Barbara Davidson)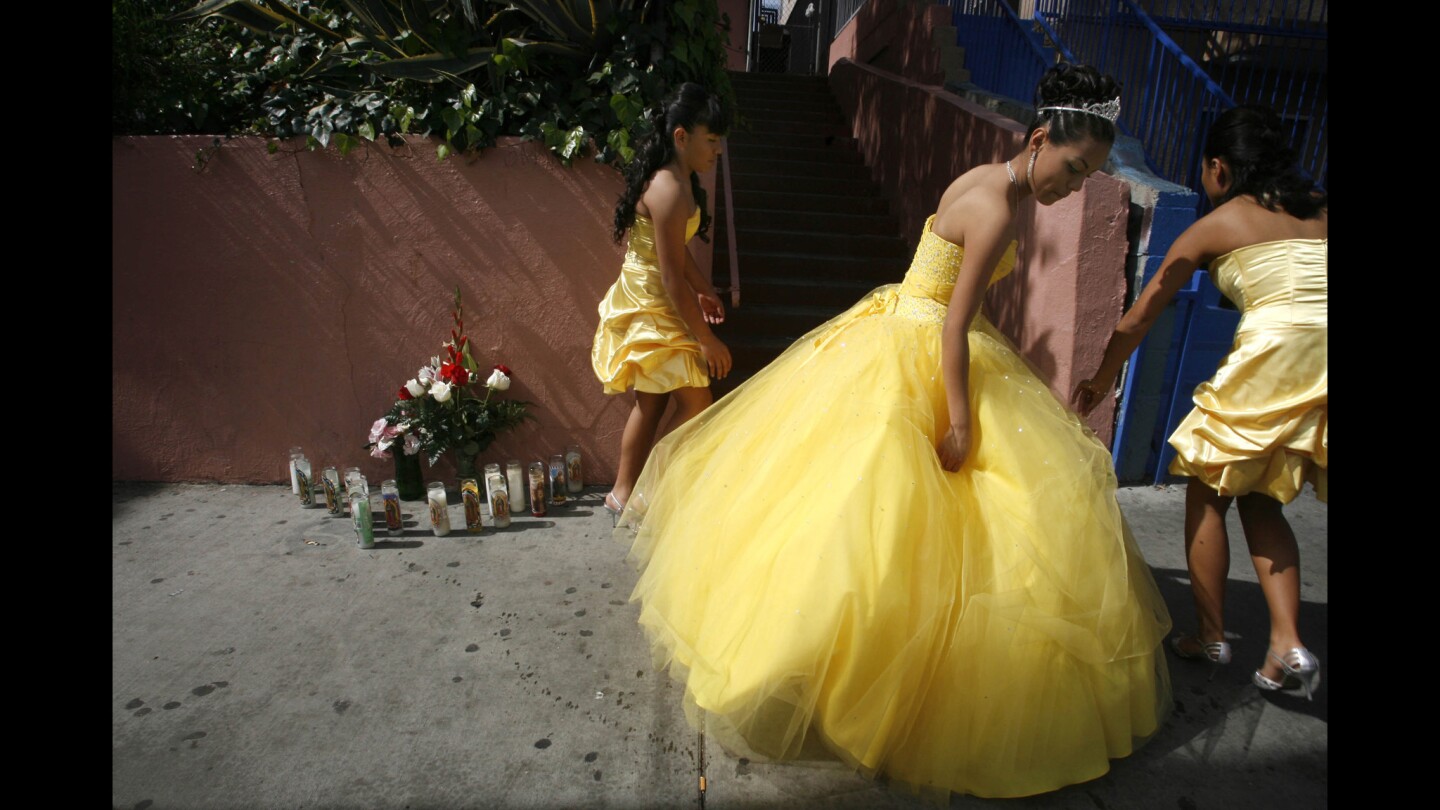 Jessica Alvarado, 15, fixes her quinceañera dress next to a memorial where tamale vendor Cosme Gonzalez, 46, was shot on Witmar Street. Jessica knew the vendor, who sold tamales in the Westlake district and was killed in an apparent robbery, police said.
(Barbara Davidson)
A Somali woman and her two children walk toward the outskirts of the Dagahaley camp, near Dadaab, Kenya, where some refugees are being sent to a tented camp extension because of overcrowding. The aid group Doctors Without Borders has complained that the camp lacks a hospital and does not meet "minimum humanitarian standards."
(Barbara Davidson)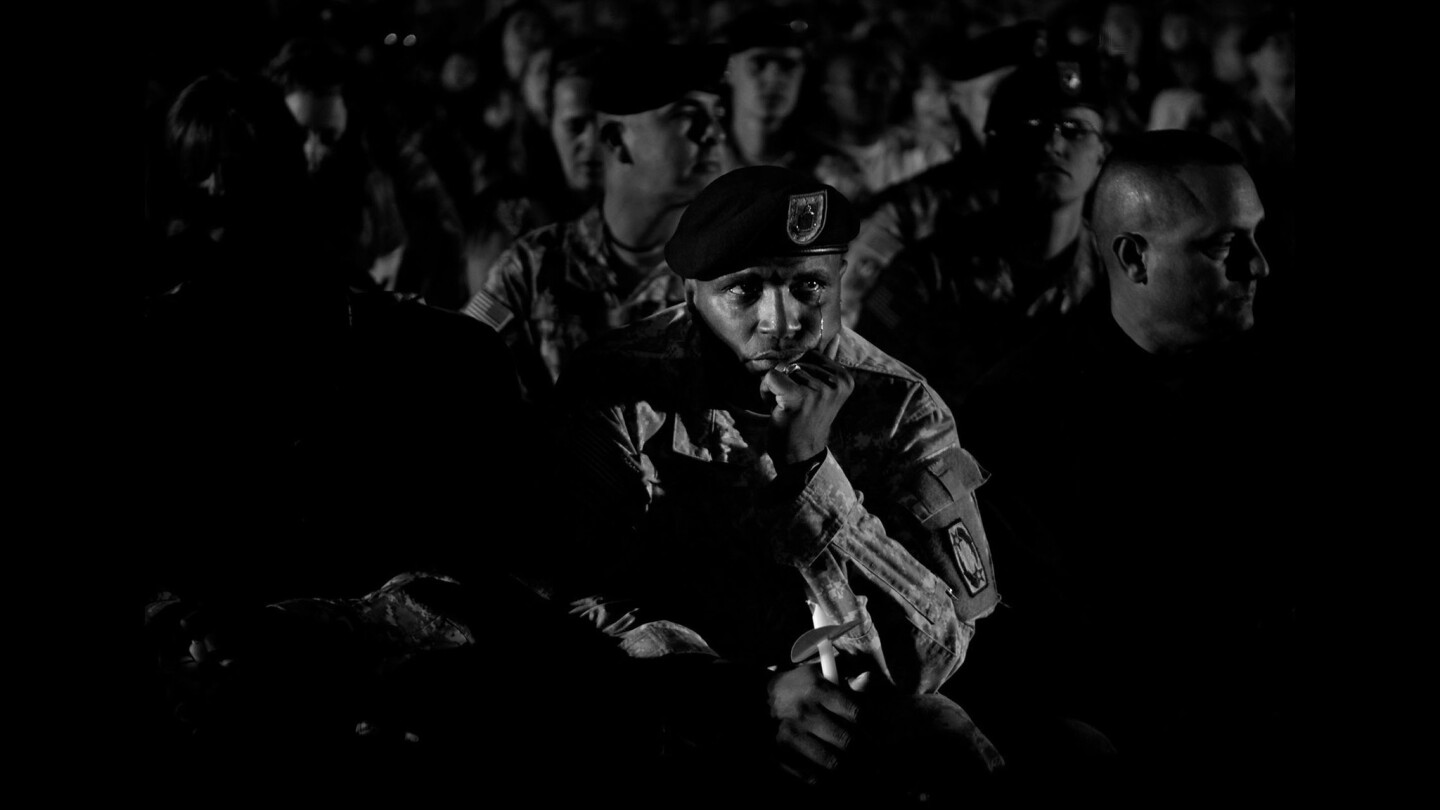 Sgt. Maj. Leroy Walker cries during the singing of "Amazing Grace" at Hood Stadium during a candlelight vigil at Ft. Hood military base in Killeen, Texas. Thirteen were killed and more than 30 were injured in the 2009 mass shooting.
(Barbara Davidson)
Brent Shelton, who is legally blind from a shotgun blast, is housed inside an SHU cage during yard time at Corcoran State Prison. Shelton, 41, said "solitary" is the only way to describe it. "You're living in cages," he said. "Dog cages." He's serving a life sentence for armed robbery and was placed in the SHU because of a reported affiliation with the Mexican Mafia.
(Barbara Davidson)
Sitting on a wooden chair in a pile of rubble, an earthquake survivor looks out over his damaged home in the quake–ravaged township of Hanwang, in Mianzhu city, north of Chengdu in Sichuan Province. Over 69,000 people lost their lives in the the Great Sichuan earthquake.
(Barbara Davidson)
Aliya Buyinza, 45, the boat's barefoot captain, said he has been transporting charcoal for 18 years around Lake Victoria in Kenya. Fuel is expensive, he explained, the charcoal dust seeps into the lungs, and night on the open lake can be bitterly cold, with only a tarp to protect him and his crew from the rain. Sometimes, it is necessary to bribe the authorities.
(Barbara Davidson)
Millicent Atieno, a 6-year-old orphan, collects small bits of coal to bring home to her aunt, who sells it to support the family in Kisumu, Kenya. Millicent has been gathering coal, and breathing in toxic dust, since she was 4. She works every day for eight hours, only to collect -- if she is lucky -- 30 cents.
(Barbara Davidson)
Aarti Kumari, 12, combs her hair at the Kasturba Gandhi Girls School in Bihar, one of the poorest districts in India. The boarding school houses about 100 girls, many who come from red-light areas or low-caste families and are the first in their community to learn to read and write. They are admitted at age 9, just when sex traffickers are likely to prey on them. The education provided to the girls helps to break the cycle of intergenerational prostitution and curb the selling of the girls as child brides.
(Barbara Davidson)
Sister Maria de Jesús Campos tends to Refugio Vega, who has been living with ALS for more than six years, with Vega's wife, Sara Montiel de Vega, at his side. The Servants of Mary pray with all clients regardless of their faith.
(Barbara Davidson)
Dressed in a full suit and tie on a cool Sunday morning, Art Attly walked the streets looking for adventure in downtown Los Angeles. When asked how old he was, Attly replied, "I'm sixteen and never been kissed but, I'm still hoping for one."
(Barbara Davidson)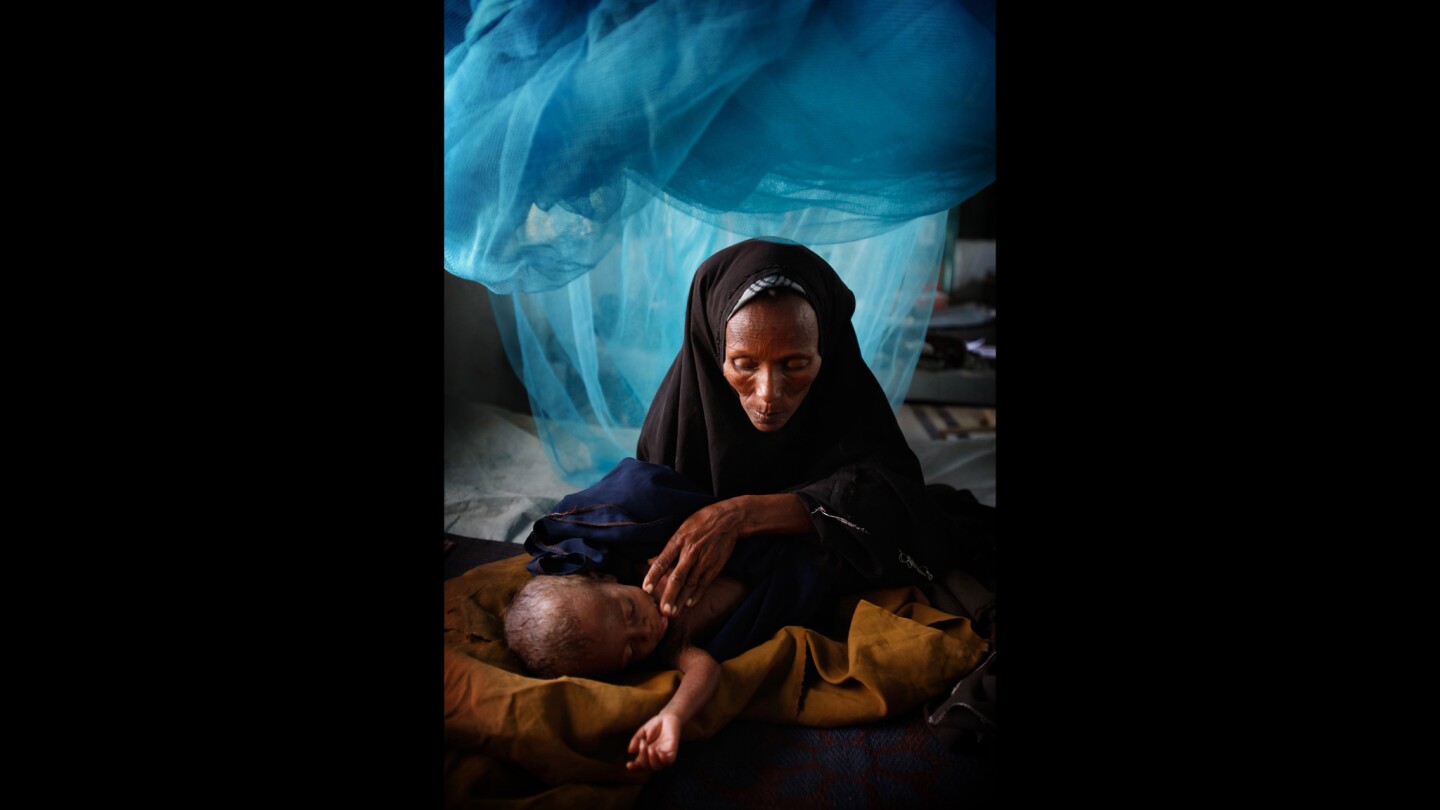 Hawa Barre Osman looks for a sign of life from Abdi Noor Ibrahim, her severely malnourished 1-year-old, inside a Doctors Without Borders therapeutic feeding center at the Dadaab complex in Kenya. She walked for a month with her five children from Somalia to reach the camp.
(Barbara Davidson)