Crossing Mexico | A migrant story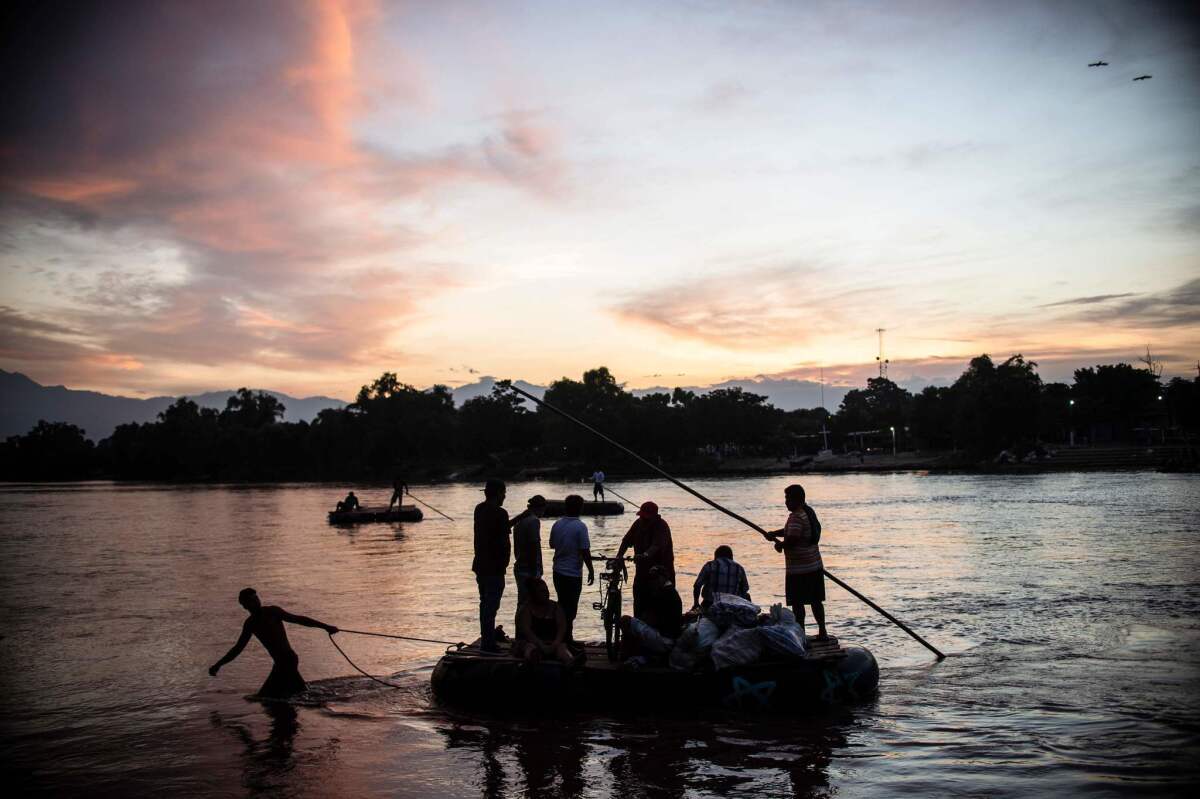 From the southern border with Guatemala to the northern border with the United States, visual journalists with AFP spent 24 hours in Mexico with migrants in pursuit of their dream of getting to the United States.
Starting point
Migrants and residents use a makeshift raft to cross the Suchiate river, natural border between Ciudad Hidalgo, Mexico, on the right and Tecun Uman, Guatemala, on the left.
'La Bestia' (The Beast)
Top: Undocumented migrants climb on a train known as "La Bestia" (The Beast), in Las Patronas, Veracruz state, Mexico, to travel through Mexico to the U.S. Left: A volunteer for Las Patronas, a nongovernmental organization, distributes bags of food to migrants. Right: Sandra, a migrant, and her daughter stop for a picture near Las Patronas shelter, where migrants without documents can get food.
Law enforcement
A Central American migrant is arrested by local police after a brawl near the railroad tracks in Arriaga, Chiapas state, Mexico.
Prized possessions
Clockwise from top left: A Mexican migrant shows his most valuable item, an image of Padre Jesus of Petatlan Guerrero, at Casas YMCA shelter for migrant minors in Tijuana; a Honduran migrant shows his most valuable item, a rosary, in the Las Patronas shelter in Veracruz state; a Mexican migrant deported from the U.S. shows his most valuable items at the Smugglers Gulch in Tijuana; and Juan Israel Rodriguez Tejeda shows his most valuable item, a pendant with an image of San Juditas, at the El Refugio shelter in Guadalajara.
Turned back
Left, a migrant who was deported from the U.S. sleeps on a couch at Ciudad Juarez House of Migrants, in Ciudad Juarez. Right, Salvadoran asylum seeker Jaime Rene Delgado sits on top of his luggage at El Chaparral port of entry in Tijuana.
Tijuana border
Aerial view of the border fence extending into the Pacific ocean at Playas de Tijuana. The U.S. is on the left and the Tijuana bullfighting ring is in the center.
Must-read stories from the L.A. Times
Get the day's top news with our Today's Headlines newsletter, sent every weekday morning.
You may occasionally receive promotional content from the Los Angeles Times.