International Women's Day | Images from around the world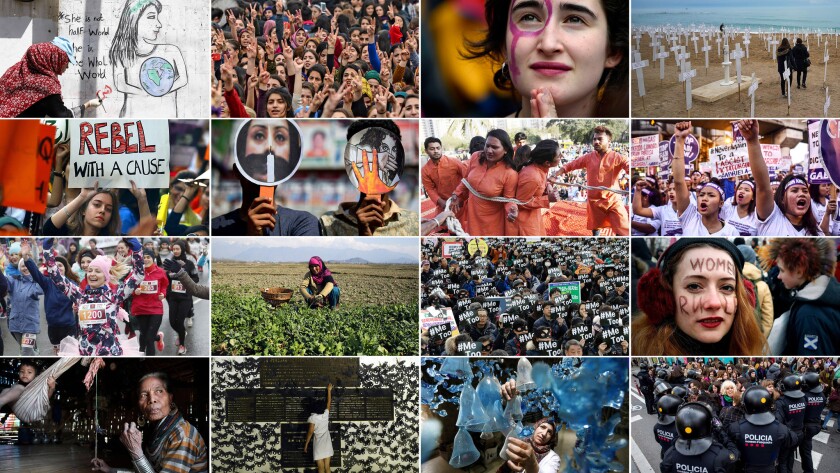 Women across Europe and Asia shouted their demands for equality, respect and empowerment Thursday to mark International Women's Day, with protesters in Spain launching a 24-hour strike and crowds of demonstrators filling the streets of Manila, Seoul and New Delhi.
An artist paints a message on a wall in Sana, Yemen, to mark International Women's Day. During a Women's Day rally in Dhaka, Bangladesh, men hold placards highlighting violence against women. (Yahya Arhab / EPA/Shutterstock; A.M. Ahad / Associated Press)
Spain
Spanish women were staging dozens of protests across the country against the wage gap and gender violence. In Barcelona, protesters disrupting traffic into the city center were pushed back by riot police.
In Madrid, hundreds of women gathered in its central square to demand change. Teresa Sonsur, a 38-year-old social services agency worker, said she wanted to end workplace discrimination.
The 731 crosses at Forti de Vinaros beach in Castellon, Spain, represent women who died in gender-related violence since 2007. Left, a young woman in Barcelona attends a protest during a one-day strike for women's rights. Right, riot police surround women on a Barcelona street during the general strike for International Women's Day. (Domenich Castello / EPA/Shutterstock; Lluis Gene / AFP/Getty Images; Quique Garcia / EPA/Shutterstock)
Turkey
Asia
Across Asia, women came out to mark the day. In China, students at Tsinghua University used the day to make light of a proposed constitutional amendment to scrap term limits for the country's president. One banner joked that a boyfriend's term should also have no limits, while another said, "A country cannot exist without a constitution, as we cannot exist without you!"
Clockwise from top left: Pakistani women rally in Karachi to mark International Women's Day. In Manila, Filipinas hold a march to mark the day and to protest President Rodrigo Duterte's human rights abuses. South Koreans supporting the #MeToo movement wear all black to rally in Seoul. A Reang tribal woman takes care of a baby in Tripura state, India. (Shahzaib Akber / EPA/Shutterstock; Jes Aznar/Getty Images; EPA/Shutterstock; Ahn Young-joon / Associated Press)
Russia
International Women's Day is a public holiday in Russia, but opposition presidential candidate Ksenia Sobchak was one of only a few demonstrators in Moscow.
---