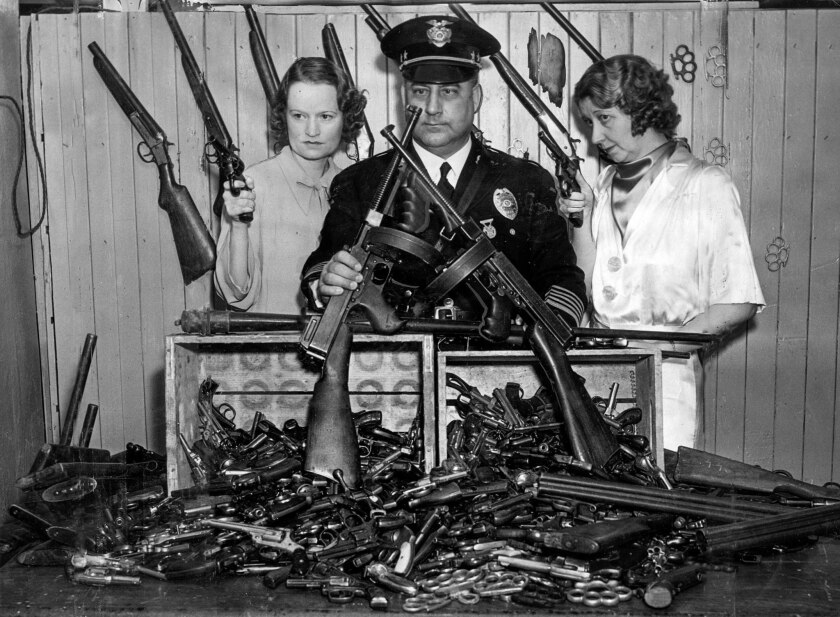 An avid shooter, Los Angeles Police Chief James Davis' nickname was "Two Guns Davis." During his two terms as LAPD Chief, he expanded the police shooting range and increased police firearms training.
On July 18, 1935, Chief James Davis displayed confiscated weapons for newspaper photographers. The caption in the next morning's Los Angeles Times explained:
A step toward disarmament, at least as far at the underworld is concerned, was taken yesterday as police gathered together more than $2000 worth of weapons, confiscated from lawbreakers, preparatory to dumping the arms into the ocean. Looking on the heap of weapons are, left to right, Policewoman Rehling, Chief of Police Davis and Policewoman Stevens. The chief and Miss Stevens, incidentally, are among the champion gun-welders of the department.
Several Los Angeles Times stories from the 1930s indicated that Policewoman Mona Rehling helped locate runaway youth. I was not able to locate additional information on Policewoman Stevens.
The June 21, 1949, Los Angeles Times obituary on Chief James Davis mentioned that, "In 1932 he won both the right-hand and left-hand pistol championship of the United States."
---