From the Archives: A 1950 surge in border crossings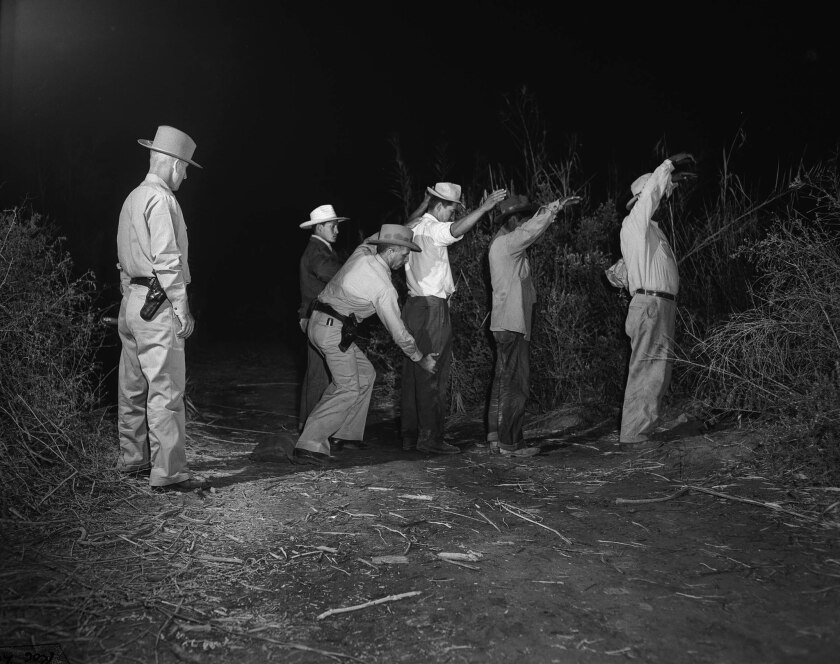 In early 1950, illegal border crossings from Mexico into California surged. In April 1949, the Border Patrol detained about 5,000 people. The following April, the number had skyrocketed to 21,000.
Reporter Bill Dredge reported in the May 2, 1950, Los Angeles Times:
Mexican nationals — 21,000 of them — flooded across the Mexican border into the United States during April and were returned by harassed Immigration Service officials.
How many eluded the overworked border patrolmen and made their way successfully into the farming areas of California, nobody knows.
The endless wave has been unprecedented in the nation's history. Border patrolmen have loaded immigrants into trucks and buses, rushed them back to Mexicali and dumped them on their native soil. To do otherwise would require an army of clerks and officials.
On every hand, officials concerned with the problem are at a loss for an immediate solution. April's total of returned immigrants saw 16,000 counted at the El Centro area office and 5,000 more at the Chula Vista office in San Diego County.
In March, 16,000 people flowed across the international boundary.
In the May 3, 1950, Los Angeles Times, Dredge reported that the "Biggest single reason [for the surge] is found in the 40% curtailment of legal Mexican national contract laborers," allowed into California.
These 1950 photos by Art Rogers appeared in the May 2 and 3 editions of the Los Angeles Times.
---