From the Archives: 1959 evictions from Chavez Ravine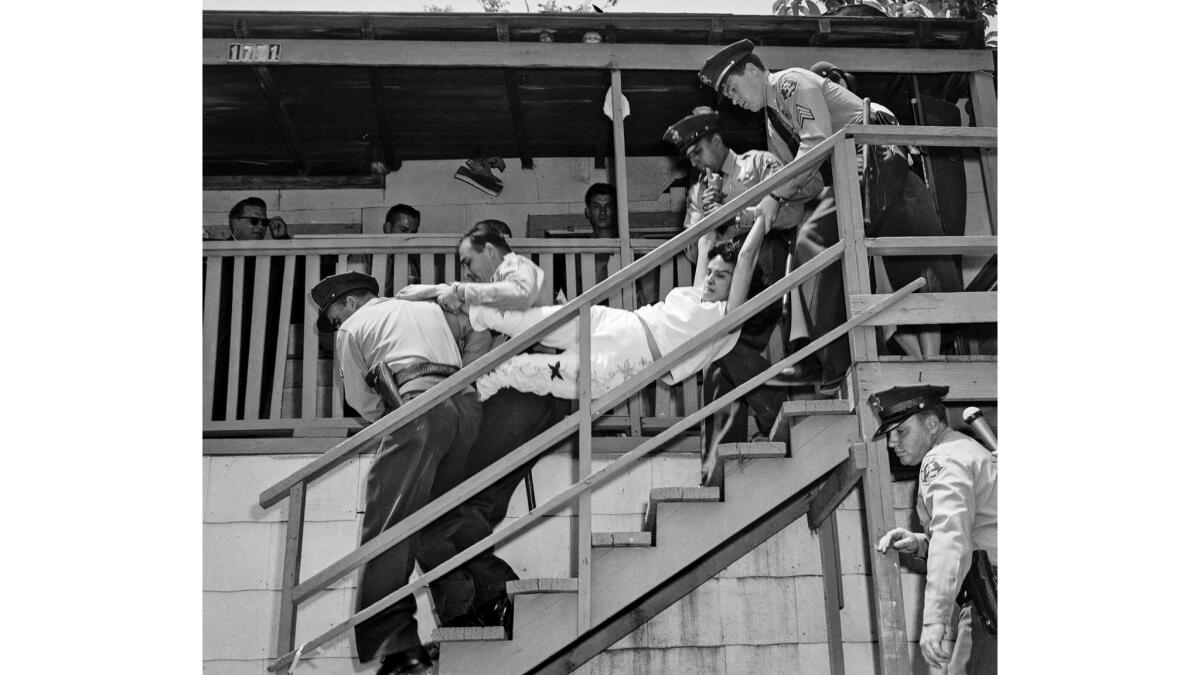 Most residents of Chavez Ravine had been relocated in the early 1950s, but a proposed public housing project was scrapped. The city of Los Angeles obtained the property, then traded the land to the Los Angeles Dodgers for the old Wrigley Field property in South Los Angeles.
In 1959, with construction of Dodger Stadium slated to begin, negotiations with holdout Chavez Ravine residents failed, leading to evictions.
Under a headline "Chavez Ravine Family Evicted; Melee Erupts," the Los Angeles Times reported on May 9, 1959:
There was a melee in Chavez Ravine yesterday as forcible eviction of a few residents there began.
The action erupted only seconds after an army of sheriff's deputies, accompanied by three large moving vans, arrived at the Arechiga family's residences at 1767 and 1771 Malvina St.
The deputies, led by Capt. Joe Brady, were armed with a writ of possession recently issued against the Arechigas by the Superior Court.
According to City Atty. Roger Arnebergh, the Arechigas have been occupying the property rent-free since 1953 following its acquisition by condemnation by the City Housing Authority in 1951.
The city purchased the property in 1955. It is intended to be part of a recreational facility that will include a baseball park for the Los Angeles Dodgers.
It has been a long skirmish. And yesterday the battle was joined in earnest.
It including a screaming, kicking woman (Mrs. Aurora Vargas, 38, daughter of Mr. and Mrs. Manual Arechiga) being carried from the house… children of the family wailing hysterically as their sobbing mother, Mrs. Victoria Angustian, 29, struggled fiercely in the grasp of deputies… the 72-year-old matriarch of the family, Mrs. Avrana Arechiga, hurling stones at deputies as movers hustled away her belongings… an obstreperous former neighbor, Mrs. Glen Walters, screeching defiance at the deputies and finally being forcibly ejected from the battleground, handcuffed, and taken to a squad car. … Mrs. Vargas was the last to leave — making good her threat that "they'll have to carry me."
The fray lasted about two hours. After the eviction, bulldozers leveled structures on the property. Members of the Arechiga family returned and lived on the property to protest of the eviction and bulldozing.
The eviction was heavily covered by the news media, both television and print. Several Los Angeles Herald Examiner images are online at the USC Digital Library. Search under "Chavez Ravine evictions."
Also check out this 2012 Framework photo gallery, Remembering Chavez Ravine, on former residents. This post was originally published on April 4, 2012.