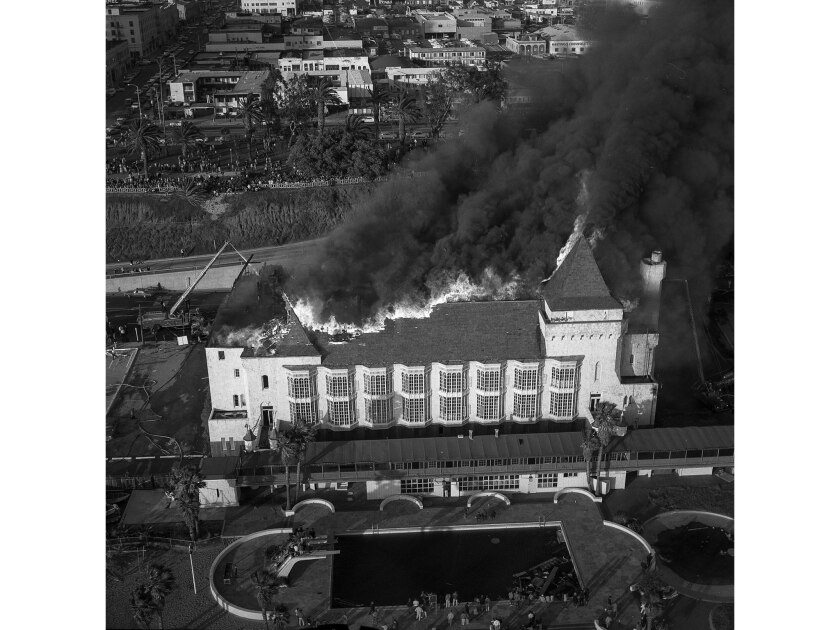 The Deauville Beach Club was founded in 1927. The building featured a gymnasium, pools, dining, lockers, and guest rooms. Before World War II, the building was a playground for Hollywood stars. But by the 1960s, it sat empty.
A front-page story in the April 6, 1964, Los Angeles Times reported:
The Deauville Beach Club, famed Santa Monica oceanfront landmark, was destroyed Sunday afternoon in a spectacular, wind-whipped fire touched off by an unidentified arsonist.
Acting Santa Monica Fire Chief William C. McDade said blazes were burning in five separate spots in the three-story, fortress-like building when firemen arrived.
And Santa Monica police reported they chased three juveniles from the unoccupied structure Sunday morning.
The youths may have been part of a group of 20 boys and girls that was seen entering the building less than three hours before the blaze erupted, police said.
For more than two hours, flames roared uncontrolled through the building on Pacific Coast Highway at the foot of Olympic Boulevard standing aloft a thick column of smoke that was visible for miles.
The smoke acted as a magnet to draw thousands of spectators to the scene. About 30 Santa Monica policemen and some reserve officers struggled to keep the street clear of onlookers. …
A telephone call to the Santa Monica Fire Department at 3:20 p.m. brought the first fire units — two pumpers, a ladder truck and a rescue unit — to the scene. Later, other equipment from Los Angeles and Culver City was dispatched.
In all, about 65 men fought the flames that left only the reinforced concrete walls of the building standing. …
The aerial photo by retired staff photographer George Fry was taken from a KMPC helicopter piloted by Max Schumacher. It was published on page one of the April 6, 1964, Los Angeles Times.
The April 7, 1964, Los Angeles Times reported that two runaway juveniles were questioned about the fire. I was not able to locate any information about whether anyone was ever charged or convicted in the blaze. The building remains were demolished in 1966. The city of Santa Monica purchased the land in 1970.
This post was originally published on Feb. 28, 2014.
---