From the Archives: Elizabeth Taylor gets married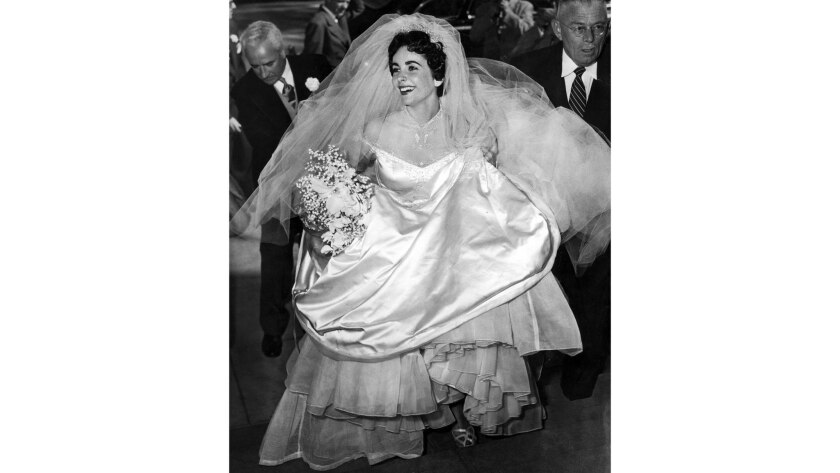 Sounding akin to a movie premiere, the Los Angeles Times the next morning reported on the Taylor — Hilton wedding:
In a church abloom with yellow roses, white stocks and other spring flowers, actress Elizabeth Taylor and hotel heir Conrad (Nick) Hilton Jr. were married yesterday.
The ceremony took place at 5 p.m. in the Church of the Good Shepherd in Beverly Hills, where several thousand of the screen star's devoted fans gathered long in advance to wish her well in matrimony.
The church itself was filled with a distinguished group of film and society notables.
Long before the appointed time for the nuptials, MGM Studio police Chief Whitey Hendry stationed a score of movieland officers and Beverly Hills police around the church to handle traffic and the crowds on busy Santa Monica Boulevard.
Before the invited guests began to arrive, all the vantage places on the lawn and along sidewalks in front of the church were taken, and people stood four deep across the street in the Pacific Electric right of way.
The spectators were not disappointed. They applauded the arrival of numerous celebrities and broke into shouts of approval and affection when the bridal party drove up a few minutes before the rites began. ...
The applause mounted when Francis Taylor assisted his actress-daughter, the bride, from their car. Miss Taylor, who in recent months became the film capital's top junior glamour girl, endeared herself to the public as she stood graciously with her father for photographs taken before entering the church.
Her wedding dress, created by designer Helen Rose, was made of off-white satin — 20 yards of it — with a yoke of white and pink chiffon.
The gown was embroidered in seed pearls and satin-lined bugle beads. Her veil of illusion, caught to her head with a coronet of pearls, was long and billowy. Her flowers were white orchids and lilies-of-the valley.
Following a short marriage, Taylor and Hilton were divorced on Jan. 29, 1951. Taylor would be married a total of eight times to seven husbands.
This photo by former Times photographer Paul Calvert was published on page two of the May 7, 1950, Los Angeles Times.
Taylor died on March 23, 2011. The Los Angeles Times obituary was accompanied by this Framework gallery: Elizabeth Taylor | A life in pictures.
This post was originally published on Nov. 16, 2011.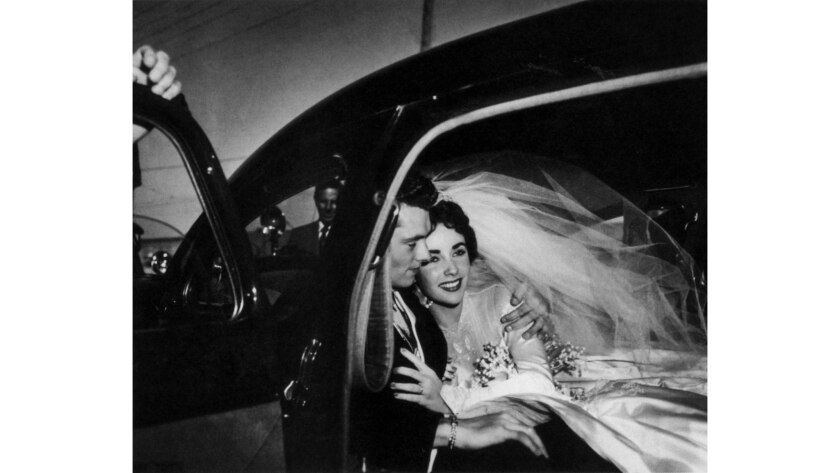 ---